Hello, Hungry World! Scenes From the TASTE Launch Party at Joy Luck Palace.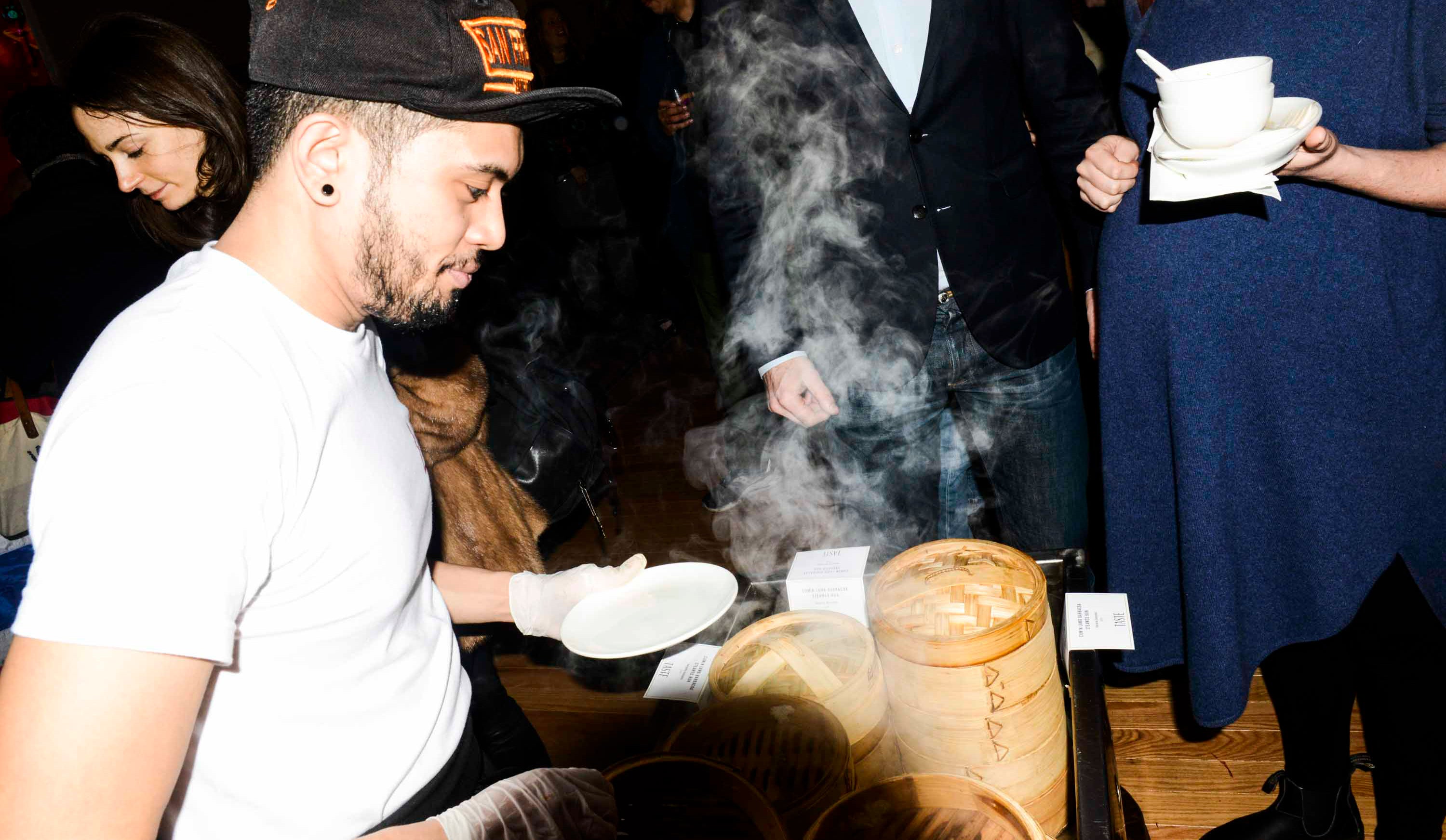 On February 7 we celebrated the launch of TASTE with a party at New York City dim sum hall Joy Luck Palace. The idea was simple: Ask some of our chef friends to prepare their creative versions of the traditional Chinese tea snack. Dumplings, buns, small cuts of braised meat—we had all the classic categories covered. But not necessarily in a traditional sense.
There was roasted sweet potato with tehina and schug from Emily Holloway of Dizengoff, and crab congee with wonton crisps and Old Bay from Jeremiah Stone and Fabian von Hauske of Wildair. Dale Talde prepared smoked bacon sticky rice wrapped in lotus leaf, and Stuart Brioza and Nicole Krasinski of State Bird Provisions traveled from San Francisco to cart around plates of black garlic spareribs. In total, 13 chefs represented, including Hillary Sterling (Vic's), Matt Danzer (Uncle Boons), Hannah and Marian Cheng (Mimi Cheng's), Joe Ng (Red Farm), Gerardo Gonzalez (Lalo), and Nicholas Morgenstern (Morgenstern's Finest Ice Cream)—who flashed his love of Asian flavors with scoops of durian banana ice cream and mandarin orange sorbet. Joaquín Simó and his crew from Pouring Ribbons made refreshing drinks with Ford's Gin and Caña Brava rum.
This party to celebrate our birth was a bash! There was a moment when the DJ played "Girlfriend is Better!" and people were feeling those drinks, and good vibes all around. The party was made possible with help from our friends at Red Boat Fish Sauce, Tilit Aprons, Phhhoto, and Mona Creative. Here's some of what went down!