Heidi Swanson Is Our Granola God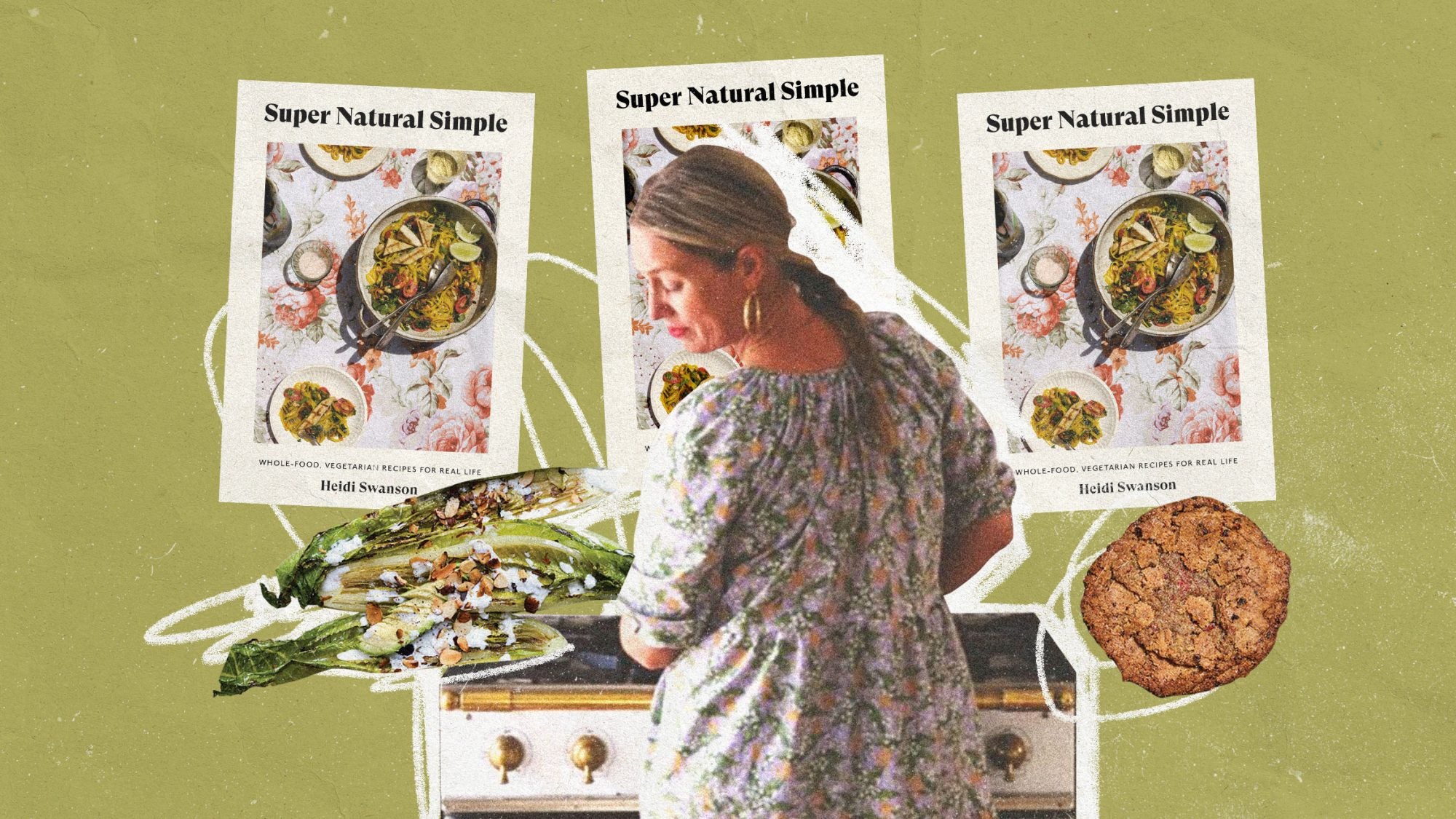 The cookbook author is back with a new book, full of old-school bean salad and a new-school way to toast your oats.
As Heidi Swanson, a prolific writer, photographer, and early food internet fixture, tells it, she was waiting for a phone call that never came. "I was on the waiting list for a decade and never got the call," she recalls in a recent Zoom conversation from her home in Los Angeles. We're talking about the move south from her longtime home in San Francisco, and the community garden back in the Bay that she'd been itching to join for years. "I got down here, and a friend was casually like, 'Oh, hey, there's plots at the Long Beach Community Garden,' so, basically immediately, we got this big, 20×30 plot. And it's great, and growing down here is—I mean, it's magic."
Vegetables are Swanson's vibe. Her acrylics. So getting that garden spot near her home in Belmont Shore was no small victory for the author of four books, including the recently published Super Natural Simple. But unlike many (most) writers who create recipes anchored in the realm of wellness and natural foods, Swanson does so with style and dexterity. And always true to the author's casual and warm POV.
There's no prescribed eating program in her books that include two previous "Super Natural" titles—Super Natural Cooking and Super Natural Every Day—as well as the outstanding 2015 travelogue Near & Far. The central theme—cook without meat, load up on vegetables and excellent whole grains, lean into a global larder and the fruits and vegetables that present themselves at the grocery store or farmers' market—isn't forced. It's Swanson. We caught up about her early days online, paying homage to a Telegraph Avenue bean salad, and the power of a solid granola recipe.
Going back a bit, when you launched 101 Cookbooks, the site was built around the idea that, once you owned a hundred cookbooks, you should stop buying and just start cooking with them. I wanted to know, is that still your ethos in 2021?
I launched it in 2003, and it started like that, and I still really love to go back to that originating spirit, which is that I wanted to explore these amazing cookbooks and highlight the voices and techniques and things that I was excited about from those books. And I still try to do that, especially if I see there's a book out that I really love and a recipe that resonates with me. I'll still try to highlight it on the site.
 You've always been a sharp digital strategist, and you were blogging on what some call the "early internet." What do you think about these newer publishing models with Patreon or Substack, and would you consider moving in that direction?
I don't know. Not for now. In maintaining a realm that is essentially mine, like my core, I always came back to my site, and I always treated it more like a practice than anything. Going there, working on my photos, trying to become a better writer, and recipe developing. Putting recipes out there in a highly public forum makes you a better recipe developer, because you're getting immediate feedback, and you learn over time, too.
Tell me about this garden of yours. How does it affect your cooking and writing? I'm fumbling my way through an early gardening career, and it's great.
Don't get me wrong; I made some missteps, but generally speaking, that's been fun and interesting. And having real gluts of certain ingredients impacts your cooking. I guess if you're focused on garden-based recipes, that's different than a grocery shopper or even a farmers'-market-shopper-type recipe, if that makes any sense. Because if I have like seven, eight pounds of zucchini, I mean, you can't just—
Sauté it, bread it, you're just gonna go nuts—
Yeah, that's been interesting. I have a whole bunch of recipes in my notebooks that are like "how to really put a dent in cucumbers."
What else are you growing?
One of the coolest things I grew was hibiscus from seed last year. And they're really beautiful, and you can dry the calyxes and use them for tea. It's a beautiful, showy plant. That was cool. I've got lime, thyme, tulsi basil—I've got a bunch of different basil, because we love them. And then there are all the different tomatoes.
The tomato season in California is so long, too. It's like perpetual.
Yeah, I already have tomatoes that are—I mean, I put the plants in the ground maybe two weeks ago. I'm not even sure I got the timing right, but there's tomatoes on these plants already. And then, at the house, I have a little collection of citrus—I'm trying to get a little citrus situation going. Kishu mandarins. I'm trying to get a chinotto going. And then there are others.
You know, one thing that draws me to your recipes, or one specific category that I like, is your granolas. Tell me about granolas in general—your point of view on those, and what are you offering in this book?
Okay, the granola in this book, the rose one, if you have a chance to make it, it's the granola I make if we're going to have special houseguests, or if I'm going to give it away. It's so good. I don't love a super sweet breakfast. I like to err on the side of spicy-savory, with some base sweet notes—that's fine—but I don't like a straight sweet situation in general.
Granola has such a negative connotation for some people. Especially in the Bay Area. Granola is a person there.
I also grew up in the Bay Area, so granola was always in the cupboards. It was always really honey-sweetened. Super oaty. Maybe with some extra seeds. Too much honey.
Let me ask you about this story you write about in the book—there's a bean salad that you found as a youth on Telegraph Avenue in Oakland. What's the story?
Yeah! My friends, we used to go to the Greek Theatre, for concerts and stuff.
What did you see? Which ones?
We'd go to the Reggae Sunsplash [laughing]. You know, I'm trying to think of what else we'd see.
That's cool, you're owning your truth.
[Laughs] Yeah, totally. And we would go up to Telegraph Avenue and hit up the used record shops and just hang out when we were like 17. There was this one café—I have no idea what the name of it was—and we would always go and get this one salad. It was just loaded. It had carrot coins, kidney beans, chopped salad greens, and then, you know, the dressing, it was a little citrusy, as I remember it. It might have been a little more ranch-y than I did in the book. But there was everything in the salad. Seeds and stuff—it was so good.
After reading your book, it's clear that you aren't giving up on kale quite yet.
You chop it up so that it's so small that people think it's an herb or something, and then once you cook it, it collapses down so much, too. I put a ton of kale into soups and dishes like this. It's an easy way to get a lot of healthy, vibrant greens and veggies in. You can just play with the way you're cutting something and change the way someone feels about that ingredient.
Putting recipes out there in a highly public forum makes you a better recipe developer, because you're getting immediate feedback, and you learn over time, too.
The idea of grilled rice balls is so foreign to so many people, but it's ubiquitous in Japan—why are there not more grilled rice balls at backyard barbecues? It would be the most amazing thing.
Grill culture, in America is still just exceptionally meat-centric. I think a lot of focus is just on what meat are you grilling, and all sorts of things beyond, let's say, corn, get sidelined from there.
Well said, well said. I agree fully.
That's kind of the spirit of the way I like to cook. There's a whole realm of ingredients beyond white flour, white sugar, and white rice. You can apply that to grilling, where, if you take a meat-centric focus away, you're left with a whole other realm to explore, whether it's rice balls, whether it's—one of my favorite salads is a grilled romaine salad, and there's one in the book. There's a whole other realm of grill life that opens up. If you want to grill meat, just know that there's also a ton of other stuff that can be wonderful as well.
And that's kind of your ethic in terms of vegetable-based cooking in general, right?
I think a lot of people are coming to their own realizations and conclusions, and wanting to integrate more healthful whole foods and vegetables in their life and the way they're eating, and for their families—and hopefully this helps.
FOUR EXCITING RECIPES FROM SUPER NATURAL SIMPLE
California Masala Cluster Granola
Fine-tuned over dozens of batches, this is Heidi's house granola. It was inspired by California pantry staples and combined with ingredients gathered on travels to India. It's extra clumpy, rose-scented, assertively spiced, and not at all shy.
Telegraph Rainbow Salad
Crunchy lettuces, mixed beans, seeds, carrot coins, and croutons all form this salad, with a creamy-but-not-too-creamy, zesty dressing.
Ratatouille on the Grill
One of Heidi's favorite ways to put a dent in summer produce is to make ratatouille. Many ratatouille recipes ask you to roast the veggies in an oven before bringing everything together on a stovetop. To beat the summer heat, she grills the eggplant and zucchini instead.
Big Raspberry Rye Cakes
Heidi's wild-card ingredient in these extra-large cookies is an entire bag of crushed, freeze-dried raspberries. Paired with rye flour, these cookies bake up crisp, golden, and vibrating with tart-sweet raspberry intensity.
MORE BOOKS TO BUY, READ, AND COOK FROM:
Last week, we caught up with Matthew Raiford to discuss his new cookbook, Bress 'n' Nyam, which tells the story of the Gullah Geechee legacy that lives within the rich soil and abundant waters along the coast of Georgia.
David Lebovitz might be most famous for his writing about baking, ice cream, and chocolate, but in his latest book, Drink French, he gives us a refreshing take on French drinking culture.
Pasta, out this fall, is a stylish, transporting pasta master class from Missy Robbins, New York City's premier pasta chef, and our TASTE colleague Talia Baiocchi. It features 40 handmade pasta shapes and 100 Italian American, regional Italian, and modern dishes. Preorder the book today.
If you love comforting diner fare with a hint of Hudson Valley rusticity, you might want to check out the Phoenicia Diner Cookbook. We recommend the patty melt.
In The Flavor Equation, Nik Sharma explains some of the science behind flavor, and why factors like memory and aroma affect the way we experience food. Check out some of his previous writing for TASTE here.
Eat Something looks at Jewish life through the culture of food, from bris to shiva. Read our interview with one of the writers.