Grow a Foot Taller in the Kitchen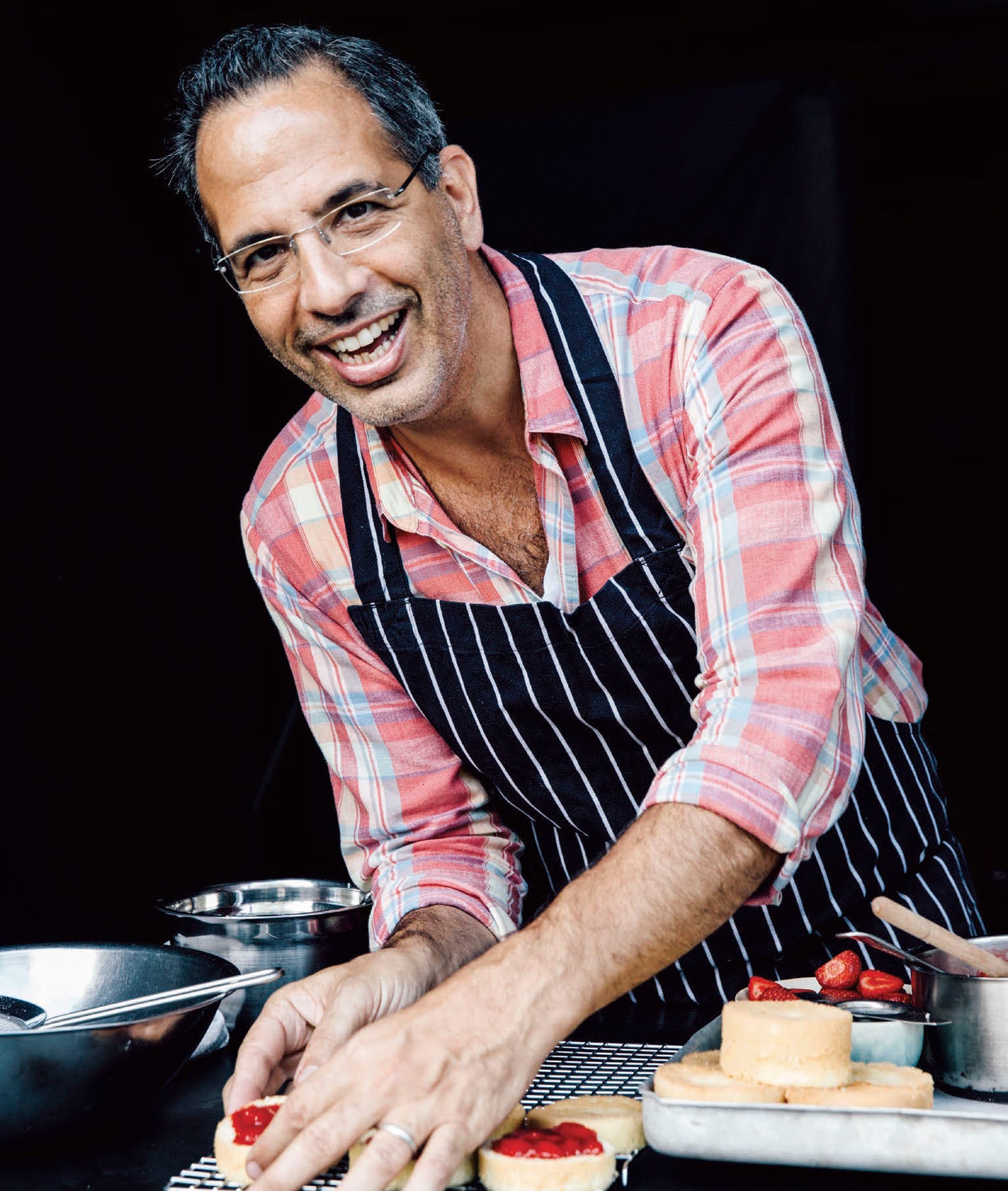 Can a home cook bake like a pastry chef at one of London's most famous restaurants? Yotam Ottolenghi and Helen Goh think so.
In Plenty More, he brought us colorful vegetables, savory yogurt, and spices that our kitchens had never seen before. In Jerusalem, he taught us about the techniques, dishes, and political nuances that make up Israeli cuisine. Now, in Sweet, Yotam Ottolenghi is taking on the world of sugar with collaborator and pastry chef Helen Goh.
From playful, nostalgic treats like the Australian Yo-Yo cookie to refined chocolate tarts adorned with hazelnuts and rosemary, Ottolenghi and Goh have a restaurant-worthy dessert for every occasion. The book is equal parts accessibly classic and ambitious, and by the end, you'll be crystalizing sage, candying rose petals, turning blackberries into bubblegum-pink glazes, and—realistically speaking? Probably Instagramming it all.
The editors of TASTE caught up with the two authors over a cup of coffee and a croissant while they were in Manhattan recently. We talked about the childishness of baking, dessert-induced guilt (or lack thereof), and digital scales. We all left wanting to swirl some glossy tahini into a pan of brownies.
A lot of the recipes in Sweet are very beautiful and manicured. Is there a difference between how you bake for your restaurants versus how you bake at home?
YOTAM: Yeah, I mean, baking in a restaurant or in our cafés is quite different in a few ways. First of all, you bake in big batches, and you create kind of your stock of things to use. It's like cooking in a restaurant—a  bunch of people work together to create a whole array of things that are used in different context. We have a massive tub of ganache in the fridge for all the cakes.
When we adapted those recipes for home cooks, we had to think, like, nobody's going to make five components for a tart. Because it's crazy. They'll never make that tart again. So we had to condense certain things and simplify certain things. Some recipes just didn't make it to the book because there were too many aspects of it. We wouldn't want people to be put off by how complicated it is. But other cakes are just exactly like how we make them in the shop. Like the flourless chocolate cake in the bundt tin covered in chocolate. That's really one of our oldest recipes in Ottolenghi, been serving it for 15 years.
It's good business.
YOTAM: Yeah, it is. Chocolate is good business. Raspberries are good business. There's certain things that people see and they're just like—like magnets. Like completely drawn to them. So yeah. Every recipe has a slightly different story; some of them have been staples on our shelves for years, and we adjusted them for home cooks. Others needed very little adjustment. And then there's those that we've actually introduced for the book, because we don't have a lot of plated desserts, like a creme caramel, and certain things. But we wanted to make the book really an all-around, well-rounded book, so we would have a little for any person who wants to bake.
That's a promise!
YOTAM: It's a promise, because if you can read, you can follow a recipe; if you can follow a recipe, you can bake. Helen and I have been emphasizing it throughout the book too. Some people go, "Oh, I can't bake, it's too scientific for me." I mean, it is chemistry, so with chemistry, you follow the instructions, it works. All you need to do is give yourself some time and you weigh the ingredients properly. You can guarantee the success, I mean, more so than if you cook a fish. Because no recipe would tell you how not to overcook a fish. You go, put it in the oven, cook it until it's cooked.
Fish is a different size, different species.
YOTAM: Ten minutes—what 10 minutes? I mean, maybe if it's 400 grams, but mine is 600 grams. So I just served raw fish. But with baking, recipes tell you how big the tin is, how high on your oven, how many minutes. You're more or less guaranteed that it will succeed.
You mentioned a really key word. You said "weigh." I think a lot of Americans,  we don't really use digital scales. We use cups. How do you negotiate that?
YOTAM: I want to convert all Americans to weigh. To use the scale. Because scales are like a hundred times more accurate. Well, they're just accurate, and cups are inaccurate. It's a black-and-white thing for me. When you weigh flour, you know exactly how much goes in the tin. When you put it in a cup, you don't know how much air is trapped in between the grains. Or one flour is a bit more airy than the other.
We've been talking about how beautiful all of the recipes are visually. What are both of your favorite really ugly things to bake, when you know there won't be any cameras?
HELEN: I actually prefer ugly food. I like good ugly food.
Me too. There's less pressure.
HELEN: Less pressure. I like things like curries—do you mean sweet or anything?
Yeah, sweet things. What's your favorite ugly sweet thing?
HELEN: Oh no, sweets always have to look good.
YOTAM: But I think we should differentiate between ugly and plain. I think plain often doesn't make it to the pages of the book. But it still looks good. But it just doesn't have the wow factor visually.
HELEN: They're beautiful in their simplicity. I like really simple things.
YOTAM: I agree. So when you put a book together, or when you sell food, you need to think, Oh, what's going to catch the eye?
Are there any tips that you would say to a home baker, that you would like to break through the anxiety of, well, baking?
HELEN: You know, it sounds really boring, but if you can read the recipe through first—it sounds really boring and people don't do it. They think—they just want to get on and start cooking. But if you can read through everything and do your mise en place, get it all laid up, because so many times, you've got three eggs and you need four, and then you're halfway through, and you're toast.
Yeah, you're totally toast, yeah.
HELEN: And also when you have all your things laid out, and you've got a road map, having read what you're doing, you can enjoy the process rather than tearing around the kitchen grabbing this and hurrying and you kinda—it's stressful. Or you can actually just really enjoy baking. And why not do that?
Why not?
HELEN: And people don't do it because they just think, Oh I just want to get it done, I can't be bothered. Read the recipe before, take the butter out of the fridge an hour before if it's room temperature butter, because that makes all the difference to a cake. It means that you can properly cream the cake, rather than jabbing it in the microwave, and then it's melted and pooled and then you can't cream it properly. So if you set up, you will—that's 60 percent of your work done. Eighty percent of your work done.
I get stressed just thinking about it.
HELEN: Yeah. Well, that's the thing, that's the difference. And I'm a really impatient person, so it took me years to realize that. And I think I literally grew a foot taller as a chef when I changed that mentality.
Have you been meeting a lot of people who have already baked things?
HELEN: Loads, loads. On Instagram. I have this thing—every Saturday morning, I collect all the people who've tagged me, and I do a kind of collage of all their bakes. And I'm absolutely bowled over by how many people are cooking from it, and thrilled that everyone's cooking something different! Because usually, there's—one recipe stands out and everybody cooks it. But it's been, like, everything!
Is there one that's the most popular recipe that you've seen a lot?
HELEN: The madeleines, because I think people are still easing their way into it, and that's a small cake—it's a low-risk investment to bake, and the yo-yos they've baked a lot, too. The banana pecan cookies. Oh, the striped cake.
It's so pretty. I guess it's a sign it's a good recipe if people are making it and it's working.
HELEN: Yeah! I mean, someone tagged me the other day— I said "Look, it looks even better than ours!"