Grilled Sticks and Galangal Dips in Andy Ricker's New Cookbook, The Drinking Food of Thailand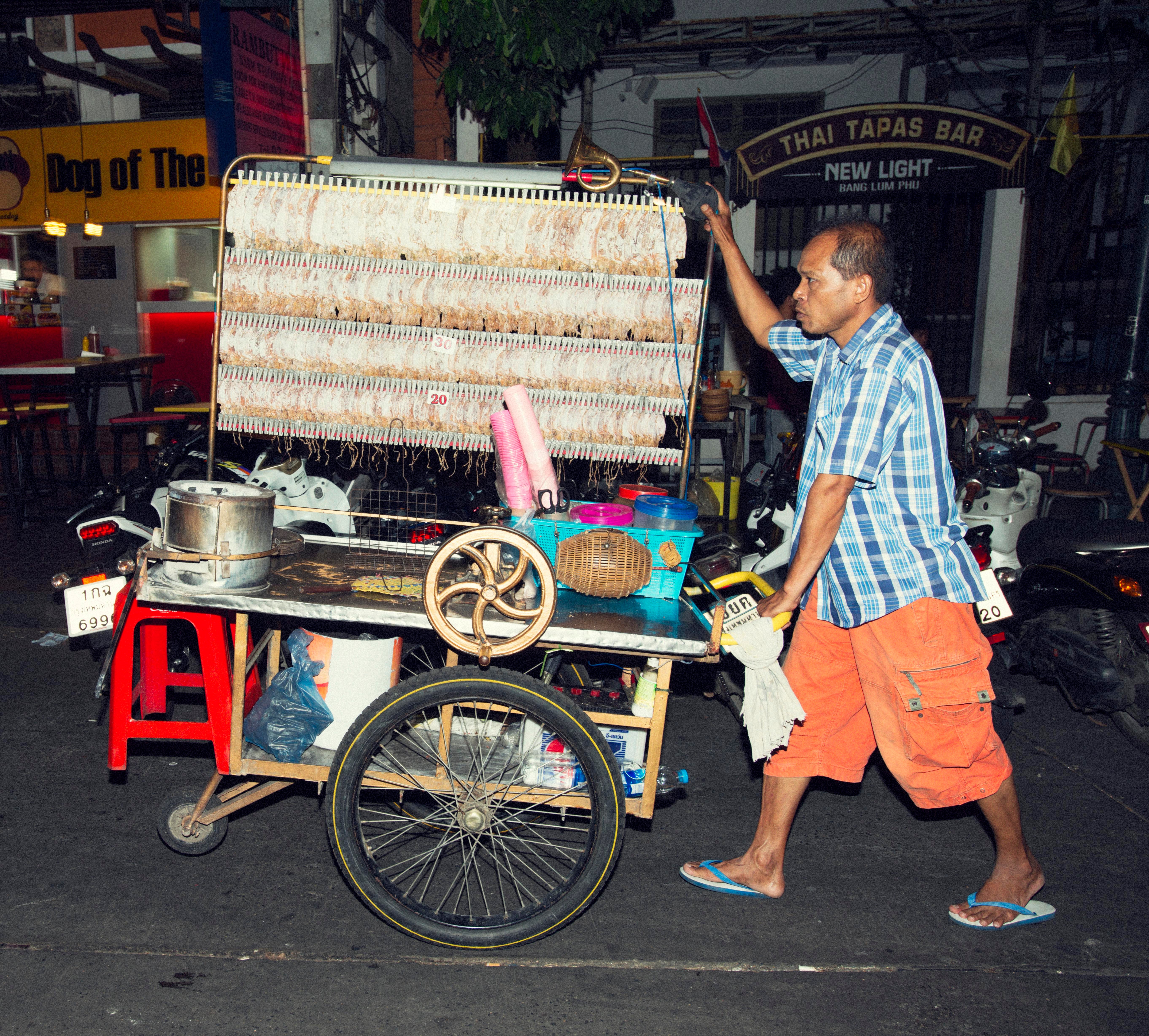 A new Pok Pok book promises a deep look at the world of eating, drinking, and eating more in Northern Thailand.
Andy Ricker's headstone: Let's talk about that. The Thai restaurateur, cookbook author, rock guitarist, and drinking-vinegar empire builder has done a lot. (Vice produced a feature-length documentary around the dude's wanderlust and faithfulness to the cooking of Northern Thailand). But I'm going to take a shot at that headstone. Thai Cuisine: Not a Fucking Monolith! Over the past decade, I've heard Ricker make this case many times, and it's basically the first thing he says when I call him recently at home in Portland, Oregon.
"People tend to look at Thailand as this sort of monolithic cuisine, and it's not," he repeats, perhaps due to interview muscle memory, but also as a reflex to my first question: What's this upcoming book, The Drinking Food of Thailand: A Cookbook (Ten Speed Press, out October 31), all about? He continues with the stump speech. "Thailand comprises people from all kinds of different cultural and ethnic backgrounds, and one of those is Thai—which has been the dominant culture for the last 700 years or so," he says, adding that ethnic Thais tend to live in the central regions, while the north has a different language and roots from elsewhere, which ultimately informs the disparate ways these folks cook and eat.
This is all critical to Ricker's argument (repeat it: Thailand is broken into regions, like Italy and France!), which hit the mainstream first in 2013 in the form of a best-selling cookbook, Pok Pok, which has more than 85,000 copies in print and was released in lockstep with America's exploding interest in Asian food and culture. While he is versed in all forms of Thai cooking, Ricker's interest lies in the country's northern regions—with the old city of Chiang Mai as the hub—where flavors tend to lean more sour than sweet, with spice levels rising from hot to flamethrower with the flick of a bird's-eye chile. So the cooking is less coconut-milk-kissed bowls of noodles and more lactic-fermented pork sausage and spicy squid salads.
But the new book segments the northern cuisine one step further, diving into the foods that go along with rounds of lightweight beer or whiskey. "It's one of my favorite ways to eat," says Ricker, stressing that these grilled, fried, and stir-fried dishes are absolutely the most delicious way to eat. Thai drinking food tends to be more spicy, crunchy, and chewy, and served in smaller portions—and typically without a bowl of rice. Alcohol has residual sugar, so the cooking needs a backbone of hefty flavors to hold up. A quick glance at the table of contents, and you realize the promise of deliciousness is kept. Thai-style fried chicken, galangal chile dip, hammered flank steak (obvious puns avoided), fried cashews with chile. The recipes jump off the page. Stir-fried chicken wings with basil for your Super Bowl party?
The book, reported and photographed over several years, was written with Ricker's longtime collaborator JJ Goode, and features a documentary approach to photography. "No studios, none of that stuff." Instead, Ricker and Goode set out to photograph the dishes first—in the rough and honest crime-scene style of Weegee, but light like flash-master Terry Richardson—and then re-create the dishes second. "We ordered it, shot it, ate it," recalls Ricker of this process. Chef David Thompson and Anthony Bourdain make cameos in the text, woven into the essays and stories Ricker is so skilled at sharing.
As for Ricker's story with the foods of Thailand? You could call it a trilogy. In July he and Goode will head to Thailand to photograph and report their next book: Noodles. But instead of focusing on just the north, the journey will take the team throughout the country. "Noodles are like a hamburger," says Ricker. "It's not a regional dish; there are hamburgers in every single state in the country, which is the same in Thailand."