Grand Central Market Is Los Angeles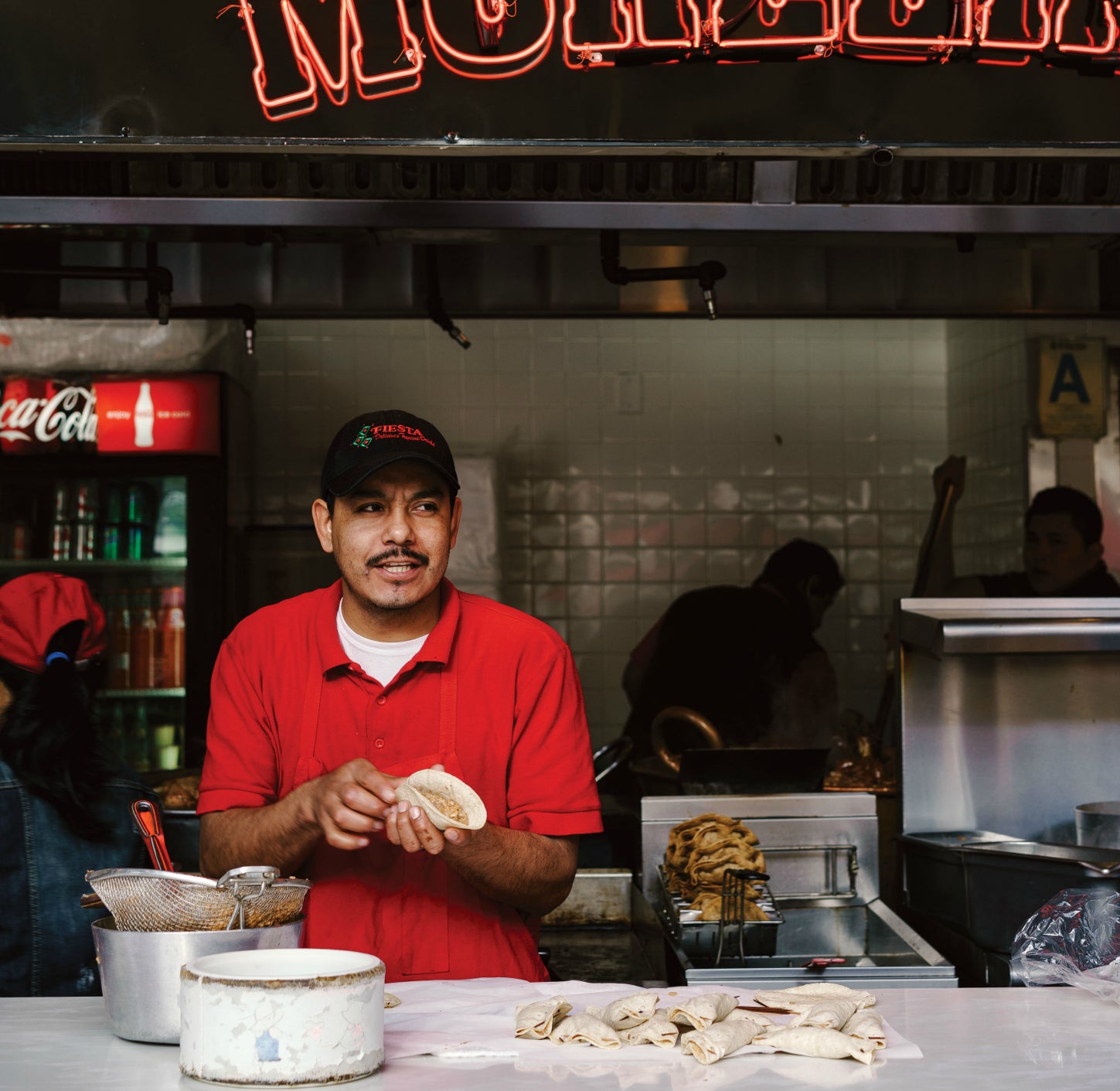 One hundred years old, the downtown market represents the city's ever-evolving food scene. And now there's a book documenting it all.  
A great many moons before the Korean taco craze, the tsukemen ramen craze, the avocado toast craze, the ricotta toast craze, the almond macadamia milk cappuccino craze, and the Los Angeles–is-the-epicenter-of-food-in-America craze captured the attention of food writers, magazine editors, and social media #influencers around the globe, the Grand Central Market—the subject of a new cookbook published by Clarkson Potter—swung open its doors near the corner of 3rd Street and Broadway in downtown L.A. This happened in 1917, precisely, and the market has been open continuously ever since. Happy 100 years!
It's a remarkable run for any business—here a collection of 38 food stalls representing Southern California's staggeringly diverse population. There's egg foo yeung and bento boxes being sold alongside Roman-styled pastas, labneh-dotted falafels, vegan ramen, and slow-smoked barbecue from a guy called the Horse Thief. GQ once called Grand Central Market the "most socially and economically integrated public space in America." I'd challenge that claim—walk outside the Barclays Center after a Brooklyn Nets buzzer beater and you will see people—but it's super fair to acknowledge that the market is diverse and inclusive.
And hardly a fossilized relic. A tourist trap? For sure! Avoid Saturday and Sunday if crowds switch on the agita. But having personally spent many mornings and afternoons walking, and snacking, up and down the rows, I can say that along with the weekly Smorgasburg L.A. Sunday gathering, Grand Central represents the best way to mainline the city's wonderful food.
Andy Wang writes about the Los Angeles restaurant scene for Food & Wine, the Observer, and occasionally TASTE. "The market is a good representation of what's delicious and what matters in L.A.," he says, adding that it's also a great way to see where L.A. food is headed. "Think about how Eggslut redefined casual-cool in L.A., how Madcapra was the precursor to Kismet, how Sticky Rice kind of gave birth to cool places all over the city, like Side Chick."
"I have mixed feelings about the redevelopment (as I think a lot of folks do)," says Besha Rodell, who until recently was the restaurant critic at LA Weekly. "On the one hand it's nurtured a ton of great food and businesses, and it's undoubtedly revitalized the area. On the other hand, it's no longer really a functioning market (which it used to be). It's a food hall, and the massive gentrification of the change is undeniable. In that way it really does represent LA's food scene! But also because you can get everything from a $3 pile of carnitas to oysters and champagne in that sense as well, it's very LA."
And there's Eggslut. Oh, Eggslut. Or shall we call it the Eggslut Effect. Opened in October 2013 at the mouth of the market's Broadway entrance, Eggslut is the genius of chef Alvin Cailan, a veteran of fine dining and high-concept shops in Europe (Muguaritz, Noma) and Portland (Castagna, Olympia Provisions). In the end eggs—coddled, scrambled, BEC'd—became this dude's specialty, and after a successful run as the Eggslut food truck, he opened a stall in the market with that cheeky name, and lines have been forming ever since, without a doubt drawing a younger, cooler, social-savvy audience to the market. "I'm a slut for eggs. So, Eggslut," Cailan notes in the book, next to his Ur-chef-y recipe for his famous coddled eggs with potato puree. Highlights include: 4 eggs, 1 pound of potatoes, 10½ tablespoons butter, serving four. Eggslut: not messing around. And the book is not messing around, either.
Every food vendor at Grand Central Market contributed to the cookbook, which was cowritten by Adele Yellin (the market's feisty owner) and Kevin West (a longtime manager). It's broken into seven thematic, kinetic chapters (which mirrors the fast-moving pace of the market): Breakfast; Tacos, Etc.; Carbs; Happy Hour; Meat and Fish; Veg; and Sweets. There's a killer smoked salmon latke recipe from Wexler's Deli. "From the get-go, we wanted people to bite into a bagel and lox and say, "Fuck, that's the best bagel and lox," says Micah Wexler of his excellent take on Jewish smoked fish. "We want them to say that every day."
The legendary Sticky Rice stall (an early favorite of the Los Angeles Times food section staff) offers up a recipe for boat noodles, and there's a recipe for carne guisada—Salvadoran stewed meat pupusa from Sarita's Pupuseria. The vibe and energy of the market is captured honestly by photographer Johnny Autry, a master of the documentary style and balancing light. We love Johnny at TASTE.
I press journalist Andy Wang for his favorite stall. "It's so diverse that I don't have a go-to, honestly," he says. I don't let him off the hook. "The Sunday gravy at Knead is probably what I recommend most," he offers, adding that it's the closest thing to New York City Italian he's found in L.A. And there's a recipe for that, too.