Getting Lost in the World's Largest Stack of Menus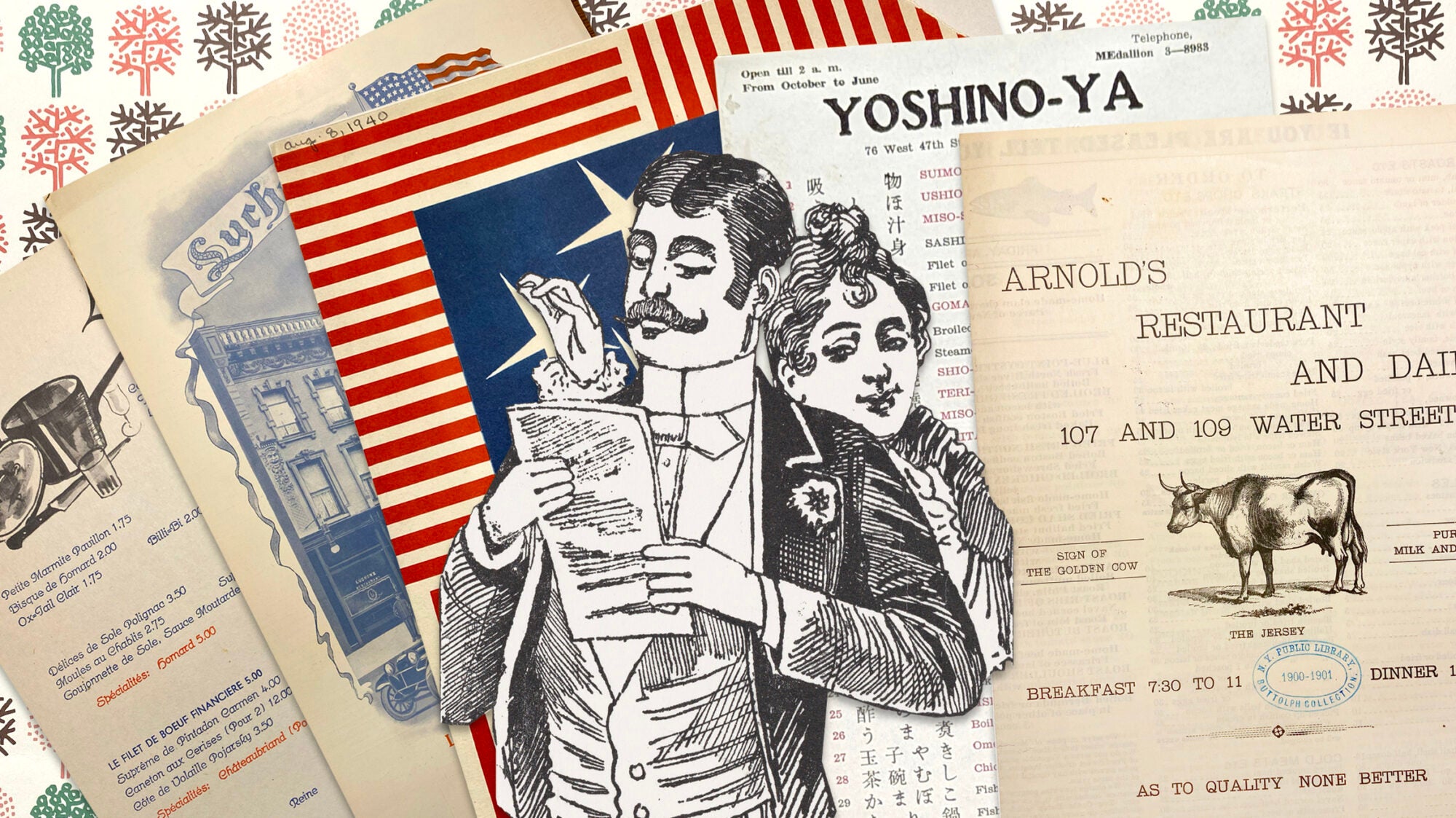 The Buttolph collection of menus at the New York Public Library continues to inspire a new generation of researchers, chefs, and restaurant fans.
After a lunch of mulligatawny soup and roast mutton on a wintry New Year's Day in 1900, Miss Frank E. Buttolph struck upon a novel idea. "I stopped in the Columbia Restaurant for lunch and thought it might be interesting to file a bill of fare at the library," Buttolph wrote in a letter dated February 14, noting the restaurant that was located in Manhattan's Union Square. "A week later the thought occurred, why not preserve others?" Buttolph — whose given name was Frances but who preferred to be addressed as Frank — was already an avid collector of postcards with pictures of lighthouses. Preserving menus suited her penchant for collecting unique and colorful ephemera. 
Soon after, the idiosyncratic Buttolph petitioned the New York Public Library's director, John Shaw Billings, to enlist the library's help with compiling menus from around the world that she would collect on its behalf. Despite Buttolph's notoriously prickly disposition (her tirades against whistling and untidy desks were legendary), the library agreed to award her a voluntary position as menu archivist.
Within months, she'd filed hundreds of menus at the Astor Library, one of the original New York Public Library (NYPL) branches, located on Lafayette Street in the building the Public Theater now inhabits. (The theater named its upstairs restaurant and bar "The Library" as an homage to its past.) Though Buttolph would later acquire menus that predated 1900, she archived thousands of documents in the first year alone, including a handmade Valentine's Day dinner menu from the Alcazar Hotel in St. Augustine, Florida, that includes a ten-part classical music program performed by an in-house orchestra and a French-inspired bill of fare featuring dishes like boiled beef à la Flamande, bluefish au gratin with duxelles, and salmi of duck à la cavour.
The library provided Buttolph no budget and no salary. But she kept collecting, even placing advertisements in restaurant trade and hotel magazines to solicit menus from readers, stressing that their condition must be immaculate. Buttolph could only lure donors with the satisfaction of contributing to a historic archive, but she continued to receive menus from admirers across the country and overseas, including one from a London banquet celebrating King Edward VII's coronation in 1902. 
An illustrated feature in the New York Times on June 3, 1906, anointed her collection the "most interesting array of menus in the world." (By then, she'd amassed 14,500 menus.) Buttolph is described as "a tiny, unostentatious, literary-looking lady." She wasn't a foodie, at least not in today's terms. "She frankly avers that she does not care two pins for the food lists on her menus," the Times wrote, "but their historic interest means everything." In the early days, curious library users could access the collection, but only under Buttolph's strict supervision. She kept careful watch over her precious menus to ensure that their condition would never be compromised. 
By 1924, when Buttolph died of pneumonia at age 80, her collection had grown to an astonishing 25,000 menus, most of them assembled at her own expense. Each one was emblazoned with an official oval blue stamp signifying the year it was archived between 1900 and 1923, likely applied by Buttolph herself.
Today, the library's collection has grown to over 40,000 menus. According to the New York Public Library's website, about two-thirds of the menus are American, more than half come from New York restaurants, and most date from between 1890 and 1910, acquired during the prime of Buttolph's archival work. The physical documents live in temperature-controlled stacks beneath the library's flagship Stephen A. Schwarzman Building on East 42nd Street and Fifth Avenue in Manhattan. 
Individual pieces can be requisitioned through NYPL's rare books division, though users can also now browse most of the catalog online. In 2011, the library launched an initiative called "What's on the Menu?," a crowdsourced effort to digitize the collection by recruiting volunteers to manually enter metadata that would make the menus more searchable by their contents. In the decades since the program started, almost the entire collection of menus has been cataloged by genre, place, name, and year, spanning from 1843 to 2008. Since then, the digital menu archive has averaged almost one million page views annually.
Rebecca Federman, the assistant director for the Center for Research in the Humanities, assists NYPL's Rare Book Division with the collection, helping users mine its holdings for insights into decades of America's rapidly changing dining trends. She became interested in the Buttolph collection while she was in library school after attending an NYPL exhibition called "New York Eats Out," curated by the former New York Times restaurant critic William Grimes in 2002. She was fascinated by how these historical artifacts could be used to help piece together the evolution of the American restaurant. "It transports you back in time," Federman says. "You've probably heard of some of these places. Your parents and grandparents may have eaten there." 
The NYPL isn't actively acquiring new menus, but it does occasionally accept restaurant-related ephemera, including 158 boxes filled with archival papers and personal effects belonging to the late Joe Baum, the iconic founder of the restaurant Windows on the World, that were donated posthumously. Federman regularly fields inquiries from researchers, academics, and chefs who need assistance navigating the collection virtually or physically. "Chefs that have come in are generally interested in looking at menus for inspiration," Federman says, "to see what older menus and older restaurants did, and how they can rethink their menu to reflect today's landscape as a nod to the past." 
Joris Larigaldie, the culinary director for José Andrés's new restaurants that recently opened at the Ritz-Carlton NoMad hotel, contacted Federman in early 2022 to help deepen his understanding of New York City's rich culinary history. With Federman's help, he discovered Ritz-Carlton menus from the Buttolph collection online that dated back to 1913, studying years's worth of them to inspire new recipes for the menu at Nubeluz, the hotel's Art Deco-inspired rooftop bar and restaurant.
Larigaldie was particularly interested in popular dishes from turn-of-the-century New York, and he was surprised to find many familiar names in his research. "You realize that some of the classics have been classics for a very long time," says Larigaldie. One dish he found repeatedly on menus from the 1920s was the Mont Blanc — a dessert of thinly piped chestnut puree that looks like vermicelli swirled over a round meringue base and dotted with whipped cream to resemble the snow-capped French Alps. At Nubeluz, Larigaldie created a modern, airy take on the Mont Blanc, which he serves as a miniature sweet cone topped with swirls of lemon and chamomile cream.
"Researching menus is like a puzzle," Federman says. "You have to use different pieces in order to get a fuller picture." In a 2012 exhibition called "Lunch Hour NYC," Federman and culinary historian Laura Shapiro unearthed a Japanese menu from 1932 that contained the earliest reference to sushi they could find in New York City. While the menu at Yoshino-ya, located near Rockefeller Center, featured sashimi, shrimp tempura, eel with tare, and other Japanese delicacies, it also included a prix-fixe sukiyaki dinner that seems geared toward Westerners, with accoutrements you wouldn't expect to see on a Japanese menu, like olives and celery hearts.
Federman consulted the library's reverse telephone directory to find the restaurant's address and learned that it was only open for a year, on a block of West 47th Street occupied by businesses that catered to predominantly Japanese clientele. "What's nice about having the menus here at the library is that we have these other resources to draw from to understand the bigger story," she says.
Paul Freedman, a professor of medieval history at Yale and the author of Ten Restaurants That Changed America, credits the Buttolph collection with spurring his interest in restaurant history. While doing research at the NYPL for his book, he discovered bound volumes from the Fifth Avenue Hotel that included over 5,000 menus that changed daily from 1859 to 1881. He and a dedicated team of researchers and students combed through the menus one at a time, logging every dish to ascertain the most popular items over a twenty-year period. "You could see what people considered to be high-end cuisine in the 19th century, which consisted of things that people no longer eat when they're affluent, like pigs' feet, canvasback ducks, and terrapin," Freedman says. 
Freedman consulted other menu archives from around the country, but the Buttolph collection, by far the largest, provided a wealth of menus that helped him narrow his list of the most influential American restaurants. These included some Buttolph originals, like menus from New York City's oldest restaurant, Delmonico's, and others that were acquired later from places like the Four Seasons, Le Pavillon, Mamma Leone's, and the Mandarin.
When Scott Alves Barton was an adjunct professor of food studies at NYU between 2010 and 2021, he sought out the menu collection for clues about dining habits during the Harlem Renaissance, specifically exploring the influence of West Indian and African cuisine on iconic restaurants and jazz clubs like Minton's. "The Black-owned ones had things you wouldn't see served as much today, like hog maws and chitlins, more variety cuts," says Barton. "The white-owned restaurants had more continental dishes, and the vogue or trendy dish at the time was chop suey in places like the Cotton Club and the Savoy Ballroom, where Black people performed but couldn't eat in." 
While the collection was limited in its breadth of menus related to the African American diaspora, Barton learned that the library's archives contained volumes of the Green Book—Victor Hugo Green's guide to help Black motorists safely find restaurants and lodging while traveling—dating back to 1937. The Green Books contained troves of valuable data about what type of restaurants were popular among Black travelers at the time. In early editions of the guide, readers would see advertisements for mostly Black-owned businesses, like Harlem on the Hudson, a restaurant and lounge in Englewood Cliffs, New Jersey, that served Creole food, and Rodgers Dining Room in New Rochelle, New York, which proudly boasted "The Best Southern Fried Chicken." 
When I visited the Brooke Russell Astor Reading Room for Rare Books in the Schwarzman Building in late October, Federman and her colleagues assembled a dossier of menus for me to examine that included one of the oldest traditional restaurant menus in the collection, an 1843 lunch menu from the Astor House labeled "Ladies' Ordinary." (According to Federman, ladies were customarily presented with different menus than men during this era.) It also included an immaculate menu folder from a French pop-up called The Restaurant Française that opened in Queens during the 1939 New York World's Fair that was acquired after Buttolph's death.
The broad mahogany desks inside the reading room are surrounded by antique books ensconced in glass windows. The multilevel shelving reaches toward the high ceiling with brass railings and ledges that provide staff access to thousands of antique tomes. Most of the books seem like they haven't been touched by human hands for decades. Visitors are forbidden from photographing the space itself, only photos of the requisitioned documents are permitted.
You can feel the weight of history when handling these historical artifacts—the oldest and most delicate are sheathed in protective Mylar. If a menu is stained, it makes you wonder where the stains came from. What did the original possessor of the menu order? I imagined New York City's hungry denizens enjoying unfamiliar dishes like "pig's knuckle in jelly" or "calf's head with brain sauce." You might find yourself wondering what "frostfish" is when looking at a Waldorf-Astoria menu from 1901, whether the Beluga caviar for $1.50 seemed expensive (hint: it's $52.59 in today's dollars, adjusted for inflation), or how the restaurant managed to have nine different species of game birds on the menu. If you're curious what Chinese food in America was like in 1904, the collection has answers.
In the waning years of her life, Buttolph had differences with the library's leadership. She was dismissed from her voluntary role in 1923, a year before her death on February 27, 1924. In her last official letter to the library, she wrote, "For many years my library work has been the only thing I had to live for. It was my heart, my soul, my life. Always before me was the vision of students of history who would say 'thank you' to my name and memory." Her reclusive nature leaves many details of her life a mystery. Federman believes that Buttolph's commitment to the menu collection was likely motivated by her desire for acceptance within the library community, which she desperately loved, as opposed to an affinity for restaurants or food. 
Buttolph herself likely never envisioned restaurants becoming so central to American popular culture, as they are in New York City particularly, but her instinct to chronicle their rise was prescient. With her menus in my hands, it became easier to understand the obsession. Menus provide a window into history, a vital connection to our foodways. Even as QR code technology threatens to render printed menus obsolete, it occurred to me that nothing can replace the texture and poetry of a physical menu. No matter how much restaurants have changed in the century since Miss Buttolph lived, the humble menu has endured—as the diner's first impression, a statement of the chef's intentions, and a love letter to the appetite.