Friends and Family Is the Queer Bar of Our Dreams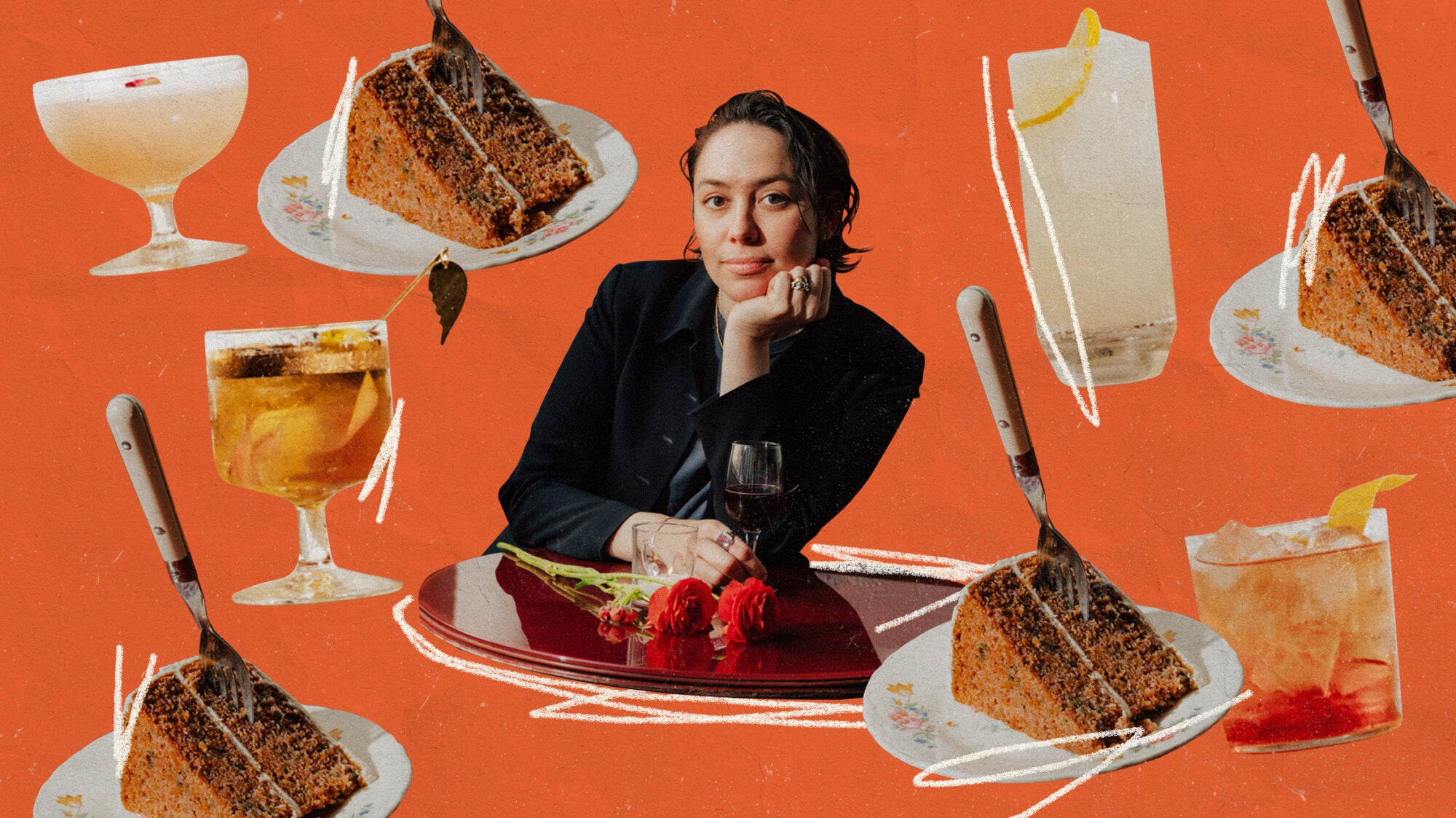 Come for the expertly made Manhattan, stay for the speed dating.

 
Lately, there is much to be said about the state of the queer bar, especially in non-male spaces. The number of lesbian bars in the United States has plummeted from 200 in the 1980s to fewer than 30 today, as documented by the Lesbian Bar Project, a documentary and campaign to preserve these spaces. At the same time, a wave of new bars and parties are popping up in the post-pandemic landscape.
Blake Cole, a former manager at Oakland bar and fried chicken shop Hopscotch who also ran the pop-up Hot House, spent three years getting ready to open her Uptown bar Friends and Family. The day after receiving their final inspection clearance in March 2020, COVID-19 shelter-in-place orders hit the Bay Area. Cole threw all her plans out the window and began selling bottled gin martinis to go, along with expertly mixed classic cocktails and new takes, like coconut-oil-washed Japanese whiskey served with coffee-infused Cynar and nonalcoholic spritzes spiked with house-made "Campari."
"As a bar director, the whole goal is to experience a cocktail in the glass we chose for it," Cole says. "I'm very grateful we developed a customer base just from doing to-go, because the cocktails stood on their own, and as we opened our doors, the queer community has adopted our space as well."
Over the past three years, Cole and her team have been busy racking up awards from places like the James Beard Foundation and the World's 50 Best Bars while simultaneously cultivating a community with events like celebrity-themed bingo nights and artisan markets (think: vintage, herbalists, and tooth gems). On the precipice of a whirlwind monthlong tour running Friends and Family's popular queer speed dating events as a pop-up series in Los Angeles and New York—complete with '90s-era NASCAR-racing-style merch—I called up Cole to talk about riffing on the classics and what it's like to run a queer bar today. 
What inspired you to start dreaming up Friends and Family?
I always knew I wanted to have a place of my own. I worked for a bunch of different people learning what I wanted—and didn't want—to do. Being a woman in this industry comes with so many layers of bullshit, for lack of a better term. I wanted to create a place not only that I wanted to be at but that people wanted to work at and would feel safe in. 
At the same time that I was creating the bar, I was having a later-in-life coming out. I was entering into my queer identity in a strong way, and because the bar is so personal to me, a lot of the elements of the queer community I was building and queerness within myself got poured into it. 
Explain the concept behind the split "Friends" and "Family" cocktail menus?
The "Family" cocktails are our variations on the classics, with one or two tiny tweaks based on how a family member liked that drink. They always stay on the menu. Grandma's Standard is our house martini—it's a Plymouth Gin martini served up with a lemon twist, which is the specific cocktail my grandma drank. Mom's Rosy Cheeks is a gimlet, which is my mom's favorite cocktail, and it has rose hips added into the simple syrup because she always gets rosy cheeks when she drinks a gimlet.
The "Friends" drinks are our opportunity to explore, and those flow on and off the menu more. All the cocktails are named after a place or a person. To me, going to a bar or sharing a meal is one of the most human experiences we can have—I'm incredibly sentimental and a hopeless romantic, so it's all about the stories we have for each other. My family means a whole lot to me, and they're the first people I learned to make a cocktail with and for, so it seemed like a natural jumping-off point based on the name of the bar. 
What does being a queer community bar mean to you?
You can hire queer people and have queer people in your space, but you need to be doing the work to honor them and listen to their individual needs. We do vendor markets highlighting people in the queer community, comedy and storytelling nights, and our popular speed dating series. There are lots of little things we do to make our queer space a safe space, like having a note on the menu asking customers to use gender-neutral pronouns for our staff, that create an opportunity to be not just a bar but an educational space where people who aren't within the community can come there and be better for it. 
I've always wanted to have a consistent "charitable aspect," because there's so much power in having a bar. The Daily Affirmation is a mini cocktail shot, and 100% of the profits each month go to different people who are raising funds for gender-affirming surgeries or care. We have a lot of people on our staff who have had top surgery, and people are constantly posting GoFundMes or Venmos on Instagram, so it is such a no-brainer to directly help individuals within our community. We've done a variation on a White Negroni, fun five-spice daquiris, drinks with mezcal infused with coffee in-house. Sometimes we'll get a liquor sponsor to help us with the funding and we'll do a cocktail based on their liquor, or we'll just come up with ones on the fly depending on what we have extra that day or any fresh juices or syrups we've made. We have this incredible collection of vintage glassware, and the Daily Affirmation comes in a baby cocktail glass—it really fuels our vintage shopping addiction.
Tell me about the idea for queer speed dating. How did it come about, and why are you taking it on the road?
Once people were able to gather again, it felt like we needed to do something to encourage people to reconnect. Some people didn't know how to meet people after being apart for so long. Some people hadn't had enough time to even see what it's like to meet people in bars, especially in the younger queer community. That's where the idea for queer speed dating was born, with my cocreator Meg Strait. Everyone is so used to meeting online, so we were helping them baby-step into real-life connection.
We tell people at the events that a "love connection" is the cherry on top. This is more about building community. It's about being in a room with fellow queer people and being vulnerable enough to put yourself out there. There was an amazing reaction to it. A whole friend group formed; some people even started a bowling league. People appreciated that it was a safe space for them to put themselves out there, and we were ultimately the facilitators to conversation, which can be intimating.
We saw how successful it was and how much fun we could have while providing this connection point to other communities, so we decided to travel around and take this everywhere. We're starting with Los Angeles and New York, but the dream is to ultimately take it to smaller places with less of a loud or open community.  
There's always a huge influx of queer events for Pride in June. How do you balance that interest with the reality of being a queer community bar 24-7?
We certainly don't hold anything back and wait until June. We do queer events sporadically all year round, but we do try to pack it in a little more in June, because we want to capitalize on that moment where people are excited to be out all month long. I think June is just the real beginning of summer here, so there's an extra celebratory feeling on top of it.
As an owner, what's your perspective on the state of the lesbian bar today?
It's just so exciting that we're part of the conversation again, and I hope the number of bars just explodes. For years I've been doing research about all these femme, lesbian, queer-driven spaces in San Francisco that were historic and incredible—and there's very little coverage, footage, or photographs. There's so much rich history here, and if the community gets an opportunity now to tell those stories and bring them to light and move things into the future, it's incredible. The more we're talking about the queer community and normalizing it in places outside of just the big city, it ultimately benefits everybody. We're places for people to feel safe and seen, and that's just the greatest thing in the world.