Eric Ripert Is Cooking Through It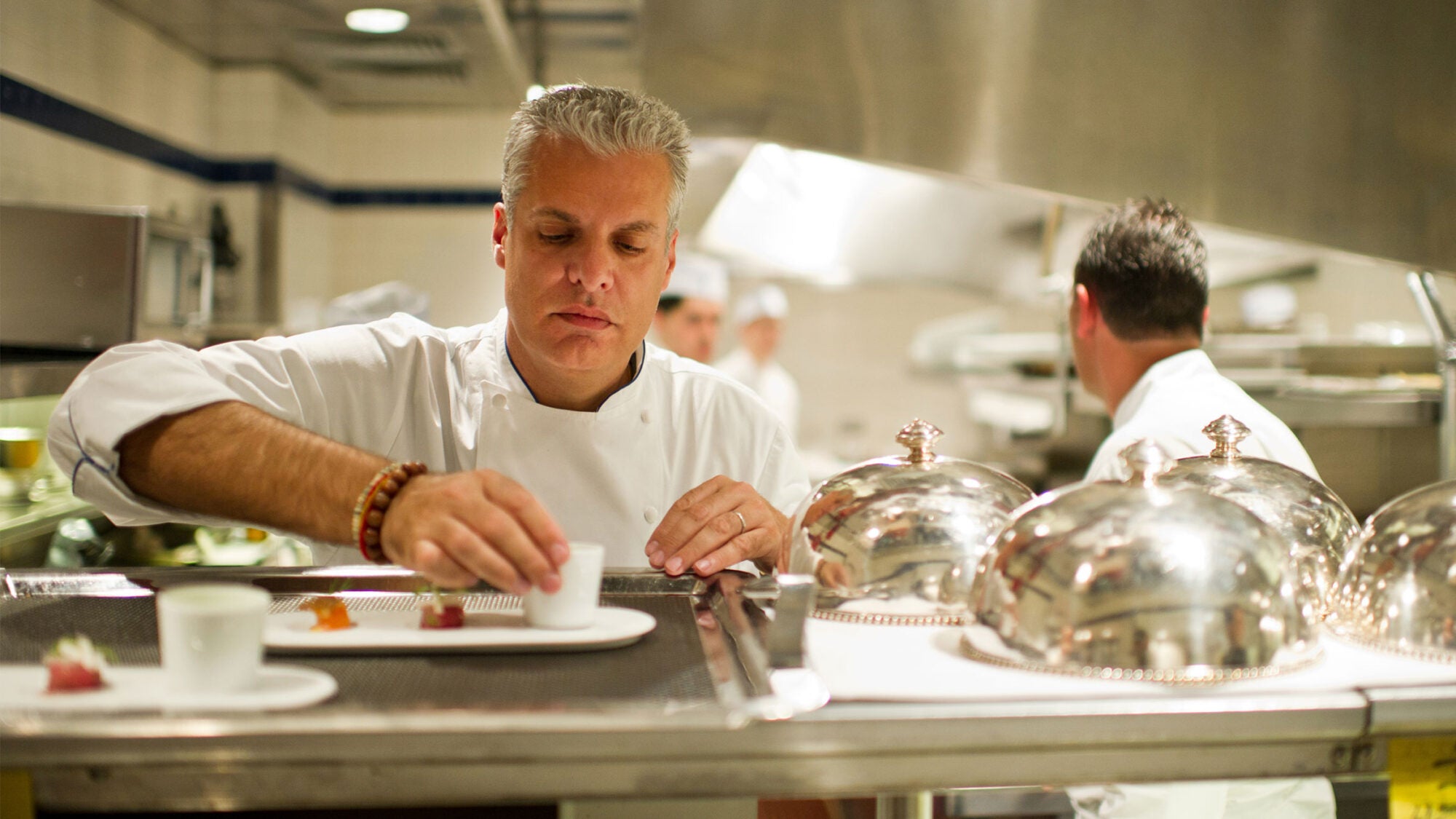 Even amid a pandemic and possible closure, the Le Bernardin chef-owner isn't giving up on New York.
"Eric Ripert, the celebrated chef and TV personality behind New York's Le Bernardin, is a balancing force in this trash-fire age." I observed this nearly two years to the day when he appeared on the TASTE Podcast to talk about the anticipation, and the slight stress, leading up to the Michelin Guide anointing New York City restaurants with stars. Le Bernardin, since 2005, has received three stars (the maximum possible), but don't tell that to 2018 Eric Ripert. 
When we caught up recently to talk about what restaurant life has been like since the beginning of the pandemic, anxieties over restaurant inspectors started to seem a little quaint, in retrospect. Even after the restaurant's closing, recent reopening, and pivot to 25-percent capacity, Ripert had the same smile as always. This smile was perhaps a bit more worried, but it also offered a small amount of cautious optimism. 
Times are really tough for anybody working in the restaurant industry, and Ripert is pulling six-day workweeks and hoping for the best, like most of his peers. "If nothing changes, it's not good," he said during our talk two weeks ago. We discussed the current, younger crowd at Le Bernardin, his upcoming vegetable cookbook, and a recent visitor to his kitchen who sometimes goes by the name of Borat.     
How are you holding up? Things okay?
Yeah, we have no choice [laughs].
You're open at 25 percent capacity right now, right?
Yeah, we have 25 percent. There are 59 seats available, and we do two seatings. So we do about 100 covers a day.
I've read a great deal about how 25-percent capacity is not sustainable for restaurants, especially fine dining like Le Bernardin. So, if this is not sustainable, why even reopen?
Well, first of all, when we are closed, we lose money. So we're losing money when we're closed, and we lose money when we're open. But at least reopening at 25 percent, I bring some of the staff back and bring life back to Le Bernardin. We're getting ready to potentially open at 50 percent. It may not be tomorrow, but at least we're training for that and coming back to life. And, at that point, we can lose a little bit of money, too. If nothing changes, it's not good.
I know. So the end of October goes to 50 percent, so I wanted to ask you—
Well, I'm not sure about that. Because they're not talking about it again. It looks like they—as you know, we have some problems in Brooklyn and problems in Queens. And I don't think they're going to let us go to 50 percent in November. If they do, it's great.
Have you had customers? I know travel and expense budgets are cut, but I'm just curious how it's working for you.
It's very interesting, because a lot of people are calling Le Bernardin to get tables, so we are packed with the capacity that we have. And everyone is eager to support the restaurant industry, and us in particular when they come to Le Bernardin, obviously. They spend a lot of money on wines, a lot on tasting menus, and I think it's a little bit of pure support for the restaurant industry—and also to indulge, because I think people are tired of eating at home, and terraces are nice and lovely in the summer—now, not as much. And people are very happy to dress again, to dress well, and it's a very elegant crowd. The energy's great in a dining room; people are very happy.
It seems your crowd would likely be a crowd that had been outside in the Hamptons and now they're back in the city. Tell me, how did that first week go? What was the tone of the service?
I'm not sure the crowd that we have is the crowd that is in the Hamptons. It's a lot of millennials that are coming, and also a lot of regulars, obviously, that are coming. But it looks like the idea of staying in the Hamptons for the fall and the summer, it's not necessarily something that is happening. I see a lot of people are back in New York. Some of them because of school obligations, and some of them because the Hamptons are nice in the summer, but at some point, you have to come back to New York.
Younger millennials—that's cool to see.
Oh, yes, it's very nice. And what I like about them is that they really are elegant. They really want to dress, and it's something special for them.
So, you're personally right in the kitchen. What were you excited to be working on? I mean, this is what drives you as a chef, doing service. I know you love it.
I am back in the kitchen more than ever and very involved. I have to be in the kitchen six days a week. I have no choice. We took some signature dishes and put them back on the menu. And we are creating, as we speak, some ideas, and so the menu is evolving very quickly, from some dishes that we had when we closed, and now we're moving toward new dishes that are more adaptive also to the season, because we closed in March, and now we are in the fall. It's a work in progress, and it's what I love to do, of course—creativity. 
Is it like opening up a [new] restaurant, when you've taken that kind of pause?
It's opening a restaurant, although I will say it's a bit easier, because the entire team was with us before. We didn't hire new people. They know the restaurant, they know how we work and so on, so it makes it easy.
You have a new cookbook, Vegetable Simple, coming out in the spring, which was originally slated for this fall. What should we expect?
Vegetable Simple is obviously about vegetables [laughs]. And it's inspired, actually, by what I eat at home a lot. Not like I'm vegetarian—obviously I eat seafood, and I also eat meat and enjoy it. But I notice that when I'm at home cooking for the family and for myself, I have the tendency to cook a lot of vegetables. First of all, I like to go to the local markets in New York; there's a very good one on the Upper West Side on the weekend, and, of course, we have Union Square and others. And if I don't go to the market, when I go to the grocery store, I'm very inspired by vegetables. When I was a kid, my grandmothers and my mom and so on, they were cooking for me obviously, but also it was a lot of vegetables—it's not like we were eating meat every day, or we were eating fish every day. It was not such a thing. Meat was a luxury, and fish was more like a Friday obligation for a Catholic family.
Right, required by the Bible!
Therefore, I had a lot of dishes that I love eating that were very, very simple to make. And because my family was working, and they had other duties, what they were cooking for the family was a lot of vegetable dishes cooked simply. And they were super, super delicious. This inspired the compilation of recipes.
I look forward to cooking from it; I'm sure I'll get my hands on it at some point.
I can't wait to see it either! [Laughs.]
Are you following up your memoir, 32 Yolks? I always ask, because I love that book, but also because it sort of stops on a cliff-hanger—you moving to America.
32 Yolks stops when I'm coming to America, and . . . there's not another book there. I think my life in America has been pretty well documented—between the work of you, and many other journalists and so on, we have it.
After the Ripert interview was conducted, the New York Times published an interview with Sacha Baron Cohen in which the actor talks about a night working the line at Le Bernardin. I had to follow up with Ripert to find out how he did.
We recently found out that Sacha Baron Cohen worked at Le Bernardin for an evening. How did he do? And what tasks did you have him complete to really get a sense of the job?
He did very well. He was very interested in what we were doing and had a lot of questions. He wanted to be involved and learn how to fillet a fish, so we showed him.
Could he take the heat?
I think he could—he was motivated to learn, which is the most important thing.
This interview has been condensed and edited for clarity.