Cottagecore Cooking Gets Its Close-Up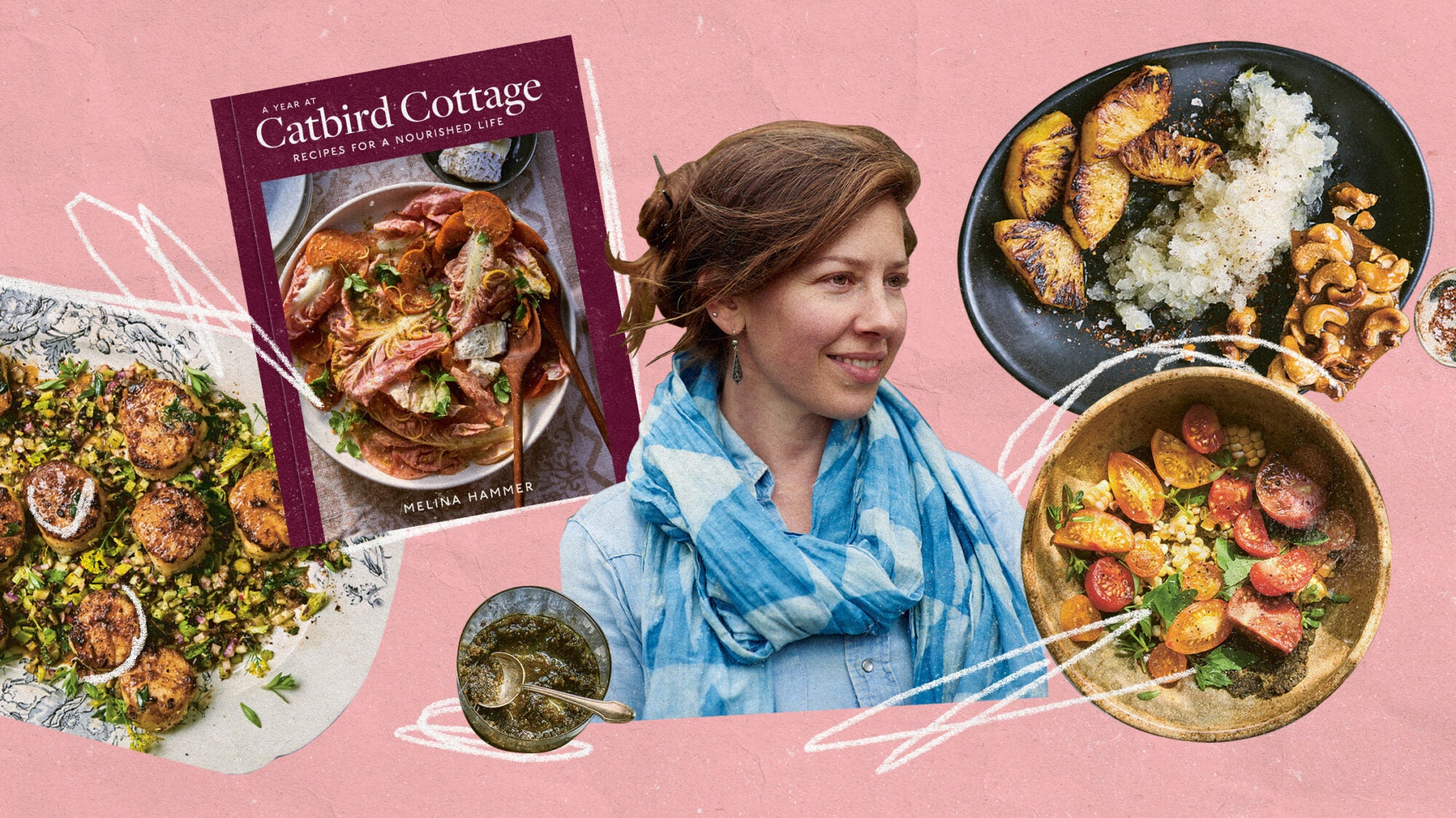 In A Year at Catbird Cottage, author Melina Hammer gives seasonal cooking the Catskills treatment.
Melina Hammer greeted me at the entrance of Catbird Cottage with a smile and a small jar of salmon rillettes that we would soon spread over salty and crackly seeded rye lavash. It was a chilly spring afternoon in the backyard of her Instagram-famous Upstate New York bed and breakfast, which is the inspiration for her debut cookbook, A Year at Catbird Cottage. Hammer is an experienced photographer and food stylist who has worked extensively with the New York Times and, most recently, on fellow upstater Julia Turshen's Simply Julia. She has a clear vision with her recipe work: delicious and accessible cooking that leans into the four distinct East Coast seasons. And while this concept isn't bleeding-edge new, Hammer's recipes demonstrate that there's still a lot of creativity to unearth.
Hammer grew up in downtown Detroit, raised by activist parents. Inspired by an early trip to Europe ("there were patinas and weathered surfaces, which just completely seized me"), she found her way to a Pennsylvania art school to pursue a degree as a metalsmith, which eventually led to photography. Restaurants entered the picture to pay the bills, leading to an impressively varied front-of-house résumé (Alma de Cuba, Le Bec-Fin, Pegu Club) that planted seeds for a rich career in food editorial. 
The culmination may be this book, which was crafted around the house—and gardens packed with strawberry mint and dwarf basil—Hammer bought with her husband, Jim Lafferty, four years ago. The chapters unfold through the seasons, while detailed sections about foraging and preserving show the author's range as an observer of naturalist cooking. Can you stay at Hammer's cottage, which the author cohabitates with guests and where she serves as cook and nature walk leader? Yes, but the waiting list can be daunting. The next best thing may be cooking through a copy of A Year at Catbird Cottage. We caught up about upstate life and living with the birds. 
You worked front-of-house at some pretty legendary restaurants. What drew you to the restaurant world?
I loved learning about ingredients and how things were being cooked. I was always a good eater, and working in restaurants helped me continue to expand on my zeal for new experiences and made that even more so. But it was as a freelancer, cooking, styling, and shooting—I had a decade-long relationship with the New York Times, for instance—where things really picked up. I was cooking, styling, and shooting recipes and cuisine types that I'd never come across before, and I also needed to deliver them picture-perfect, or picture-ready.
I'm curious about living in the Catskills. How do you describe the terroir of the Catskills?
To be even more specific, we're in between the Shawangunk [Mountains] and the Catskills. I feel like the Catskills and the Shawangunks are equidistant from [New York City], but the Catskills are what is so romanticized about the Hudson Valley because more people know about them.
Yeah, the Gunks aren't as well-known, but up here, they're definitely in the same caliber, I would say.
Right. The valley we're in makes for some really pastoral and fertile experiences, both in terms of the beauty and the diversity of things that can be grown. I definitely did not understand the extent to which that existed when we moved here. But I knew that it felt like a nexus of food.
Your foraging section is quite prescriptive, but you're not preaching, you know?
I feel like I'm an outsider forager, and vulnerable sometimes because I don't have this incredible lexicon that is, of course, the world of botany. But I have a lot of information nonetheless, and I want to make it explorative for people and also reconnect to our landscape in a way that can feel a lot more like a circle rather than a line, because we are in such a moment of consumption. 
The pandemic has not made it better, either.
No, of course not. And if we can relate to our landscapes and recognize that there are moments of magic everywhere we look, in every season, and that they're part of an ecosystem, and that that ecosystem is part of the magic of everybody out there . . . like these birds, for Chrissake. 
There are so many birds in your garden! I like how you write, "the spring is the season you most anticipate."
Well, in a very direct way, things become colorful again. The austerity of winter has always been hard for me, and I am cold easily. It's a very long, brittle season. To see that finally end, and to see these tiny things? It's like this dharma—that is, this inevitability, that is just so phenomenal, and the sort of space-creature way in which lots of plants make their first crowning heads, pushing through soil. It's just like it's magic.
You write about how looking for tender greens or early greens is preferred over older greens; is that why spring is better for foraging in some ways?
I mean, every season is great for foraging, but spring is great for tender shoots. When a plant is maturing into summertime, often it's going to be putting its energy into growing flowers, growing fruit. And so those leaves don't have the same softness or suppleness or sweetness or whatever it is, depending on what the plant is. Nettles are spring, chickweed is spring, bittercress is spring. 
Can you get sick from foraging?
I think you can get sicker from foraging mushrooms than anything else. Certainly you can get sick from foraging berries, but I think that most berries we would forage have an identifiability or a recognizability. 
You mean that they look like something you would, or wouldn't, find at the grocery store.
Exactly.
If it's round and orange, maybe not?
Glowing and red, maybe not? [Laughs.] I think that, especially for plants and for berries, you can always taste a tiny bit of something. And if it feels bitter, particularly sharp in any direction, you spit it out. You're not going to be poisoned from that tiny little taste. 
This interview has been edited and condensed for clarity.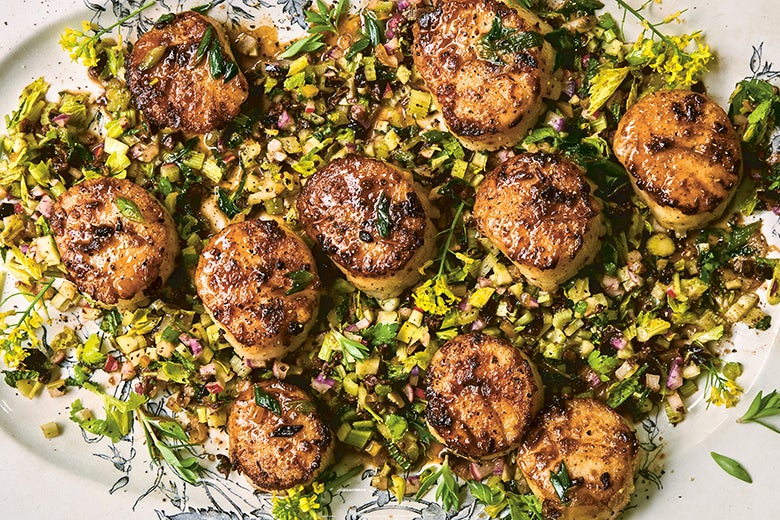 3 EXCITING RECIPES FROM A YEAR AT CATBIRD COTTAGE: 
Seared Scallops and Veggie Gravel




"As our cottage became a destination for travelers near and far, we had a chef from Alaska come for a stay," Hammer writes. "I created this recipe to make sure she felt both at home and impressed with the caliber of food."

Oaxaca-Meets-the-Mediterranean Tomatoes and Corn


"This no-cook dish bursts with summer's stars: raw corn is sweet and refreshing, as are lambsquarters and succulent purslane. Just-picked tomatoes seduce with their juicy forms. The sauce is sublime. "It straddles the beloved Italian bagna càuda and a garden pesto, sans the cheese."

Tequila Granita




"This dessert hits high marks with its layers: sweet-tart lime-flecked tequila granita foiled by buttery, juicy pineapple, offset by crunchy, sweet-salty cashew brittle. Chile salt centers it all, pulling the elements back from feeling too sweet. I use smooth and earthy Corralejo tequila, a reposado we regularly stock at our bar."