Chaat Finally Gets the Cookbook It Deserves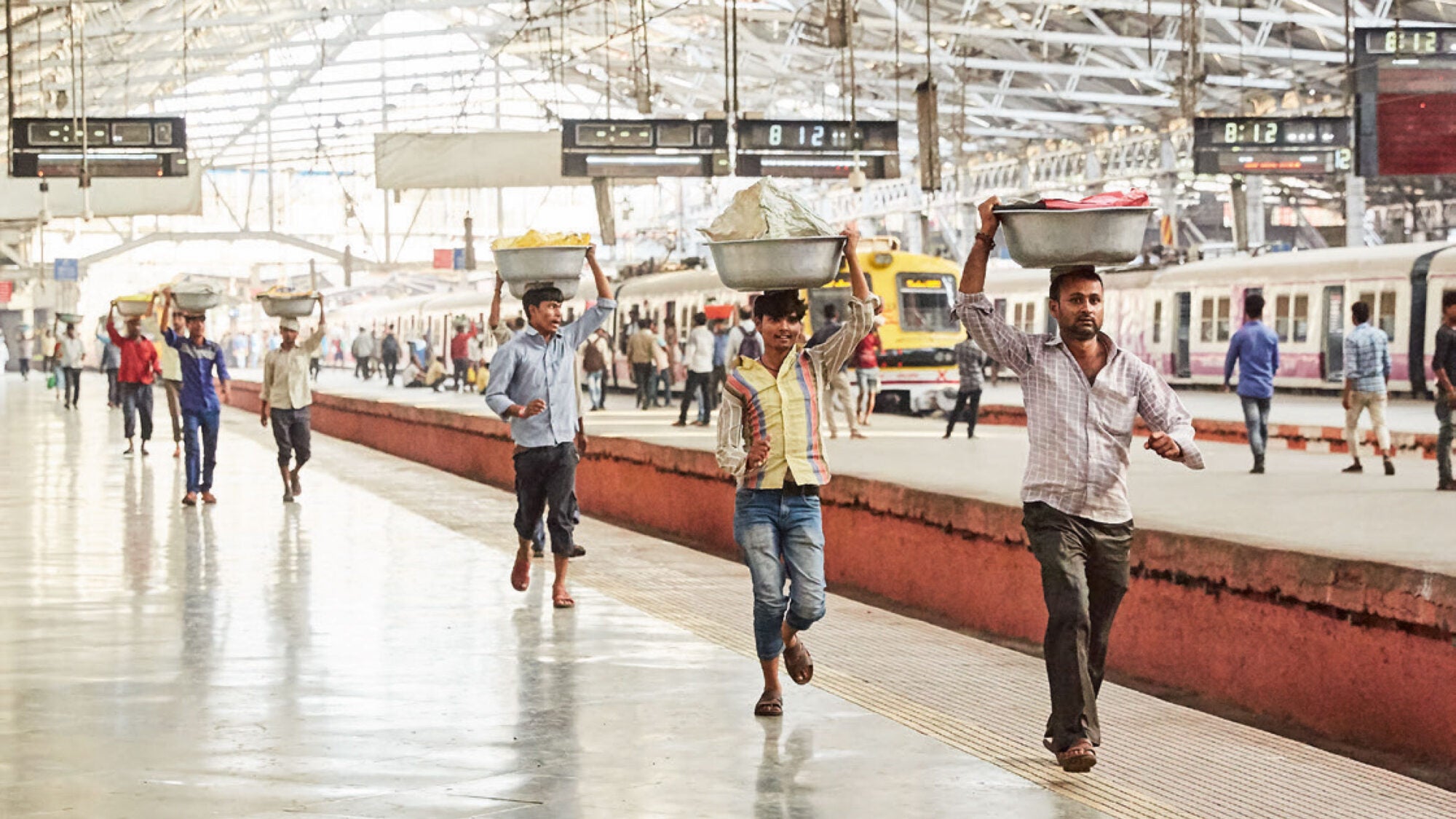 Maneet Chauhan traveled India by train, on a mission to define a broad and adaptable family of snacks.
Nine years ago, the chef and TV personality Maneet Chauhan met former Art Culinaire editor Jody Eddy when the two teamed up on a story at Chauhan's New York City restaurant Vermilion. "We came up with this crazy idea right then," Chauhan recalls while chatting from her home in Nashville, Tennessee, where she operates four restaurants while squeezing in a very active television production schedule, including frequent appearances on Chopped and the Food Network. 
The plan was to visit Chauhan's home in Ranchi, a million-person metropolis in the eastern state of Jharkand, but also to hit the rails and visit parts of India that were personal to the chef. Indian food, in Chauhan's estimation — then and even more so now — had come a long way since its association with "$8.95 all-you-can-eat greasy buffets." The vast regionality of the cooking, along with a less-discovered food group, chaat, drove the pair to collaborate for nearly a decade on what is, hands down, one of my favorite cookbooks of 2020 (a year of many favorites). 
Chaat: Recipes from the Kitchens, Markets, and Railways of India is written with Eddy and photographed by Linda Xiao in the up-close, reportage style that straddles the line between cookbook and well-funded Instagram feed. It's a pleasure to page through this book, even if the reader's idea of chaat may be unclear before encountering it. To clarify, in Chauhan's words, chaat is the union of sweet, tart, spicy, and a cooling sensation, with an effect that makes dishes like ram ladoo—fluffy, round fritters made with two kinds of dal (chana dal and mung dal) and covered in a hot green chile chutney—some of Indian cooking's most craveable dishes. "You take a bite, and you're like, oh my God, what's happening over here?" she says, laughing (but also dead serious).
The book is organized by regions (New Delhi and Agra in the north; Chennai and Mangalore in the south) and covers India with a breathless pace—as if the reader is running to catch an overnight train to Jaipur. And, as I found out in this interview with Chauhan, some of those train rides offered a unique glimpse of the flavor of India, past and present. 
Let's start talking about the concept of the book, because you've done something that is extremely difficult, that many have tried—and it's to write a book about the entirety of India as a subcontinent, as a place. You're not focusing on the south or the north. So, the first question really is, how did you decide that you were going to do this?
I grew up in a small town in eastern India. My dad was an engineer, and because of his profession, this small community had people from all over India—each and every state, each and every region in India has a very distinct cuisine of its own. So, I was very fortunate that I grew up surrounded by it—I grew up in a predominantly Punjabi household, so that's the food that my mother made. And after I would have dinner, I would go to my neighbors' place, who were from South India, and tell them that my parents hadn't fed me, so can I eat with you? But I would also sit with the aunties in the kitchen and see them cook. And it would just blow my mind; there were ingredients, there were techniques that I didn't see in my household. So that kind of really opened my mind to how vast Indian cuisine is.
Why focus on trains? How do they tell the story of food in India?
We used to take trains throughout India, and these trains were not like the ones here in the United States. Windows were open, doors were open, they were three-day-and-three-night journeys, before Netflix or even iPhones. And I would really look forward to the train journeys, because the train would stop at each and every small station, and the local food vendors from that station would come to sell their food at the train. So I got to taste the entire vastness of the cuisine of India, from east to north, through these train journeys. That was basically how the idea of the book came about. 
Tell me about your hometown of Jharkhand—what was the food like growing up there? What were you eating?
I grew up with such a multistate cuisine because the local food over there had things like sattu kachori, which is chickpea flour stuffed in these deep-fried savory pastries, or baigan choka, which is an eggplant sauté, almost like a warm baba ganoush, along with breads that are in the form of these rounds that you crack and put ghee on it. That was the traditional food over there, but then my sister and I, we used to like street food like puchkas or pani puri or gol gappas; we weren't allowed to eat it because it was questionable where the water was coming from. We would save our pocket money, hide from our parents—we would have a competition—"I had twenty!" "I had fifteen!" So yeah, it was fun.
And this leads to chaat, which is the unifying food of this book. How do you define it?
So chaat, translated from Hindi, literally means "to lick." Indian street foods are so scrumptious and lick-worthy that you literally are licking the bowl, the spoon, the hand that comes in contact with these chaats. Chaats are a combination of different flavors and textures. So there is always that sweet, tart, spicy, cooling, and creamy, crunchy, slightly mushy, which you get from potatoes. It's like each and every taste bud in your mouth gets visited by the chaat, which is such an incredible experience. The loosest way of saying it is probably a salad, but this book is a lot more than just that category; it's also the emotion of the dishes being lickable. 
I'm trying to think of the cognate in America or even the West, and it's hard, because it seems like chaat is a singularly Indian thing. The fact that it expands from all food groups and is defined by its craveability is really cool.
I think that the closest thing that I've had to chaat over here are probably maybe nachos, because they have the same kind of feeling—you know, there's sour cream, and you can put some guac on it, and there's that crunchiness you get from the food. Or those Frito pies? Those two, in my estimation, have been the closest thing to what I know as chaat growing up in India.
"Indian street foods are so scrumptious and lick-worthy that you literally are licking the bowl, the spoon, the hand that comes in contact with these chaats."
I want to hear about the actual reporting of the book, because it's clear that you and your coauthor, Jody Eddy, and your photographer, Linda Xiao, really put in the work.
I could spend my entire life traveling trains in India, and I would still be scratching the surface of all the dishes that are there. We took trains, and these were absolutely third class—the coach section—because those are the compartments in which the local vendors climb up and sell between one station and the other. It's not going to be that way in the first class, it's not going to be in the AC coach, because those are much more—for lack of a better word—sterilized. That's not the experience we wanted. So we did that. We traveled by train, we went to Old Delhi, we traveled by rickshaw, we ate everything and anything. Jody was keeping a list—she had her diary, and she was keeping a list of everything that we were tasting. And in the end of seven days, we counted, and we had tasted over 670 dishes. Crazy!
And so, when you're in the third-class cars, what's that like? Everyone likely has a vision of traveling in India via the rails. But in your words, what's that experience like?
Let me say that the romantic vision that I had of these train journeys when I was a kid—it's changed a lot right now. Especially because you get used to a certain amount of comfort. It's hot, it's a sensory overload, all of which is fine, because I get really excited about that. But the toughest part is the restrooms on the train. That is the toughest part. I keep on saying, it takes so little for us to get spoiled. But I used to enjoy that when I was young!
Okay, so how do you pick the regions to travel to?
There is a lot of nostalgia in this book. There are a lot of stories that I have, which I have lived through, and those were my favorite stations, because they made an impact on me, as a kid, and that resulted in the chef I am today. Take Mumbai—I had not traveled much there, but that is such an amazing melting pot. It has that Portuguese influence, and there is the typical Maharashtrian food. So that's why we were like, okay, let's do Mumbai. Jaipur is a station that really made a big impact on me; I had just gone there once as a kid. And I'm like, "Okay, let's go back, and let's look at that station." So that's how we came up with this different combination of places.
Are you doing television these days?
Yeah, it's so interesting to see how production has changed. There is COVID testing that is happening almost every day, and there are test kits that are sent home, so the day before you leave, you take a test. So far, it's been very safe. To me, I am just amazed at the resilience of people and how smart people are, and just like—okay, this is what needs to be done, this is the problem, this is the solution.
Which shows should we look out for? What are you in production on?
Chopped, definitely, is ongoing. I just did a new show, which is coming out next year, but I'm not supposed to talk about that [laughs].
FOUR EXCITING RECIPES FROM CHAAT:
Vada Pav
Vada pav, one of Mumbai's most popular street foods, is a potato fritter the size of a baseball stuffed into a flaky white bun, smeared with coconut and spicy green chile chutneys, and then squished until it's flat enough to fit into your mouth.
Ros Omelette
Goa is like the Ibiza of India, and this coconut-spiked omelet, with its rich, comforting, fiery gravy, is enjoyed for breakfast, lunch, and dinner in the region.
Lemon Rice
This summery rice, prepared with nuts, chiles, and dal (among many other ingredients), takes the author back to her time at the Chennai train station in southern India.
Mumbai Faloodas
The Indian falooda was introduced by the Mughal empire between the sixteenth and eighteenth centuries. The essential ingredients in a traditional falooda recipe include milk, sugar, ice cream, and a tapioca noodle frequently referred to as sev. It's similar to a vermicelli noodle and can be found in Indian markets.
MORE BOOKS TO BUY, READ, AND COOK FROM:
Last week, we talked to longtime blogger and cookbook author Mely Martínez about giving justice to the often overlooked seasonality of Mexican cooking—and her new book, The Mexican Home Kitchen. 
We also talked to Matt Sartwell of New York's beloved cookbook store Kitchen Arts & Letters. He gave us a look at some of his favorite fall releases in the cookbook world, plus a discount code for TASTE readers that's good until December 15.
TASTE contributor Cathy Erway has brought the world 50 super creative recipes with Sheet Pan Chicken, one of our favorite books of the season (and one we helped publish, alongside our friends at Ten Speed Press). Recipes include Thai yellow curry chicken thighs, Nashville hot chicken breasts, and five-spice chicken wings—all on a sheet pan, baby.
Molecular biologist turned food writer Nik Sharma's new book, The Flavor Equation, hit shelves a few weeks back. The book dives deep into how we understand flavor, from our feelings to our taste buds. 
The Essential Wine Book is exactly what it sounds like: essential. Zachary Sussman's field guide to the new world of wine covers everything from today's most exciting regions to easy-to-use advice on finding the perfect bottle for any occasion. 
Friuli Food and Wine is a colorful tour of the Italian region that bridges the Alps and the Adriatic Sea, featuring 80 recipes and wine pairings from a master sommelier and James Beard Award–winning chef. Read our interview with one of the coauthors, Meredith Erickson.