Calabria's Other Spicy Chile Spread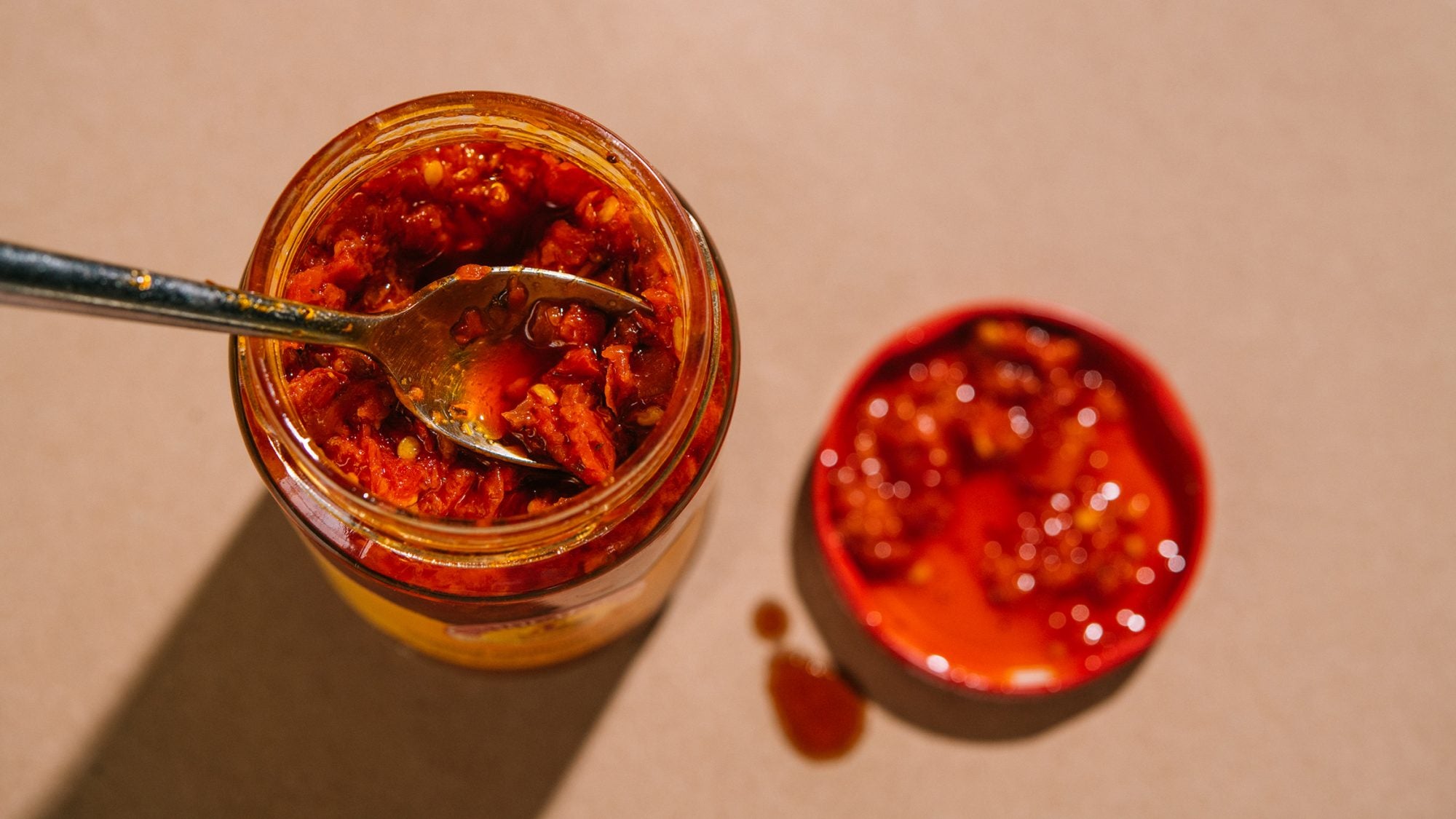 Neonata combines the umami of anchovy with the sweet, musty spice of Calabrian chiles, and it will make your pizza, roasted fish, and bruschetta way better.
The Calabrian chile has been charming home cooks as well as restaurant diners for a minute. The hip trattorias of Brooklyn and Denver have taken a shine to the fruity and not-too-spicy chile grown in the namesake region located on Italy's toe, where chefs have worked the seedy, pulverized relish packed with crimson olive oil into pasta sauces, dolloped it atop pizza, streaked it across a hanger steak, or stirred it into an aioli for French fry–dipping nirvana.
For active home cooks, keeping a jar around has become a near-requisite, as recipe writers have seen the light with a product that's "never so hot as to scorch, overpower, or rudely rend asunder the other flavors in a given dish," as my friend Jordan Michelman wrote on TASTE in early 2020. And, really, the bottom line is that you can never have too many chile oils stashed on your refrigerator door. Which leads to a slight variation on the Calabrian chile paradigm that I only recently became familiar with: neonata. Or, as my colleague Kaitlin Bray dropped as a knowledge bomb in a recent editorial meeting, the Calabrian chiles "with those little fishes."
I had to order a jar from Tutto Calabria and dive right in with a spoon, as if it were a plastic Jell-O pudding pack. Whoa! The fishy salt hits first, followed by mild spice. It was way better than I had imagined. I worked it into a vinaigrette tossed with baby spinach, and later, I matched it up with roasted halibut. I kept sneaking scoops straight from the jar, and by the end of the week, half was gone, and I was thinking about a reorder.
So how is neonata different from the Calabrian chiles I first heard about from chef Chris Cosentino while he was running Incanto in San Francisco, and that Kaitlin first encountered at Ken's Artisan Pizza in Portland back in the early aughts? I reached out to Fiorella Celli, whose father, Antonio, founded Tutto Calabria in 1970. Neonata is traditionally produced in the early spring, when baby fish are most plentiful. Originally, the company used one-inch wild baby anchovies and sardines, but today, European laws have banned the harvesting of fish shorter than four inches, so they use farmed ice fish instead.
Similar to Roman garum, the baby fish are packed with salt and dried Calabrian chiles for several months, then olive oil is added to form a relish. I asked Celli how he likes to cook with neonata. He agreed that salad dressing and fish were nice applications (grazie), and he added the suggestions of spreading it over ricotta or Robiola, topping a frittata, or spooning it atop toasted bread with a glass of Cirò Rosato. But ultimately, Celli delivers the message of a true Italian producer of fine food—that is, let the product speak with as little intervention as possible. "You should take a spoonful of the neonata, mix it with minced red onions (preferably Tropea) and a drop of extra-virgin olive oil, and then leave the creamy mixture to rest for a few minutes." Toast some bread, and you're good.
Like many readers, I got to know the chef and cookbook author Sara Jenkins through her superb regional Italian cooking in the East Village (she basically introduced porchetta to New York City) and her writing about the olive oil trade and Italy's "intensely regional" and idiosyncratic foodways. I love catching up with Jenkins about all things Boot-related, and I wrote her a quick email up in Maine at her newly reopened restaurant and grocery, Nina June, about this neonata business.
Jenkins is "appassionata on all small, funky fishy things" and advises taking the bruschetta route, but also using neonata to amp up a brodetto di pesce, or as a thinned-out sauce under a pile of lightly floured, deep-fried whole fish, like whitebait. Jenkins likes to use it primarily as a late addition to boost the flavor of a sauce. Our conversation got her thinking about what her own house neonata would look like. "I'm wondering how and if it could be made with our little invasive green crabs."
Here are some additional resources to get started with Italian chiles, and to get the most out of your hopefully growing stash of Calabrian condiments:
To Buy:
Tutto Calabria is our go-to for all spicy and olive-oil-packed things from Italy's toe. You can buy the classic chiles and neonata, but you should also check out the Tropea onion jelly and the jarred 'nduja.
San Francisco's Che Fico Alimentari sells a fine Calabrian chile bomba.
To Read and Cook:
Writing in TASTE, Jordan Michelman pays tribute to Calabrian chiles and offers two fine recipes: Calabrian tuna loin and his take on the vegan Italian hoagie.
Vincenzo Buonassisi's authoratative 1973 cookbook The Pasta Codex is now translated and filled with cool recipes and ruminations.
Recipe: Corn, Ceci, and Calabrian Chile Rigati.
The Washington Post thinks that Calabrian chile oil belongs in your pantry—and on this creamy white bean soup.
From The Kitchn: "The $15 Condiment That Giada and I Both Can't Live Without." Can you guess?
Read about the Riace bronzes on Wikipedia right now! They are two giant Roman bronzes discovered by a snorkeler in 1970 (talk about nightmare city) and now housed at the Museo Nazionale della Magna Grecia in Reggio Calabria.
Finally, a film pick from Sara Jenkins: Black Souls (Anime nere) is a 2014 Italian-French crime drama film directed by Francesco Munzi. "One of the hands-down best movies I have seen in years, and while it's all about Calabria, it won't really make you want to go there. It's always been a wild region packed with outlaws."