Build a Better Wing Sauce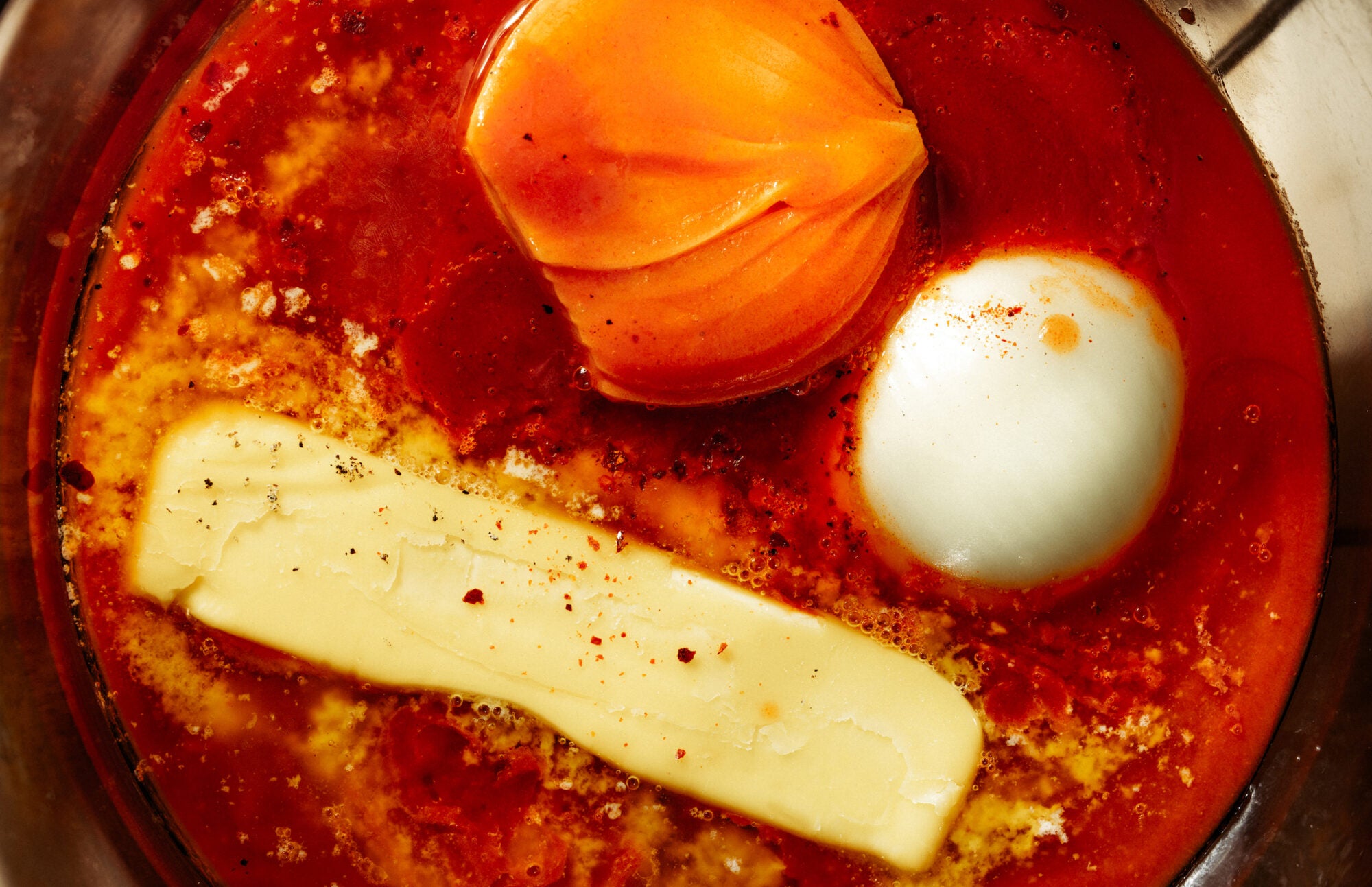 Butter, hot sauce, and a trick from an Italian cookbook legend. Your wings will thank you.
The most famous spots for chicken wings in Buffalo—mainstays like Anchor Bar, Duff's, and Bar-Bill—hold their wing sauce recipes at the same level of secrecy as the original Coca-Cola formula. It's a lot of mystery and paranoia for a sauce whose main ingredient (by a long shot), Frank's RedHot, is a bottled liquid that's readily available at virtually all grocery store chains across America. Still, there are perpetual murmurs of secret spices, proprietary recipes, and a whole lot of beer-fueled speculation about what actually goes into the most legendary wing sauces.
As a Buffalo native (and one who's spent a lot of time eating chicken wings), I appreciate the simplicity of a wing that's been fried to a golden crisp and bathed in a straightforward combination of hot sauce and butter. But to me, the best wing sauce is one where the flavors have had a chance to bloom and infuse the fat over the course of a brief simmer, and where the acidity and heat of the hot sauce is slightly magnified—as if Frank's could taste even more like Frank's.
John Henninger and Dan Borowski, the owners of Dan and John's Wings, with three locations around Manhattan and Brooklyn, grew up working in the kitchens of sports bars and pizzerias around Buffalo. Henninger got to see firsthand some of the signature touches these restaurants placed on their wings. One kitchen seasoned the Frank's with a heavy dose of garlic powder, and one added an almost indetectable splash of red wine to the blue cheese dressing.
When I'm making wings or chicken finger subs at home, I like to think of my wing sauce a little bit like Marcella Hazan's famous tomato sauce.
"My grandfather himself had his own special wing recipe, which called for about ten other ingredients on top of the Frank's and butter," Henninger admits. Although the Dan and John's sauce is a pretty classic combo of hot sauce and liquid margarine (a more cost-effective and shelf-stable alternative to the butter that some use), Henninger and Borowski like to bring heat to the mix by adding cayenne, which fortifies the flavor of the Frank's, or by adding ghost pepper oil for the spiciest wings.
When I'm making wings or chicken finger subs at home, I like to think of my wing sauce a little bit like Marcella Hazan's famous tomato sauce. Hazan's sauce involves a can of whole peeled tomatoes, part of a stick of butter, and a raw, halved onion. The sauce simmers for less than an hour, during which the butter melts and the onion softens, infusing the tomatoes with a savory touch of sweetness.
Following this technique, I set a pot of Frank's RedHot and butter with a halved raw onion on low heat while I cook my wings or cut my carrot and celery slices (an obligatory side for any batch of wings, served with blue cheese dressing). With a hint of sugar (just a barely perceptible amount to round out the other flavors), a few shakes of extra cayenne, and a few dashes each of distilled vinegar and Worcestershire sauce, my wing sauce is good enough to bottle and sell.