Tourists Eat Wings. Buffalonians Eat Subs.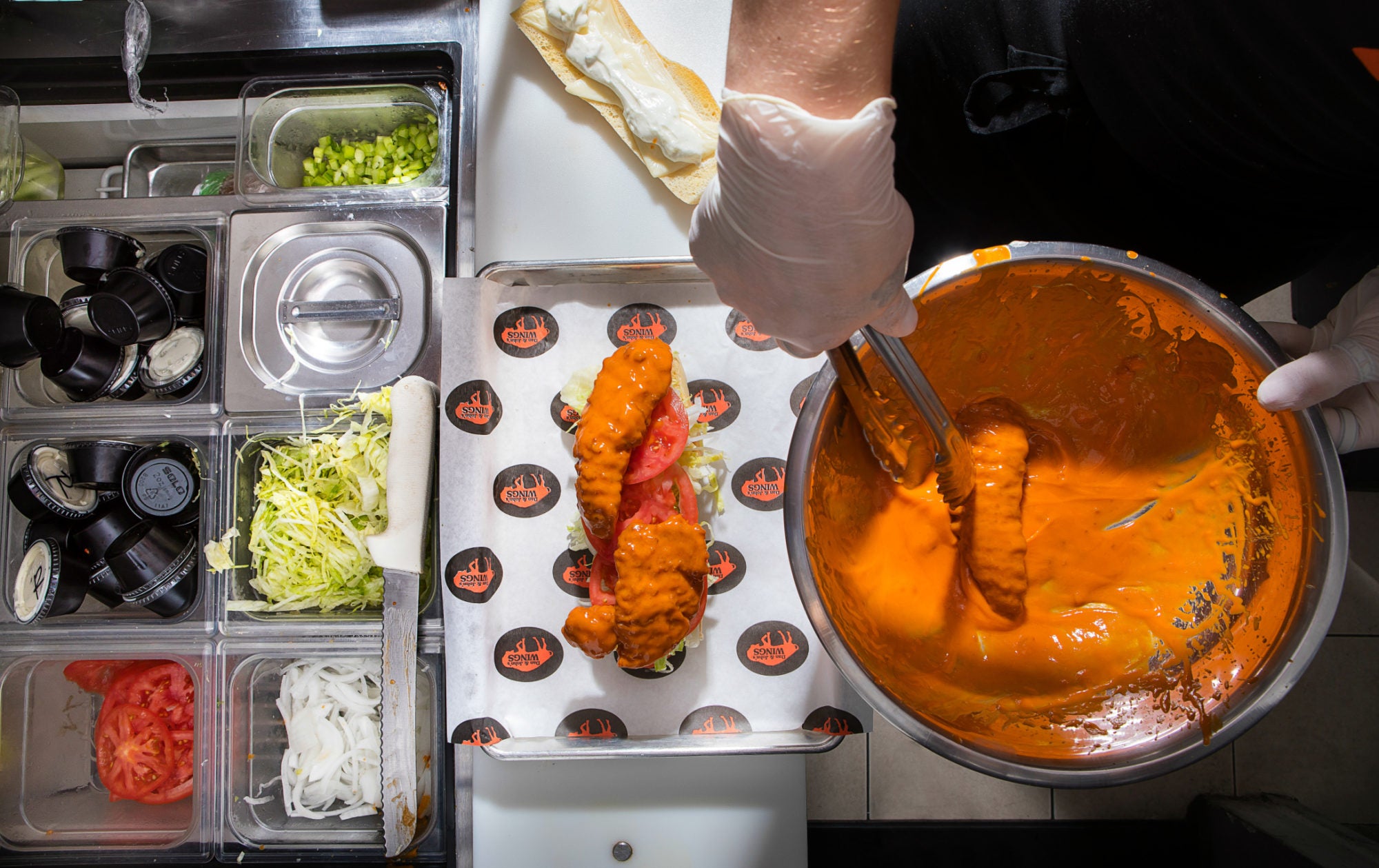 The Rust Belt town in Western New York is famous for one thing: chicken wings. But the people who live there are fueled by a sandwich that most have never heard of.
If you grew up in Buffalo, New York, or one of its suburbs, you probably grew up taking for granted one of the city's warmest, messiest, greasiest, grossest (in a good way) fast foods: the chicken finger sub. It was the spicy, blue-cheese-drenched antidote you turned to after a prom, a soccer game, or just another grueling day of being a teen. For non-teens, it was just a great drunk food. For Buffalo's own Rob Gronkowski, a celebrated tight end in the National Football League, it's the cheat meal of choice.
You may be wondering what could possibly be so remarkable (or regionally specific) about chicken fingers piled between bread—something you could order as easily at a fast food chain in Wisconsin as a sandwich counter in North Carolina. But Buffalo's chicken finger sub is a bird of its own breed. The sandwich consists of a lightly toasted sub roll, shredded lettuce, sliced white onion and tomato, and a few freshly fried chicken fingers (still warm), doused in a buttery, orange wing sauce made with Frank's RedHot. On top of the chicken, you'll usually find a couple slices of melted provolone and a slathering of blue cheese dressing.
Wrapped tightly in butcher's paper, the neon orange wing sauce and viscous blue cheese trickle through the shredded lettuce and soak into the toasted roll, turning the whole thing into a dangerously limp, dripping behemoth that has to be eaten with both hands and absolute concentration—or your shirt may suffer the consequences.
Although the sub is a much less famous export than Buffalo wings, you can find it almost anywhere you'd order wings or subs in Buffalo, from pizza delivery places to delis to gas stations. According to Buffalo Everything, a new book about Buffalo's food culture by Arthur Bovino, the sub originated in the early'80s at a local takeout spot called John's Pizza & Subs.
Gene Mongan, one of the current owners of John's, tells me that the sandwich evolved over time. "I think it originally started out as a chicken Parmesan—chicken fingers and spaghetti sauce and mozzarella or provolone," he says. But when they decided to try tossing the chicken fingers in hot sauce and adding blue cheese, things really took off. "We were selling them hand over fist—it was just crazy," he recalls. "It actually made up 15 percent of our total food business—just that item." When other local business saw this success, they started adding the sub to their own menus.
At Jim's Steakout, a local steak-sandwich chain that's famous for staying open until 5 a.m., the chicken finger sub is the second-best-selling item after the steak sandwich. "Love the chicken finger sub at 4:59 a.m. after a night of drinking," says one Yelp user. Across the 10 locations in the Buffalo area, the chain sells more than 800 chicken finger subs on an average weekday.
"As far as I know, they started off as a Buffalo thing," says Guy Macon, the director of operations at Jim's. "I know from talking to people outside the area who used to be from Buffalo that they've had a hard time finding chicken finger subs and were actually going into their local sub shops out of state and asking them to put it on their menu," he says.
When Buffalo natives Dan Borowski and John Henninger decided to add the sub to the menu at Dan & John's Wings in New York's East Village, it was partially because the sandwich was just impossible to find in New York. They wanted to channel, as Borowski says, "that Jim's Steakout 2 a.m. thing that you eat after the bar." The formula for their sandwich is almost identical to a version that you might find in Buffalo, except that they offer an option to order the sandwich with ranch instead of blue cheese—a concession to non-Buffalonians.
As a Buffalo native living in Brooklyn, it goes without saying that I've made a lot of gross attempts at re-creating the chicken finger sub at weird times of the night. The worst involved a potato bun and some dry, spongy chicken strips from a bodega down the block. The best involved an actual sub roll toasted briefly in the oven, a handful of lovingly shredded iceberg lettuce, and still-warm chicken tenders from Popeyes, tossed in Frank's hot sauce and melted butter. After a few thin slices of tomato and onion and a heavy pour of blue cheese across the top, it tasted messily and aggressively like Buffalo—a storm of angry spice tempered by a snowy blanket of dressing.
I asked Mongan why he thought people from Buffalo love the idiosyncratic sub so much. He said, "The combination of good old Buffalo blue cheese and Frank's hot sauce—I think you could put it on the sole of your shoe and it would taste good."