Bryant Terry's Vegetable Mount Rushmore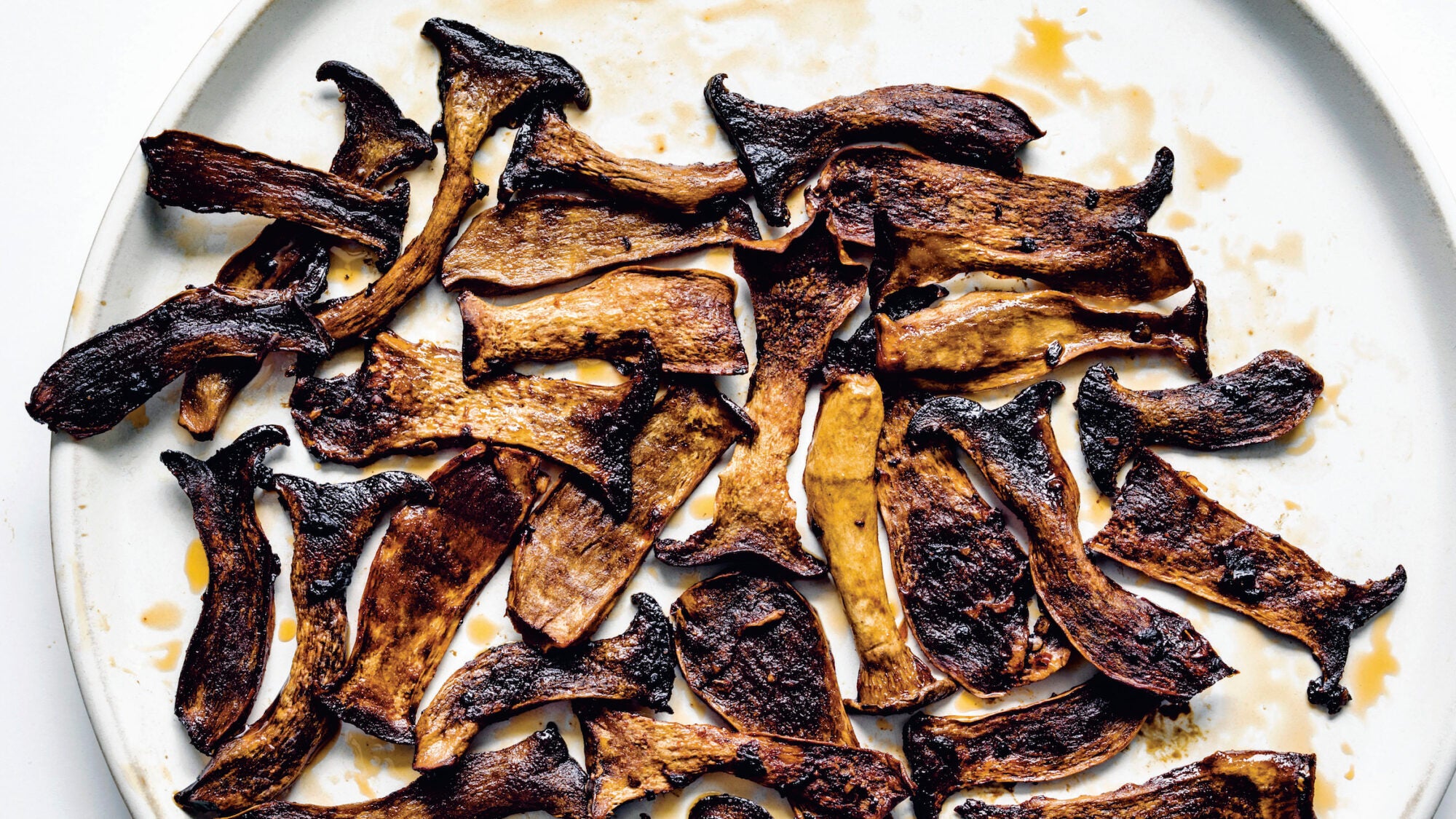 The Oakland chef and activist has released one of the most-exciting vegetable cookbooks in years.
There are a lot of vegetable cookbooks on the market, crowding the shelves and bargain bins of your favorite indie bookshops. This is really no shocker. Vegetables, while called "dirt candy" by one wise New York City chef, often have home cooks puzzled and perpetually in search of shortcuts for turning bunches of kale and celery ribs and a rainbow of tubers and roots into something beyond a salad or a wan, day-old crudité. Vegetable Kingdom, Bryant Terry's excellent new collection of recipes and stories, tackles the home cook's struggle with vegetables head-on. There are adventures to be had with kohlrabi (including a kimchi, a coleslaw, and a charcoal-roasted technique), and an exciting recipe called "dirty cauliflower." "You've had 'cauliflower rice' before and it sucked," writes the Oakland-based chef and author. "Well, this ain't that." See below and judge for yourself.
Terry's 2014 book, Afro-Vegan, reworked the classic dishes of the African diaspora into a vegan framework. Here, he does similar work with vegetables. "The book celebrates Black culture," he says in an interview. Since 2015, Terry has been the chef in residence at the Museum of the African Diaspora in San Francisco. I got in touch with Terry about his work at MoAD, and to find out his vegetable Mount Rushmore.
First of all, it's been quite a few weeks. How are you doing, and what have you been cooking?
My family and I are doing well, considering all that is going on in the world. My wife is working ten- to twelve-hour days as her organization pivots to respond to this crisis. Since my book tour was put on hold, I'm primarily focusing on taking care of our girls—managing their distance learning program and music lessons; gardening and cooking with them; keeping them physically active; and engaging in mindfulness activities.
I have been funneling a lot of my creative energies into making elaborate meals. I just joined Cannard Farm's CSA program (via Chez Panisse). I was telling my friend Heidi Swanson how fun it has been letting the contents of my farm box drive what we cook and eat. For example, on Sunday night, I made a vegetable stir-fry using many of the dark leafy greens, alliums, and fresh herbs from the box, along with random ingredients I had in our fridge like cremini mushrooms, celery, and carrots.
I also made miso-marinated tofu using a block of Hodo tofu that had been frozen, black rice from my pantry, and radish kimchi from our fridge. I've been trying to stay in as much as possible, only going to the market when necessary. As a result, I've been cooking through a lot of our staples. I've also been baking cookies a lot. I have made my version of Sarah Kieffer's pan-banging chocolate chip cookies several times; my version of Caroline Schiff's Tough Times Cookies just entered the rotation; and my daughters have requested my Jungle Cookies a few times.
Straight talk: There are a lot of books about vegetables and cooking with vegetables. How is this one different?
First of all, many people have commented that Vegetable Kingdom is one of the most beautiful cookbooks they've seen in a while. I agree, but I'm biased. The recipes are driven by the ingredients, classic dishes, and cooking techniques of the African and Asian diasporas. The chapters are organized according to the parts of plants—seeds, bulbs, stems of flowers, fruits, leaves, tubers, and roots—and it makes a great companion for farmers' market shopping. The book doesn't take itself too seriously—I include fun and informative headnotes before each recipe, and the book includes a suggested song with each dish.
I love the music component. From "Milky Cereal" by LL Cool J and "Glowed Up" by Kaytranada to "Contronatura"—the searing closing song from Stereolab's best album, Dots and Loops. You have really cool taste. How do you pair a song with a dish?
Thanks! I love music and have been spending a lot of time revisiting may collection of jazz on vinyl these days. It's funny, the playlist for Vegetable Kingdom is a hodgepodge of songs that might have inspired a dish, songs that I might have been playing on repeat while testing a recipe, and songs that tie into memories, history, or some political point I want to make. You can check it out on Spotify.
What's the vegetable that surprised you the most when you were writing this book?
Not too many surprises on my end, but I have been very excited to see a lot of fennel haters change their mind after eating my citrus and garlic-herb braised fennel. I talk it up a lot, so people have been taking the leap. Very happy that it has gotten many thumbs-ups.
Your Mount Rushmore of vegetables: top four, in no order. What are they?
Depends on the season, but right now: collards, sweet potatoes, gai lan, broccolini. 
You are the chef in residence at the Museum of the African Diaspora in San Francisco. What does that job entail, and how are you offering virtual experiences?
In my role as chef in residence, I create public programming that celebrates the intersection of food, farming, health, activism, art, culture, and the African Diaspora. Since 2015, I've had intimate conversations with authors from around the world, followed by book signings. We've organized panels with farmers, scholars, cookbook authors, and journalists. I have hosted dinners in the lobby of the museum and at the St. Regis hotel next door. I hosted an art, media, and food justice summit, and I cohosted the first Postpartum Justice Summit with the Mothers to Mothers project. Since we are closed, I will be starting a weekly series of Instagram Live sessions in which I demonstrate recipes on a grill in my backyard as well as have conversations with people working on food issues. We are hoping to start in the second week of April.
Last question: Why is this book perfect for these imperfect times?
Vegetable Kingdom is full of unfussy, simple, vegetable-forward dishes. I've been hearing a lot of people comment on wanting to stay healthy in the midst of this crisis, and I think this book can be a powerful tool in supporting those goals.
This interview has been edited and condensed for clarity.
FOUR EXCITING RECIPES FROM VEGETABLE KINGDOM
Brown Sugar-Glazed Turnips
Turnips transform into a show-stopping side with raw cane sugar, orange juice, and molasses.
Marinated Trumpet Mushrooms
Some may call these "mushroom bacon"—Terry refuses. "Bacon is bacon. These are tasty, thinly sliced trumpet mushrooms that have been tossed in a spicy sauce, then dehydrated in the oven." Delicious.
Dirty Cauliflower Rice
This is maybe the best cauliflower rice that you didn't know you needed.
Big Beans, Buns, and Broccoli Rabe
This is just a really, really good vegetarian sandwich. The recipe calls for homemade bread, but you can buy some at the store, too.
MORE COOKBOOKS WE THINK YOU'LL LIKE
In case you missed it, last week, we caught up with Melissa Clark about her new book, Dinner in French, and about how she's been cooking her way through the last few weeks.
If you need a bit of sunny escapism, Easy Tiki, by Chloe Frechette (senior editor over at PUNCH) is available for pre-order.
If you, like us, have been thinking wistfully about carefree weekend outings to get multicolored boba concoctions, then The Boba Book, by Andrew Chau and Bin Chen (aka the Boba Guys), could not have come at a better time. It's out tomorrow!
You know that handful of ingredients that you somehow always have in your refrigerator? These are the starting points that Lukas Volger uses to jump into a slew of never-boring meals to get you through the week in his latest book, Start Simple.
If more and more of your dinners are revolving around boxes of pasta, canned fish, raisins, and nuts these days, channel a little rustic inspiration from Sardinian cooking with Letitia Clark's Bitter Honey.
Each week, we talk to an author of a new or upcoming cookbook we love. Subscribe to our newsletter to get these previews (plus excerpted recipes) in your inbox.