Brioche Your Way Into 2022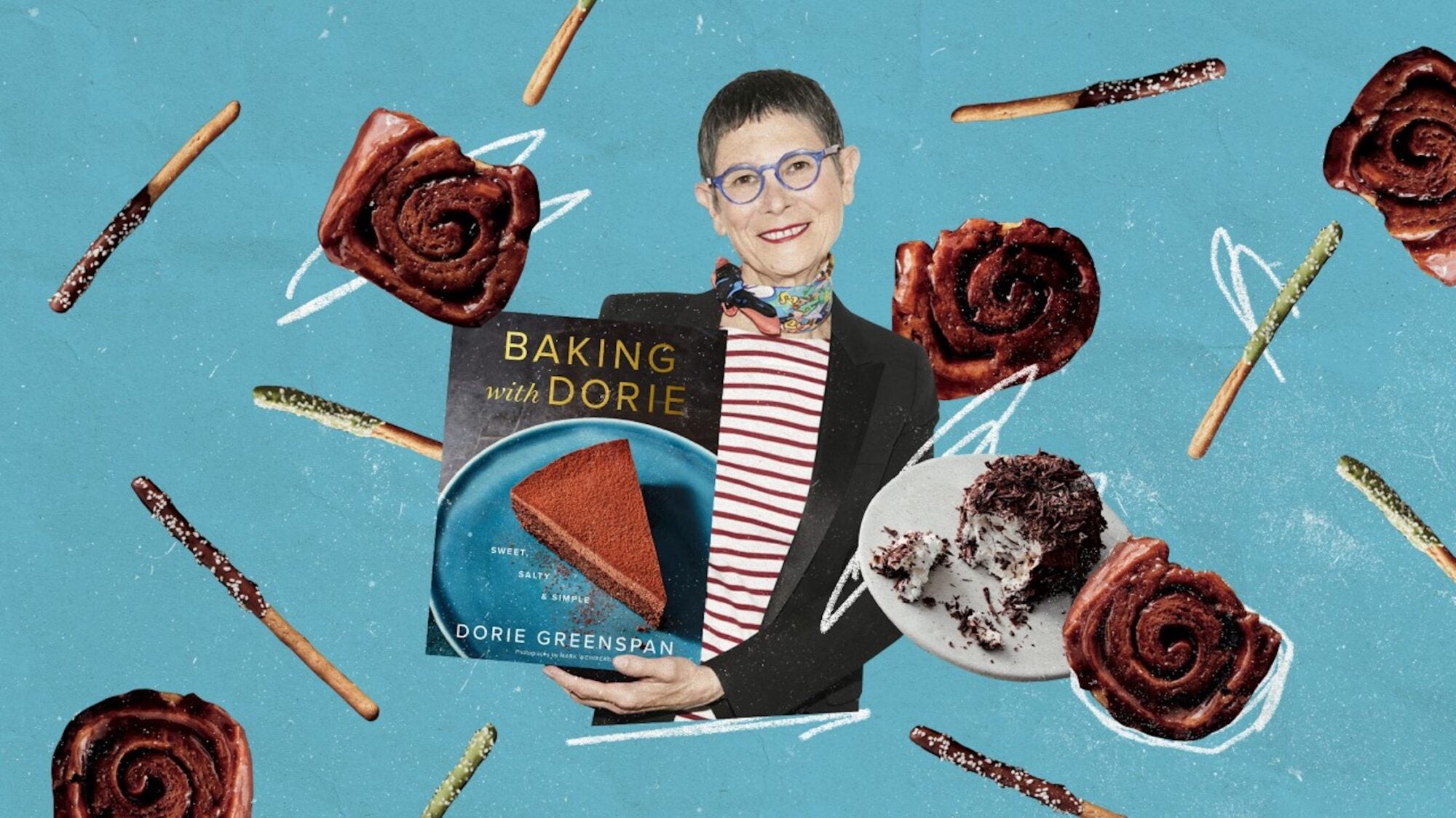 Dorie Greenspan's newest book embraces the versatility of a buttery bread dough, frozen puff pastry, and the savory side of baking.
When Dorie Greenspan set out to write Baking with Dorie, she hoped that it would be an ode to savory baking—all the cheddar-scallion scones and party quiches she loves to bake at home. But the endeavor turned out to be a slippery slope.
With a swap of pastry tips, the choux pastry used for gouda gougères could so easily make long, twiggy Pocky sticks dipped in matcha glaze. And the dough for a brioche sandwich loaf could so easily spiral itself into cinnamon sticky buns. And would it really be a Dorie Greenspan book without some chocolate-studded shortbreads and jam-filled thumbprint cookies?
A few years after talking cookies and Julia Child with Greenspan on the TASTE Podcast, I asked her a few questions about the riffable nature of baking and the blurry lines between sweet and savory. She also made a very convincing argument for always keeping frozen puff pastry on hand.
You call out brioche in the book as your favorite bread—what do you love about it? And once people know how to make a basic loaf of brioche, what else should they be trying with the dough?
I love the bread's texture—how it stretches when you tug it gently; its aroma—it smells of butter and France; and its flavor—rich, satisfying, and just a little sweet. It's the most elegant bread I know. It's also fun to make. In addition to being the ticket to great brunches, refined smoked salmon sandwiches, and excellent French toast, the dough makes fabulous babka (sweet or savory) and excellent sticky buns.
I was excited to see Little Marvels in the book—they're almost like miniature meringue icebox cakes. I had a larger version of a "merveilleux" at Joe Beef in Montreal a few months ago. Are merveilleux having a moment? Maybe encroaching on Paris-Brest territory?
I love that you called them "miniature meringue icebox cakes"—yes! I love that they're so play-aroundable. You can make them small and one-to-a-person or party-size. And you can swipe the meringue layers with fun flavors—my favorite is Biscoff speculoos Spread (cookie butter). Are they having a moment? If they're not, they should, and they will soon—good things have a way of getting out into the world. And are they encroaching on Paris-Brest territory? Hmmm. They're not as well-known . . . yet. Happily, there's room at the table for all these delicious things.
The book also has lots of really cool savory pies and pastries (the clam chowder pie definitely caught my eye). As someone who's famous for your cookies, was it refreshing to spend some time thinking about the savory side of baking in this book?
Here's what's funny—when I began this book, I thought it would be all savory. And even though I kept adding sweets to the book, the file in my computer still says, "SAVORY BAKING BOOK." I've always had fun with savory baking and would often serve galettes and cheesy pies and quiches and vegetables all jumbled up in a crust at parties. It was so good to finally write the recipes for the things I loved to make and then to have them become part of the book.
I noticed a few recipes in the book call for frozen puff pastry. Do you ever make your own puff pastry, or is it just one of those things that's better from the freezer aisle in the grocery store? And has keeping frozen puff pastry handy led to any interesting experiments in your kitchen?
Oh, I used to make my own puff pastry. And watching contestants on the Great British Bake Off whip up "rough puff" on a moment's notice has made me think about going back to the homemade dough, but I don't think I'll ever stop buying it in the supermarket and keeping packs in the freezer. It's a delight to have a gorgeous dough within arm's reach. It makes things like tarte Tatin and pot pies doable on a Tuesday. One of my favorite recipes in the book is the Vegetable Ribbon Tart. I call it "fridge fancy" because most of the ingredients are ready-mades. I don't know that I would have made that recipe if I hadn't had a bunch of odds and ends in the vegetable bin and, of course, a package of trusty puff pastry in the freezer.
We're cruising into the biggest baking season of the year. What are you excited to bake this winter?
Everything about "baking season" excites me. Cookies, of course. I've made Iced and Spiced Hermits a bunch of times and plan to make them a bunch more. I love that they're chewy and full of the flavors of warm cinnamon, ginger, and black pepper—I think of them as the cookie equivalent of sitting by a fireplace. I'll be making apple pies and tarts and galettes until berries come around. And I'm looking forward to serving gougères—my house specialty—all through the holidays.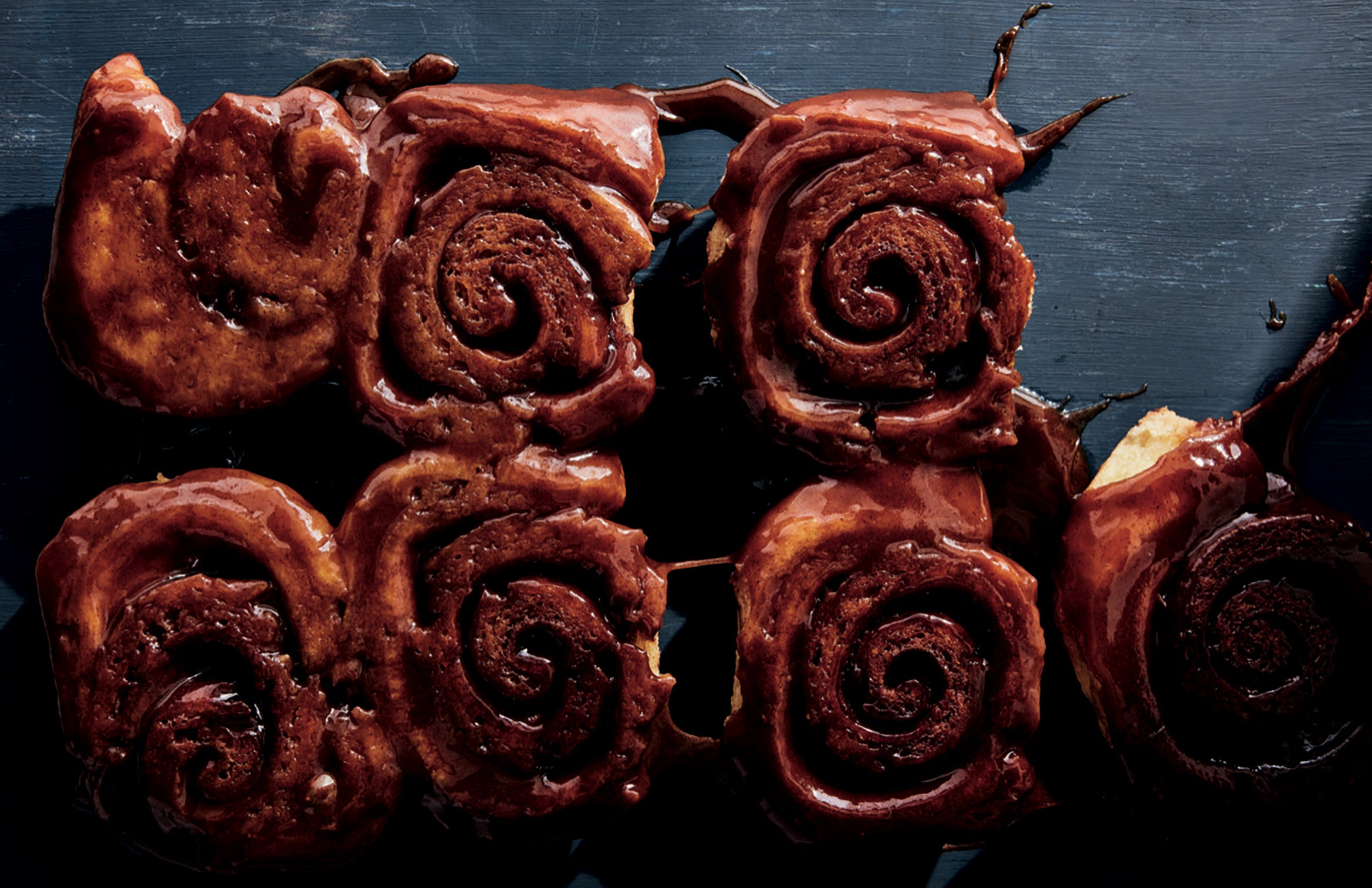 THREE EXCITING RECIPES FROM BAKING WITH DORIE:
Brioche Sticky Buns
Proof that a good brioche dough can go a long way, especially when you roll it with cinnamon sugar and bake it in a caramel-coated pan.
Chocolate-Tipped Cream-Puff Pocky Sticks
By piping a choux pastry into long, thin grissini, you can make a clever at-home version of the classic snack, customized to the dimensions of your serving dish or cookie tin.
Little Marvels
Think of these as sophisticated meringue icebox cakes, in a miniature format that makes them a great dinner party dessert.