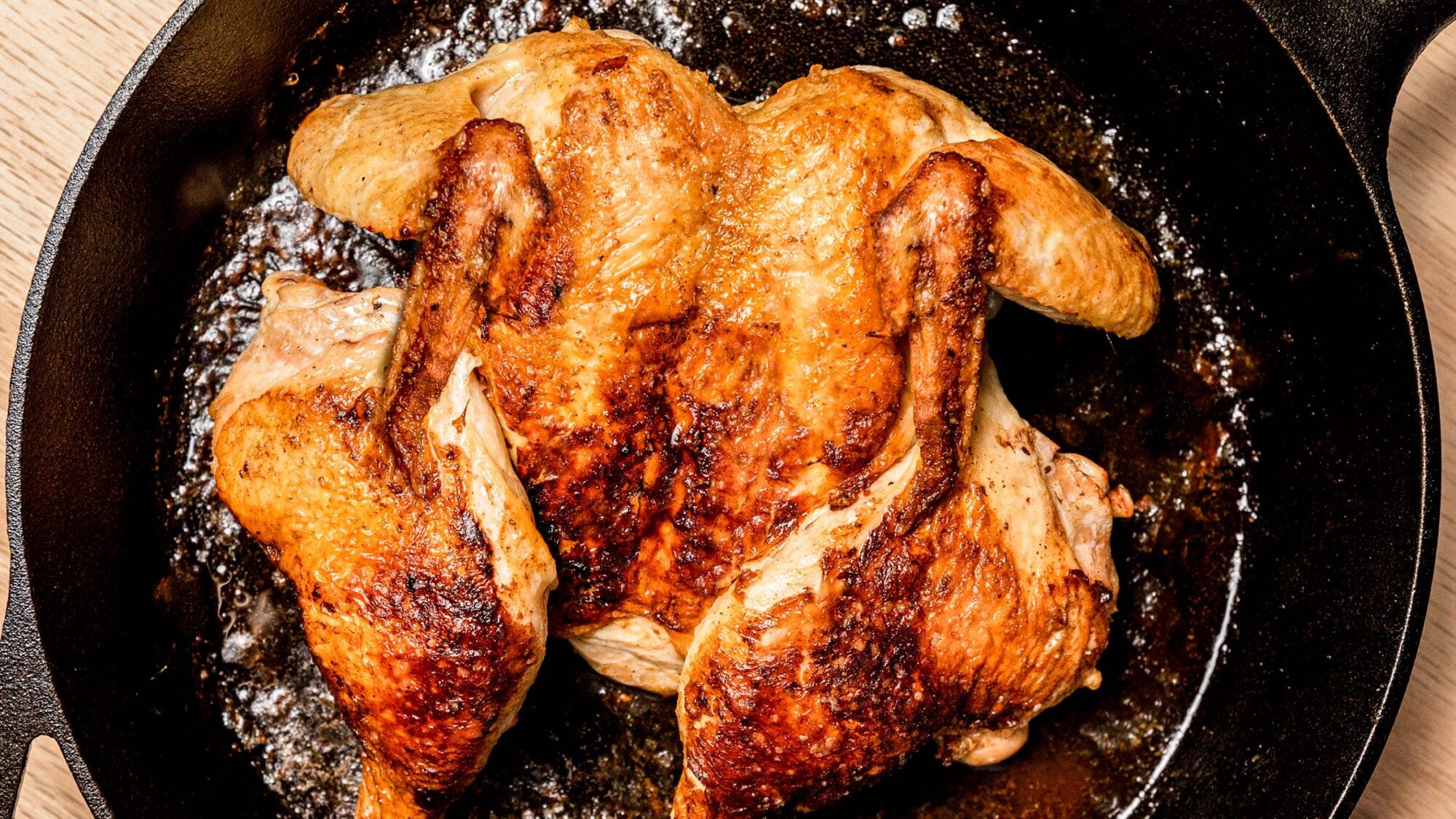 The "perfect roast chicken" is nice. But the brick chicken is superior in all the ways that matter to a home cook.
To be fair, brick chicken has been here all along. The al mattone method of cooking birds dates back to the Roman era, when a sizable tile (called a mattone) was placed over the bird inside a terra cotta Dutch oven (of sorts) that was heated over an open flame. You can still buy a similar set throughout Tuscany, where pollo al mattone remains a regional standby. In Russia and the Caucasus, a similar dish, called chicken tapaka, is likewise a stalwart.
But, like many New Yorkers, I met brick chicken in the early aughts at Williamsburg's Marlow & Sons, an effortlessly hip American tavern that, along with its sister restaurant, Diner, helped define the modern Brooklyn restaurant. It was a half bird, partially deboned and cooked under a cylindrical, 20-pound piece of shipyard scrap collected from the Brooklyn Navy Yard until its skin became so crisp you could practically crack it with the back of a spoon. It arrived atop a shallow pool of chicken stock with an understated wedge of lemon. Greens of some sort were always present, but they never seemed to register with me over the years (kale would be an appropriate guess, especially for the period), mostly because they were sideshow. 
Shortly after the restaurant opened in 2004, the brick chicken took off "like a bullet," says Marlow & Sons owner Andrew Tarlow. There it has safely remained—tweaked and tuned but never removed. (The dining room at Marlow & Sons remains closed in the wake of COVID-19, but in a testament to the chicken's demand, it has migrated to Diner's menu for interim safekeeping.) Few other chickens have that kind of track record or gravitational pull; before Williamsburg became its own attraction, it was a chicken to cross the river for. 
The Marlow bird precipitated a boom of golden spatchcocked chickens, flattened with abandon. By the mid-aughts, everybody from Mark Bittman to Rachael Ray had a recipe for that; Marc Forgione's namesake restaurant trotted out its own signature brick chicken; Rita Sodi debuted a Cornish hen al mattone at I Sodi; and Missy Robbins says that, in 2010, during her time at A Voce, she was "selling fifty al mattone birds per day." The trend stretched outside of New York City, landing on menus from Los Angeles to Chicago. There was a moment there when the brick chicken seemed poised to take its place alongside the roast chicken in the great pantheon of American staples. But the power of the brick began to fade, dismissed by some as a passé relic of the farm-to-table era, alongside fried Brussels sprouts and kale salad. By 2015, we were back to pondering the perfect roast chicken.  
But I am here to implore you to redirect your gaze. The brick chicken isn't just worthy of your respect; in my humble view, it's superior to the roast chicken in all the practical ways that concern a home cook: control, unmatched crispiness, a bonus built-in pan sauce. It's still the kind of bird worth crossing a river for, even if you don't have to. So grab yourself a brick, and let's go.