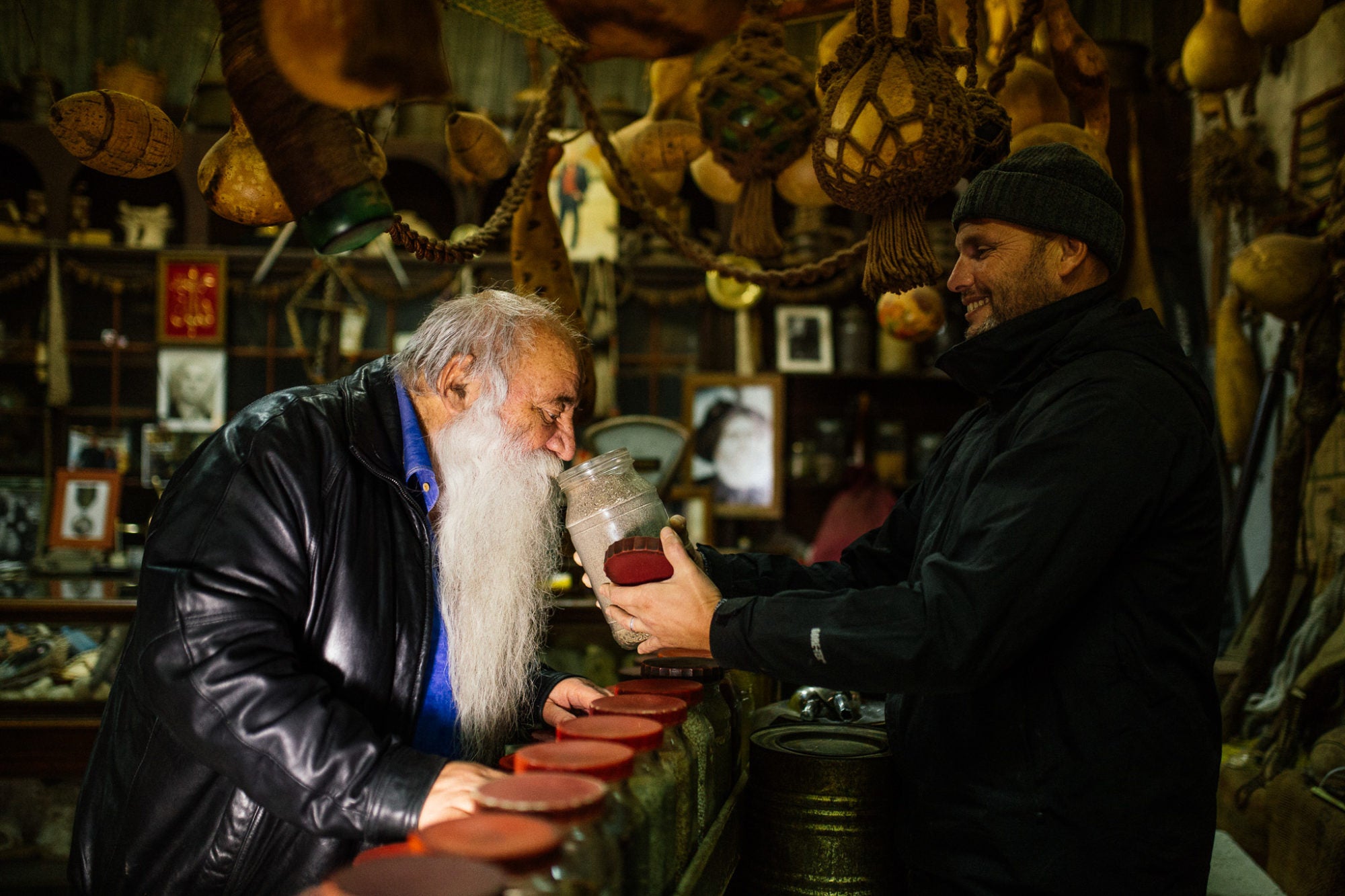 For nearly 20 years, Uri Jeremias has been cooking fish and spreading the gospel of Israeli cooking. It's about time the world listened.  
"Habibi," says Uri Jeremias over and over as he strolls through the old Arab market of Akko, copy of Israel Hayom under his arm, holding court with his fellow citizens. Habibi to the old man scaling the red mullet, habibi to another hawking a pile of tiger prawns still wiggling with life, drops of the Mediterranean Sea spraying wildly. Habibi to the guy with the Bavarian complexion and rosy cheeks selling za'atar, cumin, and fists of tamarind powder that perfumes the small shop. And habibi to another fisherman, now with an added handshake with familiarity and some pageantry—not quite Harden and Paul postvictory, but complicated to the point that these men are pretty good friends.
Habibi translates loosely to "my friend" in Arabic, and everybody lights up when Jeremias arrives, while others simply say—or sing-song or yell and point—the two words that have come to represent the 73-year-old chef and one of the founding fathers of modern Israeli cooking: Uri Buri. Which is the small restaurant opened, humbly and by chance, 19 years ago by the bearded Jewish chef.
"Uri Buri is an absolute legend," says New Orleans chef Alon Shaya, a foundational member of the growing collective of American chefs running restaurants inspired by Israel's past and present. "What's he's done has always been groundbreaking and serves as an inspiration to a lot of the chefs who are taking Israeli food and turning it into something other than shakshuka and hummus." Mike Solomonov, chef-owner of Zahav in Philadelphia, agrees, adding that Jeremias has inspired many chefs but also furthers the idea of a more inclusive culture in Israel by operating in such a multicultural city. "And his hotel was absolutely the sickest one I have ever seen."
The story of Uri Buri starts with a boy on a boat. "I didn't spend too much time in school; I spent most of the time in the sea," says Jeremias, reclining in the lobby of his truly sick hotel in the heart of Akko's walled Arab village. The town, a 90-minute drive north of Tel Aviv and kissing the banks of the Mediterranean, has history dating back to the Crusades—when the port would serve as the main entryway for goods bound for Jerusalem—and represents one of Israel's most integrated cities, with a population of Jews, Arabs, and Christians.
Fishing and diving for shellfish was a preoccupation of the young man, an "addiction" he describes as the only salve that could remedy his boredom and bad grades. (He was a poor student, kicked out of school at 16, and was diagnosed with ADHD late in life.) He left for Europe in 1961, hitchhiking and living like a reckless teen in the 1960s, visiting Cyprus, Greece, Italy, Switzerland, and Germany before eventually returning to Israel to enroll in a pre-army trade school to train as an airplane mechanic.
After his required two years of army service, it was back to Europe for a short while, a recall for the war in 1967, and then, finally, back abroad for a longer stint. In Germany, Jeremias bought a Volkswagen van ("one of the newer ones") and drove it to India, where he lived for over a year. His life was "crazy and nomadic" and had him crashing at inspection bungalows—the houses that the British officers used as a guesthouses when they traveled from one part of the state to the other. A couple rupees to bribe the guard, and it was a place to sleep.
It was during this time in India that Jeremias ignited a passion for cooking, especially his unique manipulation of fresh seafood. In Goa, he cooked prawns, shark, and mackerel—using the local fish market as the paint to his nightly canvas. It was also when the young cook grew to love the fiery chiles that accent some of his popular dishes today. He ended his trip in remote Nepal. "It's a sad story, and if you have time later, I'll tell you," he says with a long pause. "I came back to Israel on Monday. On Friday I went to a party. I met my neighbor and told her I'm going to marry her, and that's it. Forty-eight years have lapsed, and here we are."
Time passed, and Jeremias continued to cook for friends in an ambitious—dare we to use a major cliché?—global style that reflected his time abroad. There's was a day job as a freelance-procurement officer for the United Nations forces in the Middle East, but in 1988, on the suggestion of a friend, he quit to open a fish restaurant, even though he had never worked in a restaurant. "The friend said, 'Just prepare what you prepare naturally,'" Jeremias recalls. "And I said, Okay! I will open a fish restaurant."
There were two key rules for restaurant, which he called Uri Buri ("buri" is the Hebrew word for gray mullet, a common fish found in Israel's Mediterranean, and also it rhymes quite well with "Uri.") One was to serve only food the chef would eat, which was predictably the seafood that surrounded him. The second was the idea of using less: composing the dishes with as little as possible, which in a culinary era still rooted in traditions of Escoffier was pretty radical. Minimalism is a focus the chef still applies today when cooking fish and seafood using a simple pantry: olive oil, garlic, chile pepper, coriander, and lemon.
Including the fish, Jeremias tries to keep a maximum of eight ingredients in a dish, and seafood is mostly caught the day or a couple days prior, scaled, gutted, fileted, and brined in the water of the Mediterranean—a method Jeremias says preserves the flavor of the fish and adds salinity that is needed during cooking. Uri Buri started small, only serving around 20 customers a night, with Jeremias doing all the kitchen tasks. Over the years it expanded in size, and now it has a full-time kitchen staff led by head chef Ali Marin, an Arabic native of Akko. But while age may have grayed Jeremias's trademark ZZ Toppian beard, he's still youthful, with an infectious enthusiasm for the cooking and a constant presence in the restaurant, along with a seasonal ice cream shop and his 13-room hotel, the Efendi.
Today the restaurant is busier than ever, with customers arriving from all over Israel, and the world, to sample Jeremias's signature cooking that, true to the chef's mission, is simple and international. On a recent spring visit, the tasting menu—filled with constants like a salmon with soy sauce and sharp wasabi sorbet and sautéed scallops dressed in a rich seaweed cream—played against a simply grilled seawolf with roasted cauliflower (one of the day's specials). There was an octopus poached long in juniper, laurel leaves, and lemon water. Ice cream, made at the nearby scoop shop during the summer months, finished the meal.
"I don't understand wine," says Jeremias with a laugh while seated in his restaurant's dining room. "I don't understand music, or cars, or women, or food." He pauses and pokes at a plate that had housed the salmon-and-soy-sauce dish, a combination not necessarily inspired by the obvious (Japan), but Jeremias's independent exploration in the kitchen. "I enjoy these things. And this is the main point."