What Is Australian Food, Really?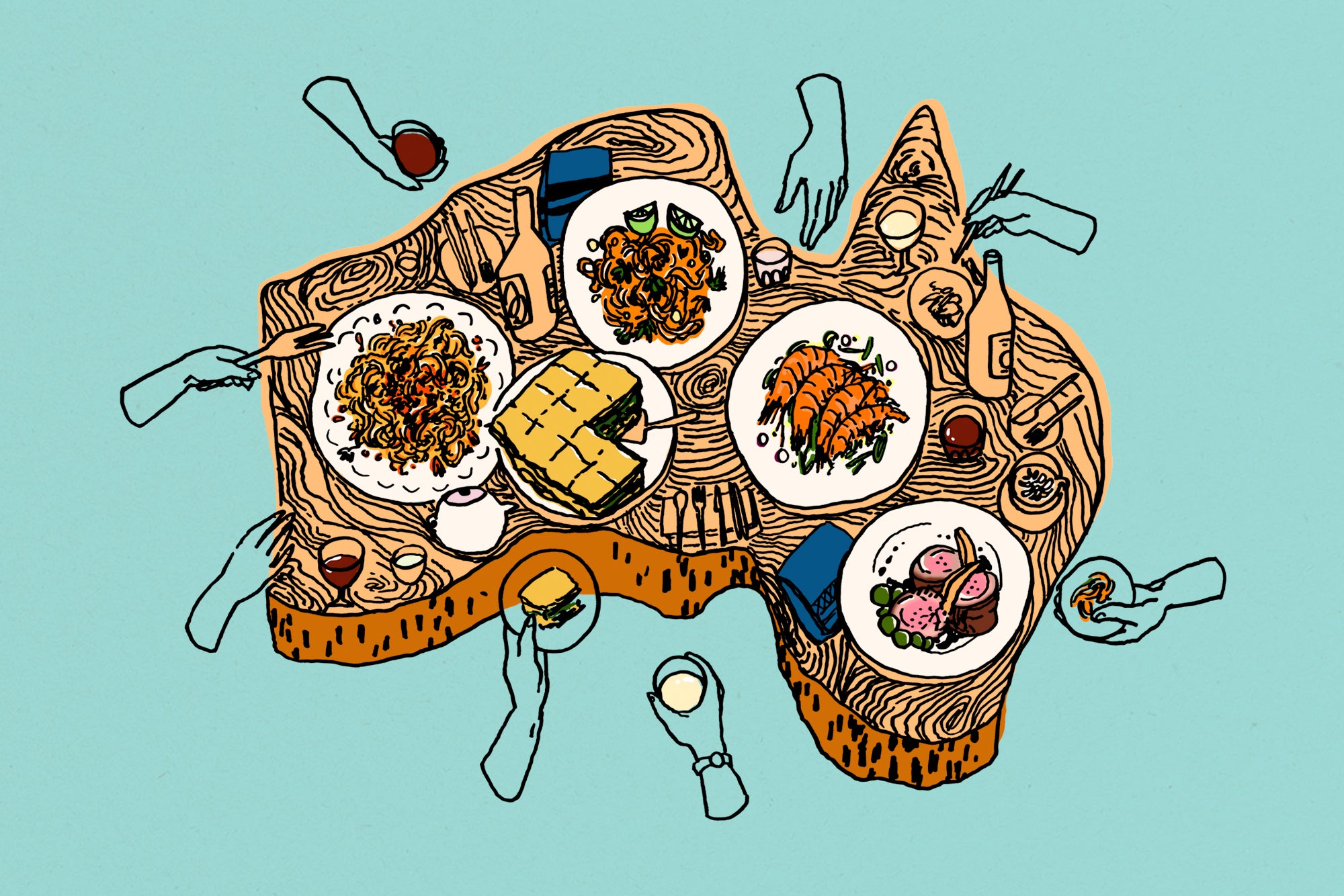 Consider, for just a moment, what you know of Australian food. We're all throwing prawns on the barbie, adding beetroot to our burgers, and smearing strange, salty, coal-hued Vegemite on toast—meanwhile, there are kangaroos bouncing down every main street. Well, okay, there are, but it depends which suburb you're in. And yes, crustaceans add sophistication to any soirée. As for beetroot on burgers? You bet. And Vegemite? Once you get the butter, bread, and spread ratio correct, it's a revelation. But generalized perceptions are rarely the rule.
Australia is an anomaly: the world's largest desert island, where almost all the inhabitants dwell within a stone's throw of the glistening ripples of deep blue. Our eastern seaboard—where Sydney, Melbourne, and Brisbane sit—accounts for roughly 80 percent of Australia's 25 million residents.
Our fishing waters are the third largest on the planet, encompassing all five oceanic zones, yet we're ranked 80th in regard to so called "productivity." In other words, we don't drain the swamp. We have the largest network of protected ocean areas on the planet (over 1.5 million square miles), the most stringent management, and the highest level of investment in marine science of any commercial fisheries on the planet.
We expect our seafood to be sustainable, but we aren't the only ones. Approximately 50 percent of our prized catch, including rock lobster, abalone, and tuna, is exported to the best restaurants in the world—such is its reverence.
To this desert island, affably known as Down Under, we all came from elsewhere. And who we are is the defining feature of what Australians eat.
Now, I don't want to slap history across your face like a wet fish, but context is significant. We are a nation of immigrants—excluding, of course, the traditional owners of this land, our indigenous community. They've been here for, oh, roughly 50,000 years. The nomadic nature of the numerous indigenous communities meant they learned to utilize the produce du jour. They epitomized the idea of "eat local" and used fire not only to unlock the ingredients' potential, but as a means to catch their feast and replenish the land behind them, too. The rest of us? We've been here for a smidgen over 200.
The Brits were the first migrants, which gives our society that Anglo-Saxon context the world seems to understand, but it's not the only one. The Chinese arrived during the gold rush (1850s), and you're more likely to find a Chinese restaurant in country pubs and clubs than not. The Italians, with an espresso machine under one arm and a pasta machine under the other, landed in the 1950s. Our Italian-ness is so rich that Australia is often talked of as the 21st region of Italy.
In fact, almost 30 percent of Australia's current population was born overseas. Many of us are first-, second-, or third-generation Australians with heritage from far and wide. The top ten homelands of those born overseas include (in order): the United Kingdom, New Zealand, China, India, Philippines, Vietnam, Italy, South Africa, Malaysia, and Germany. Greece is a close 11th.
Migration patterns have been integral in the formation of our culinary landscape. Did you know King Street in the Sydney suburb of Newtown was once known for having the most Thai restaurants on a restaurant strip outside of Bangkok? Or that Melbourne has the largest Greek community on the planet outside of Greece?
Each new wave of migration results in a wave of the food from the original homeland of the new Australians, all continuously adding color to our food culture created by those that came before them. It's been happening for generations. Depending who you ask, our national dish could be spaghetti Bolognese, pad Thai, salt n' pepper squid, satay chicken, beef pho, or a roast lamb. Perhaps it's barbecued prawns, garlic, and chile after all.
To this desert island, affably known as Down Under, we all came from elsewhere. And who we are is the defining feature of what Australians eat.
Given our proximity to Asia, our culinary ties to the British Isles are minimal at best. We do love a roast, but heavy food doesn't quite work when it's hotter than a habanero in hot pants. We prefer the Tyson right hook of spice. We love the fragrant magic carpet ride of the subcontinent as much as we love the smoky meats and pickled treats of the Middle East.
And yet, most Aussies grow up with passion fruit vines on their back fence and mangoes and lychees in the fruit bowl. It's tropical down here, don't you know? It's the right climate to grow the ingredients of our Southeast Asian neighbors—lemongrass, ginger, mint, chile, basil, Makrut lime, galangal—ingredients that have simply become part of our everyday. Virtually every Aussie pantry has fish sauce, shrimp paste, soy sauce, and rice as staples. Olive oil, couscous, and dried pasta, too.
Bánh mì might well be the most popular sandwich in Australia, though the 2 a.m. lamb sandwich—lamb, tabbouleh, hummus, and pickles on flatbread—might have something to say about that. So, too, might our prized sausage sandwich: white bread, butter, fried onions, sausage, and tomato sauce (ketchup). It's hero food at Mat Lindsay's Ester and called the "blood sausage sanga"—a farce comprised of pork belly, pine nuts, rice, and pig's blood served on white bread that possesses a texture similar to the Chinese mantou bun.
Our cheffing fraternity are often first-, second-, or third-generation Australians, too. They cook with a contemporary mind-set but reach toward the food and fragrances from their family kitchen.
Sure, at times confusion has reigned over balance and harmony to leave us scratching our heads, but we've done a lot of growing up in the last decade. At least from a culinary perspective, anyway. We've come to expect authenticity, but we demand and appreciate a modern expression in equal measure.
Chef Kylie Kwong is a third-generation Chinese Australian. Her restaurant, Billy Kwong, in Sydney's Potts Point is the archetypical example of what it means to eat in Australia. A backbone of Chinese technique manifests in the harmony of Australian native ingredients. Think red-braised caramelized wallaby tail (like a sweet veal with a hint of gaminess) with black bean and chile or roast duck with quandongs (sour native peach) and orange sauce.
First-generation Vietnamese Australian Dan Hong (of Mr. Wong and Ms. G's) is part of the new wave of Australian dining. His food is at one minute familiar, the next fantastical. Yet at all times Australian: char-siu roasted Glacier 51 toothfish, which swims over a mile deep in Australia's southernmost oceans and because of that is high in fat to deal with the cold waters, and as rich as Wagyu beef.
Speaking of beef, Hong's homage to steak tartare draws on the fragrant and pungent panache of his Vietnamese roots. Chopped grain-fed tri-tip combined with Vietnamese mint, lemongrass, chile, coriander (cilantro), sawtooth coriander (cilantro), deep-fried shallots, and egg yolk, with prawn crackers to serve.
The ingredients of the Middle East, Asia, and North Africa are as common as yellow cabs in the Big Apple, too. With all that comes this fact: While the original holders of our land explored native ingredients long before immigrants introduced new ones, acceptance of our native ingredients has only been quite recent. There's been a cultural shift toward native ingredients spawned by a generation of chefs who tried to use these ingredients without understanding how they were used for thousands of years. Which is to say, in the '80s and '90s, no one knew what they were doing.
But that's changed. Native ingredients are used at every level of dining to add exclamation to dishes. There's finger lime, a lime shaped like a finger with tiny balls of citrus inside. There's lemon myrtle, a leaf with a lemon-meets-eucalyptus flavor. Wattleseed is an edible seed that speaks of chocolate, coffee, and hazelnut. Samphire is a coastal succulent that you can think of as a tiny, salty asparagus.
Chefs today are using these native ingredients with new confidence—and respect for tradition. In Adelaide, South Australia, Jock Zonfrillo, a Scottish-Italian Australian, is our leading native-food crusader. He works with indigenous communities that have cooked with these ingredients forever, then translates his findings through his restaurant, Orana.
Zonfrillo's marron, a sweet, clean freshwater crayfish only found in Australia, is brushed with geraldton wax (a flowering plant like kaffir lime or lemongrass) and served on a puree of native watercress, a plant that grows next to the creeks where marron live. Zonfrillo chars kangaroo (with meat similar to venison) and plates it to mimic a kangaroo paw-print—a universal image across all indigenous communities. It's partnered with gubinge, a native kakadu plum fermented for 18 months to give it an overbrined olive with umami flavor.
And yes, we all eat our native hero, the kangaroo, but mostly just four of the 58 species. It's high in iron, low in fat, wild-harvested, and available year round in supermarkets, cafés, and all the way to silver service. And like venison, it's preferably served medium-rare.
Chef Matt Stone at Oakridge in the Yarra Valley (about an hour's drive from Melbourne) chars kangaroo loin and serves it with fermented native warrigal greens (coastal sea spinach found where sand meets sea) and sandalwood nuts (like the offspring of almond and hazelnut).
Lennox Hastie at Firedoor in Sydney splits live marrons and cooks them over smoldering embers before garnishing with finger lime and beach succulents, including samphire. His school prawns get an Asia-meets-outback makeover: A punch of chile goes hand in hand with earthy saltbush.
Meanwhile chef Peter Gilmore, of Bennelong, also lauds native freshwater crayfish—though here it's our humble yabbies. He boils the infamous red claw yabbies—known for their delicate sweet flesh and found in dams the nation over—and serves them with a lemon marmalade, cream, and buckwheat pikelets (mini pancakes). He also roasts John Dory on the bone and serves it with orach (a purple spinach), turnips, and umami butter that reaches into our Southeast Asian back pocket to highlight dried shiitake, sesame seeds, fish sauce, and nori.
Dining and imbibing is now our cultural currency. Once upon a time street cred came from what bands you had seen live, but down here we wear where we dine and imbibe on our sleeve like badges of honor.
Our coffee culture is changing the perception of what it means to drink coffee globally, too. If you don't offer single origin, light, medium, and dark roasts extracted with espresso, cold brew, drip filter, and pour over, then you're not in the game. Rather embarrassingly, our baristas are getting as much airtime as our celebrity chefs—an odd notion in itself. But this glorification is the reason cafés from New York to London make a song and dance when they get an Australian barista.
Our Italian-ness is so rich that Australia is often talked of as the 21st region of Italy.
By the time the U.S. coffee franchises turned up in Australia we'd matured beyond their brief. It was like watching 17-year-olds trying to get into a pub. They never stood a chance against our independents. We don't drink coffee for the caffeine or by the bucketload. Per capita consumption is below most nations, but we do have more espresso machines per capita than any place on earth because life is too short for bad coffee. We sound like snobs. And yes, perhaps when it comes to coffee we are, painfully so. But honestly, it's too hot for a suit-and-tie attitude down here—well, not while we're eating, anyway.
We don't want all the fuss of pomp and ceremony. We want quality produce, care when cooking, great drinks, and good times.
A wine bar swagger sentiment that leaves formalities on the coat rack, but never puts the perception of value in doubt. We love sophistication in simplicity. A fresh fish—say, King George whiting—crumbed with a yogurt tartare and herb salad at Saint Peter; a medium-rare David Blackmore dry-aged full-blood Wagyu blade with lemon cheek and fries at Neil Perry's Rockpool Bar and Grill; or a salt-baked Silver Perch with nam chim sauce at David Thompson's Long Chim.
And if you do want the song and dance, we do that, too. At Sepia, you can experience nine courses of perhaps the most harmonious display of Japanese technique and Australian produce on the planet, paired with stellar wines and spot-on service to boot. (Just don't expect a tablecloth, okay?)
Those at the pointy end subtly echo what is eaten every day en masse to add emphasis to the cutting contemporary edge. Matt Moran's Aria serves roast lamb with labneh and pickled cucumber. At Brisbane's Gerard's Bistro, Ben Williamson gives chicken wings a Bekaa rub and a side of kishk yogurt, while at Automata, Clayton Wells dishes up a hand-tied burrata injected with shellfish oil and partnered with salted kombu.
Perhaps Australia is less anomaly and more a microcosm of the entire planet. But it took time to arrive at this point. The confusion of that collision of cultures made "fusion" a dirty word for quite some time. And it wasn't until our chefs took the time to understand our native ingredients that they came into wider acceptance.
From political and social standpoints, our society is certainly still shuffling its cultural cards. But from a culinary perspective, we've found our footing—off the backs of generations that came before. They've gifted today's Australian chefs the license to simply cook the food they love to eat. A manifestation of a myriad of cultures has contributed to the communal table, where conviviality rules over any pigeonholed ideal of what "Australian cuisine" should be.
Confused? Well, so are we. But gee, the grub is good, and so is the atmosphere. Bring a fork. Pick up your chopsticks. Use your hands. Even wear a bib. Whatever works. Just head down and tuck in.