All Hail the Trifle, Queen of Summer Desserts
This layered British staple is the perfect way to feature seasonal fruit—plus a healthy kick of booze.
My love affair with trifle is a new one. Until recently, I thought the classic British dessert was old-fashioned—even stuffy. That is, until my British partner described trifle as a dreamy, creamy, and unabashedly boozy treat, admitting to feeling tipsy after a hearty helping on more than one occasion. Intrigued, I opted to give trifle another shot (perhaps literally).
"I honestly think trifle might be one of the most perfect desserts out there," says Martha de Lacey, host of the hit London-based supper club Muff Dining. "It boasts everything you could possibly want from a pudding: so many surprises, endless variations, never the same trifle twice."
At its most basic, a trifle is comprised of layers of cake or ladyfingers soaked in something tasty (usually alcohol), juicy fruit (sometimes lightly set in gelatin, and silky custard. Before serving, it gets topped with a cloud of soft whipped cream. A trifle is an ethereal mix of soft layers (not unlike a really good tiramisu)—boozy, creamy, and fruity—but it benefits greatly from a sprinkle of something crunchy, like toasted nuts or crushed cookies.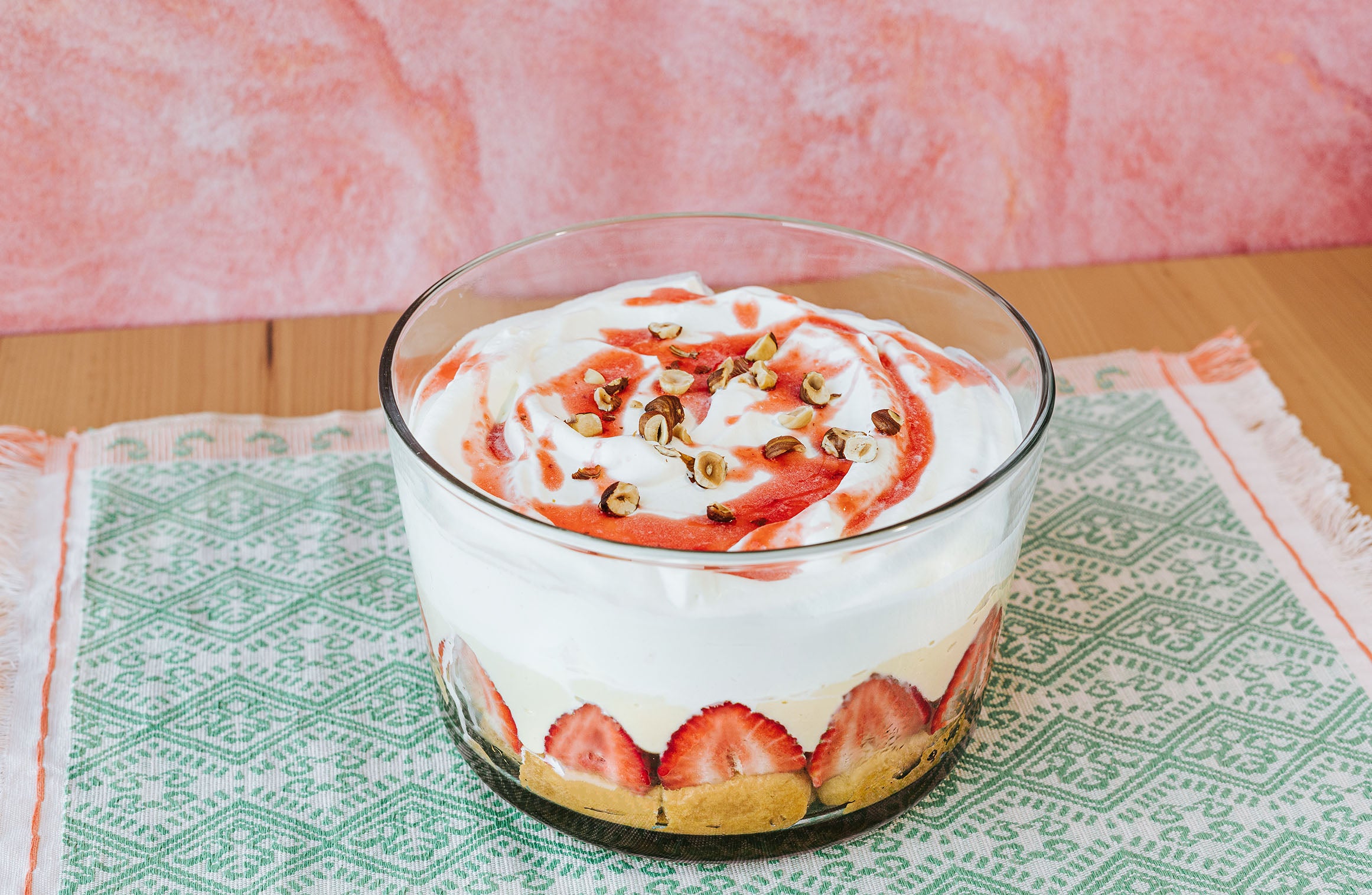 One of the greatest assets of a trifle is its versatility. A trifle can be incredibly unfussy—made from mostly store-bought ingredients—or it can be taken to the absolute height of culinary potential. De Lacey's ideal trifle is positively extravagant, boasting slices of orange-flavored panettone soaked with Marsala wine, rhubarb set in a light strawberry gelatin, lemon-scented custard, whipped cream, and caramelized almond praline sprinkled with salt.
British food writer and author Felicity Cloake's favorite trifle is one born from nostalgia. "I'm loyal to the version my mum made during my childhood," she says. "Boudoir biscuits [ladyfingers] soaked in sweet sherry, tinned raspberries, Bird's Custard (made from instant powder), and whipped cream topped with toasted almonds. These days she uses fresh vanilla custard and fruit, and it's lovely . . . but I'll be honest, it's not quite the same."
While Cloake's preferred packaged ladyfingers—also called savoiardi—are often the backbone of a trifle, it's also common to use slices of store-bought pound cake or "trifle sponge," a sort of genoise-style cake. Opting for premade isn't just simpler, it's smart, as the cake or cookie will soak up any number of delicious spirits, syrups, and juices.
A trifle must not be dry! Sherry is the traditional choice for keeping things moist, but feel free to let seasonal fruit dictate the flavor profile of your trifle. Tropical fruits like mango or pineapple may benefit from a splash of tequila. Got cherries? Try brandy. And consider cutting stronger alcohols with another flavorful liquid, like macerated fruit juice, for a more palatable flavor. Alcohol is, of course, not strictly necessary, although it certainly adds to the experience. In its place, try juice, coffee, or strongly brewed tea. De Lacey even recommends a splash of milk if your trifle is a chocolaty one.
Whether macerated, preserved, or cooked into a compote, fruit plays an important role in the trifle, adding brightness of flavor and valuable juices. Often, fresh or preserved fruit is suspended in a light gelatin (Brits call it "jelly"), sometimes a controversial addition. To De Lacey, jelly is a must, imperative to giving a trifle its signature texture and "wibble."
Because this dessert consists of several layers, it's easy to assume that trifles are difficult or time-consuming to make. In my favorite, simplest version, I combine ladyfingers, berries macerated in sweet sherry, vanilla custard, and whipped cream. The only component needing much preparation at all is the custard—which is my favorite part (I've written about custard for TASTE at least twice before) and which should be velvety smooth and lusciously rich. The final flourish? Serve it in an attractive glass dish (a transparent mixing bowl works too). After all, a trifle's vertical drama is best admired from the side, allowing each delicious layer to speak for itself.