A Creamy, Tangy, Cranberry-y Fall Dessert
Australia's beloved vanilla slice gets an American-style makeover

 
Every year, I feel exhausted by pumpkin spice before the first day of autumn even arrives. In search of fresh dessert inspiration this season, I recently turned my sights to a classic Australian treat. The vanilla slice is one of several signature desserts hailing from Sunburnt Country, in the company of pavlova, lamingtons, and the very Instagrammable strawberry watermelon cake. And it's perfectly positioned for your fall diner party or weeknight baking fun.  
A vanilla slice, also called a custard slice, sandwiches a thick layer of vanilla custard between two layers of crisp puff pastry topped with icing or a dusting of powdered sugar. It's boldly elegant and unabashedly substantial—like a French mille-feuille, but way less fussy. 
Similar unions of pastry and cream can be found all over Europe—you can find a decent vanilla slice in the UK, but you might find a kremówka in Poland or a cremeschnitte in Germany—both taking the same form of crispy layers sandwiching custardy cream. If you're in the United States, your best bet at trying a vanilla slice is probably to make it yourself.
I first learned of vanilla slice on Instagram through the Melbourne-based bakery Beatrix Bakes. I'd followed their account for several years and noticed that, once a month, they would post a photo of their vanilla slice topped with their signature passionfruit glaze—a pristine square featuring a layer of custard two inches tall, so luscious-looking it inspired me to take on the baking project myself. Beatrix Bakes closed for walk-in business earlier this year, but they have remained open for whole cakes and, yes, entire batches of vanilla slice.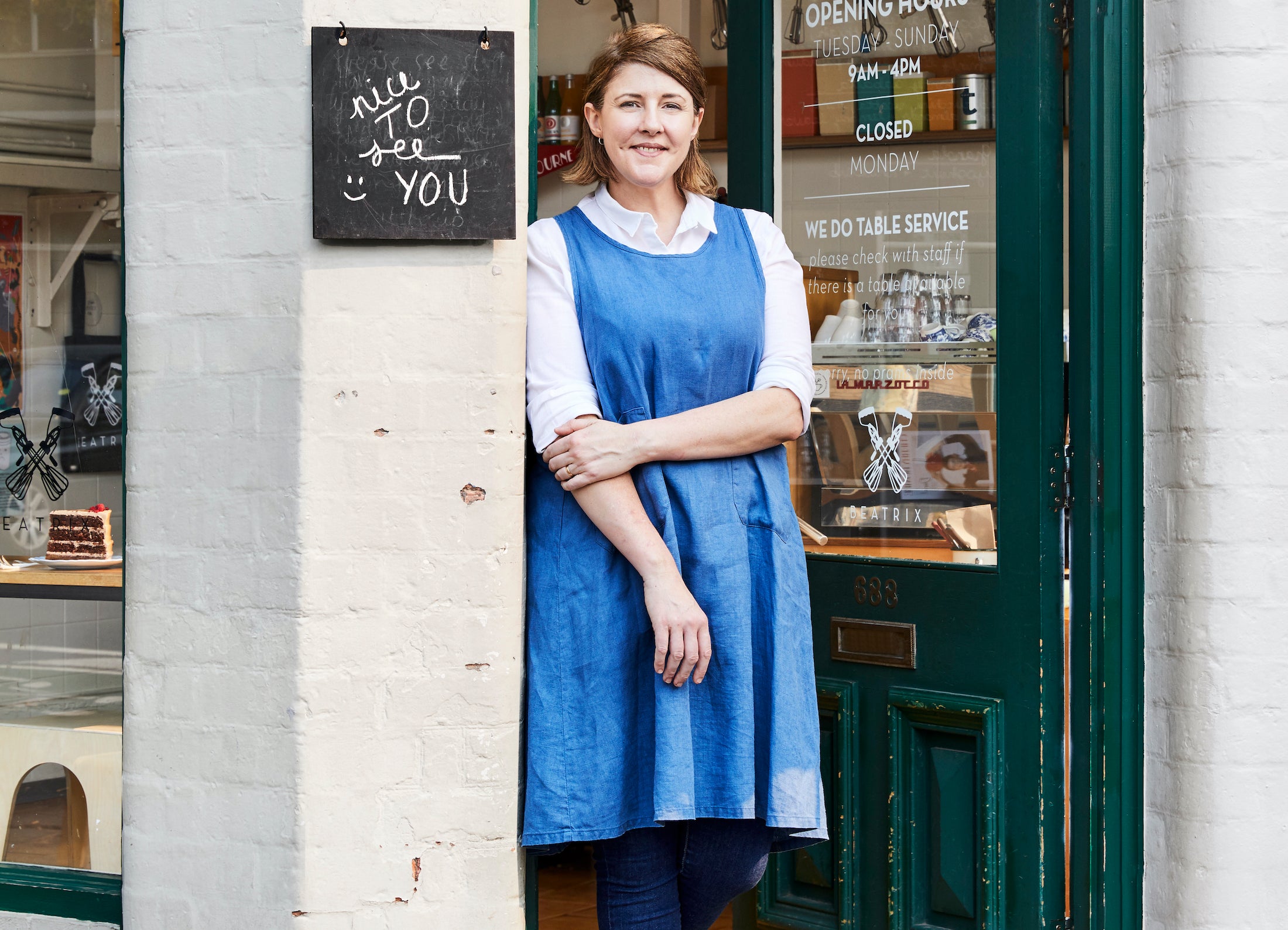 I reached out to Beatrix Bakes owner Natalie Paull to find out a little more about this iconic Australian dessert. 
What makes a perfect vanilla slice?
It's a bit of a baking project; there's nowhere to hide with a vanilla slice. The puff pastry must use a good butter, be made by human hands, and be baked to the most fully realized bronzed brown all the way through (no pasty white layers inside). The custard should be made with egg yolks from happy chickens (and not custard powder), top-shelf dairy, and real vanilla beans. For me, perfection is attained with a sticky slick of fresh, puckery passionfruit glaze to finish.
How should one go about eating a vanilla slice?
Crunch-squidge-crunch sandwiches like this can be really tricky. I like to cut my vanilla slice into quarters and then eat it piece by piece. I accept that my shirtfront is going to get really covered in crumbs and then just sink into the layers. I keep a napkin very close to me.
You can find Natalie's recipe for vanilla slice with passionfruit glaze in her book, Beatrix Bakes. She is currently working on a second cookbook set to be released in 2024. 
In my version, linked below, I've taken a very classic approach to the vanilla slice, but I've given it an all-American autumnal twist: swirling through the silky vanilla custard is a vibrant cranberry compote. The contrast of sweet and tart is divine and provides a similar effect to the passionfruit glaze in Natalie Paull's version. 
I also give my recipe for rough puff pastry. You may absolutely use store-bought (no shame there!), but after discovering how easy it is to make rough puff, I vowed to never spend my money on the frozen stuff ever again. My shortcut version is equally flaky and has a deeper, more buttery flavor—most store-bought puff pastry doesn't even have butter in it—making it conveniently vegan but often containing artificial flavors that come across as chemical and fake. If you do opt for premade pastry, choose one made with real butter and a short ingredient list (as nothing about this recipe is vegan anyway). Trader Joe's makes a decent version with no mystery ingredients.
Vanilla slice is a project—there is no denying that. Once I have the dessert assembled and chilling in the fridge, I take my reward in the form of using scraps of puff pastry as a shovel for warm custard traveling directly to my mouth (I always hold a little back for snacking). Vanilla slice really is worth the effort, and there's nothing quite like the combination of crackly pastry and creamy custard. And you can use all those leftover egg whites to make another classic Australian treat: a pavlova.