Ali Slagle's Lox and Bagel Christmas Morning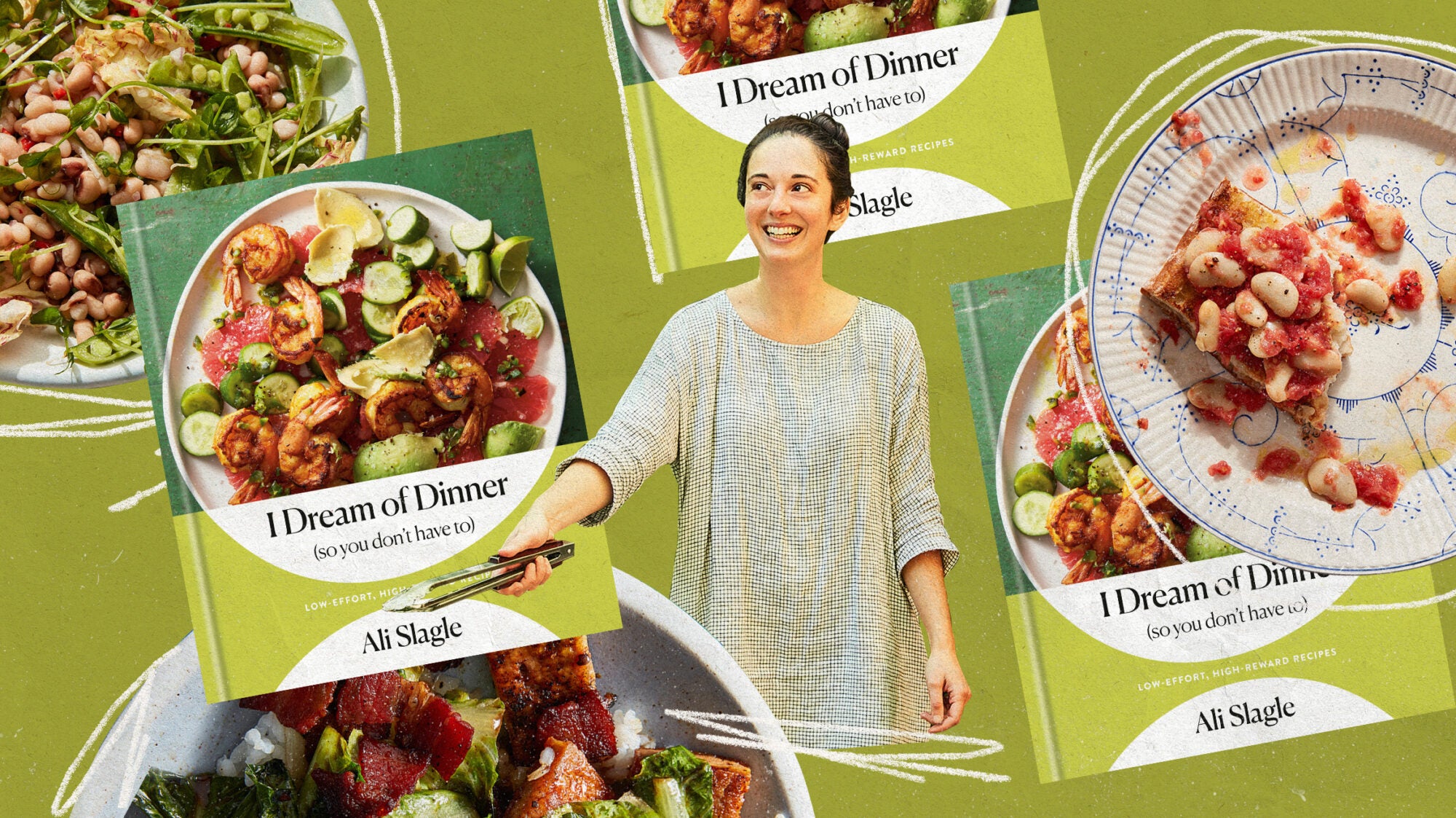 One of our favorite cookbook authors, of the wonderful and wise I Dream of Dinner, takes us to her holiday kitchen.
We all dream, but nobody dreams about food more than Ali Slagle. Fever dream. Ambien dream. Daydream. Slagle dreams in many forms, which is articulated so perfectly in her breakout cookbook, I Dream of Dinner (So You Don't Have To). One of our favorite food writers and a well-established recipe developer and former cookbook editor, Slagle has all the chops to write a perfectly good general-interest cookbook.
Yet this book exceeds all expectations—it's full of life, innovation, and lean recipes revolving around broken Caesar salad dressing, pastrami-spiked tempeh, mac and cheese (but with rice), and sour cream and onion…salmon. With the holidays approaching, a time when many of us are stretching our home cooking abilities to the limits, I reached out to Slagle for a catch-up to find out about her own traditions and her last "holy shit" moment of discovery. 
Where are you writing in from right now? How's the van?
Currently the van is more of a weekend home and a giant LEGO set to tinker with. We're in New York until my partner and I make up our minds about where to go next. Since we both work remotely, we're pretty mobile, which is both exciting and overwhelming.
Let's get into holiday cooking. What's your favorite December holiday food tradition?
The only holiday food tradition that has persevered through world chaos and family drama is also the most important: lox and bagels on Christmas morning. It's manageable regardless of location, group size, and how upside down your kitchen is—and it's delicious, obviously. My mom even made us a spread and left it outside our bedroom door when we were down with COVID last Christmas.
Can you describe a quick breakfast or light lunch to eat when you're about to spend the whole day cooking—and then eating—a large holiday feast?
Most days I spend the whole day cooking, so good question. Have you ever noticed how tuna, chicken, egg, potato, bean, and even whitefish salads are all dressed with more or less the same stuff? That's the basis of my lunch strategy. What mild, dense, already-cooked protein do I have? Canned beans or tuna, green lentils, hard-boiled eggs, leftover chicken, firm tofu, frozen edamame. Pick one and dress it with salt, oil, and vinegar or lemon. Maybe mustard or hot sauce. What fresh crunch do I have? Herbs, celery, cucumbers, radishes, radicchio, romaine. Chop and add those. Maybe fish out some capers or olives with my fingers and add those. Eat on its own or with bread or crackers. Also see the "Emergency Chickpeas" section in my book—even chickpeas just dressed with salt, oil, and vinegar are awesome.
After the lox and bagels, what will you be eating, drinking, and watching on Christmas?
Watching Elf! If I don't splurge and watch it early, which I usually do. I love it so much that I wrote one of my college admissions essays about it. It's so fun to see the world through a kid's eyes, with awe and curiosity, and Elf helps with that very well. By the way, Netflix has a show about how Elf was made, which, if it comes back this season, is worth a watch.
Have you ever noticed how tuna, chicken, egg, potato, bean, and even whitefish salads are all dressed with more or less the same stuff?
We all love your book at TASTE. We've made many things from it. Is there a breakout hit recipe that was really unexpected—a pleasant surprise?
So happy to hear it! That's been the most exciting part: that people are reaching for and really cooking from the book over and over again.
When the book came out in the spring, and there were all these fresh and lovely little vegetables at the market, people were flocking to roasted beans and cauliflower (the Smoky White Beans and Cauliflower). You coat white beans and cauliflower in smoked paprika and tomato paste and roast them, then cover them with garlic mayo and vinegary herbs. It's very fun, like patatas bravas sheet-pan-dinnered. And there's something about the sticky-sweet tomato paste on the cauliflower that's very appealing, and how the beans kind of pop and crisp like popcorn. But who would've guessed?
What was your last "holy shit moment" in the kitchen? Meaning, you figured something out, and you were like, "Holy shit!"?
I'm more of a practical cook than a project cook, meaning I cook because I'm going to need to eat soon or eventually, not because I want to spend the day in the kitchen making jam or nurturing sourdough starters and SCOBYs. But I was recently asked to develop a recipe for sweet apple cider, which seemed like a simple enough project, but when I looked up, days had gone by. Holy shit, this one-ingredient drink is so complex and kind of magical.
First I had to figure out what it was, because there's no one definition agreed upon by experts and state agriculture departments. I was surrounded by books at the library and looking up old orchard documents online. I got to geek out with some real apple heads, including Benford Lepley, who's making hyperlocal cider in a garage on Long Island. I ended up defining it as naturally pressed, raw, and unfiltered juice—which means cider is juice, but juice isn't cider, and technically, supermarket apple cider isn't cider because it's been pasteurized. (Feel free to cut me off anytime.)
Once I understood what I was after, I had to take it to the kitchen to sort out how to turn apples into cider using kitchen equipment instead of a crush and press while still preserving the essence of the drink. On a very basic level, watching these firm fruits relinquish into juice is confusing and miraculous. Then seeing how the cider shifted based on types of apples, supermarket versus farm, refrigerated versus room temperature, mash size, cloudiness—and then figuring out why—I could go on, but yes, a lot went into this one little recipe. I love simple recipes like this (or like the cinnamon toast) because so much went into them that no one will ever know about. My little secret.
Can you give us three accounts we should follow if we aren't following?
@crispyegg420, for beautiful but achievable food.
@lucas_zanotto, for turning frowns upside down and zoning out.
@pomme_queen, for living oddities, including but not limited to apples!
Can you tell us about any future book projects, or anything else fun you are working on?
I am currently focused on filling up the well: My output has far exceeded my input for so long that I'm trying to make time and work that will teach me new things and expand my brain. It's super hard as a freelancer to give yourself that space, but I'm trying.
Also, I've been working with Heyday Canning for nearly two years on their first product line (beans!), and they're almost, almost ready for market, which is super exciting because the product is really good, and it's going to save those "WTF do I eat right now?" moments. My role has been really small, just weighing in on concepts and test batches, but I've loved getting to learn more about the canning and food manufacturing from the founders.