Aaron Franklin Respects the New York Strip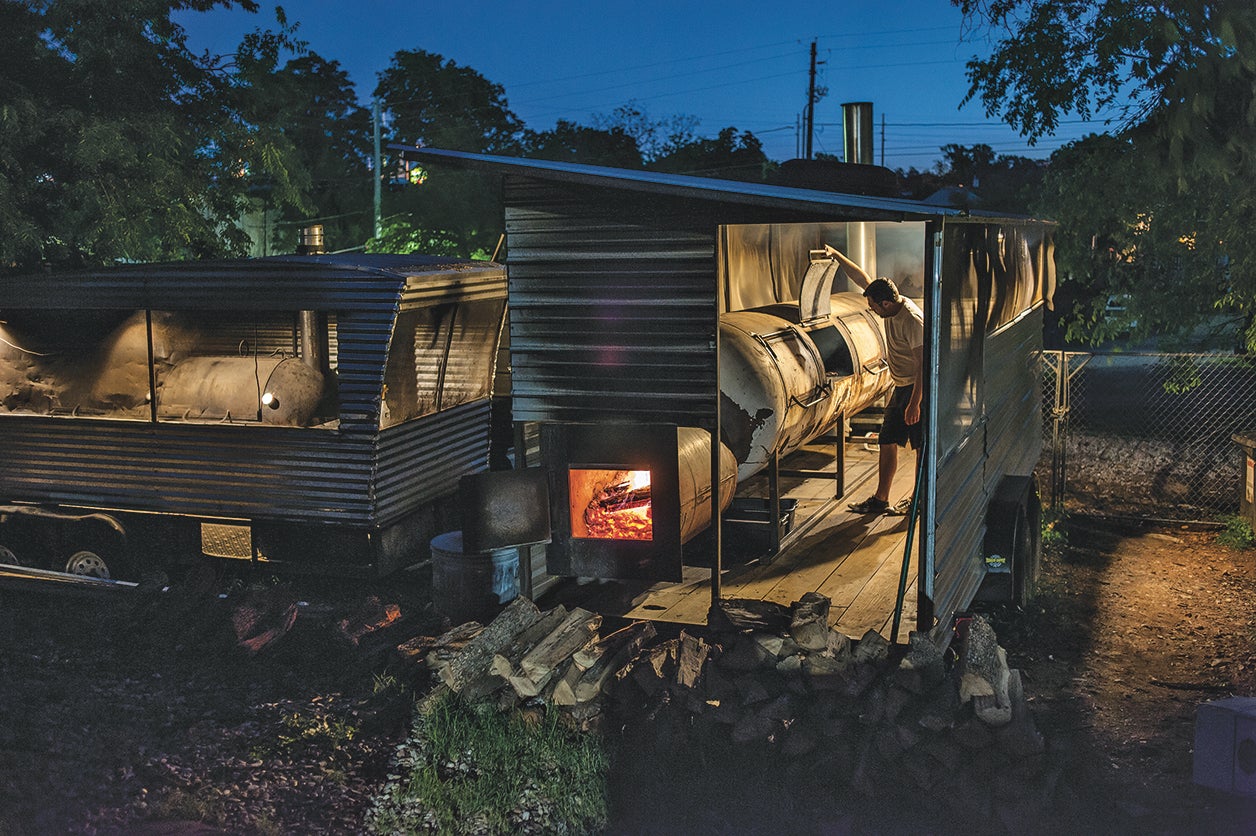 A conversation with Aaron Franklin, author of Franklin Barbecue and Franklin Steak.
So that thing about needing to rest your cooked petite filet for 20 minutes before slicing? The quest for cartoonish grill marks on your rib eye? Sous vide as the means to tenderloin glory? And rib eye being the ultimate cut of choice for backyard grilling? It's all up for serious debate, and Aaron Franklin has some strong opinions about all things steak. The Austin-based chef and author covers it all thoroughly in his latest book, Franklin Steak, which, along with Franklin Barbecue, is a modern classic within the letters of meat cookery. Both books are heavy with theory (cool theory, not napping-in-lecture-hall theory) and loaded with incisive and journalistic storytelling, thanks to coauthor Jordan Mackay's eye for a good tangent. Both books tell you how to cook a buvette or smoke some spare ribs, sure. But the authors go to a place where salt and smoke and fat and very sharp knives are sacred, though the vibe is hardly dogmatic.
Last week, I Zoomed into Franklin's life in Texas for a quick check-in. He mourned the loss of local Austin legends Magnolia Cafe West and Threadgill's, and he detailed how his own restaurants—the insanely popular Franklin Barbecue and a new restaurant, Loro—are getting through the pandemic. And he gave the New York strip steak the respect it deserves.
How is everything going for you with the restaurants?
Franklin is interesting and is crushing curbside. Loro is also doing well with curbside, and we opened the dining from last week. There was a tremendous amount of research that went into making sure we were making the right decisions, and that everybody will be safe.
What's the biggest challenge for social distancing in a real, formerly packed dining room?
There's just really not that much room [laughing]. Really the struggle is, like with most restaurants, if you open at 25 percent, you really can't pay your bills. But with curbside pickup, it's working out pretty well.
And Franklin must be doing pretttttty well with online orders?
Previously, when we did online ordering, you could order six weeks in advance, with a cutoff of four days before you were to pick it up. Now you can order right away, but only three days in advance. They usually fill up pretty darn quick, and we will sell out three days in advance. Throughout this whole thing, everybody has been so nice and understanding.
What's the general vibe with social distancing in Austin, in general?
Welllllll. We came out of the gate really strong, and everybody was keeping their distance. We had some Austin-only stay-at-home orders, but then the governor sorta said you can't do that, and this is the way it's going to be [not staying in], so you have some people who are being really careful, and some people that are not. I drove by a gas station last night, and there were like 20 people in the parking lot partying. And they weren't in high school! You are seeing parks filling up, too, and it feels like it's a little too soon, and then there are people with their entire family wearing masks. So there is a great range.
You write about, in Franklin Steak, that the idea of resting a steak is pretty overrated. As in, "if you can touch it, and cut it, it's time to eat," as you write. Are you still holding firm with that opinion?
That's it. And another way to look at rest time is to think about, however long it took you to cook it, that gives you an idea of how long it will need to rest. If it's a tiny hanger steak, that doesn't need to be rested at all. If it's a large brisket, then it's going to take a couple hours.
How do you know a steak is done to your temp?
It took me hundreds and hundreds of steaks to get the feel for it, and honestly, it just takes time to figure it out, as well as a good meat thermometer. That thing with the palm of your hand, though, is total phooey. Like people, all steaks are different. The cut, the marbling, if you are looking for a hard sear or a Pittsburgh style. There are so many variables, so you have to rely on your intuition.
What is a Pittsburgh style?
Super rare in the middle, almost cold, and a hard sear on the outside. Good for fillets and stuff like that.
What is the question you are always asked about steak?
You know, out of all the questions I could get about technique or grills or anything else, everybody wants to know what my favorite cut is.
And what's your answer?
It depends on the piece of meat. Across the board, a good New York strip is kind of my favorite because it has a certain minerality, beefiness, to it. But texturally, I also like a very well-marbled strip, because it's got a firmer texture like a hanger and isn't fatty and spongy like a big, fatty rib eye. It's the perfect middle-of-the-road steak. And the most underrated cut? I like a good buvette, which might be called a flap steak in the grocery store. It has the texture of a hanger, but not quite the same iron flavor. But really, any of those bistro steaks, you can't go wrong.
GRILL, SMOKE, SLICE, REPEAT
Franklin Barbecue Beef Ribs
Beef ribs are one of the richest and the most decadent, succulent, and flavorful cuts of beef you can put on a smoker or grill. Here's the recipe, with a rub, to do it the Franklin way.
Franklin Barbecue Sauce
Aaron Franklin calls this a sweet sauce, even though it's not terribly sweet on the spectrum of barbecue sauces. It's a good, all-purpose sauce that is on the tables at Franklin Barbecue.
Garlic Sautéed Mushrooms
Just like a steak, mushrooms brown when they are cooked, lose some water, and develop a dense, savory texture.
Charred Jalapeño–Anchovy Compound Butter
The umami-rich combo of anchovy and garlic provides a perfect base for the jalapeño, and a perfect compound butter. 
MORE COOKBOOKS TO READ, BUY, AND COOK FROM
Last week, we published a fun conversation with Charlotte Druckman, author of Kitchen Remix.
How to Drink Wine is a smartly illustrated guide that will teach readers how to drink wine, but also how to order it and talk intelligently about wine with friends who also like to drink wine.
Everybody who enjoys a refreshing cocktail at the end of a long workday should pick up Easy Tiki, a smart collection of recipes that bring the flavors of Hawaii and other tropical destinations to the home bar.
A book about the chef's fridge, with photos that include more than condiments and bottles of Pol Roger? Sure, we will bite.
The World Eats Here brings home recipes and stories of the immigrant vendor-chefs of NYC's most popular night market in Queens.