A Sourdough Savant Shares Her Book of Secrets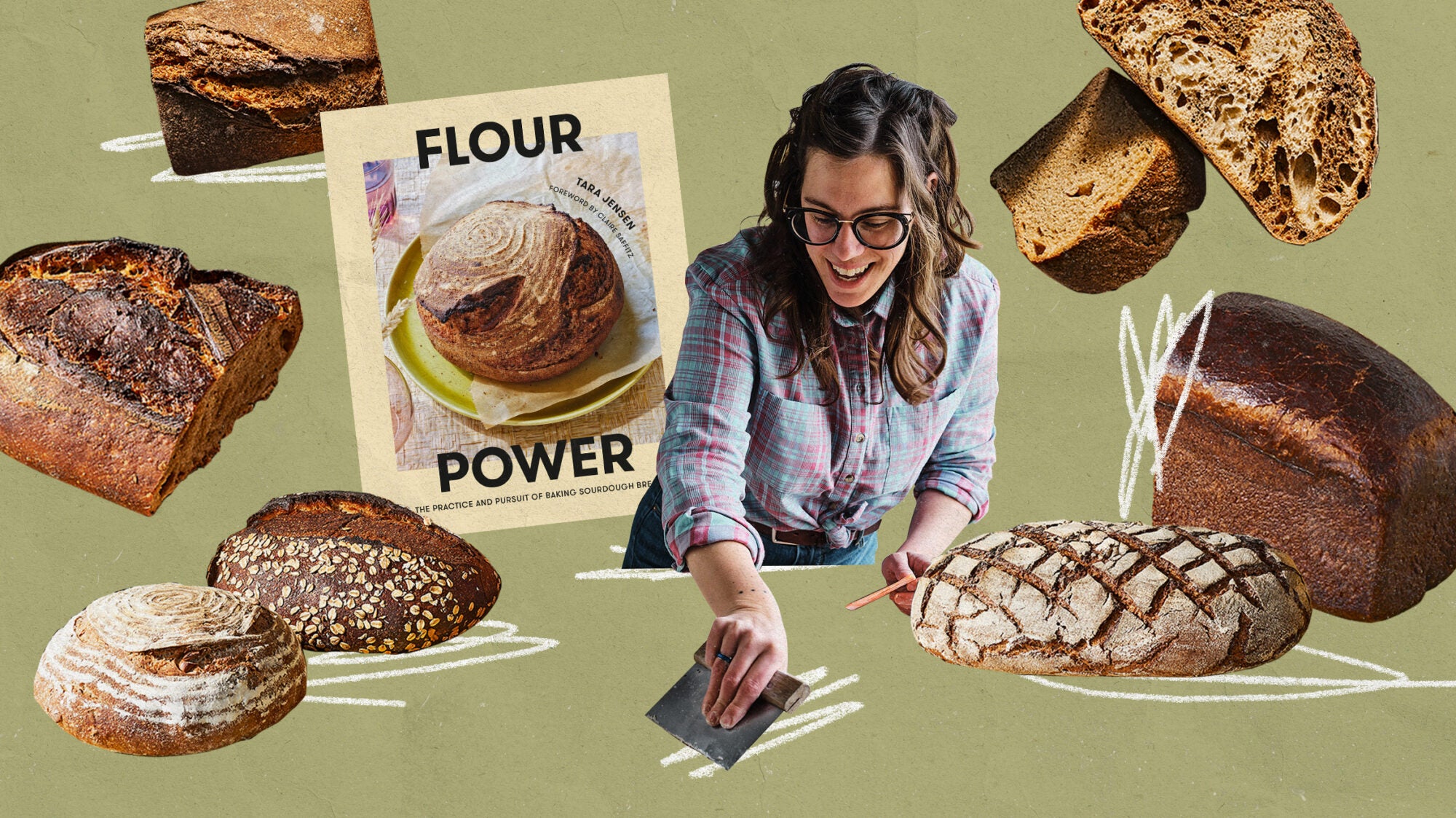 Tara Jensen's new cookbook, Flour Power, will develop your bread intuition one boule at a time.

 
"I'll just toss some seeds out anywhere I go," says Tara Jensen, a baker with over two decades of experience turning milled grains into beautiful loaves of bread. "We just moved into our new house and I threw rye and wheat everywhere I could in the yard."
Jensen's career started when she walked into Morning Glory Bakeryin Maine. Patti Smith was playing on the stereo, and it was helmed by a woman wearing all black with tattoo sleeves on both arms. Immediately, Jensen asked for a job. After almost two decades working in bakeries like Red Hen Baking in Middlesex, Vermont, and Farm and Sparrow in Asheville, North Carolina, Jensen launched her own one-person bakery, Smoke Signals, in Asheville in 2012. When it closed in 2018, she began teaching baking courses in person and over Zoom. She's incorporated this deep experience into Flour Power, a new and highly instructive guide to making all types of bread and sourdough. The follow-up to her debut book, A Baker's Year, an ode to a simple life centered around baking, it includes recipes for everything from an everyday "workweek" loaf made from half whole grain, half white flour to tangy chocolate chip cookies made with starter discard. 
Along with inspiring folks to turn grass into grains, Flour Power is about encouraging potential bakers to actively engage in every step of the bread process, from milling your own flour to developing a variety of starters (Jensen has three). Jensen relishes in detailing the anatomy of a wheat berry and demonstrates the microscopic processes of fermentation through colorful drawings and infographics. But perhaps her most important teaching is how peace can be found in baking's requirement to be present. Jensen talks about the physicality of shaping and making bread and how much can be gained through repeating a simple craft. "I bake for myself as a form of therapy," she writes. "I bake to participate in a larger cultural movement, and I bake to remember it in my bones." 
I chatted with Jensen over the phone to talk about why she's drawn to teaching, the myth of "intuition," and what bread is supposed to look like. 
The line in your book that I underlined, drew stars around, and highlighted was that "intuition is data accumulated." Can you explain that?
When I first started teaching, I was telling people to use their intuition. At some point, I realized that was rude. They were there because they were hoping to gain some intuition! You can't get intuition in an afternoon. I can set you up with a solid formula, but then you have to take it home and practice. 
Once I became more confident in speaking towards the technical aspects of bread baking, I sort of had a shift in the content that I was teaching. I thought people would feel frustrated that they were there to learn bread but they didn't pick it up in a minute. I started to stress that—I have so many horrible little metaphors—baking is like hours behind the wheel. You have to physically put yourself through the process of baking again and again and again, and then your body's gonna know it. There's no way around it.
One of the ways you suggest people can develop their bread intuition is by baking for 30 days in a row, which can seem daunting. How did you structure recipes like the "workweek bread" to fit into people's everyday lives?
I wanted that recipe to showcase two things that are really helpful to the home baker: a decent 9-by-4-inch Pullman pan for making sandwich-style loaves, and utilizing the refrigerator to start and stop the overall process. Not only does using the fridge to chill your bread dough help you pop in and out of meetings or run errands while baking; it also develops the best flavor in sourdough. It's a win-win! 
You've said that a loaf of bread "should look like it came from your hands." It seems like that's a reminder to embrace imperfection, and that even comes through visually in your book with hand-drawn art and fun doodles.
When I'm baking, I just remember that we're fermenting crushed-up grass seeds, and in its simplest form, bread is something that everyone can do. From there, you can make it as complex and as rich of an experience as you want. 
I do think that there is something to be said for consistency in your baking, and I do think that having consistently well-risen loaves and well-baked loaves should be a point of pride for people. But I don't think that consistency has to be the same thing as uniformity.
We specifically wanted the book to have a fun and friendly, colorful energy to it, and we kept joking, "no rainy-day bread." That was our model for the entire photo shoot. I want to remind people to just be gentle with baking and be gentle with yourself and enjoy it. 
You do a lot of teaching. Is it hard for people to let go of preconceived notions about how their bread is supposed to look?
I really try to focus on the overall process and practice and let folks know that even in my bread baking, the perfect loaf comes along every once in a while, and we are constantly striving for it.
But I believe our lives are so enriched by having a craft, particularly a craft that you do with your hands at home. Bread baking really just nails that for me. There's lots of things that could occupy the space of people's lives. Like any kind of artistic practice, I encourage people to be engaged with the overall process, start what you finish, and learn from each loaf that you bake. That's the only guarantee that you'll get better over time. 
You tackle all types of breads, including rye, which can feel mysterious to make because it's not technically a wheat and can't form gluten. What did you want people to learn about this style of bread?
I love encouraging people to discover rye flour, because if you don't like shaping bread and you can't fold every half an hour or hour, rye bread is so easy. Even as a new parent, it's a miracle to make. Rye is generally seen as something that's really complex and you have to study for years. But I think folks, once they get the hang of making wheat-based breads, are sort of like, "Okay, what else? We have an excellent dough—what else can we put in it to add flavor, color, and texture?" I was really excited to put that at the end of the book in particular to allow people just to keep going and keep exploring.
"When I first started teaching, I was telling people to use their intuition. At some point, I realized that was rude."
In the foreword of your book, Claire Saffitz says you're a natural teacher. What do you think makes you a natural teacher?
Patience. I think the ability to stand with somebody while they're struggling and to not let that struggle overwhelm them is important to teaching. You're there to help them through difficult moments, and this is a process I really enjoy. 
My goal is to have folks walk away from the experience with a bit more confidence than they had coming in the door. Everybody is at all sorts of different places in their learning with bread. And I enjoy having bakers from different skill sets—they sort of cross-pollinate in the classroom and learn from one another. 
I'm there to walk beside you. I know that there's a lot of mentors that I've had and folks that I've worked with that are incredibly brilliant, but the patience to watch somebody struggle and help them along in a way that's not going to feel harsh—that's important to me. 
There's a lot of back-and-forth in the book between bread and life, and how bread has shaped the way you look at the world. What has baking given you?
I just had a milestone birthday: I turned 40. I have a toddler now, and lots of big changes in my personal life. And I had this idea, when I was younger, that as I grew into adulthood a lot of the deeper questions I have about what to do with my life would be solved. The further I walk, I'm like, "Oh, the questions are never done. They become more complex. They get more flavorful. There's more richness to life."
It is incredibly helpful for me to have something like baking that grounds me and roots me and is something that I can practice every day. But it's also tied to agriculture, tied to the earth, tied to larger systems, and it's a place where I'm able to stay curious. There's always something new to learn and to share within a community of bakers. It remains exciting to me. No matter how many loaves of bread I bake, the practice is still such a joy.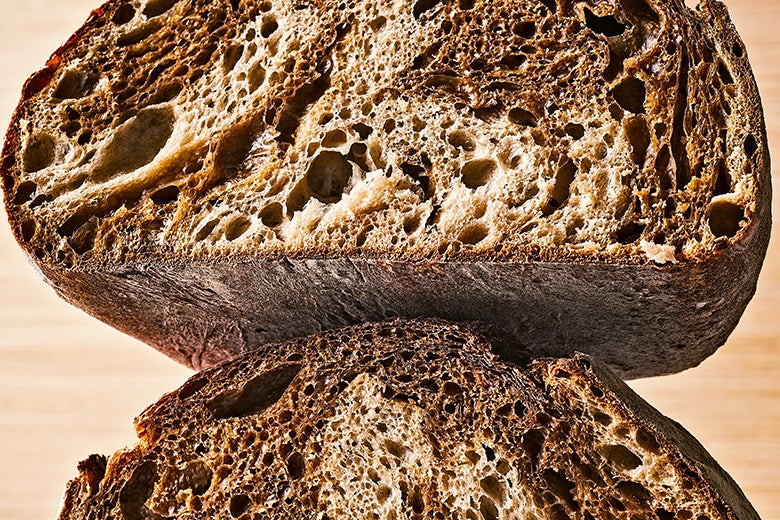 3 EXCITING RECIPES FROM FLOUR POWER: