A Soup Recipe Survives War and Impresses Oscar Winners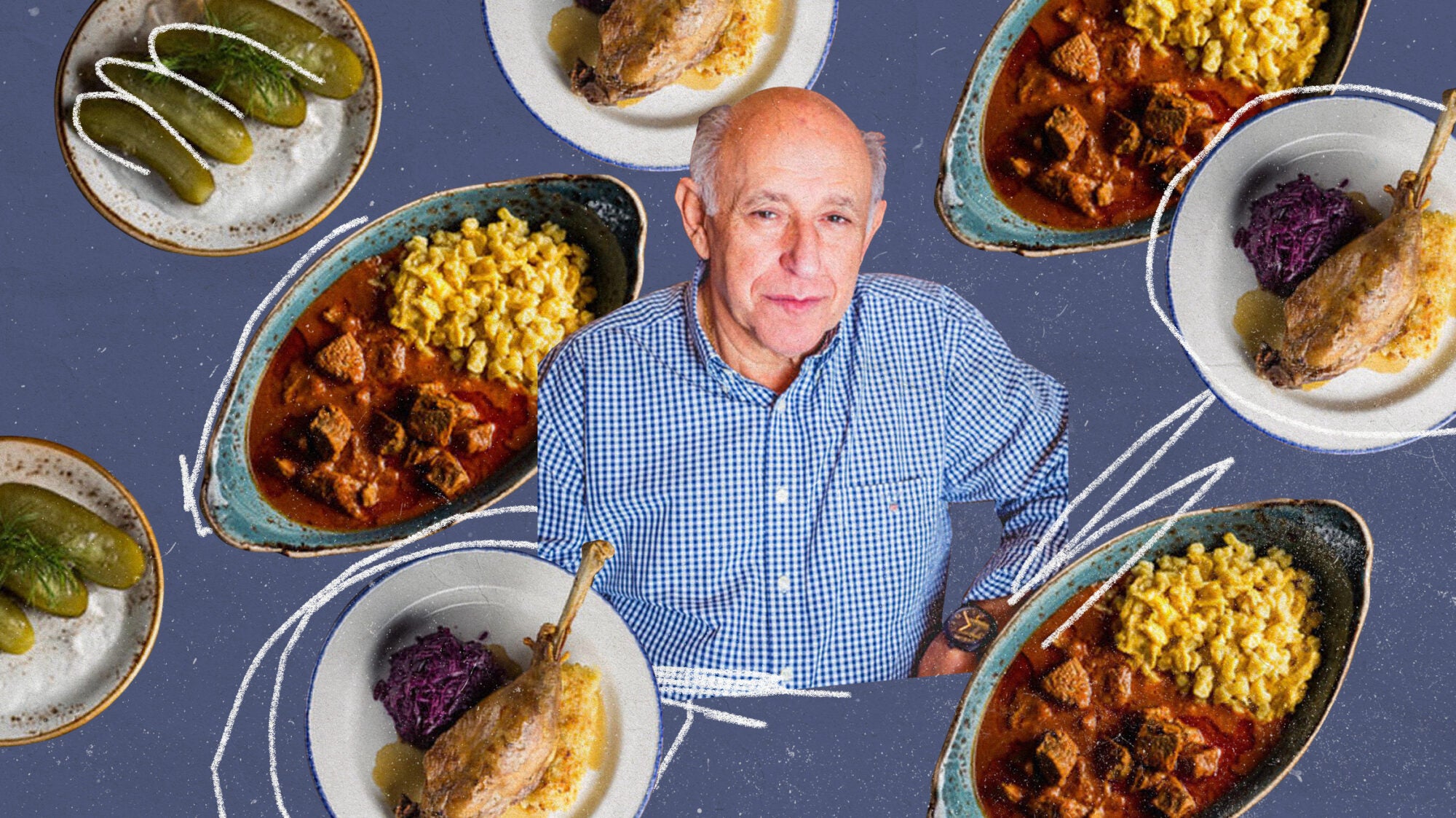 Meet Tibor Rosenstein, a 79-year-old Holocaust survivor behind Budapest's Jewish food nerd destination.
For more than a quarter-century, 79-year-old Tibor Rosenstein has been the man in the kitchen at his eponymous, white-tablecloth Budapest restaurant. It's a cozy spot where Ashkenazi staples like matzo ball soup and cholent are served alongside Old World dishes of sour lung stew and roasted goose leg to round out a meaty menu that touches on all corners of Hungarian-Jewish cuisine. 
Tibor is quite literally the face of the family business, with a stencil of his grin topped with a yarmulke adorning bottles of wine, beer, and glassware at the low-key neighborhod restaurant. For Rosenstein, it's all a dream come true, despite the tragic uncertainty of his early years.
Both of Tibor's parents were murdered in the Holocaust at Auschwitz. Following liberation in 1945, Tibor and his sister moved in with their grandmother, where he learned to cook lamb stew, cholent, and chicken soup with very little. He went on to work in various restaurants throughout Hungary and in Budapest, but he always wanted to have his own restaurant that reflected his Jewish background, featuring dishes like his grandmother's matzo ball soup.
Opening the Rosenstein Restaurant in 1996 was the culmination of a lifelong dream for Tibor. Located a couple blocks away along quiet residential streets from Budapest's central train station, Keleti, the restaurant has garnered an impressive word-of-mouth reputation over the years—from locals and tourists alike—for its homey style of cooking. Smiling photos of celebrity visitors, like Robert De Niro and Helen Mirren, with Tibor hang on the wall near the entrance. 
Suffice it to say that Rosenstein is a bucket-list destination for anyone who cares about Jewish food, for its unabashed, unironic pride in Jewish-Hungarian cuisine in a place that actually warrants the use of the holy grail of restaurant descriptors: authentic. Rosenstein is a well-preserved time capsule that gives a glimpse into what our ancestors ate to celebrate life.
I was lucky enough to catch up with Rosenstein during a visit with his old friend, architect András Koerner, himself a Holocaust survivor as well. The two have built a bond in their later years over their passion for Jewish food and maintaining high standards for traditional Hungarian cooking––something András believes Tibor accomplishes by offering a rotation of traditional vegetable dishes (creamed spinach, green beans in sweet and sour sauce) alongside other old-school offerings, like calf lungs and stuffed cabbage. 
Let's start at the beginning. Could you talk about your grandmother's influence on you becoming a cook?
I helped my grandmother with the cooking, and I really liked it. When I should have continued my studies, my wise grandmother said, "Son, go and become a cook, so you will always have something to eat."
How has her influence lived on at the restaurant? Are there any specific dishes that are inspired by her?
I have kept and adapted her recipes. We still have some of them on the menu, such as Jewish egg, cholent, goose-stuffed cabbage, and stuffed goose neck.
What are some of your favorite dishes on the menu?
I can't single out one of the many, but the stews and roast goose leg are some of my favorites.
How would you describe Jewish food today? What does that phrase, "Jewish food," mean to you?
For me, tradition is what matters the most, and of course the deepness and complexity of taste of a dish. But having visited Israel several times, numerous dishes have become my favorite ones, like beetroot kubbeh soup, of Kurdish origin with various creams and vegetable variations. 
Jewish food is, for me, the mixture of dishes and tastes I have experienced during my travels. It's a melting pot of the Moroccan, Lebanese, Russian, and Polish cuisines, to name a few, all of which appear in today's Jewish diet in their unique complexity.
The restaurant isn't in a particularly busy neighborhood, yet you've had a number of celebrities come by over the years. How do you think people are finding out about your restaurant, and why are they coming?
Fortunately, Rosenstein has become a household brand over the past 25 years, so our best marketing vehicle is probably personal recommendation by our previous guests. On the other hand, we still represent traditional hospitality, and it is an exciting experience for foreigners.
Your cookbook comes with the tagline, "All the good things are kosher!" Could you tell me about that idea and how you've incorporated that philosophy at the restaurant?
My grandmothers who raised me were a bit different from each other as far as cooking goes. One of them consumed only kosher food. The other, whom I always helped cook, used every ingredient she could or whatever was available at the time while cooking. Her saying was, "All good things are kosher!" Our restaurant is not kosher, but what we cook and how we serve is good.
When I was at the restaurant, you talked about grinding your own matzo to make better, more texturally interesting matzo balls. Do you have any other tips on how to elevate a matzo ball soup?
The matzo comes from Israel. I personally like the coarsely crushed version, also included in my cookbook. This is a traditional recipe that would be a shame to modify. 
But for our customers or for holidays, we also have another matzah dumpling that is not meant to be served in broth. It is rather a stand-alone dessert. It's filled with sweet prunes and sprinkled with finely chopped walnuts on the outside, with a touch of honey drizzled on top.