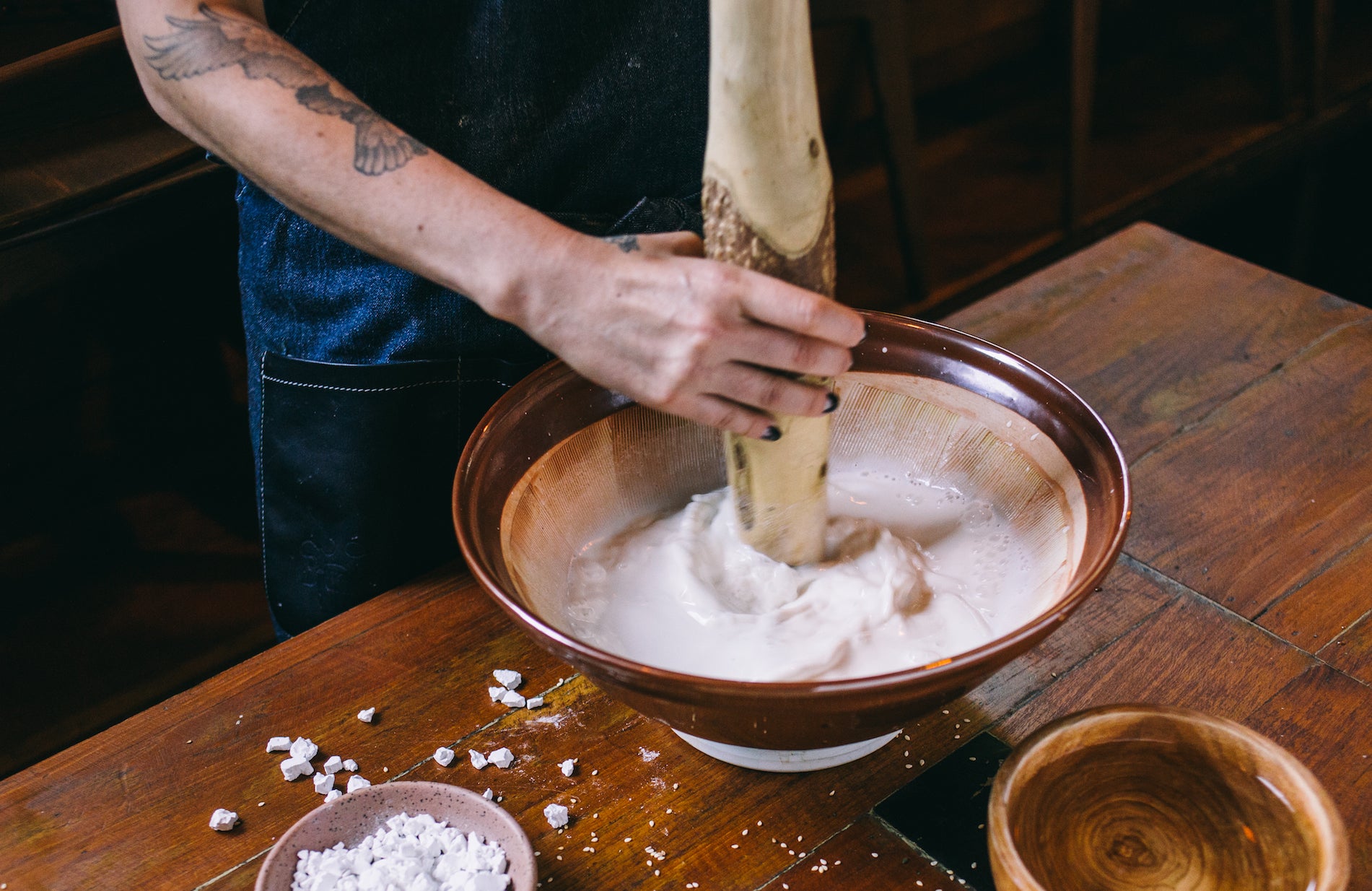 Goma dofu is usually served at the start of a meal, but for pastry chef Maya Erickson, it has become a creamy, nutty building block for desserts.
My first introduction to shojin ryori, the food of Buddhist monks in Japan, came when I was a 22-year-old cook, jumping around from restaurant kitchen to restaurant kitchen in San Francisco. My cousin had brought Tanahashi Toshio, a Japanese chef known for his Kyoto restaurant, to San Francisco to teach and showcase the simplistic and understated beauty of shojin cuisine. Toshio-San was looking for an assistant to help him with his many dinners, and I was conveniently in between jobs.
From the minute I started cooking with him, I was captivated. I had grown up in a culinary world rooted in the experimental and avant-garde, and suddenly found myself back to basics—kneeling on the floor grinding sesame seeds into paste for hours at a time. It was humbling and meditative, and a complete culture shock.
In the shojin ryori tradition, everything is vegan, done by hand, processed minimally, and prepared with a focus on harmony of flavor and aesthetics. For a young cook who was accustomed to modern equipment and commercial ingredients like hydrocolloids at my disposal, the idea of making a beet puree by passing boiled beets through a sieve was both foreign and compelling. I was enthralled by this food that was rooted in centuries of history and craft.
Being half Japanese, I have always pulled from familiar flavors from my childhood and heritage to make my desserts, using flavors like roasted green tea or black sesame and textures like mochi or bean paste. But until studying shojin ryori, I had never been educated in the building blocks of Japanese cuisine—the fundamental ideas and rituals behind these techniques and dishes. Working with Toshio-San, I started to think about how these concepts fit into the modern Western palate.
As I've grown and matured as a cook, I find myself being drawn to making more understated foods. I've abandoned using ten different components and a multitude of flavors and textures to make a dish work. I would rather present something that lets one or two individual components sing and shine. I think cooking shojin food was probably the catalyst for this change. I loved how each dish was so singular and precise in its vision. Seasoning wasn't used to change the flavor of anything but to just barely enhance its natural state, and plating embraced the wabi-sabi, or beautifully imperfect nature of the food. Some of my favorite dishes are dishes that embody this: asparagus and cherry tomatoes set in a dashi jelly to form a terrine, or grated lotus root ball dumplings that have been delicately fried and served in a mushroom tea broth. I've tried to take those concepts with me to each of the restaurants I've worked at since I first learned about them, and I think my food became much stronger because of it.
Every shojin meal starts with goma dofu, a small block of seasoned sesame milk that has been cooked with kudzu starch until it thickens and sets into a silky tofu-like texture. Usually served simply with grated wasabi and high-quality soy sauce, this iconic dish is the perfect representation of the understated minimalism that makes shojin so unique.
This was also the dish whose adaptation to a modern pastry menu I was the most intrigued by. The texture is custard like, almost like a panna cotta, and the delicate flavor of white sesame lends itself perfectly to a sweet palate. I've done many iterations of goma dofu desserts, including blending it with cocoa nibs, infusing it with spruce tips, and turning it into ice cream—though my favorite version pairs it with sake lees, the fermented rice solids left over from the sake-making process, and green melon. It's a wonderful base and vehicle for bolder flavors, and the kudzu starch acts as a natural thickener that adds a wonderful creaminess to desserts.
I've included a basic recipe for goma dofu that can be used in both savory or sweet applications. One of the most wonderful things about this dish is its versatility and adaptability to be able to be served however you want. I do still love to eat it with just wasabi and shoyu, or maybe a little bonito flake (not technically shojin-friendly since it's not vegan, but wonderful nonetheless) and some fresh grated ginger as a delightful summer snack. If you wanted to use this as a dessert, I recommend bright fruits with some good acid to them. It would be great with fresh summer berries, stone fruit, or citrus. It's a dish that transcends tradition and opens up an opportunity to meld cultures into something unique and new. I hope you enjoy it.
Illustration by Paige Vickers