A New York City Cookbook Store Survives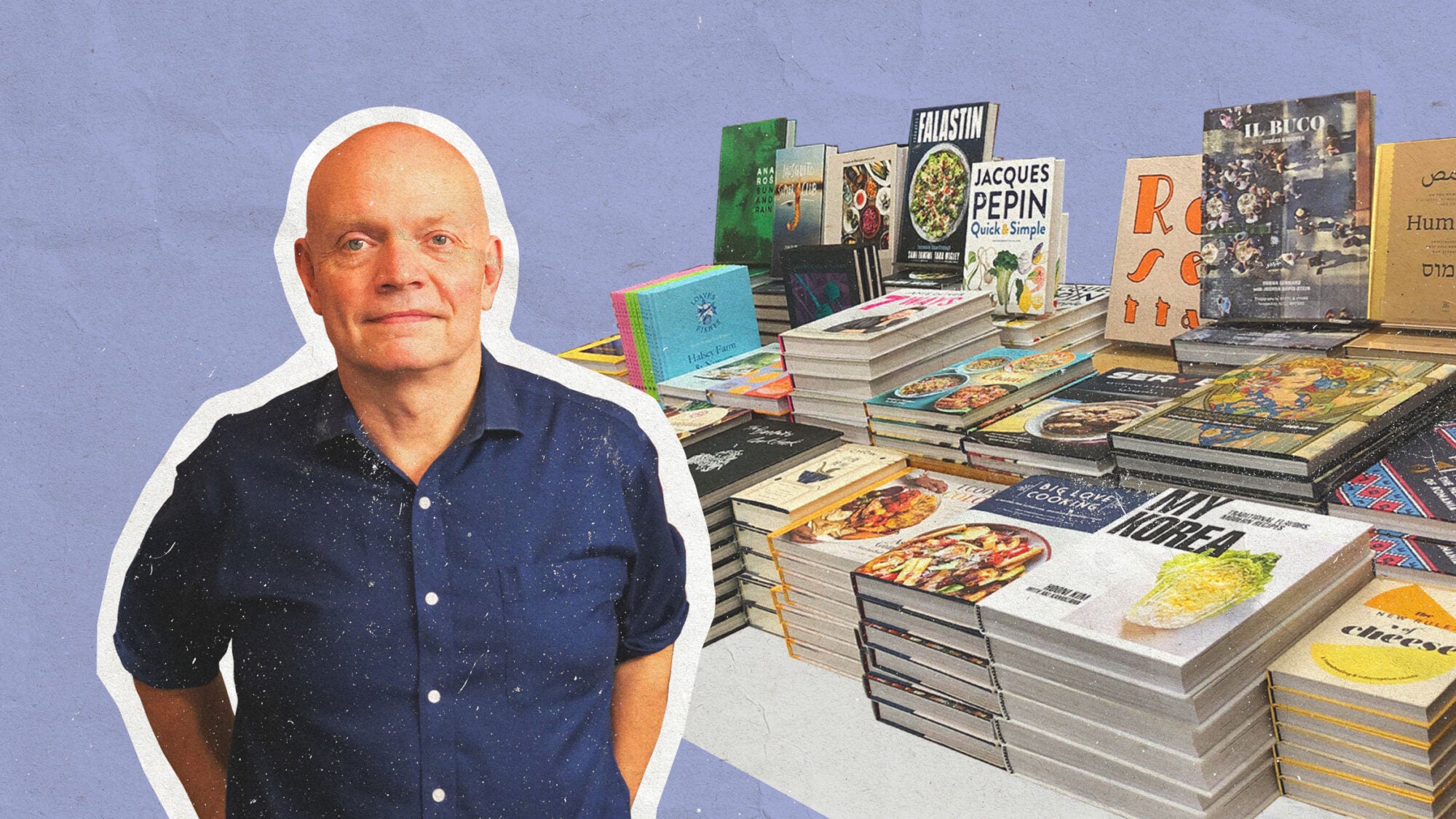 Kitchen Arts & Letters has hung on during the pandemic, and co-owner Matt Sartwell is ready for an exciting next chapter.
"I don't wake up at 3:30 and wonder how I'm going to pay the bills," Matt Sartwell admits when I ask him, more urgently than usual, how things are going. Because for a time, when the pandemic started to rage through New York City, shuttering Manhattan stores and restaurants, the future of his legendary Upper East Side cookbook store, Kitchen Arts & Letters, was truly on thin ice. The relief came not just from the store's wise shift of resources to digital sales, but from the customers who have visited over the past 37 years, browsing the shelves for both new and rare food and drink books and periodicals. Almost overnight, a GoFundMe raised more than $100,000 to cover back rent and existing debts, giving Sartwell and his business partner, Nach Waxman, some breathing room.    
"I feel like I can take risks again," Sartwell says. This financial security has allowed him to stock some of the more obscure books that have been the store's calling card. Another calling card is the uncanny ability of the owners and employees to recommend the perfect book for every possible category of cookbook buyer, from the busy sous-chef looking for an introduction to a new cuisine to the home cook interested in getting started. 
"We can invest in smaller authors and unusual books, and keep the store more diverse," Sartwell tells me. While the fundraiser did serve as a lifeline, and the store was able to renew their lease with favorable terms, the pandemic still carries on, and foot traffic to the small store isn't close to the levels of early March. Here, Sartwell talks candidly about the past several months and offers some suggestions for food and drinks books he's hoping will come to form in the next several years.
As a bonus, he shares some of his favorite books of the season, and he's offering TASTE readers 15 percent off their next Kitchen Arts & Letters purchase between now and December 15 with the code "tastekal."
How is the store doing, and how are you doing personally?
Once we went into lockdown mode in mid-March and had to shut the door, everything changed pretty radically. We saw a huge falloff in street traffic. There just weren't people coming into the store, and business was down to begin with. Once we were solely online, I began scrambling to make that work better. We did a number of targeted mailings to our lists, suggesting books in certain categories—we did a list on books for cooking with kids, because we figured a lot of people were home with their kids and wanted activities that they could do together. 
It didn't come close to replacing the kind of business that we would normally do, but it gave us some activity. [Cofounder] Nach Waxman and I made the decision early not to lay anybody off, so we were continuing to pay our staff through the whole time. We only had part-timers, and they all made the rest of their living in restaurant work, which, of course, stopped happening. We didn't feel like we could abandon them; we also knew that they were important to the way that our customers viewed us. So it was stressful.
For a while, I was the only one coming in to the store, coming in every day to fill website orders, and my family freaked out about that a little bit, and I had to agree to come in only every other day. So we sort of went through all the COVID-related anxiety that everybody else did. We were able to reopen at the end of June, and we started seeing some foot traffic, but not much. 
When you reopened in June, what kind of business were you doing?
Um . . . 30 percent, maybe. And certainly not from foot traffic. We were seeing two to three people coming in the store. A day. People were just incredibly cautious and careful about going out in the world. So, it really wasn't keeping the roof over our heads. And I was emptying bank accounts and pouring it into the store to keep up with our suppliers, and we were getting in bad shape on rent and things like that. We knew when we got to the end of the summer, and we didn't have the usual things that made fall big blockbuster seasons, that we had to do something. And that's why I set up the GoFundMe campaign, which blew up in a way that I never really anticipated, and for which I'm incredibly grateful.
Let me ask you—when you hit that $100,000 point—what was the feeling that you had inside? What were the emotions for you and Nach?
It was a really weird combination of feelings. On one hand, there was an incredible sense of relief—we could pay our suppliers, we could start catching up on our rent. We could honor the obligations we had undertaken. I wasn't going to have to shut down the store when the lease ended in February of 2021. Because I was already thinking about—what could we do with the stuff? 
You mean the books. OMG, that sucks!
You know, when you contemplate shutting a business down, you have to start thinking about that stuff. You can't just lock the door and walk away. And then we put the word out in a small way, and we had some really generous contributions from the very small number of emails I had sent out. On the other hand, suddenly there was all this money around. Not to be too blunt about it, but I was like, "Oh God, now I really can't fuck this up." You know, people have shown incredible faith, and I have to honor that.
How has your customer changed?
The shift has been really noticeable—prior to the pandemic, and for decades, we got about 70 percent of our revenue from food professionals. From restaurant people, from caterers, and so forth. And those people, of course, have been hurt really badly. Worse than we are. So there's been a big shift to a lot more home-based books for us. It's not like the professionals have completely gone away; we can do really nicely with professionally oriented books, like with the new Thomas Keller book. But we are definitely selling a higher percentage of books to the home cooks. What I just can't answer is whether these are people who were previously buying from Amazon or Barnes & Noble who've decided to come to us, or whether they're people who have just sort of embarked upon a new phase of their kitchen work. I was talking to one of my colleagues today about this, and she said, it's her feeling that people are a lot more willing to tackle slightly more ambitious books—books that involve more time in the kitchen.
Quick and easy.
Right, dinner in 20 minutes isn't quite as crucial.
I feel that as well from our readership on TASTE, and I feel that from the folks I talk to in the cookbook publishing industry. I feel home is central—restaurants obviously are not viable marketing tools right now for books, but it seems like project cooking has become popular. And, really, we all are cooking so much more, and this is here to stay.
There are people who were used to dining out pretty often—you go out one night for Italian, next night you go out for Thai, and two nights later, you're in an Indian restaurant—and they're used to a lot of variety. And unless they're burning up the Seamless app on their phone, they're going to have to be doing a lot more of that at home, so they're building out their library so that they have a greater range of choices. 
I one-hundred-percent agree, and I think of it especially with a younger audience. Like an affluent millennial living in a city—we're seeing a shift from, obviously, this voracious restaurant appetite, to realizing that cooking is not hard—or not as hard as they thought. And, also, that they are having fun cooking. And that cooking is as fun as going to a restaurant.
Yeah, and I think, frankly, if people are just feeding themselves, as opposed to feeling like they have to have a bunch of friends over, which a lot of people aren't doing right now, it takes a lot of the pressure to perform off. They don't have to nail it the first time. And so they're more willing to experiment. If somebody wants to do nothing but all-American comfort food, they have tons of choices, but if they want to stick their foot into a deeper part of the pool, or at least one they're not as familiar with, they try it, and you know . . . maybe they love it, and maybe they think to themselves, I'm not going to complain so much about that restaurant anymore. But I think if you're not having to produce glorious food for a party, or every moment doesn't have to be Instagrammable, then yeah, you'll take some risks.
And you'll also get better, too, because if you start actually cooking four to five times a week, you'd imagine that the feedback loop would offer a positive response, right?
And when you begin to understand your own strengths, books become more accessible to you, because you can read a recipe and understand the recipe and where it might be asking you to do more work than one line says. And you can end up being less frustrated about it, because you can go in with your eyes wide open.
I asked you this question when I had you on the TASTE Podcast in 2018, and I want to ask you again two years later: What's a surprising genre that you feel like is really taking off in your store? I know bread books obviously have done well, but what else?
I think baking in general has risen, along with bread. That's been our impression. I mean, this is a funny, funky season, with like eight or nine pie books out of nowhere. If I had been publishing one of those books, I might have said, "Oh, we could wait a little bit." But yeah, there are some really serious contenders in that cluster, so it's going to be interesting to see what ends up being the popular favorite. 
I would say, in general, people are more willing to pursue national and regional cuisines across the board. It's not like there's one part of the world that people are particularly receptive to. But I think it is part of that sense of "Hey, I've got traditional home cooking down," whether it's the classic all-American or another national cuisine that you might have grown up with because of where your parents were from. People feel comfortable with that stuff, so they're looking for things that take them outside their comfort zone. And we've seen a lot of books succeed this year because they also have a lot of cultural material. I think people are hungry for a book that informs them as much as it gives them recipes.
Of course, a hundred percent.
And that may be just our customer base, but it extends to everything from In Bibi's Kitchen, a book by Hawa Hassan and Julia Turshen, to a book that Interlink did called Parwana, about Afghan food, which is incredibly informative about so many aspects about Afghan culture, as this woman whose family owns an Afghan restaurant in Australia is telling her family story.
When we spoke two years ago, you mentioned Ethiopia, and how there was a real need for more Ethiopian cookbooks, and like magic, there have been a couple really good ones released. Are there other regions that you've been happy to see covered?
I think interest is growing strongly for the Philippines. And I think there's a heck of a lot more to be said there. It's so diverse and has so many overlapping ethnic groups and cultures and languages and climates. And also, frankly, we're getting a lot of interest in Indonesia and Malaysia, for which representation is a lot lighter—at least from mainstream publishing houses. We're continuing to have to sort of stretch ourselves to find things for people who want to learn about that part of the world.
Coconut & Sambal. That's a really cool book. Anna just interviewed the author, Lara Lee.
Yes! That's a cool book, but there's some very dynamic publishing happening in that part of the world, too, so we're bringing stuff in directly. Because it's just a way to be able to offer our customers something that they're not seeing anywhere else.
Are there any other books you want to see made?
I think Central America is an area that people are always asking about; they've been asking about it for a long time, and it sort of vanishes in between, say, southern Mexico and Peru, and there's not a lot of coverage in English. A little bit for Colombia, a little bit for Ecuador, but even that is hard to find. And anything that sort of says, "Hey, this is Costa Rica, this is Nicaragua," there's not much there. It's an area that a lot of people from the United States have been traveling to—they eat well, they come back, they're interested, and there's nothing to offer them. And I think that that could be a rewarding place to engage. My colleague who is a former pastry chef said, "Why aren't there any pastry chef memoirs?" And it's a question that pastry chefs ask us when they come here. "Don't we have anything by so-and-so?"
Dalia Jurgensen wrote one over a decade ago, and it's great, but that's such a good point.
It is a different game. And I'm sure that for women pastry chefs and men pastry chefs, it's also two different sides of the coin. I think that there's a lot of coverage for Southeast Asia that could still become a lot richer. You can try to find yourself five books on Malaysia in English, and you're going to be struggling. 
Do you keep in contact with Celia [Sack] at Omnivore Books in San Francisco, the Now Serving team in Los Angeles, and other cookbook store owners? Do you guys have a sort of camaraderie or competition?
We have, I think, a pretty friendly relationship, and we trade information around. The store in Montreal [Appetite for Books] wrote me last week; they were having real trouble getting a book that we'd been carrying for a while, so I gave them a contact email that they didn't have. The fact that these really strong stores exist in other parts of the country is a good thing. We're better off with a culture in which people sort of know that there are these specialty stores with different taste and demand for books. 
Oh, yeah. The cookbook buyer—it's not a monoculture at all.
No, no. And we've been incredibly reminded of that, as we've seen a lot more business from all over the country. And we're still on the phone all the time, answering people's questions, helping them choose a particular book. And the thing that works really nicely for that person who lives in Williamsburg is not necessarily going to be the best thing for somebody who's in suburban Birmingham.
We asked Matt to name some of his favorite recent releases from a busy fall season: 
In Bibi's Kitchen by Hawa Hassan with Julia Turshen
This sweeping survey of African cooking along the Indian Ocean does it right. It treats the eight countries, their food, and their heritage as distinct regions. Using the vivid stories of cooks, it creates rich and fascinating portraits of home cooking steeped in history and flavor.  
Parwana by Durkhanai Ayubi
Afghan food has had so little coverage in English, and this book makes it clear how much we've all been missing out. The author, whose family fled Afghanistan and who now runs a restaurant in Australia, weaves a touching personal story into a larger cultural one, built around brightly flavored and hearty food.
The Flavor Equation by Nik Sharma
If you experiment in the kitchen, you need this book. Sharma, a gifted cook and trained biologist, explains how flavor is created, perceived, and manipulated, as he presents his own imaginative recipes as demonstrations. Brilliant and eye-opening, it will jolt you out of any culinary rut.  
Baking at the 20th Century Café by Michelle Polzine
Polzine conjures the magic of Eastern European pastry shops with the occasional California gloss in this ambitious book. It's an absolute treat for bakers who like to immerse themselves in serious projects to create gorgeous, sophisticated showstoppers. 
Good Drinks by Julia Bainbridge
Whatever your reason for not drinking alcohol, Julia Bainbridge has your back. Working with some of the country's most creative beverage pros, she offers up complex, beautiful, boozeless drinks that exude good taste and sophistication. No deprivation here whatsoever.  
Get 15% off your next purchase from Kitchen Arts & Letters between now and December 15, with the code "tastekal" (don't forget to enter it on the checkout page).