A Great Greek Foods Revival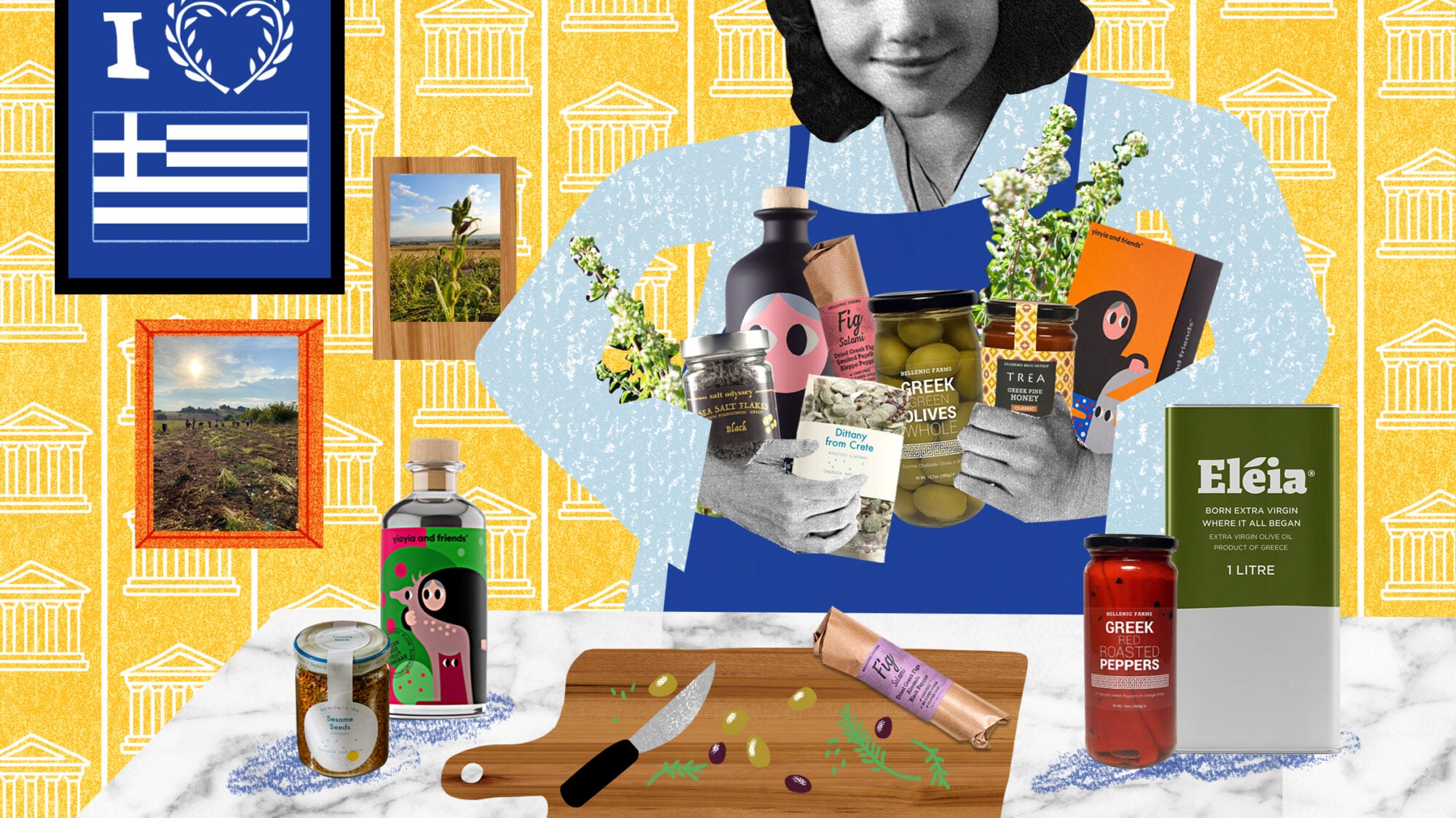 Mama Mia, here we go again: A new generation of Mediterranean makers are taking center stage in our pantries.
There is an observable imported foodstuffs hierarchy in America, and you can see it on the shelves of every fine food store in the country. It's been in place since the early days of Dean & DeLuca's New York City reign began—since the birth of the "gourmet boom." This hierarchy grants primacy to culinary goods from countries like Italy, France, Spain, and Japan—nations home to distinct, centuries-old culinary traditions, producing the olive oil, chevre, boquerones, and shoyu that are the stuff chefs and cookbook nerds dream of, with advanced import-export systems and long-standing sales networks.
But over the past decade or so, a new wave of imports have become available to American chefs: Korean fig vinegars, Ukrainian butter, Haitian scotch bonnet peanut butter, Taiwanese black sesame paste, Georgian mineral water, and onward and so forth—an imported horn of plenty stuffed to overflowing, each jar and satchel more delicious and interesting and distinct than the last. 
If you're out haunting the fine food markets of your city or town (like I do), with hungry eyes and an open mind (both highly suggested), perhaps you, too, have noticed the recent influx of imported products representing one of the great cuisines of the world, imports from a nation whose culinary traditions have remained within immigrant families for generations and are only now being given their rightful pride of place next to the spreads, sauces, and pickled paradigm products of the United States. I am referring to the walled garden, the ecological Eden, the gustatorial food lover's paradise that is the nation of Greece. 
"Italy and Spain and France—there's always been nice stuff from those places to buy," says the chef and author Mina Stone. "But Greece? It's just been in the last five years or so . . . all of a sudden, it feels like a handful of brands are really changing things." Stone is uniquely positioned to observe this moment: a generational talent in the NYC food world, she emerged as the chef du jour of the city's fine art scene to open Mina's, an all-day Greek café housed inside MoMA PS1. Along the way, she authored Cooking for Artists (2015), a book built on recipes inspired by her time in the art scene. Her latest cookbook is Lemon, Love & Olive Oil (2021), an expressive, thoughtful ode to her family's Greek recipes, with simple, ingredient-focused cooking at the fore. 
"Growing up in New York, to get the really good Greek products—like olive oil—you had to know where to go," Stone remembers. "The butcher shop in Astoria, or the family friend. I remember seeing other Greek families at the airport, coming back home with containers and containers of their family estate olive oil, which would be kept in families for their cooking." It's a stirring visual—drums of golden oil, carefully boxed, rotating splendidly along the baggage carousel at JFK—and to Stone, it speaks to an undercurrent of family connection and, in her words, "tribalism" that's still found today in modern Greece. "It's changing now, but I think it goes all the way back to ancient Greece," she tells me. "People have traditionally worked and lived in cultural pockets and kept the very best stuff for themselves." 
Our modern world views such scenarios as ripe for disruption. Large Greek brands like Iliada olive oil and Divina olive spread have made significant headway in the consumer market over the last 20 years (Iliada's website proudly proclaims it is "a global presence in the five continents"). Now the more independent producers are gaining a foothold, with fine Greek product–focused websites like Hellenic Farms and The Shop Agora offering click-to-order access to an impressive array of independent imported Greek foods—pine forest honey and Aegean Sea salt, cinnamon crisps and Taygetus oregano, Cretan grapefruit vinegar and sesame seed paste—that were unthinkable in America a few short years ago. 
On crowded shelves, as an emerging market, it helps that many of these products from Greece are arrestingly beautiful. Take, for example, the brand Yiayia and Friends ("yiayia" means grandmother in Greek), whose distinctive comic design comes courtesy of Beetroot, a multimedia design firm based in Thessaloniki. Looking almost like a graphic novel rather than a box of crackers, Yiayia's branding belies a range of artisan snacks including sun dried tomato and garlic rusks, carrot breadsticks, excellent cinnamon biscuits, and a robust selection of olive oils and vinegars, all of which are sourced from the island of Crete. "If you could pin "Mediterranean diet" on Google Maps, it would definitely be on the island of Crete," says Dimitris Plaitis, cofounder at Yiayia and Friends. "Our product line is built around extra-virgin olive oil, which is the fundamental ingredient of the Mediterranean diet. Every product is carefully handmade exactly the way our grannies would make it, with a focus on second- and third-generation businesses"
"We're a country with incredible biodiversity, so we have a natural advantage in terms of what grows and has been cultivated over centuries in this place," says Evangelia Koutsovoulou. She's the founder of Daphnis and Chloe, whose line of fine, varietal-specific herbs—including multiple varieties of distinct oregano, fragrant Greek sage, purple-budded whole thyme flowers, and wild mountain teas—practically glow with expressive typicity, visually evident in a series of attractively arrayed glass jars. If you, like me, grew up with square metal tins of ageless bulk spices in your home, Koutsovoulou's wild thyme flowers, smoked chile peppers, and multiple oregano options ("one for cooking, the other for finishing") might very well move you to chef's tears. "Generally speaking, spices are cultivated for yield and profit, harvested by machine, and will have sat for years before they get to you," says Koutsovoulou. 
Daphnis and Chloe launched in 2014 with just four products, and has enjoyed organic growth over the better part of the last decade—now they've got 24 distinct offerings, and they're selling 10,000 units of herbs a month here in late 2022 and hundreds of wholesale partners across Northern Europe, North America, and Australia. The brand has a small tasting atelier in the Neos Kosmos neighborhood of Central Athens, an artist hub known for renovated warehouses and restaurants like Phita and Annie Fine Cooking. Koutsovoulou tells me the atelier mostly caters to travelers—and, in particular, travelers who visit Greece in search of profound culinary experiences. (The work of Tyler Brûlé at Monocle has been particularly influential on this topic.) Continued access and scalability of Greek fine food export remains an uphill battle, Koutsovoulou tells me, and might in fact be kind of beside the point. 
"We're a country with incredible biodiversity, so we have a natural advantage in terms of what grows and has been cultivated over centuries in this place."
"Greece is just different compared to Italy or Spain. All the bounty for many years was consumed locally. It wasn't a product to export. And for us, we make things in such limited quantities, and with such tiny production, that we can't simply double or triple our growth." This echoes the words of Mina Stone and her memories of families flying through JFK with cases of olive oil in their checked luggage—the underground Greek food network isn't going away anytime soon. "But it's kind of nice, you know," adds Koutsovoulou, "because if certain things were everywhere, you might not respect them enough, no?"
More than ever, there is interest, awareness, and appreciation of Greece as one of the world's great food cultures, and with it, an increasing availability of fine Greek ingredients for home chefs to bend, adapt, and play with in new, original ways. In Lemon, Love & Olive Oil, Stone discusses how her own life's work cooking is intrinsically tied to meeting home chefs where they are, be it the farmers' market or the bodega (in Stone's world, chefs are given permission to fuse the two as needed). But dishes like her cucumbers in olive oil and sesame seeds, roasted whole chicken with oregano, or halloumi and cherry tomatoes (my family's favorite) take on a depth of quantum complexity when the herbs and oils are single-origin, meticulously sourced, and direct from the bounty of Greece. 
And the walled garden is no prison; there's nothing stopping you from using Daphnis and Chloe's Unique Greek Sage in your next round of traditional turkey dressing, or pinching heartily from the brand's smoked chile flakes in the creation of a hearty pot of smoky chili, or adding handfuls of the Yiayia and Friends sun-dried tomato rusks alongside some good anchovies in your next exploratory salad build.
These products blend easily into your home kitchen adventures, as high-quality products have a tendency to do—pick up a bottle of the Navarino Icons olive oil (made from Koroneiki olives), and you may well find yourself drinking it straight, perhaps with a pinch of Salt Odyssey's fine Greek sea salt as a chaser. And that's to say nothing of the worlds of Greek cheese and Greek wine, both of which are only now beginning to be acknowledged on the American market (Eric Asimov has been instrumental on the wine front) and embraced by consumers outside of Greece, for which the export market is only just emerging.
"Our food—this food—has always existed," says Evangelia Koutsovoulou of Daphnis and Chloe. "But now there is a global community who appreciates these things, and it's quite revolutionary. This is a time when people are willing to make their choices based on quality and are open to learning about origin—and in this moment, there is Greece." 
Rabbit Hole is a column that digs deep into nodes of culinary inquiry, from the recipes and products that expand our home routines to the food culturalists and content creators that make us hungry and curious. Along the way, we're exploring the ever golden gastronomic moment in the 21st century: never boring, always peckish.