There's Resilience—Plus Pelmeni and Fizzy Things—at the Eastern European Deli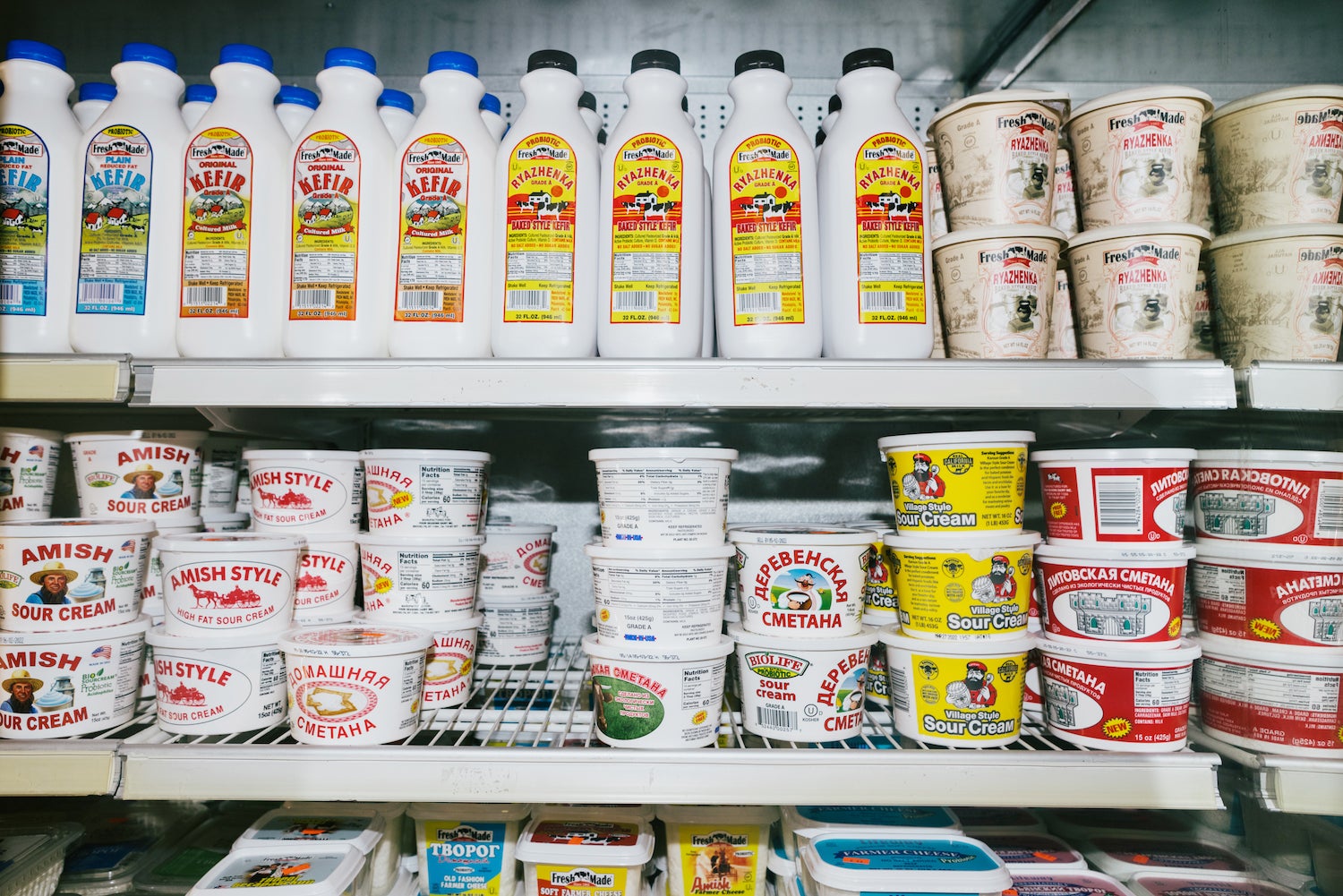 These markets are more than just a home cook's playground of Eastern European and Russian ingredients; they're community hubs for those escaping conflict.
The Roman Russian Market is located in a part of Portland, Oregon, where tourists fear to tread. Here in the city's deep southeast—a neighborhood known locally as "The Numbers"—broad thoroughfares like Division and Powell become rushing highways, abutted by mixed retail strip malls, sprawling new-build apartment complexes, and cloistered side streets. The area is home to a broad cross-section of architectural styles and immigrant subcultures, Vietnamese bakeries and Jalisco-style carnicerias, and Gen X vegan mini-marts. Roman Russian Market has been operating here for the better part of two decades, but today there is a new feature adorning the grocery's exterior, billowing against the flowing traffic: a massive Ukrainian flag.
Owner and entrepreneur Fatima Magomadova fled conflict in Chechnya some 25 years ago; today, she has turned her market into a center for Ukrainian refugees, hiring those fleeing the current conflict and working to create a new home for them here in the United States. No diaspora is static, and families have fled conflict in Eastern Europe and greater Russia due to political strife and religious persecution for more than a century.
My own great-grandfather, Max Michelman, escaped the Russian pogroms for early 20th-century New York City, one of roughly 2.5 million Jews to do so in the years between 1880 and 1924. His escape, like the ones happening today, meant opportunity and freedom, but it required leaving certain things behind—and then pining for them, as humans do.
Because he was related to me, I like to imagine him shopping at the early Eastern European markets in Lower Manhattan, choosing some pickles, maybe a little salmon roe, a nice rye bread if it's fresh. All this is more or less what you'll find today at the Roman Russian Market.
Today, the United States is home to a thriving network of modern Russian and Eastern European grocery stores, a vast node of food culture that's been, frankly, underinvestigated in our wider all-media-everything moment. In Brooklyn, there are dozens, from Brighton Beach to Williamsburg; in Portland, Oregon, the number is more like ten. I started haunting these places a decade ago on a quest for mineral water, and I began digging deeper when Bonnie Frumkin Morales, the author, chef, and cofounder of Portland's nationally recognized restaurant Kachka, opened her own micro Russo-Euro called Lavka, located in her restaurant's mezzanine.
Frumkin Morales's family arrived in Chicago from Belarus in the early '90s, and her cooking weaves Eastern European and Russian ingredients together through a diasporic lens. Kachka has spoken out vehemently against the war in Ukraine, and the business is actively working to fundraise for both the Ukrainian Red Cross and UNICEF's #CookForUkraine efforts, offering charity drink specials in the restaurant and a special-edition Ukrainian sauerkraut and potato vareniki with a portion of proceeds donated. Shopping at Lavka—for smetana sour cream, pelmeni dumplings, and emotional support pickles—helped me feel comfortable enough to branch out at places like Fatima Magomadova's spot. These places have broadened and enrichened the pantry I cook with at home, and similar delights await you at your own local Russian-European grocer, or online, at websites like Moscow on the Hudson.
When conflict happens abroad, diasporic communities in the United States are unfairly called to account for the actions of their nations of origin. Russian restaurants across the country—almost all of them the entrepreneurial work of refugees who fled their homelands—have found themselves on the wrong end of hateful messages and anger directed toward the current Russian government. Not even long-running, iconic institutions like Manhattan's Russian Tea Room are immune. The cycle of myopia and outrage, of misplaced anger against the Other, is sadly a long-inhabited part of the American experiment, a national error we seem to rush to commit again and again, across generations and political epochs.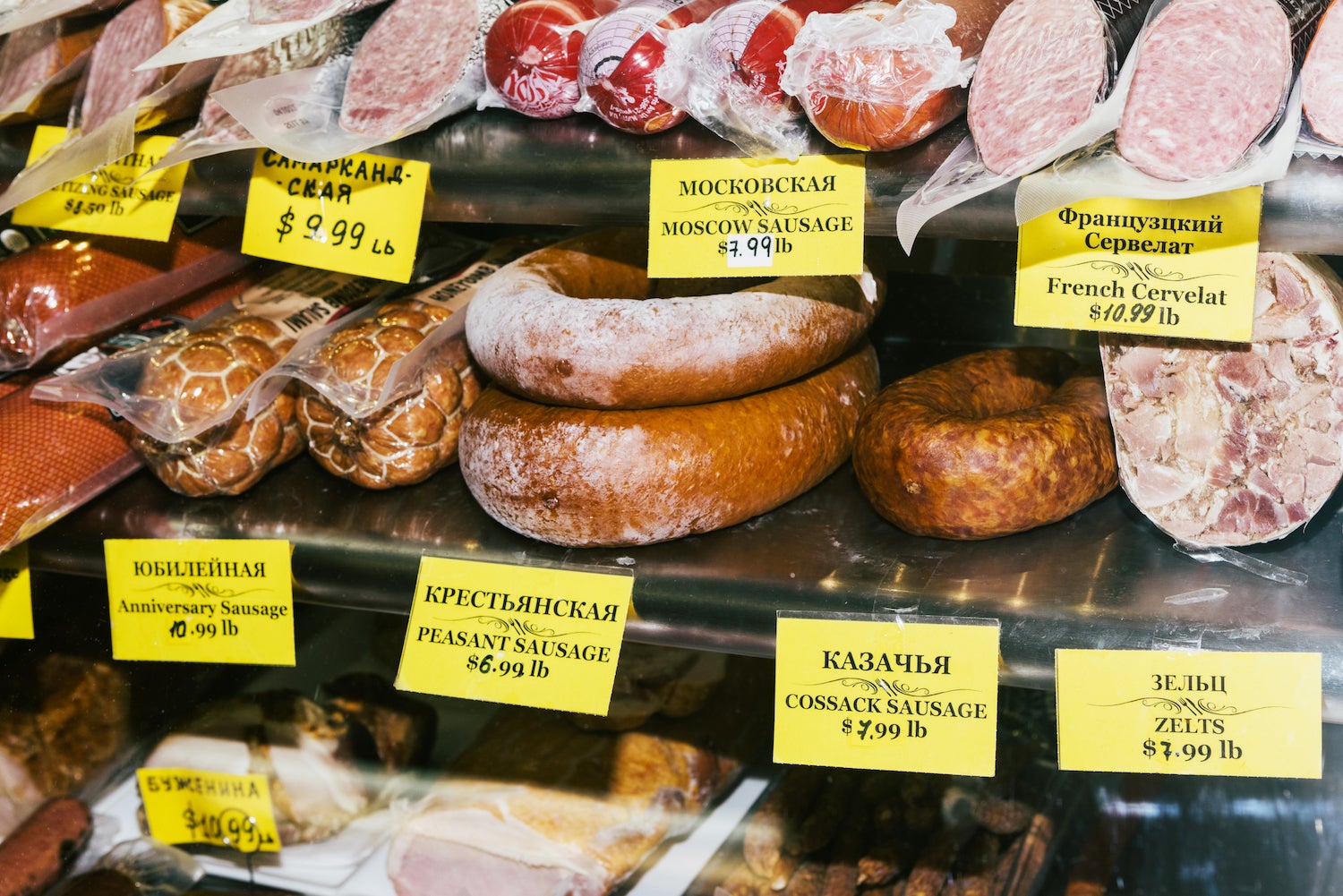 I don't have all the answers here, nor does my family's distant Russian heritage divine me as an arbiter of what this moment means for those escaping conflict today. But engaging with my own family's culinary heritage has slowly, and then all at once, become one of the great joys in my kitchen life, offering unexpected depth and connectivity to the distant past and immediate present, aided and abetted in no small part by these local markets. They are home to more than just a chef's playground of Eastern European and Russian ingredients; they are wider nodes of deliciousness, community hubs with deep meaning, evocative of the panoply of immigrant food cultures around the world that are thriving here today, operated and patronized by those who fled one conflict or another in search of a better life.
If you're wondering where to start your shopping at such a market, here are five of the product categories I keep revisiting. These entry points should function like a culinary multi-tool for how you cook with Russian and Eastern European ingredients at home, and they can be incorporated in a wide range of dishes and recipes. You might surprise yourself and develop an acute addiction to Georgian tarragon soda, or, like me, find yourself applying smetana to nearly everything, from nachos to pasta to crudités. Pick up something new each time you go—and don't forget the good Borodinsky bread.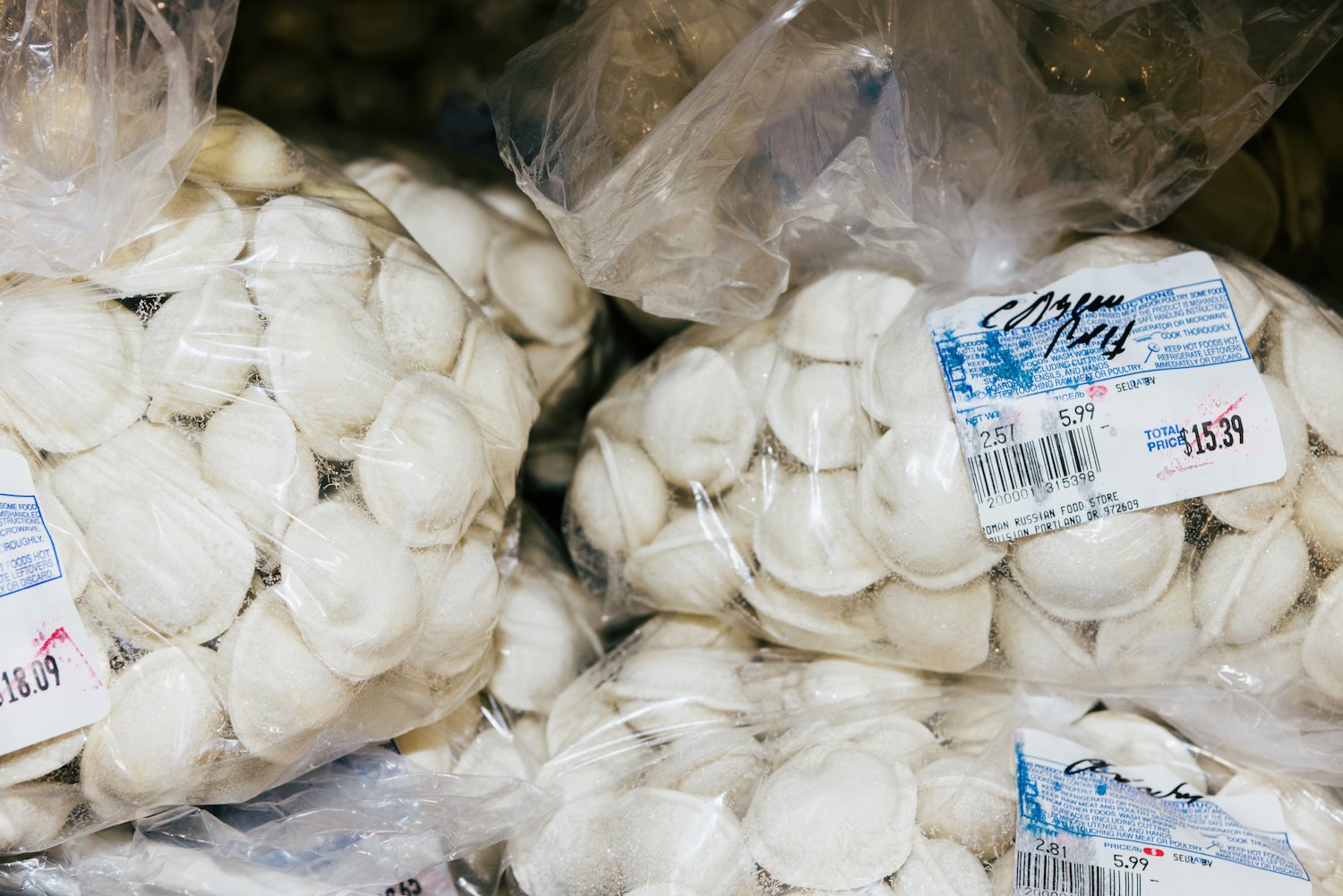 Smetana
Like some heavenly split-the-difference combination of sour cream and crème fraîche, smetana is used widely across a broad range of Central and Eastern European cuisines. I use it everywhere—on nachos, to thicken soups and sauces, in scrambled eggs, and subbed in for whatever dairy might be called for in your overnight French toast or bread pudding recipe. It is a gloriously malleable substance, delicious with herbs mixed into it over a protein or stirred into pasta as a quick cream sauce. Russian-European grocery stores will likely carry both domestic and imported smetana, and much of the domestic stuff is actually made in Brooklyn, in a variety of styles and thicknesses.
Mineral water and other assorted beverages
Russian-European grocery stores are a beverage wonderland. Buying mineral water for the home is a requirement. My favorite brands include Borjomi (from Georgia) as a food pairing, Bjni (from Armenia) as an aperitif, and Essentuki (from Russia) as a digestif, plus Borsec (from Romania) as an all-arounder or a perfect complement to a glass of wine. I'm especially fond of using a splash or two of mineral water in any recipe that calls for stock or an all-day cook; mineral water makes a ready partner to any braise, soup, slow smoke, or crock pot recipe in your rotation. But don't stop there: these grocery stores are also home to a broad range of beverages not found on other shelves. Look for tarragon soda, bright green and herbal-sweet, as though drawn from the Chartreuse family, and Kvass, a digestive aid bread soda that might very well become the next kombucha someday.
Salmon roe
I am required by inherited cultural compulsion to consume as much salmon roe as possible and to put it on everything: bagels, hot dogs (with dill pickles you also got at the market), over linguine (with bacon and parmesan), on crackers, or atop butter on the aforementioned rye bread (you should really get the rye bread). Every Russo-European market will sell this, but if you're lucky, you'll find a place curing theirs fresh, like they do at Kachka Lavka and Roman Russian Market in Portland.
Herbs, spices, and vinegar
It might seem like a no-brainer, but these basic building blocks go a long way at home. Use the herbs everywhere, in particular dill and tarragon, for color and flavor and texture in salads, sauces, and composed bites. The spice section at a Russian-European market is its own whole world; get started with adjika, a spice blend from Georgia that includes garlic, walnut, salt, blue fenugreek, coriander, and red pepper.
Some versions are more like a paste or a pesto, from which you can make a lovely dip or sauce, sure, but I like it rubbed on pork chops—Kachka Lavka also makes an adjika spice blend with dill seed, cumin, and turmeric in the mix, which is amazing on everything from grilled vegetables to pork chops to dressed salad greens. Last, you'll need vinegar—white vinegar—from the grocery's many options. You'll use this to splash through smetana over pelmeni dumplings, but also for your own home adventures in pickling, sauce making, and the creation of various marinades. All these ingredient weave together harmoniously across various dishes and interpretations of Russo-European cuisine.
Plombir
It's not all herbs and pickles and preserves at the Russo-European deli—although you should be buying those things, you will also find many, many sweets at the deli, from poppyseed rolls to slices of elaborate Napoleonic cakes to a thousand brightly colored candies and meltaways. But for me, all roads lead to plombir, a Russian riff on ice cream descended (at least linguistically) from the French glace plombières. Plombir is very high in fat and sugar content, and imported versions can be found at any good Russian market. The texture of this dessert is like gelato on steroids, and it's often sold prepackaged in a single-serving cone-cup, evoking childhood ice cream truck nostalgia. Get one to eat on the way home with all the rest of your treasures.
The markets featured in this story are actively working to support Ukrainian relief efforts. Here are a few ways you can get involved: