A Course Correction for American Chinese Food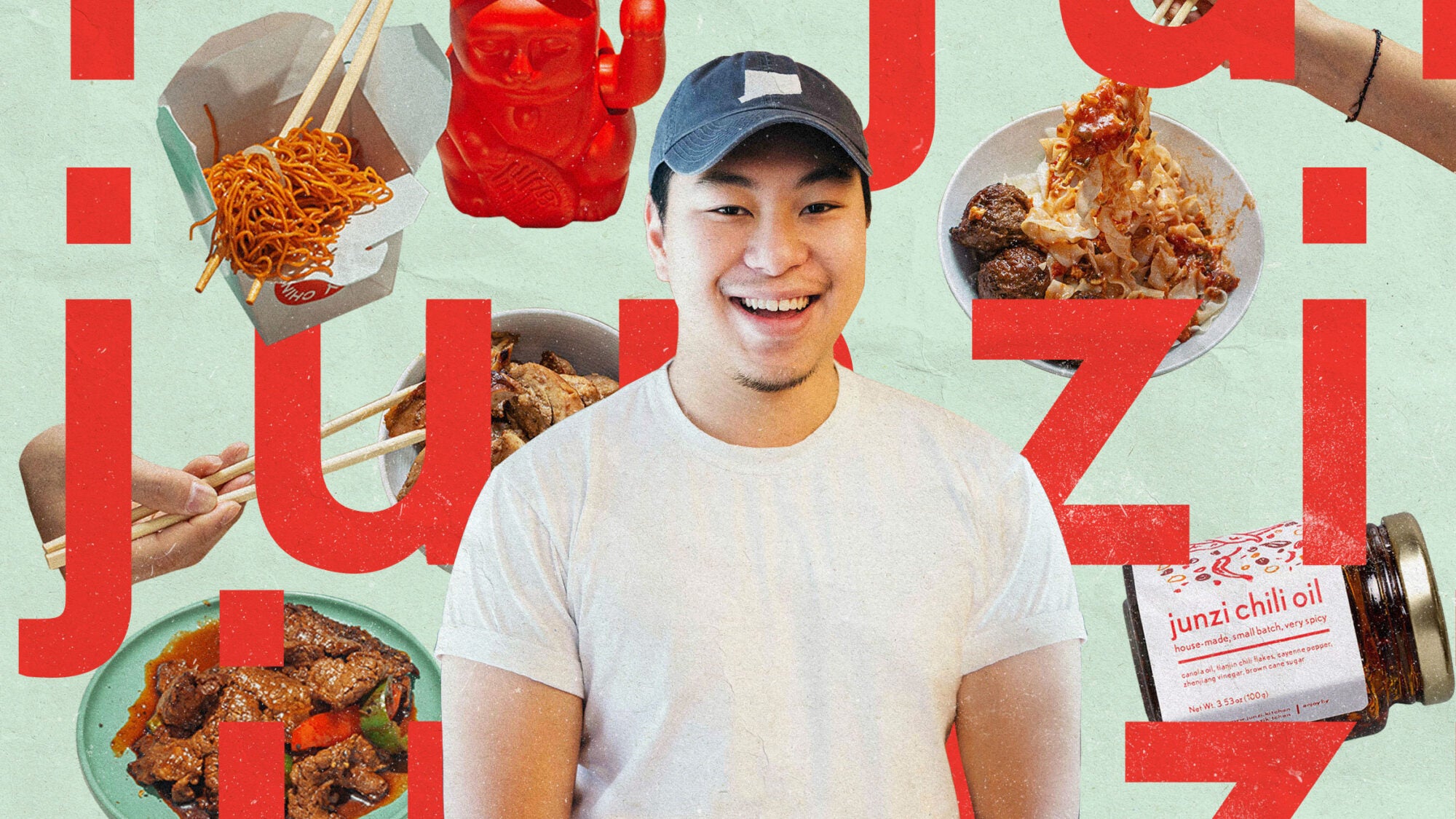 Junzi Kitchen's Lucas Sin is preaching scale, empathy, and the power of Crab Rangoon.
Back in December, I caught up with chef, activist, and entrepreneur Lucas Sin on Zoom. At the time, he was at the Midtown Manhattan location of Junzi Kitchen, his quickly expanding fast-casual Chinese restaurant chain, as he and his team were furiously making a batch of chile oil to fulfill online orders. "It's all hands on deck," he said through his N95 mask. "We have hundreds and hundreds of bottles to ship in the next few days." A booming chile oil business is just one of the many facets of Sin's game, which is shaped by a Hong Kong upbringing, US education, and a deep love for culinary history, both past (cooking dinners in tribute to historical Chinatown restaurants, like Mon Lay Won the "Chinese Delomico" operating in early 1900s NYC) and modern (a deep love of Michigan pizza with ranch). 
Sin opened his first restaurant in Hong Kong at age 16, and while studying English and cognitive science at Yale, he hosted a series of well-received pop-ups. Eventually, he linked up with his current Junzi partners in his final year at school, rising to become the company's chef and frontman. There are currently five Junzi locations, which operate with a heavy influence from China's northern regions—noodles are a focus. Last summer, Sin launched a pop-up within Junzi called Nice Day, giving due respect to American Chinese dishes as they are found in so-called "takeout" restaurants around the United States: dishes like Mongolian beef, lo mein, and orange chicken.
"When we started, it would have been so easy to say, 'Look at this Chinese food. It's terrible. Here's how to make it better!'" Right? And the more you think about it, it's like, what if the stuff that most people called terrible isn't actually terrible?" Sin admits that he has a lot to learn in cooking these recipes outside of his wheelhouse, but the drive is pretty simple, and real. "I personally got excited about that terrible stuff," he jokes.
And then there's the tomato and egg noodle soup, Sin's own viral recipe moment of pans and hands that has earned fans from all corners of Instagram and has the chef's knack for cool and unfussy cooking education. He's a tremendous follow, and any cookbook editors worth their Maldon salt should be paying attention. Like our previous Futures interviews with Soul Fire Farm founder Leah Penniman and Vanessa and Kim Pham, founders of start-up food company Omsom, Sin is creative, moves fast, and is one of the people I am personally looking forward to following for years to come. Here, we discuss Junzi's mission, the current chile oil industrial complex, and Midwestern pizza.  
Let's get right into it. Why make your own chile oil when there is so much great stuff available right now?
Everyone makes their own chile oil, obviously, and every noodle shop that you go to in China has their own thing of chile oil on the table that they made. We've been making our traditional, original chile oil for a while, and originally, it was intended as something to make your noodle bowl spicy—then people liked it so much that we started bottling it . And then, finally, as ever more people became interested in it as a product category, it became an opportunity to assert yourself and a cool way to get into e-commerce. 
How popular is it?
We've made three batches already, as we're totally sold out. So we're trying to get in the chiles as quickly as possible so we can sell more. By the way, have you had Sze Daddy?
No, should I?
It's great, because it's really different from other chile oils. And my hope, sort of, as a chef in this chile oil landscape, so to speak, is that people start to understand the nuance—that it's not always "This one is better than that one." I mean, to some extent it is, but they can be used for different things. Sze Daddy is a cool chile oil because it's made like a shacha [Chinese barbecue] sauce. So everything is stewed together in the oil, and they cook for a long amount of time, and they grind it through. It's different than Fly By Jing, which is a Sichuan-style one with a huge emphasis on the specific chile peppers they have. And it's really fragrant. I think, as people begin to understand the nuance between the different types of chile oil, hopefully it will just be more fun to buy and make.
I noticed on your Instagram that you are a big fan of Detroit-style pizza with ranch, and Jet's in particular. I'm from Kalamazoo, Michigan, and I just respect that take so much.
My girlfriend is from Muskegon, Michigan, so I spend a lot of time in Michigan; we try to do summers and Thanksgiving there. Jet's Pizza is the best, and everything about Jet's just improves upon fast food pizza. The square pie has eight corners, instead of four. And the ranch, in particular—it's so cheap, and so good, and they give you a huge bottle at a Hidden Valley Ranch price, and for whatever reason—I don't know if they make it on their own or whatever—it's so tasty. I put it on fried rice as a joke, for a Food & Wine video.
I watched it! And I'm like—I'm doing that. Lucas knows what he's doing.
I love a lot of things about these Midwestern mini chains—they're kind of like local-ish, not quite totally national chains. Because it's the rural Midwest, and rural America, it's so foreign to me. I mean, I'm so thoroughly from Hong Kong. So when we drive through, I'm obsessed. I try to set a theme for the road trip. Like, this road trip, this week, we're going to really focus on understanding chili. And just eat at all the chili spots. And go through Ohio and go to Skyline [Chili] and figure out what in the world is happening—it's kind of like an ethnography assignment for me.
And this is similar to your interest in American Chinese food, as both a cuisine to cook and sell, but also to study and celebrate.
It's a very similar thing. A lot of you talk about American Chinese food in a patronizing way. But if you try to be a little empathetic, and you try to understand history, immigration history and all that stuff, just a little bit more—and I have nothing short of reverence for these neglected regional American cuisines, so to speak. And it's always more fun if you come at it from a place of curiosity. There's generally a misunderstanding of Chinese cuisine at large, the ingenuity of American Chinese cooking. Marinating steak in baking soda, corn starch, and egg, for example, is a great way of preserving the flavor and texture of beef so it can be stir-fried at high intensity. Not fully closing packaging, or serving sauce on the side to allow for air flow, keeps fried items crispy. Using broilers and deep fryers to skip maintaining and using ovens is also very cost-effective and delicious. Put it this way: Almost all Chinese restaurants serve ribs, but they don't have ovens to roast them in.
What drew me to your story originally was your engagement with Chinese restaurant owners who were thinking about retiring, or getting out of the business, and taking over their locations and maybe allowing them to exit in a way that was financially viable. Is that still a part of the mission?
It is a part of the mission. But to be perfectly honest, it's a very difficult mission. It's difficult because of the scale of it, but also, even without the scale, it's about creating a business model that's sustainable for the people who are operating it, but also culturally sustainable for the people who are exiting it, so to speak, right? So, as a chef, I wish I could tell you that I would be happy to stop at preserving the recipes and the dish design, and the operations and the kitchen design—that is all well and good. But there's a more difficult next step, and it's to try to involve the last generation in this current generation's kind of reinvention, or at least the evolution of American Chinese food. So it's a very delicate balance of trying to figure out what really worked, and wanting to be modernized. It has to be rooted in tradition, and you have to have the respect for the tradition, but at the end of the day, financially, you need to make sure that it makes sense for them as well as for yourself. I will say that it would be a lot easier to just find quick business opportunities and to not involve them at all, but I think we have a sort of ethical—
It's a mission-driven company, with a mission in action.
Yeah. And it's kind of a funny thing, when you think about Junzi Kitchen and Nice Day Chinese, because for Junzi, the broad mission is a type of reeducation of Americans' interpretation of what Chinese food is. And Nice Day is, in a way, an extension of that mission, in looking at another aspect of regional Chinese cuisine: American Chinese cuisine. 
I'm thinking about those American Chinese dishes some may think of as "terrible," and Crab Rangoon comes to mind. What's your take on that?
I always avoided it before diving into American Chinese cooking (I didn't grow up with cream cheese in Hong Kong, and the dish seemed weird), but it became a lot more interesting to me upon learning the history. After World War II, there was a hunger for Polynesian cooking. Chinese restaurants capitalized on this desire for the "exotic" (again, speaking to the wonderful ruthlessness of Chinese culinary entrepreneurship) and incorporated pineapples, Mai Tais, scorpion bowls, and, of course, Crab Rangoon. Which is all to say that the origins of Crab Rangoon are suspect to begin with. I'm really interested in that innate silliness and the idea that it couldn't have been invented under a strict "Chinese-Chinese" context. Chinese cuisine had to have been in America in the 1950s to exist. Our Rangoons are traditional in that the skin is a little too thick (so you get crispy and chewy in the same bite), there's a significant amount of cheese that oozes after it's fried, and it's served with sweet and sour on the side, made in-house.
We're asking everyone in this interview series: If you could write your dream cookbook—with no time or budget constraints—what would it be on? Be as out-there (or not) as you would like.
An exploration of the Chinatowns around the world would be so much fun to write. That is, a book that seeks to understand the global influence of regional Chinese cuisines outside of China, each borne of the confluence of immigrant populations. I'd love to understand eateries from Peruvian Chinese chifa to Filipino Chinese pancit, and understand Black American–Chinese yaka mein recipes next to Korean Chinese jajangmyeon.
This interview has been condensed and edited for clarity.
4 RECOMMENDED READS FROM LUCAS SIN
Modernist Cuisine by Maxime Bilet and Nathan Myhrvold
I was lucky enough to contribute to Modernist Cuisine's follow-up, Modernist Bread, as an intern a couple of years ago. It shouldn't take working there to understand that this 50-pound, 2,438-page cookbook is the cookbook to end all cookbooks.
Lateral Cooking by Niki Segnit
I can't think of a book that better encapsulates my philosophy of home cooking than Lateral Cooking. Segnit explains the magic of the best home cooks we already know—part instinct, part technique—with clearly spelled out mechanisms that are applicable for flexible cooks at any level.
Red Sands by Caroline Eden
I am still waiting for Central Asian cuisine to be given its due. Eden shines a brilliant light on this massively underappreciated culinary region via a collection of emblematic recipes, literary nonfiction, and keenly empathetic journalism.
The Cooking Gene by Michael Twitty
Not exactly a cookbook, but I've read Michael Twitty's book once a year, which takes us on a winding culinary journey to understand how fundamental African American cooking is to America. Riveting.
Futures is our monthlong series of interviews with the individuals and organizations reshaping the way our culture cooks, eats, and thinks about food. Read last week's conversation with Soul Fire Farm founder Leah Penniman