Zucchini, Cooked the Whole Way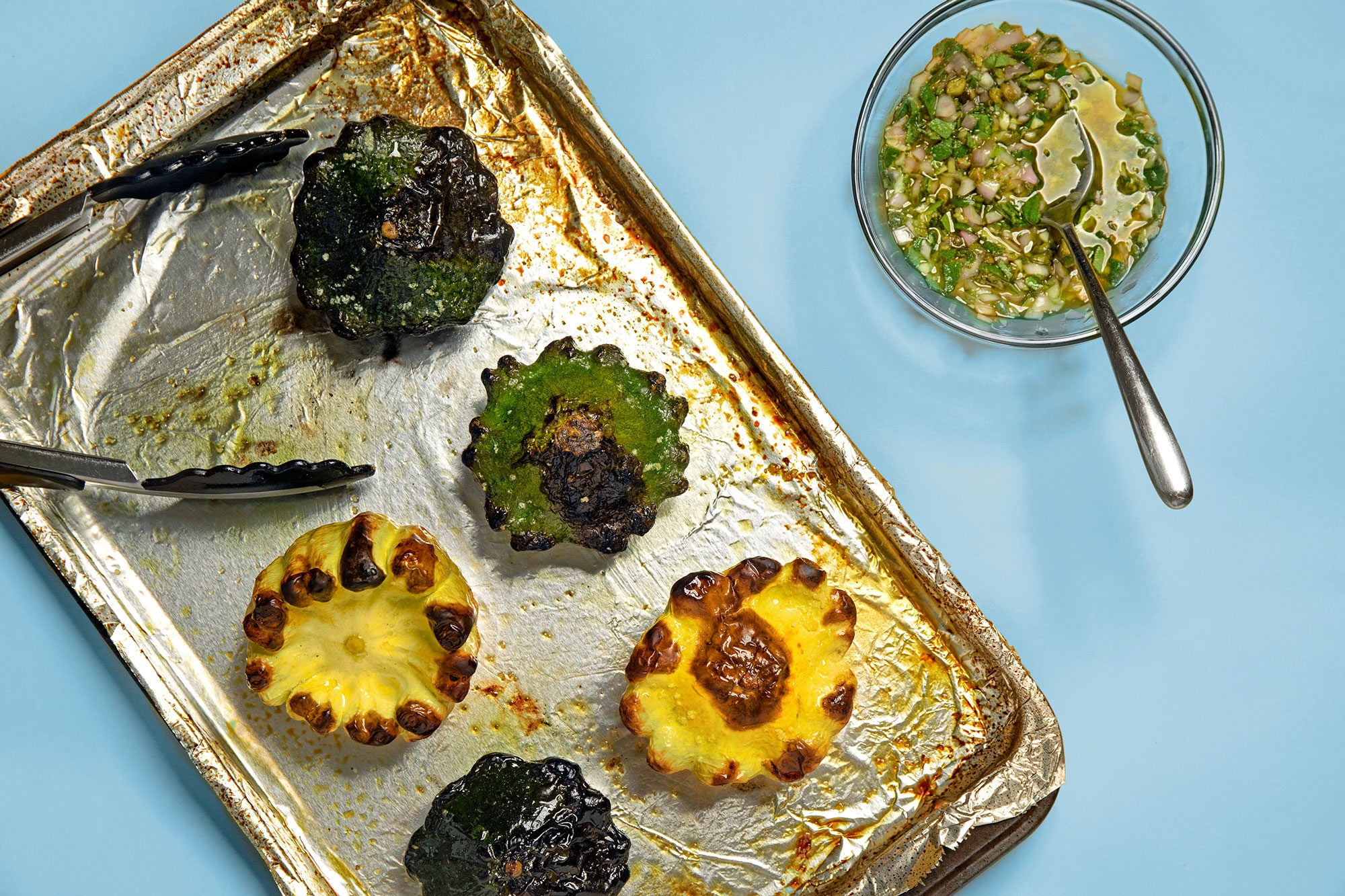 It's a squash, so throw it in the oven whole and cook it like one.
The narrow gap between summer and fall is the time for some of the year's most inspired cooking—summer ingredients matched with weather cool enough to reintroduce a little heat, and heft, from cheese, bread crumbs, cream, and long cooking times. The quintessential autumn meal usually involves some kind of roasted squash—butternut or acorn—maple-sweet and velvety. But this treatment is rarely given to green and gold summer squashes.
Michael Solomonov and Steve Cook, the co-owners of Zahav in Philadelphia, like to treat zucchini like squash when making a delicate, cinnamon-tinged soup. After caramelizing the zucchini whole, they halve it and scoop the seeds to save for a garnish before braising the rest of the flesh. "Always make sure to set aside the seeds!" says Solomonov. "They're great for boiling or roasting, finished simply with a little bit of salt and olive oil."
In her cookbook, Breakfast, Lunch, Dinner…Life, New York City chef Missy Robbins gives marjoram- and garlic-scented whole zucchini a long oven roast until it's very tender. Roasted whole, dense little summer squashes turn buttery and tender, their skins blistering and turning deeply golden and crackly, almost like the shattery skin of a long-roasted eggplant destined for baba ghanoush.
That tough skin transforms each squash into its own pressure cooker, rendering the flesh into creamy squash nirvana—a happy contrast with the salty skin. You could turn it into a Middle Eastern spread by blending it with some lemon juice and tahini. But served whole, the squash cuts like a rare steak, each slice lounging onto the next, and each excellent for soaking up a perky sauce, like a vinaigrette or compound butter.
The flesh will hold its shape as long as you pick the right squashes. Don't be tempted by those large grocery-store zucchini, which can be unpleasantly wet and stringy. Similarly, the adorable eight-ball squash weeps like a flavorless water balloon when cooked whole in an oven.
For roasting hot and fast, small, drier, tight-fleshed squashes—like avocado squash and the UFO-shaped pattypan—are the way to go; their skin goes caramelized and salty without the insides turning to mush. And because we're roasting whole, the smaller (but not too small), the better since smaller squash have a greater skin-to-flesh ratio (the better for even seasoning and browning) and are less likely to be watery or seedy.
To serve, give everyone their own little bronzed squash and pass a potent sauce for drizzling alongside: yogurt swirled with tahini, chile oil, salsa verde, a puckery caper-studded lemon vinaigrette, or simply a bowl of lemon wedges.