You're Wrong About White Chocolate
Whether it's "real" chocolate doesn't matter (and for the record, it is). For chocolatiers, butchers, and creative home chefs, white chocolate is whatever you want it to be.
While confined to the Tower of London some 400 long years ago, the English adventurer and Shakespeare contemporary Sir Walter Raleigh wrote: "Whosoever, in writing a modern history, shall follow truth too near the heels, it may happily strike out his teeth." 
It feels a bit like asking for a tooth-kicking to look back at the "artisanal food explosion" era of the early 21st century and attempt to ascribe to it a marked accounting of winners and losers. But when, at last, historians do attempt to reckon with its implications, they may well find a milieu that hews closely to long-documented ideas about generational identity and the arc of trends. In our Marxian quest (W. David, not Karl) for social status and in-group hierarchical tier setting, we replaced the opera hall with the chef's table, the symphony and the jazz club with the fine food hall and the third-wave espresso shop, seeking ever purer experiences in the worlds of experimental fine dining, baked goods, cocktails, and beers—and perhaps especially in the more popularly commodified (and thus ripe for esoteric generational disruption) fields of coffee and chocolate. 
A sort of hero's journey for ascetic purity took hold in America's trending foodways, as though our very souls—compressed by suffocating admixture of distressed Levi's 519 skinny jeans and ennui—yearned above all else to perform the consumption of these products in a way so markedly different from that of our parents that our very identities could be formed around it.  
Trepidatious though I might be, it's inarguable that there were winners, and there were losers, and one of the casualties of the foodie purist moment was white chocolate. 
"It's not real chocolate" goes the refrain, one still commonly uttered by prominent chefs even today. You can find a long list of corroborating search returns, from stuffy academia to SEO-fueled Tasting Table and all points between. To me, this line of thinking echoes similar arguments—driven by a quest for aesthetic purity and the creation of in-groups and out-groups—decrying the likes of decaffeinated coffee, frozen vegetables, bouillon cubes, cow's milk, dessert wines, and myriad other delicious things that, for a complicated set of cultural reasons, wear the scarlet letter of uncoolness.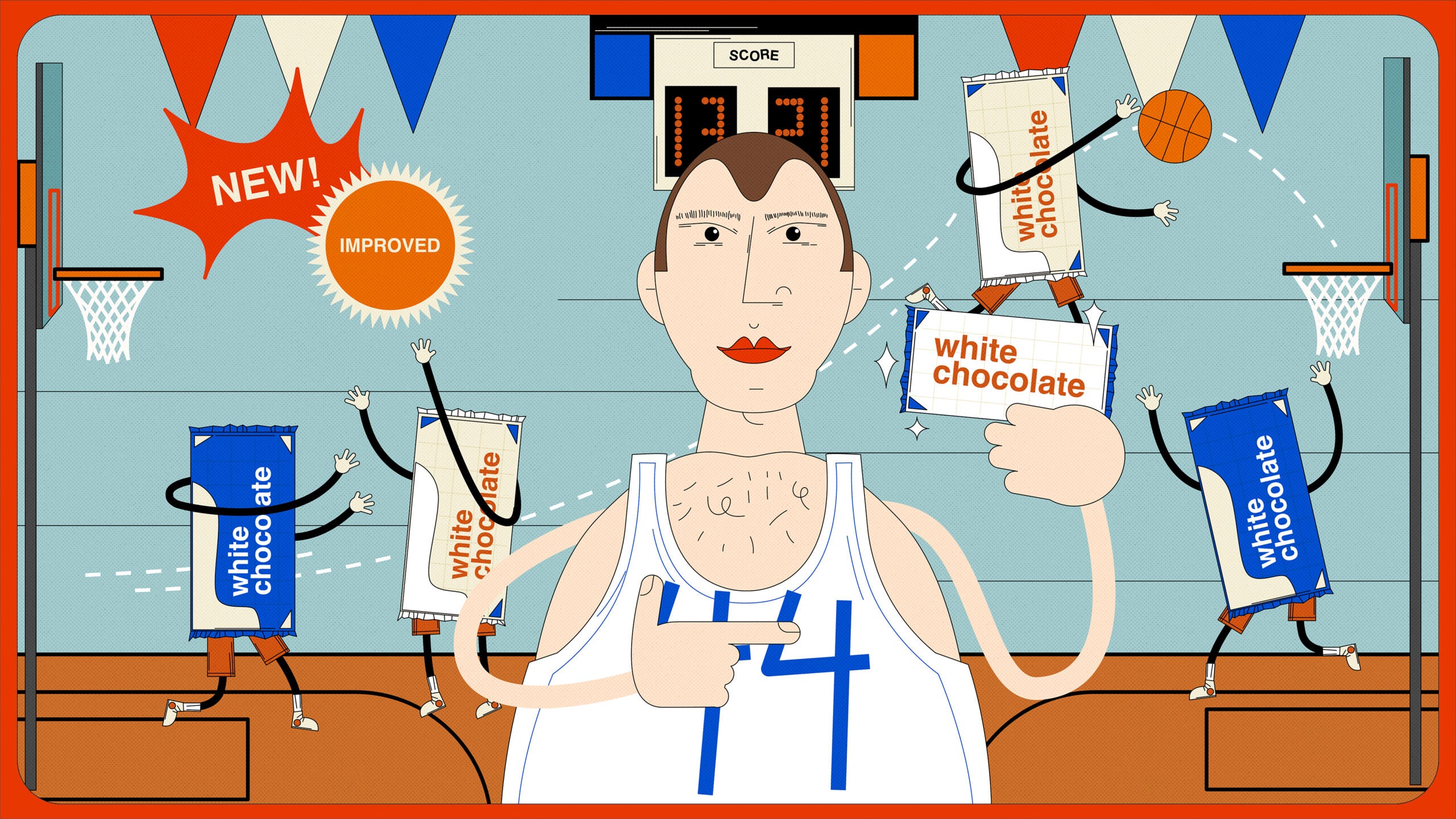 White chocolate became weaponized, besmirched as an eye roll; it was the very last sort of thing one might wander into, say, the peak-beard-era (2015) Mast Brothers chocolate factory in Brooklyn seeking to purchase. The cultural attachments don't help; I enjoy a Jason Williams highlight reel as much as the next millennium-era basketball fan, but the less we say about troubled nepo baby Chet "White Chocolate" Hanks, the better.
"There was this stigma around it back then," says Adam Krantz. He's worked in the fine chocolate industry for a decade: first in the world of boutique grocery, where he built the nationally notable chocolate selection at Portland, Oregon's World Foods market, and then at his own chocolate company, Monsoon Chocolate of Tucson, Arizona. "People wanted to split hairs about the definition of the thing," recalls Krantz, referring to the common refrain that white chocolate is, in fact, not chocolate. "And I guess I just sort of adopted their opinions." 
This despite the fact that white chocolate is, legally and ineffably and inarguably, a product made from the cocoa bean, using cocoa butter as opposed to cocoa solids. It differs molecularly from standard chocolate and is often mixed with dairy and sweeteners—the standard "white chocolate" flavor note derives from the addition of vanilla, which is commonly used in . . . let's call them "grocery store"–style white chocolate bars and baking chips—but it comes from the same plant, grown and cultivated by chocolate farmers at the point of origin. White chocolate is, indeed, chocolate. 
Quite frankly, I am tired of white chocolate being slandered, and if you visit a great chocolate shop today, you'll see a softening of these negative attitudes. There are now excellent white chocolate bars being made by prominent companies associated with the "bean-to-bar" movement, a cringey though accurate term used to reference the explosion in craft chocolate making over the last decade and a half. One particularly compelling example of this comes from Askinosie, the seminal bean-to-bar brand based in Springfield, Missouri, that launched in 2005, very early on the bean-to-bar timescale. 
Their white chocolate bar clearly lists a point of origin (Davao, Philippines) and is available in pure form, unadorned but for a touch of goat's milk and cane sugar, produced entirely in-house on cocoa butter extruded from the brand's vintage chocolate melanger. It is stunning, stirring stuff, the sort of thing that directly wallops any preconceived notions one might have about white chocolate, like drinking a great cup of decaf or enjoying a really good nonalcoholic beer. 
When it came time to develop his own recipes, Krantz took a closer look at white chocolate as a culinary method of conveyance. At Monsoon, they start at the foundation, controlling the creation of their cocoa butter in-house, from the beans up. "We make white chocolate in a similar manner to making dark chocolate," Krantz tells me. "We refine it in our melangers, and we get to choose what goes in there . . . just being able to omit something like vanilla gives us a huge advantage when it comes time to impart flavor." Playing on the brand's home base in the American Southwest, Monsoon offers white chocolate bars in flavors like mesquite and blue corn atole, sourced in partnership with the Santa Ana Pueblo. This bar in particular offers another light switch moment for the white chocolate haters: blue corn's subtly expressive flavor is lifted by the chocolate bar's astounding texture, which is slightly maize-like, redolent of drinking fresh, warm atole. 
Quite frankly, I am tired of white chocolate being slandered, and if you visit a great chocolate shop today, you'll see a softening of these negative attitudes.
In the chocolate maker's hands, white chocolate's wonderful malleability becomes a blank canvas upon which flavor, texture, and expression can be readily imprinted. "Cocoa butter really is this incredible substance," says Krantz. "The polymorphism of it, the ability to temper it and create crystalline structures and then modify those structures . . . you can do literally anything with white chocolate." Those Southwest flavors so important to the bars from Monsoon were completely lost when applied to a dark chocolate context, bowled over by the cocoa's imposing flavor profile; it was only by harnessing the adaptability of white chocolate that Krantz was able to express the subtleties of corn and smoke.
It can also be, it should be noted, a hit. While Monsoon's product range does, of course, include more traditional expressions, like an 80% Madagascar and a 75% Ecuadorian dark chocolate, the brand's white chocolate offerings overtook all other bars in sales in 2022. "White chocolate is just so accessible and fun," says Krantz, and if you look further down the chocolate aisle, you'll find other serious chocolate companies from around the world jumping in with both feet: Friis Holm of Denmark (white chocolate yuzu), Markham & Fitz of Bentonville, Arkansas (blueberry and graham cracker), Omnom Chocolate of Reykjavik (spiced white caramel), Mirzam of Dubai (cashew and jaggery), and the list goes on. 
What happens when a culinary appreciation for white chocolate achieves escape velocity from the wider bean-to-bar milieu? It fuses with whatever else you're into. One compelling example can be found at Brooklyn's Kettl Tea, a specialist tea purveyor focused on the teas of Japan. Chocolate is not the focus here—cofounders Zach and Minami Mangan are tea geeks through and through—but their menu now includes a distinct and delicious matcha chocolate bar, combining single-origin stone-milled matcha from Yame, in the Fukuoka prefecture with smooth, plain white chocolate as the base. "It is a perfect, slightly (but not overly) sweet canvas for the matcha to express itself on," Zach Mangan tells me, and a square or two of the chocolate is served alongside cups of matcha at the couple's Greenpoint neighborhood cafe. Whole bars are available with the addition of roasted buckwheat (soba cha) for an added textural crunch.  
An even more extreme version of this overriding refrain—"white chocolate is whatever you want it to be"—can be found at Seattle's Beast and Cleaver, a butcher shop/restaurant hybrid from London-born chef Kevin Smith. "I know people hate white chocolate, but I love it," says Smith, cheekily. Inspired in part by notorious white chocolate lover Heston Blumenthal (known for his scallops in white chocolate sauce, and for serving caviar over plain white chocolate discs), Smith stumbled upon a union of foie gras and white chocolate. "It makes sense molecularly, because of the binding properties of the cocoa butter," he says. 
Smith makes a white chocolate mousse first, then blends that with a rendered lobe of foie gras and whips them together for an ambrosial texture. To finish, he lightly sears the foie with a blowtorch, then adds more white chocolate, shaved directly over the foie as one might imagine a dusting of sweet, buttery snow—"and a little grated orange zest or cardamom over it isn't bad as well." The end result splits the difference between charcuterie and dessert, with the happy added benefit of increasing overall product yield, echoing the very conceptual building blocks of the art of charcuterie in the first place.
I'm particularly fond of the union of white chocolate with ice cream, and I enjoyed two stirring, deeply different renditions while researching this particular Rabbit Hole column: a wonderfully plain, creamy, stratocumulus cloud version at Jory, a restaurant at the Allison Inn & Spa in Oregon's Willamette Valley, and a punk-funk angsty version featuring intentionally burnt white chocolate at Seattle's lauded Off Alley. Back home, I began toying with the format, and I strongly encourage you to do the same; white chocolate really is such wonderfully agreeable, adaptable stuff, and it goes with whatever you happen to already like. 
In the chocolate maker's hands, white chocolate's wonderful malleability becomes a blank canvas upon which flavor, texture, and expression can be readily imprinted.
I'm a die-hard mint chocolate chunk ice cream lover, but I had never encountered a white chocolate rendition of the same. (Paging Ben Van Leeuwen.) If you've got a dedicated ice cream maker, this is a great excuse to fetch it from the back of your cupboard, but in my house, we love doing the home-hack version of ice cream mix-ins, starting with a base of good vanilla ice cream left out on the counter to soften, then tossed in the stand mixer with the paddle attachment affixed. 
Make a simple mint syrup (half a cup of sugar, half a cup of mint leaves, and a whole cup of water, per the great Spruce Eats) and buy a good plain white chocolate bar, like the one from Askinosie. Chunk that bar into shards using a knife or break it up into bits with your hand. Add the mint syrup and white chocolate to the ice cream, blend in a stand mixer on a low speed, then place in a container and freeze for a few hours. It's minty, it's creamy, and there's a wonderful, luscious richness to it all. If you need to amp up the green aesthetic, sprinkle the mixture with a couple dashes of matcha powder while blending—these flavors combine beautifully together—or, heck, give it a drop of green food coloring so that it really looks like what you expect mint chocolate ice cream to be. 
We aren't in 2012 again. Purity is overrated, and no one is keeping score. 
Rabbit Hole is a column that digs deep into nodes of culinary inquiry, from the recipes and products that expand our home routines to the food culturalists and content creators that make us hungry and curious. Along the way, we're exploring the ever golden gastronomic moment in the 21st century: never boring, always peckish.