Your Vinaigrette Is Missing Fish Sauce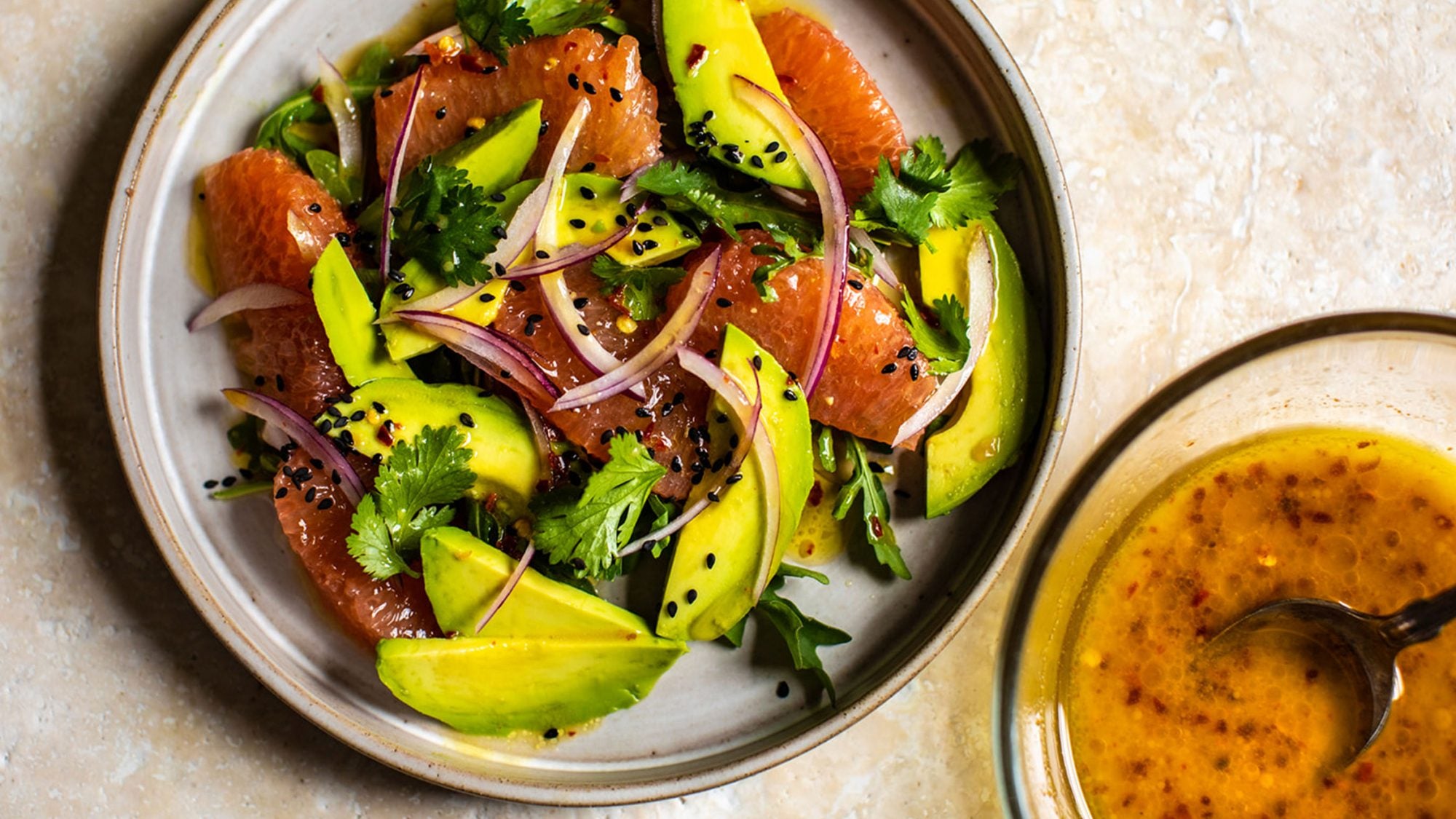 Spoon some of this briny dressing into the center of an avocado for a quick snack, or use it as a flavorful liquid for simmering shrimp.
Most people know fish sauce as a quintessential Southeast Asian ingredient—a core element in stir-fries, pad thais, and briny dressings like nuoc cham. The condiment's deeply savory flavor tastes like the essence of the sea, but not explicitly and bracingly fishy, which makes it a powerful source of salinity in many recipes. Like a hint of anchovy, the inky liquid can bring out the flavor of fresh seafood. It can round out sweet tomato sauces. (Try it!) And in a vinaigrette, it can add that umami backbone that shines through equally in high-heat roasts and crunchy fresh salads.
At a Vietnamese pop-up I cooked for seven years ago, we used a fish sauce vinaigrette to aggressively dress salads like our cabbage-based goi ga: a chicken salad with fresh mint, delicate rau ram leaves, and seasonal fruit. The vinaigrette base was very similar to nuoc cham, but it was stretched, pulled, and embellished with fried shallot–infused oil and red onions that marinated in the vinaigrette itself to become more versatile.
Over the years, I've tweaked this template with the oils and vinegars in my own pantry to create a vinaigrette that can moonlight as a marinade. I first dilute fish sauce with a tiny bit of water to create a longer, surf-worthy wave of oceanic flavor that balances out the salt. After that, I add white wine vinegar (champagne vinegar will also work). A few pinches of chile flakes add the heat that constitutes a nod to nuoc cham. After testing several versions without, I decided that a small amount of Dijon mustard helps thicken the vinaigrette but also to add a slightly musky, sweet, peppery note that complements the fish sauce nicely, and olive oil comes in as the finishing touch.
I've used this utility vinaigrette to marinate chicken thighs overnight and then roast them alongside vegetables like Romanesco, baby carrots, and onions. After roasting, I like to dress the chicken and vegetables with some additional vinaigrette to layer on some bright notes. But this dressing would be great with an avocado and arugula salad, or a citrus salad with pinwheels of navel orange and thinly sliced red onion. In the summer, I'd drizzle some onto tomatoes and anchovies, or even use it to finish grilled steak or king trumpet mushrooms. Since these flavors will hold up to some heat, you can simmer shrimp in a shallow pool of it over low heat, allowing them to gently poach as they're infused with that extra punch of oceanic brightness.