Your Gazpacho Is Missing Kimchi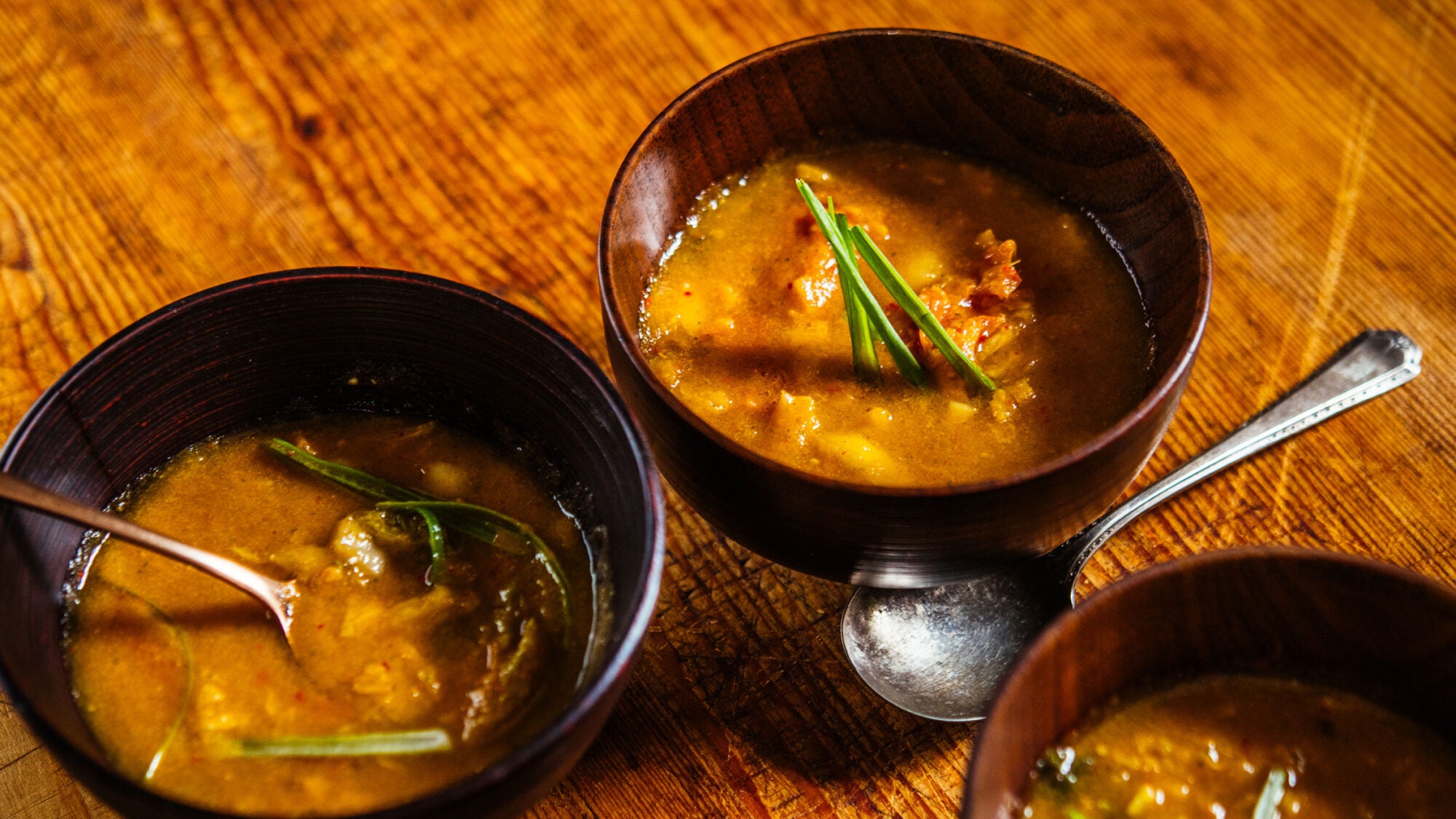 The cold Spanish soup gets the tangy, spicy upgrade its been waiting for.
There are few things as great as a recipe that merges two elements you never thought to unite. Repeat after me: Kimchi. Gazpacho.
She may not be the first to combine the fermented emblem of Korean cooking with southern Spain's snappy tomato invigorator, but Anita Lo's version in her 2011 book Cooking Without Borders was my first encounter with the inspired alliance. Lo, who was the chef-owner of New York's Annisa for nearly two decades, has long espoused cross-cultural mergings. Her most iconic dish is foie gras soup dumplings, flat pierogi-like pockets filled with gelatinous broth and overlaid with seared fingers of foie gras. Her methodology is a sage one, because most of the world's food, after all, is cross-cultural. People emigrate and immigrate, sometimes under duress, sometimes discretionarily. I ate at Annisa a few times, and Lo's food always both startled and comforted—what I most want from my dinner.
I should have expected she would fuse gazpacho and kimchi. Gazpacho has the refreshing nerve of tomatoes, cucumbers, and vinegar. Kimchi is edgy and anchoring, giving ballast and lilt to most any food it comes in contact with. Still, I forehead-palmed myself when I saw the recipe in the book. It is written with a total of seven ingredients—including salt and pepper. Lo's kimchi gazpacho is quick and streamlined, with only a hint of the punctilious.
She first asks you to peel great, ripe tomatoes by lowering them into boiling water for less than a minute. The peels glide off like the sizing sticker on a crisp pair of new pants. Then you squeeze out the seeds and chop the pulp. Into a blender they plop, along with some cucumber and a clove of garlic. Whir! The puree is spiked with nearly a cup of chopped kimchi and seasoned with rice vinegar and salt and pepper. You want this plucky gazpacho brisk with chill, so it gathers itself in the fridge for a few hours.
My only change to the recipe was to provide weight measurements and intact totals for the tomatoes and cucumbers. In the original recipe, Lo and her cowriter, Charlotte Druckman, ask for "3 cups peeled, seeded and roughly chopped ripe tomatoes" and "½ cup peeled and roughly chopped seedless or Kirby cucumbers." I think it is infinitely easier to shop for one and a half pounds of tomatoes—or about four medium tomatoes—than it is to guess how many tomatoes comprise 3 cups peeled, seeded, and chopped ones. I asked the two of them why they wrote the ingredients that way, and their logic was, of course, sound. Lo wanted to "give the cook the option to use whatever kind of tomato or cuke they have on hand," she wrote me in an email. She also noted that the recipe is forgiving. She is right on both counts.
Once the gazpacho has a frigid edge, it is ready to serve. Lo recommends gilding the soup with cooked shrimp or raw clams. Sounds lovely. Fancy and effortless. A sublime, easy preparation for a dinner party. Dinner parties—I remember those. I think.
I, lazy and desultory, slivered a few scallion greens for garnish and stopped there. The kimchi spunk, the sweet vegetal thrum of tomato and cucumber. Iberia meets Korea, by way of one of the United States' most talented chefs. One new recipe where once there were two.
A Kitchen in New Orleans. Many years of eating, cooking, and writing about food have left Scott Hocker with many stories to tell. In this occasional column, he re-creates a dish tied to a distant, or sometimes recent, food memory.