Your Fish Sauce Starter Kit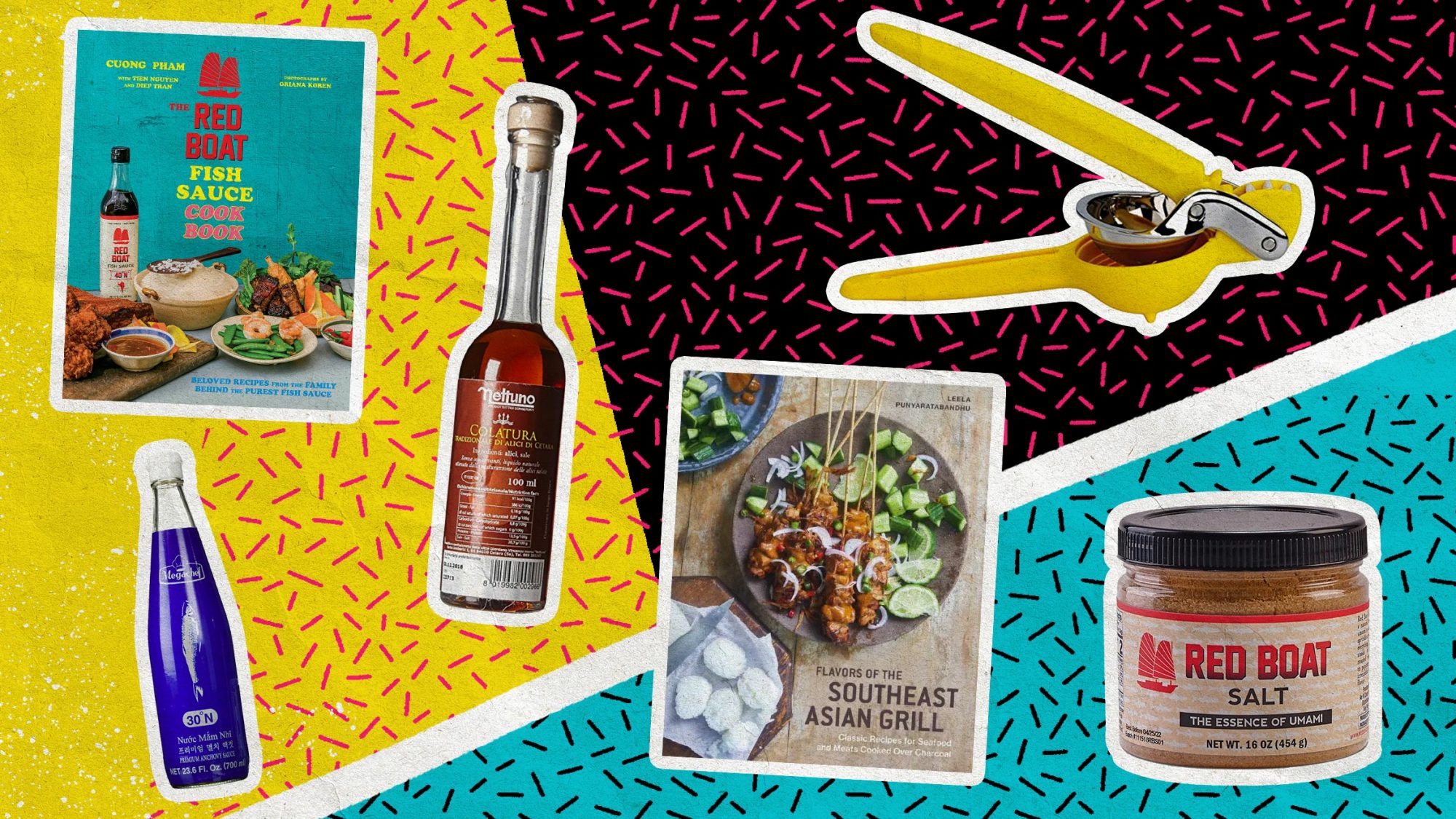 Reading, recipes, and expert advice for adding drops of the savory, inimitable amber liquid to just about everything.
One whiff of its pungent, unabashedly funky aroma straight from the bottle, and it's clear that fish sauce needs no introduction. In fact, it skips right past it. Typically made by fermenting small fish, like anchovies, with salt for several months in wooden barrels before extracting the liquid through pressure and time, fish sauce is known for its ability to turn up the volume on everything it touches. Its distinct essence of the ocean has many kitchen applications, including the smacking umami bursting with brightness when combined with limes or calamansi in dipping sauces like nuoc cham or patismansi, as well as mellow emulsions with olive oil and parsley over pasta, as in the Amalfi staple spaghetti con la colatura di alici.
Each fish sauce–producing region—from the shores of Vietnam's Phu Quoc to Italy's Amalfi Coast—offers a different taste of the sea, similar to the way we think of terroir with wines. Conditions like climate, ocean salinity, and water depth give the anchovies (and sometimes other small fish, like sardines, scad, or mackerel)—and the resulting fermented sauce—a distinct flavor that cannot be replicated elsewhere. As such, a single bottle of fish sauce in your pantry tells only one side of the story. This is something to seek out for a whole section of the shelf.
Here, we've put together a compact guide to help navigate the wide world of fish sauce, with advice on how to find your favorite bottle(s) and how to incorporate them into even more of your cooking.
Bottles: Each brand will present different flavors—particularly depending on the types of fish used, fermentation time, and presence (or lack) of additives like sugar and preservatives. Red Boat Fish Sauce, aged for one year using black anchovies from the Gulf of Thailand, has become a cult favorite in recent years for its purity and intensity of umami. Similarly, Nettuno's anchovy colatura, aged for two to three years, boasts a concentrated flavor.
There are even vegan replacements—where seaweed, mushrooms, and pineapple are deployed to mimic fishy funk—such as Mama Dút's Phish Sauce, based in Portland, Oregon. Finding the right bottle for you is merely a matter of preference, with Asian grocery store brands like Megachef, Three Crabs, and Rufina popular among home cooks as well.
Books: The Red Boat Fish Sauce Cookbook, due to hit shelves in October 2021, is a collection of 100 recipes to make the most of that liquid gold, along with stories of founder Cuong Pham's journey to create a fish sauce that could meet his own high standards. Leela Punyaratabandhu's Flavors of the Southeast Asian Grill has no shortage of ideas to add a punch of umami to your outdoor cooking routine, from zippy dressings for Thai-style pork salad to the noodles in grilled stuffed wings.
Recipes: Christian Reynoso's fish sauce vinaigrette—a nod to Vietnamese nuoc cham lengthened with Dijon mustard and white wine vinegar—shows off the ingredient's versatility atop crunchy salads and grilled steaks. If you're into soy sauce–marinated egg yolks, Punyaratabandu's fish sauce–marinated yolks take them to the next level. The simplistic nature of spaghetti con la colatura allows the umami essence to really shine, while Eric Kim's roasted chicken gets amplified with fish sauce butter. How about a few drops in your daiquiri? Why not!
Resources: One bottle of fish sauce is not enough, states cookbook author Andrea Nguyen. (And we don't disagree.) Her own personal collection (pictured above) tallies to a dozen—with each serving their own purpose to leverage the right balance of salinity, depth, and seaside savoriness. For VICE, Bettina Makalintal takes a look at the many vegan-friendly alternatives that turn to black beans, pineapple, and soy sauce.
Gear: There's no rule that says you have to accompany your fish sauce with citrus, though it often acts as a trusty acidic counterpart. Chef Anita Lo swears that this is the only citrus juicer you need. And when you're making a big batch of nuoc cham or vinaigrette, it'll surely come in handy. Personally, I'm a fan of using a tiny whisk to whip up my own citrusy, fish sauce–laden dressings.
How to Wing It at Home: Most fish sauce enthusiasts will give you broad advice and tell you to "put it on everything"—and they're not wrong. Beatrice Ughi, founder and president of Italian food importer Gustiamo (known in her circle as the Colatura Queen), suggests adding a few drops of colatura to the foundation of dishes like soffritto or as a finishing element to pasta, whereas recipe developer Christian Reynoso recommends pairing a fish sauce–spiked vinaigrette with citrus salads, grilled mushrooms, and juicy summer tomatoes. A mere teaspoon can pack a punch—so exercise restraint.
Inline photo by Andrea Nguyen