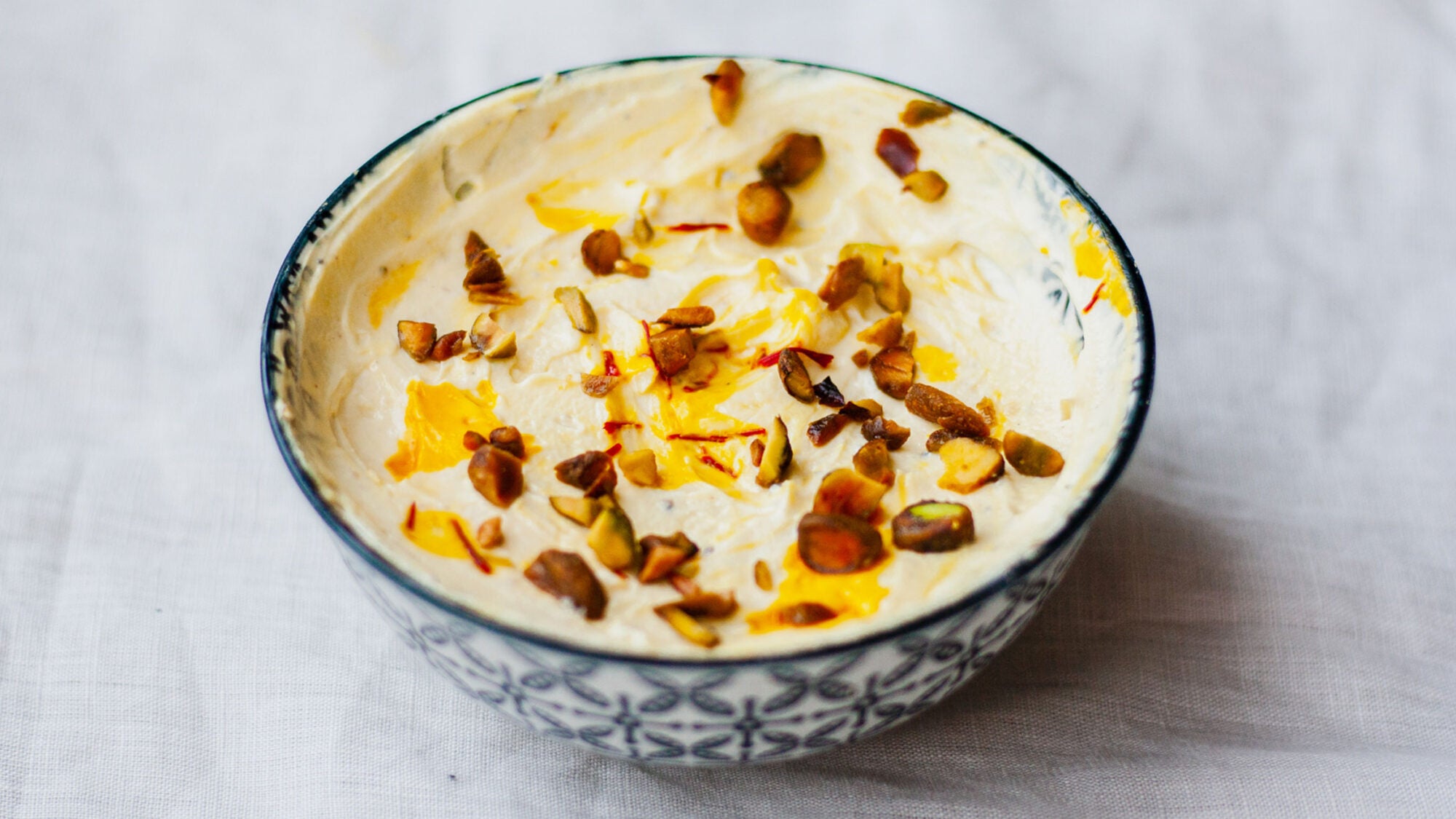 Shrikhand is one of India's simplest, sweetest desserts made with yogurt. There's a flavor for every mood—from saffron to mango to rose.
Yogurt is ubiquitous in Indian culture, often swirled into a fiery chicken curry, mixed with spices for a marinade to coat paneer, or eaten alongside dal, rice, and achaar (pickle). But a lesser-known application, and one of my favorites, is shrikhand—a cold, no-cook yogurt dessert commonly found in Gujarati and Maharashtrian cuisine. Sugar and spices are combined into whipped, strained yogurt for a creamy, pudding-like dessert that is served at weddings or festive occasions, such as the springtime festival Gudi Padwa, scooped into small bowls or thali plates. Some restaurants and sweet shops in India offer it as a specialty, and commercial varieties are even available in select Indian grocery stores in the United States.
Incredibly, Indians have been making shrikhand for millennia; the first recorded instance was in 500 BC, according to A Historical Dictionary of Indian Food by K. T. Achaya. Though straining the yogurt takes time, the recipe itself is remarkably simple, unsurprising given its long history and popularity.
Traditionally, it's prepared by hanging yogurt, typically made from buffalo's or cow's milk, in a cheesecloth or a thin cotton towel to drain the whey. This process can take anywhere from four to 24 hours, depending on the type of yogurt used and the desired consistency (usually a texture close to labneh). Adding powdered sugar, saffron, and cardamom transforms the flavor profile from a savory curd (the yogurt's natural flavor) into a luxurious dessert. The final step requires refrigerating the shrikhand for at least four hours before serving it, in order to fully allow the flavors to meld and marinate.
Shrikhand is usually eaten on its own or with puri (a type of deep-fried bread). You could also dollop it on top of a Dutch baby or layer it as a trifle with sponge cake, crumbled biscuits, and tangy fruit curd. Some purists insist on sticking to saffron and pistachio as flavorings, and many home cooks swear by using homemade yogurt. But I like to temper my grandma's recipes and childhood memories with a spirit of experimentation.
Kesar Pista Shrikhand (Shrikhand with Saffron and Pistachio)
The most popular shrikhand variation uses saffron and pistachio. Make sure to buy full-fat yogurt, if you can, for the richest texture. Saffron is mixed with a bit of warm milk and beaten into the yogurt to impart a beautiful, pale-yellow hue. Pistachios garnish the dish to add a slight crunch.
Amrakhand (Mango Shrikhand)
As a die-hard mango fan, amrakhand is my favorite of the three variations here. Think mango lassi, but sweeter and creamier. My family uses Alphonso mangoes, a variety known as the king of mangoes in India because of its incredibly smooth texture, sweetness, and intense flavor. For those outside of India, you can easily order canned Alphonso mango pulp online or at a specialty Indian store; Kesar mango pulp works equally well. If you live in the United States, I don't recommend using fresh mango, as the flavor is too subtle.
Gulab Shrikhand (Rose Shrikhand)
Rose shrikhand is usually made with gulkand, a type of rose preserve prepared by layering rose petals and sugar in a jar. The jar is left out in the sun for several days, yielding a thick, sweet jam. Gulkand can be difficult to source, so I like to substitute the preserve with a more commonly found ingredient: rose syrup. The resulting dish invokes those same floral notes I grew up eating with a smoother texture and a subtle rosy hue.