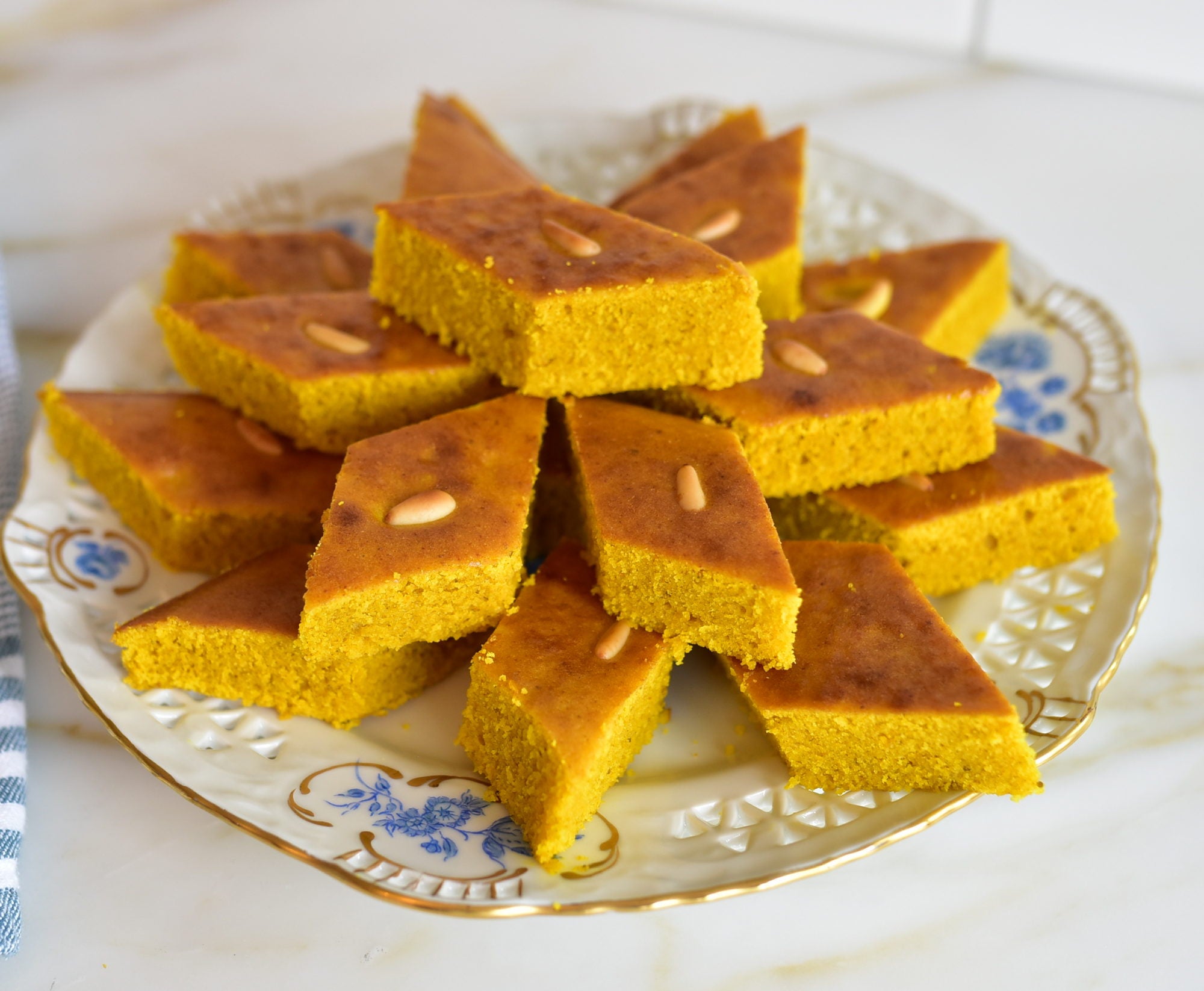 Lazy person's sourdough, anyone? Introducing: The Country's Best Yogurt Column.
In the realm of dessert—a category dominated by buttery, fluffy carbs—a bowl of plain yogurt is never framed as the first choice. It is diet food. It is a sad substitute for something sweeter and more decadent, destined to be disappointing at best, an extreme cop-out at worst. What's more, in the U.S., yogurt is only spoken about in the context of breakfast—served with a swirl of maple syrup or mixed with granola and berries.
Add yogurt to a baked good, however, and the game changes entirely. As it turns out, yogurt is the baker's back-pocket trick to lifting the flavor and texture of olive oil cakes, black and white cookies, and Middle Eastern pastries. It becomes not a clumsy substitute but an ingredient with its own standalone merits.
No one is a bigger believer in the power of yogurt in baking than Molly Yeh, the host of Food Network's Girl Meets Farm and the author of the Short Stack cookbook Yogurt. She frequently uses yogurt instead of buttermilk, sour cream, or milk in baking. She says you can use it in a one-to-one ratio, as long as you thin it out first with water to mimic the texture of whatever you are swapping out. "It is an ingredient that lasts forever and ever, is low maintenance, and can be easily tailored to your baking needs."
What does yogurt actually do, scientifically, when added to a dessert? "Thanks to its acidic property, yogurt, when in the presence of baking soda, helps baked goods swell and rise," says Cheryl Sternmal Rule, the author of the superlatively named Yogurt Culture: A Global Look at How to Make, Bake, Sip, and Chill the World's Creamiest, Healthiest Food. "It adds moisture and tenderness."
The fermentation element of yogurt, too, "takes flavor to another level," says Maureen Abood, who authored Rose Water and Orange Blossoms: Fresh & Classic Recipes from My Lebanese Kitchen. "It's a more complex flavor, similar to the way cultured butter is much more flavorful and richer than standard butter."
Case in point: the tangy grapefruit-and-olive-oil yogurt loaf in Yeh's Yogurt cookbook, which calls for whole-milk Greek yogurt. The thick yogurt makes for a "denser, tighter crumb" and makes the case more "luscious," she says. "That is a unique ability of yogurt." Its inherent sour tang also nicely mellows out the sweetness of the cake. And yes, it just so happens to be more nutritious than, say, sour cream.
Because of the universality of yogurt in Middle Eastern cuisine, Abood has long used it in her Lebanese sweets, like sfouf, a simple tea cake flavored with anise.
She recently started mixing it into her mom's chocolate cake with American-style buttercream, replacing the milk in both with yogurt. And in her pound cakes (similar to Yeh's yogurt loaf), she says yogurt "balances the density of the butter with its tenderizing magic."
Do you find bread making frustrating and overly temperamental? Yogurt can help ease the pain. "I have never been able to keep a sourdough starter alive," Yeh admits, so she substitutes yogurt for some of the liquid in her dough to achieve that same taste. "It is like my lazy girl's sourdough." Yeh's other go-to bread is a yogurt pita, made with just flour, olive oil, and yogurt. The yogurt adds more bounce and flavor, she says, "that little something-something that makes it a really special piece of pita."
Using yogurt instead of milk in pancakes is a no-brainer, too, Sternman Rule advises—the yogurt creates "lift and tang." Yeh will mix yogurt into black-and-white cookie dough (it helps to give the cookies their signature cakey texture) and into frosting for a tart element.
In general, both Yeh and Sternman Rule recommend using plain, full-fat yogurt. For thick batters—or ones where you are substituting sour cream, cream cheese, mayonnaise, or ricotta—go for plain Greek yogurt to maintain the texture, adds Abood. And don't forget to read the ingredient list on the yogurt container! A lot of brands—including Stonyfield and Yoplait—are made with added thickeners that could end up making a baked good "overly gummy," Yeh says. If you really want to go all in, Abood suggests making your own yogurt, which can have "much more tang, much more complexity, than commercial yogurt."
But aside from the yogurt being plain and full fat, Sternman Rule says that because yogurt is so forgiving as ingredient, you should use what you have on hand "rather than stocking up a million different kinds of yogurt." Just thin it out or strain it as necessary.
That said, there are some cases when it is not the right choice to use yogurt. Butter, for example, should never be swapped out for yogurt, Yeh says, since butter has a much higher fat content. Also, if a recipe calls for heating the dairy product up before adding it to a dough or batter, yogurt won't work as a substitute because it will separate.
In American culture, yogurt may not yet be viewed as a multipurpose ingredient in the way that it is in other countries. But, Yeh adds, the ubiquitous, all-American activity of baking is an excellent starting point for expanding that understanding. Perhaps a bite of her grapefruit loaf, too.