We Wrote a Cookbook: Lasagna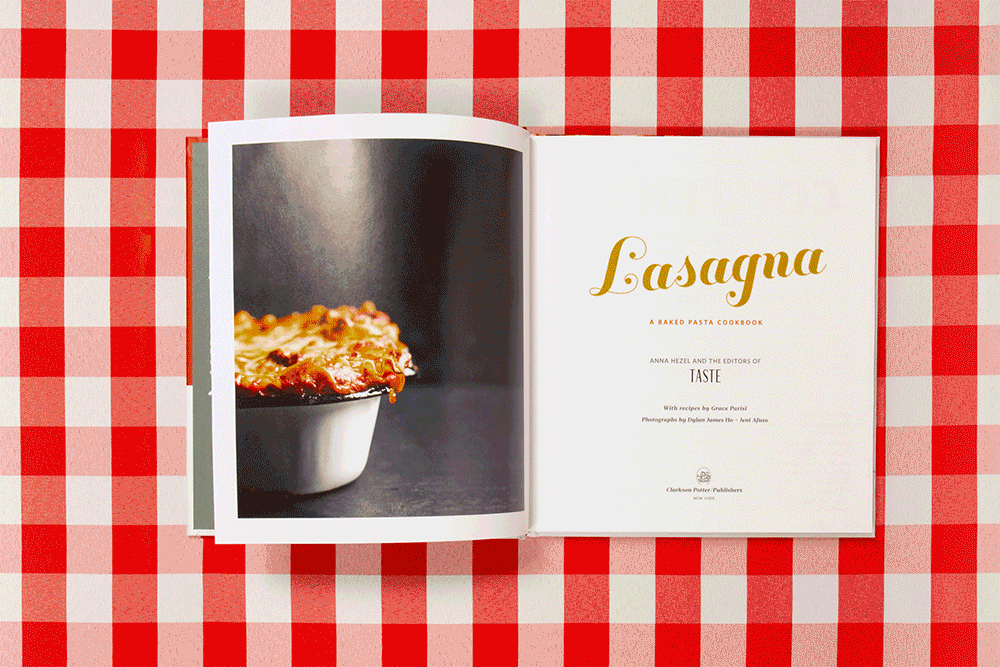 We love lasagna, and the world of baked pasta, so much that we wrote 144 pages about it.
In 1970, on her television show The French Chef, Julia Child made lasagna. In the famous episode, she accidentally skips the garlic, forgets what ricotta cheese is called, and invents colorful terms like "spaghetti laundry" and "inner sauce" on the spot. Through it all, she makes one thing clear: Lasagna is a novel concept to her.
Half a century later, the layered pasta dish is so embedded in the American psyche that it finds itself appearing in Kylie Jenner Snapchats, Chrissy Teigen Instagram stories, and the pages of TASTE. America continues to cook lasagna, and to seek inspiration from chefs and TV personalities, including Giada De Laurentiis, Ree Drummond, Michael Solomonov, and Marcus Samuelsson.
We turn leftover braises and sauces into late-night baked-pasta masterpieces and spend rainy Sundays simmering ragùs and cranking out thin, velvety layers of fresh pasta. In today's age, it's absurd—though also a little endearing—to imagine that a famous TV chef like Julia wouldn't know her way around a pan of lasagna.
Maybe we should thank Marcella Hazan for writing so many seminal cookbooks devoted to the fundamentals of Italian cooking. Or perhaps we owe it to the ever-multiplying Olive Gardens that populate suburban neighborhoods throughout the country for bringing a whole pantry of Italian ingredients and dishes into the American lexicon. Or maybe credit goes to Garfield, who's been dutifully eating meaty, two-dimensional cubes of lasagna in newspaper comics and on television screens since 1978. What we can say without hesitation is that lasagna is here, and it's here to stay.
This is why we decided to write a whole cookbook about it—more than 50 great recipes by the TASTE team, genius recipe developer Grace Parisi, and writers and chefs we admire, like Mark Ladner, Cathy Erway, Hannah Giorgis, Allison Robicelli, and more. It's all brought into living color through the photography of Dylan James Ho and Jeni Afuso—with styling by Vivian Lui. It's called Lasagna: A Baked Pasta Cookbook, and, starting today, you can buy it from your favorite bookstore or order it online.
Because this is a cookbook that celebrates iconic pasta, cheese, and sauce combinations, we dive into the wide world of baked pastas as well, from shells that are plumped up with meatballs to a wildly cheesy, maximalist take on mac and cheese. The noodles might not be wide and flat, but these are pastas that channel the same warmth and spirit as lasagna—dishes you'll want to gather, drink, and laugh around.
We want to think of lasagna not as a set of grandma recipes frozen in time and space, but as a dish that continues to evolve, warp, bubble up, and melt as it sails around the globe and passes from generation to generation. Let this book be your license to make yourself a personal skillet of spaghetti pie or ravioli lasagna after a tough day of work, to skip the cheese and the tomato sauce altogether, or to turn your favorite Italian sub or porchetta sandwich into a lasagna. As Superiority Burger's Brooks Headley says on the inside cover of the book, "Lasagna! If you don't like it, can we trust you?"
Here's where to buy the book:
Amazon | Barnes & Noble | IndieBound
And here are a few of our favorite recipes to cook while you're waiting for your book to arrive: