You Will Instagram This: The Lasagna Rolls at Don Angie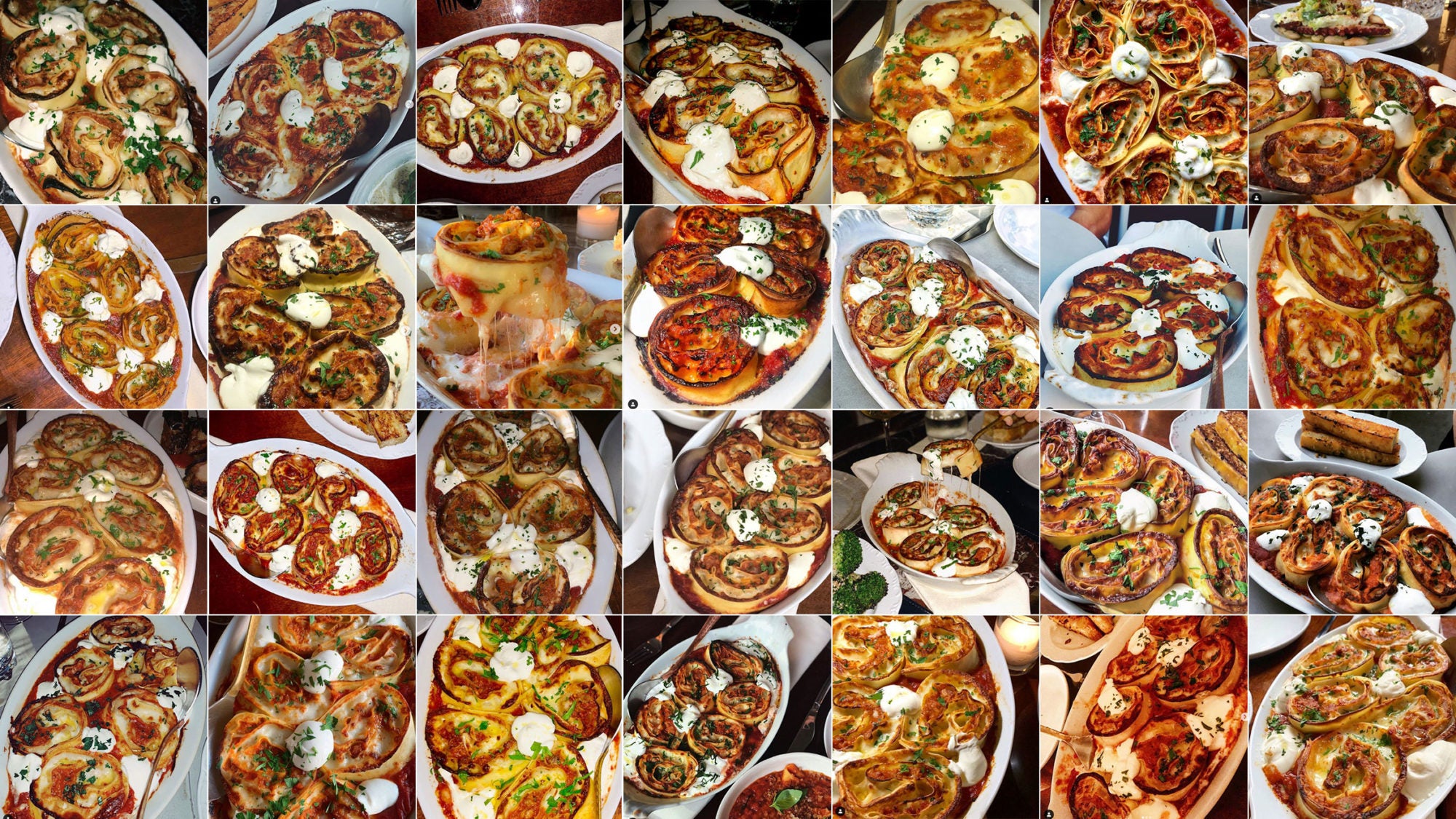 This bouquet of lasagna swirls is one of the most photographed pastas in New York.
If you've ever been to Don Angie, a modern shrine to Italian American food in New York's West Village, you've probably seen them landing at every other table in the crowded dining room: six swirls of paper-thin pasta and meaty Bolognese, nestled into an oval baking dish and punctuated in the crevices with dollops of silky Robiola cheese. Actually, if you've even had a fleeting idea of paying Don Angie a visit IRL, you've probably seen these lasagna rolls not IRL, but plastered across the Instagram geotag and featured front and center in every review of the restaurant.
The "Lasagna for Two" has been on the menu since Angie Rito and Scott Tacinelli opened the restaurant in October 2017. Rito got a twitch of inspiration from the sight of a pan of cinnamon rolls nestled together. Tacinelli gave it a go in lasagna form, and as he said, "We kind of almost nailed it on the first try."
Only later did they realize that the dish was a close cousin to rotolo—Tuscan swirls of greens and ricotta rolled into pasta. The process of making it is a little like the childhood snack everyone made in the '90s where you would roll up ham and cream cheese in a flour tortilla, and then cut it into bite-size pieces. You just take a sheet of pasta (you can make it at home, but some grocery stores and Italian markets sell it in fresh sheets), spread a layer of béchamel across it, and sprinkle some cheese over the mixture. After another sheet of pasta, spread with bolognese, you roll the whole thing into a giant log, chill it in the refrigerator, and then cut it into the individual rolls that are ready for the oven.
This method makes it easier for a restaurant kitchen to execute 30 to 40 orders of the lasagna in a night. "If you do a square lasagna and cut a piece out of it, then you have to cook the whole lasagna and cut pieces out, and reheat them," Tacinelli tells me. Instead, the Don Angie kitchen forms and refrigerates all of the rolls ahead of time and cooks them to order, which only takes about 15 minutes.
And although Instagram was never part of the end goal for the rolls, Tacinelli concedes that the dish is a bit aesthetically motivated. "Regular lasagna is not really attractive to eat at a restaurant. It never looks nice," he says.
Since all lasagna is unequivocally, exceedingly beautiful, my fellow TASTE editors and I have to respectfully disagree. Nevertheless, in our cookbook, Lasagna, we write about lasagna rolls that can be made with dry store-bought lasagna noodles. The method works with almost any lasagna fillings you could imagine, but we stand behind rolling these noodles full of caramelized fennel and sweet Italian sausage. Tuck them into a little baking dish with some extra béchamel, and bake them into the cheesiest bouquet of roses you've ever seen.