You Will Instagram This: Du Pain et des Idées' Escargot Pastry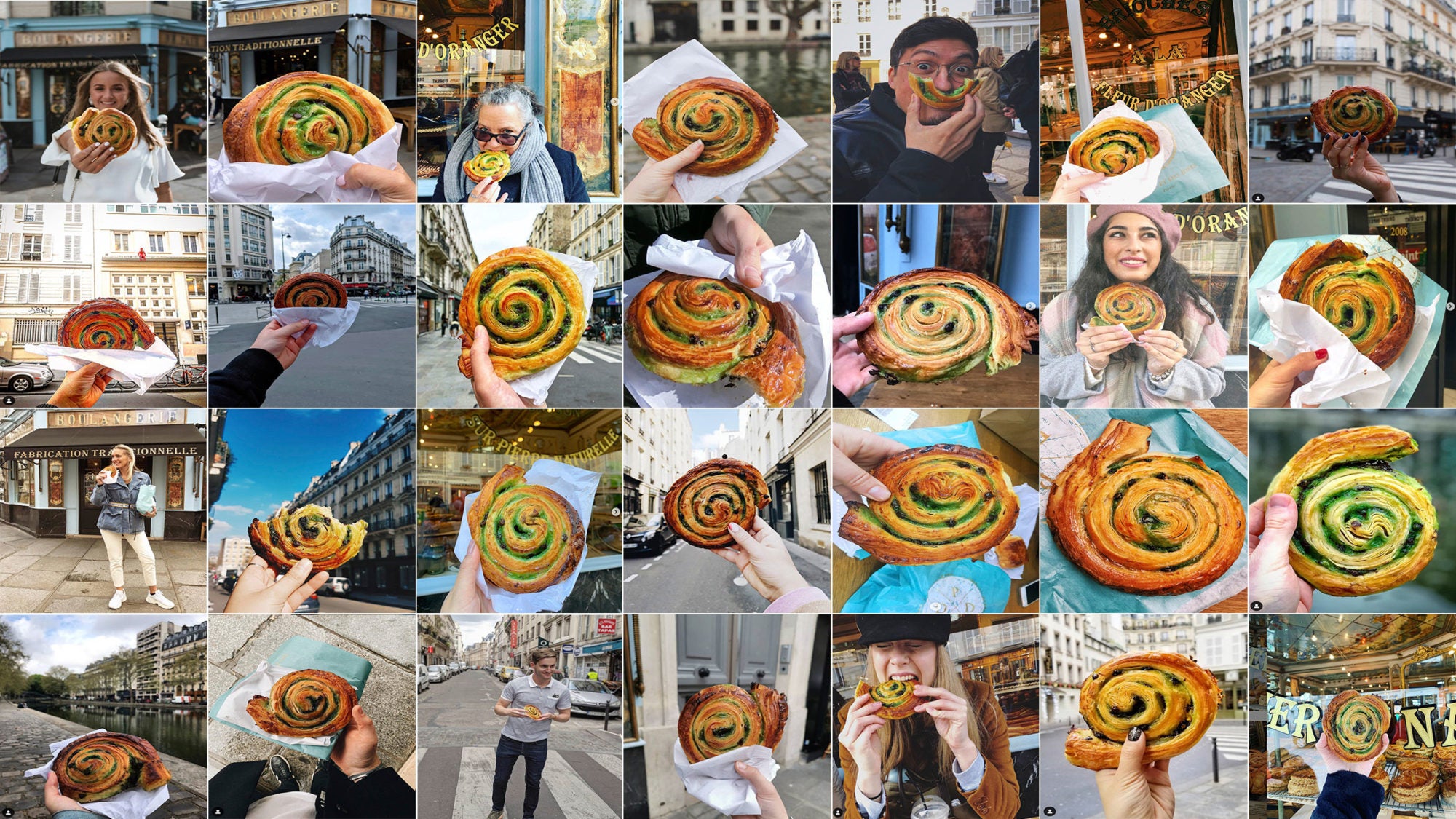 The most famous pastry from Paris isn't the croissant.
In Paris, there are the glass pyramids of the Louvre, that flickering lattice tower on the Left Bank of the Seine, and the golden laminated dough spirals of the 10th Arr. A tiny architectural marvel in its own right, the escargot pastry from cult bakery Du Pain et des Idées near Canal Saint-Martin has made a name for itself as one of the city's great attractions.
The escargot merely shares a shape with the customary hors d'oeuvre—no snails or garlic butter were involved in making the dough. Just like pain aux raisins, laminated dough is formed into a flat pinwheel. But instead of a dried-grape-speckled interior, the corner bakery's most famous pastry punctuates its spiral with an unusually bright green pistachio cream and flecks of chocolate chips.
Each morning, dozens of other sweets, like stone-fruit-studded tarts and apple-stuffed turnovers, are placed behind the boulangerie's pastry case, but none have quite the appeal of a flaky pistachio-chocolate escargot. A quick scroll through Du Pain et des Idées' Instagram geotag, and it's clear what the must-order item is—going there and not ordering a chocolate-pistachio escargot is like going to Roberta's and sticking with a romaine salad.
But in a city with millions of pastries to choose from, why the escargot? Have we forgotten about the croissant, the unofficial soft-power ambassador of France? While the precise buttered layers of airy dough are hidden inside of a croissant's shell, the escargot's are loud and clear—and, not to mention, whisked with pistachio cream. Plus, the escargot knows its angles—its light glaze holds up to the glow of Parisian morning light, and fine lines of layered dough peeking out from the waxed paper bag are juxtaposed against the boulangerie's picturesque periwinkle storefront and golden-lettered glass windows.
When asked his opinion on the escargot pastry, chef and Paris-based cookbook author David Lebovitz explains his theory. "I suppose with the bright green swirls, the escargot pastries attract the most attention and are certainly photogenic, but my tastes lean toward more-rustic pastries, and I like my pastries on the less-sweet side," he says. It may be less Instagram-friendly, but Lebovitz makes a case for the boulangerie's unsung spelt bread, packed with seeds and crunchy bits.
Since its opening in 2002 by Christophe Vasseur, Du Pain et des Idées has seen a shift in customers, with about half of those in line being tourists, notes Lebovitz. "I don't subscribe to the feeling that tourists 'ruin' places," says Lebovitz. "I think a lot of people come to Paris to eat well and enjoy good pastries and bakeries, and just because a place is popular with visitors doesn't mean it isn't good. I never understand why tourists specifically say they want to go to places without tourists in them. It's a little baffling!"
Du Pain et des Idées
34 Rue Yves Toudic, 75010
Paris, France