Will Cooking Classes Ever Be the Same?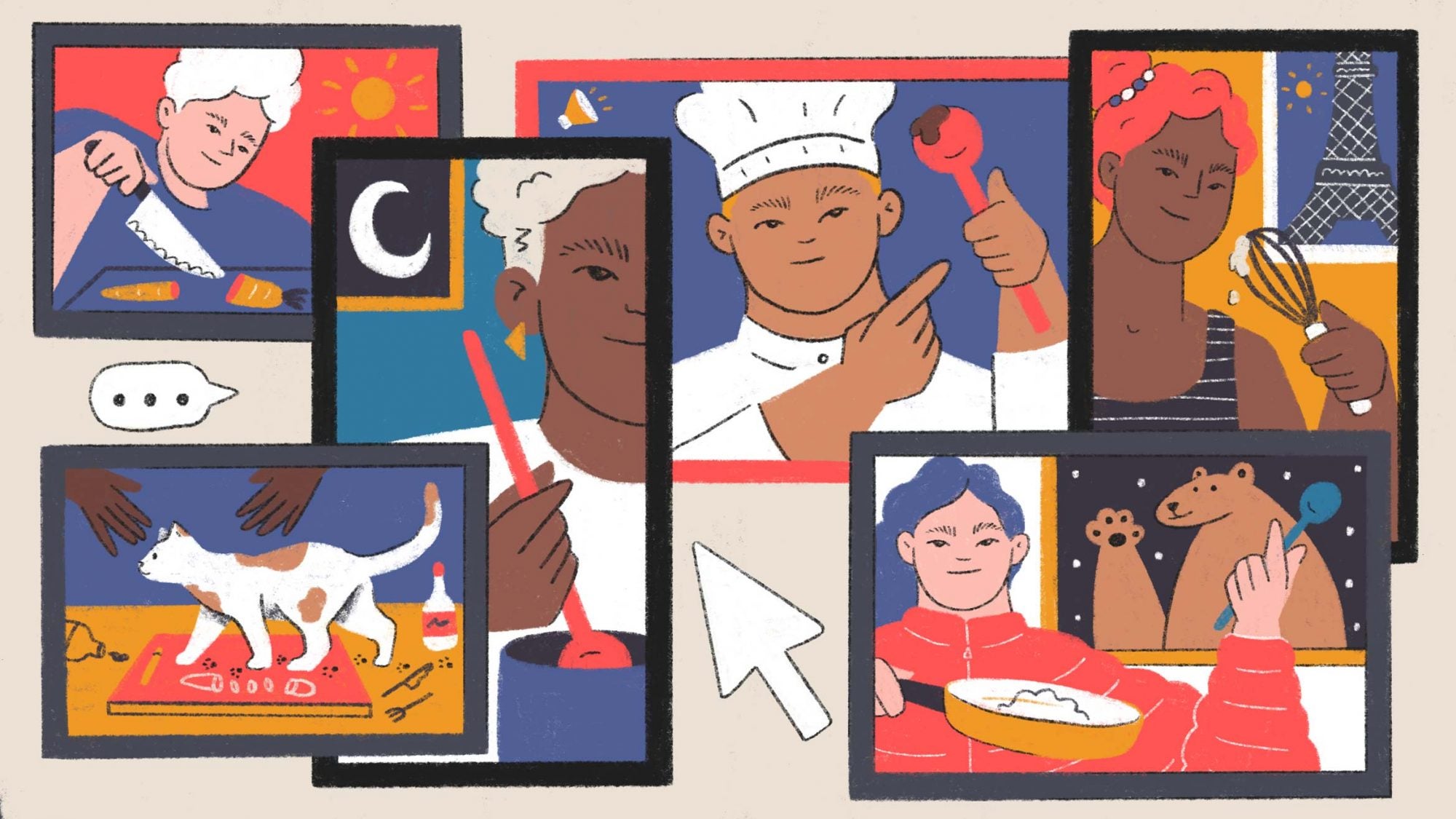 The inevitable move to online platforms has taken some of the sensory joys out of cooking classes, but it's replaced them with a sense of democracy, serendipity, and the occasional bear in the background.
"I see that you're having trouble getting the tofu out of the container," a moderator teases from a corner of gallery view. I'm watching a recording of the Lunar Banquet for Uncle Vicha, a cook-along stream that took place over Zoom one Monday night in late February. Leading a remote audience of more than 100 home cooks, eight New York City chefs (cleared to gather) took turns cooking from Essex Pearl, a kitchen below Essex Market on Manhattan's Lower East Side. Organized by #EnoughIsEnough, an anti-racist initiative by Asian American food businesses in New York City, and hosted by the cooking-class-meets-fundraising platform Kitchen Rodeo, the event helped raise $76,737 for underserved communities of color in honor of Vicha Ratanapakdee, an 84-year-old Thai man who was fatally assaulted in January in San Francisco. The goal had been $25,000.
Because of my work schedule (I live in Los Angeles), I did not get to cook the menu of sesame tofu, pho ga, Vietnamese egg coffee, zhajangmyeon, and osmanthus flower jelly alongside the other attendees. It was my loss. When I watched the event a few days later, with the video expanded to fill my screen, I almost forgot that I wasn't tuning in live. In gallery view, a gray cat kept slinking across one screen, mincing its way among its person's mise en place (the first dish, sesame tofu, called for sesame paste and sesame oil, light and dark soy sauce, furu, black vinegar, chile oil, Kewpie mayo, salt, sugar, star anise, toasted sesame seeds, chopped scallions, radish, and that tricky silken tofu). In another screen, Eric Sze (chef-owner of 886 in the East Village) asked where the stove's pilot light was, while Lucas Sin (chef at Junzi Kitchen) explained tofu blanching to the group. A relaxed party atmosphere was palpable, gaining energy as the event went on—although some home cooks looked a bit anxious as they peered at their screens.
The past year has seen a surge in live online cooking content, much of it streamed over Zoom, YouTube, or Instagram. Home cooks of all levels wanted to take on projects, advance their skills, and become more self-reliant. It was a time that seemed tailor-made for tutorial platforms like MasterClass, which offers access to culinary stars like Alice Waters and Yotam Ottolenghi—even if you've never been to Chez Panisse or NOPI, let alone San Francisco or London. But alongside the big names, a crop of smaller, scrappier live classes started popping up on Zoom and other platforms. Seemingly overnight, people across the world could interact, sometimes with shocking intimacy, with the chef behind their neighborhood date spot or the author of their favorite cookbook. Closing the gap even further, some began sharing curated ingredient boxes to bring what Mavis-Jay Sanders of Food Plus People calls a sense of "shared tangibility."
The sheer volume of offerings has made hanging out over a meal more accessible to people who are avoiding alcohol or who have food allergies, disabilities, or caretaking responsibilities.
More than a year into the pandemic, the popularity of these classes remains strong. The sheer volume of offerings has made hanging out over a meal more accessible to people who are avoiding alcohol or who have food allergies, disabilities, or caretaking responsibilities. And many home cooks are more comfortable than ever before with logging onto a Zoom call with strangers.
"It's a true testament to food encompassing everything," says Moonlynn Tsai, a chef who has taught classes with Kitchen Rodeo. In early 2020, responding to anti-Asian racism, Tsai cofounded Heart of Dinner, which provides food security to members of the Asian immigrant community in New York City, with her partner, Yin Chang, and is an #EnoughIsEnough organizer. "It's the conversation, it's the heart behind it."
Obviously, there is a lot that doesn't work well over Zoom. For Jess Wang of Picklé, an in-person fermentation class in Los Angeles that moved online during the pandemic, giving students important sensory information—the zing of a young radish pickle, the zippy scent of water kimchi, the soft fizz of chile pickling in brine—can't be replicated through a screen. (She has created pickup tasting kits to help fill that gap for local students.) But, even if not everything translates the way it would in person, there are some things that the livestream format provides that in-person experiences can't.
"We've had people [take the class] from Alaska, and all of a sudden, there's a bear that walks behind them, and everyone stops and watches."
"We've had people [take the class] from Alaska, and all of a sudden, there's a bear that walks behind them, and everyone stops and watches," says Natalie Riha, who manages operations of a cooking school in Seattle called the Pantry. She says the Pantry has "kind of fallen in love" with the online format, "because it has extended our reach to people who are not local." The Pantry offers the same number of online classes that it offered in person before the pandemic—a hectic two each day of the week—and, if anything, classes have started to sell out faster, says Riha.
Connection across time zones is a common topic of delight among those who lead online classes. Sandy Allen, a mental health writer and avid amateur sourdough baker, has livestreamed "Breb Classes" from their home in the Catskills to people as far away as Spain and New Zealand. Mohammad Abu Zard, a chef who began teaching online classes during the pandemic through Migrateful, a cooking class platform for refugees, asylum seekers, and other immigrants to the United Kingdom, says he has had participants from all over Europe and the United States. "In one of my recent classes, two people in different cities in the UK realized that they had been in high school together, and it was lovely watching them catch up," he says.
Zoe Adjonyoh, UK-based chef and author of Zoe's Ghana Kitchen, describes her classes as "very relaxed, very informal, and very, very chatty." She had been teaching small classes (eight to ten people, maximum) from her home kitchen in London, and she switched to online teaching in the spring. "People are coming to classes who have been by themselves for months and have been yearning for that kind of connection," says Adjonyoh. "People who are missing work [during the pandemic] are not missing work, are they? They're missing office gossip and their mates and the watercooler moments."
While one's own kitchen can be an unpredictable classroom, the familiar setting can also be more useful, Wang muses. "I think having people use the tools they have at home . . . in a way, it's more personal and more realistic," she says. "They have to see how to translate the recipe to what's available at home, and I think it's something that is probably, in the long run, more helpful."
Under the pressure of the pandemic, online cooking classes have also opened up new, semi-structured ways of accessing informal networks of support and communities whose reach may outlast the calendar event itself. Allen, who is trans and nonbinary, says they received messages from other trans and nonbinary bakers saying, "It means so much to me to see you on camera." Allen says, "I think for me, sharing videos of how to bake bread is a way of saying to whoever needed to hear it, 'Hey, I love you. And we'll get through it right now.'"
The draw of community was palpable at the Lunar Banquet for Uncle Vicha. It was the second year in a row when Lunar New Year celebrations have had to be distanced, at a time when anti-Asian racism has gained national media attention. "Being able to cook for your immediate family, or just your own person, you feel like you're still connected," says Tsai. "And since it's a livestream, you can have conversations with these chefs . . . and feel that love coming through."
As a child of an Asian immigrant with family an ocean away, I can say that this background longing for connection and comfort food is always present, whether there's a pandemic or not. To people like me, I suspect that the appeal of online cooking classes that teach participants how to make a beloved childhood dish, like oden or curry don, may outlast these doom-and-Zoom times, because they offer a new space for distanced diaspora communities to gather around food.
That was an unexpected side effect for Tsai, when she taught a group of students to make Hakka stir-fry over at Kitchen Rodeo. "It's a dish that my grandma made for me a lot when I would visit her," she says. Tsai was surprised to find that a number of students also had Taiwanese Hakka ancestry. "It became more than just a class. It was connecting with people who share the same culture and heritage in America."
Wang has experienced something similar. When she transitioned her workshops to Zoom, she began adding Chinese cookery classes to her usual Picklé fermentation lineup. "I've been having these conversations with students about food memories and food prepared by generations before us," says Wang. "In a lot of Asian families, you have to ask for that recipe before it's too late. Sometimes you don't have the opportunity."
The past year has taught us to cherish surprise, serendipity, specialness—the sense that what is happening now will not happen again. For now, cooking classes provide us with that surprise.
The pandemic has made all too clear that eating is always social, even when we eat alone. It's about culture, politics, labor, and the environment, and that's true even when it's being taught, prepared, and shared through a screen. Already, the cooking class format is evolving, making more room for these conversations, with highly choreographed "cook-along" experiences like Bollywood Kitchen, a virtual performance by the cookbook author and filmmaker Sri Rao, and Studio ATAO's "Cook the Menu," a remote take on the popular Asian in America VR exhibition and multicourse dinner party series led by chef Jenny Dorsey.
As "Zoom fatigue" digs its claws into the lexicon, whether we'll be tuning into cook-alongs a year from now remains, like so much else being done virtually, to be seen. The past year has taught us to cherish surprise, serendipity, specialness—the sense that what is happening now will not happen again. For now, cooking classes provide us with that surprise ("Hey, look! A bear!") through the screen. But many will prefer getting their kicks in person, at a friend's kitchen, for example, or at the karaoke bar.
Still, it's likely that the variety of online, real-time learning options that have developed for home cooks are here to stay. I, for one, hope that they will resist the urge to polish and prerecord, and instead lean into what Tsai calls "the beauty [of] the mess-ups." Those who are looking for connection as well as instruction may begin to migrate from Zoom to other, even more interactive, chattier platforms, like Patreon and its Discord messaging app.
Natasha Pickowicz, who taught a Chinese banquet "epic fruit platter" and sesame brittle class with Kitchen Rodeo, has also gone the text route to supplement her freelance work. With DEMI, a subscription service that connects food professionals with online audiences through group texts hosted on WeChat, Pickowicz has moderated what she calls a "Never-Ending Salon" chat for home bakers and pastry chefs of all levels. Access to the WeChat costs $10 a month, and in return, members get to text directly with Pickowicz and one another about all things pastry. "I like that it removes the wall of teacher versus student," she says. Some people in the group chat have described it as a "pastry support group."
Adjonyoh says she has "wholeheartedly embraced online cookery classes," but she is interested in seeing where the conversations will go. "We've been given this gift of seeing [that] there are different modes of living, different realities," she says. "We can choose outside of the structure of society that we were all in before."
"There's this way you lived before the pandemic, and then there's this other way you can live after," she adds. "So, what do you want to do?"