Breaking In The Whole30 Cookbook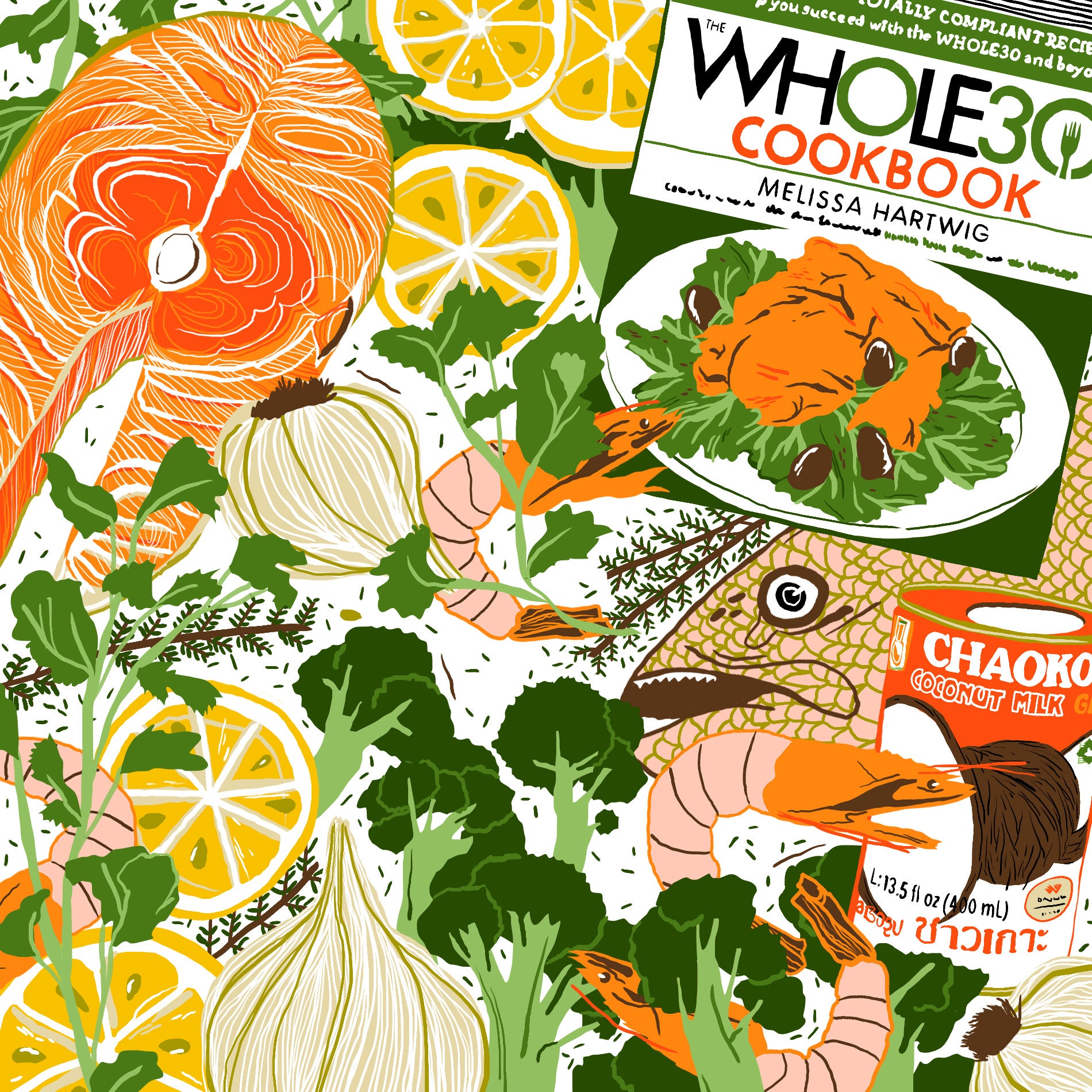 Crack open any cookbook and you are confronted with a dizzying collection of recipes. If you are actually going to make something for dinner (and it's OK if you're not!), choices need to be made. In BREAKING IN, we prepare a few interesting recipes to get a feel for the book. This is not a review, but rather a firsthand experience of cracking the spine of a new cookbook.
When a diet book hits the best-seller list, you can bet your firmed, toned, and cellulite-free butt it'll be followed by a cookbook aligning with its marching orders. The diet in question today is Whole30, a 30-day plan that's a near replica of the paleo diet. But where paleo is a lifestyle, Whole30 is a strict monthlong commitment designed to "reboot" your system. You may have seen its low-carb, no-sugar trappings on your Instagram feed, hashtagged #whole30. Last year the plan's co-creator Melissa Hartwig wrote The Whole30 Cookbook (Houghton Mifflin Harcourt), full of "150 delicious and totally compliant recipes" to help aspiring health nuts feel better about their bodies and their selves.
One of the key results this book promises is "food freedom," which as I understand it means feeling better about your relationship with food, feeling better about your body, and feeling better, period. Participants are instructed to not step on a scale during their Whole30 month. The logic? "Your reset is about so much more than just weight loss." You're also not supposed to consume sugar of any kind, alcohol, grains, legumes, dairy, or re-created "treats"—the latter could perpetuate bad habits and cravings. If you follow these restrictions, the book promises, you'll find that freedom on the other end.
For a book so focused on healthy attitudes, the introduction is quite militant. In the "It's for Your Own Good" section, Hartwig preaches: "Don't you dare tell me this is hard. Beating cancer is hard. Birthing a baby is hard. Losing a parent is hard. Drinking your coffee black is. not. hard." This section is followed by the "Don't even consider cheating" section. It's all very scary, very all-or-nothing, very "If I fuck up once it's all over for me," which, I suspect, isn't exactly a healthy perspective. But anyways, the recipes.
On a recent Sunday evening, my roommate and I knocked out three recipes for a single meal: the "dump ranch" dressing, the shrimp gremolata, and the one-pan herb-crusted roasted salmon with roasted broccoli steaks. We fed a table of five, and somehow—despite the starchlessness of it all—the meal felt plentiful, the fish and the shrimp and the vegetables and the chopped salad dressed with faux-ranch.
DUMP RANCH
The "dump ranch" dressing tasted nothing like the Hidden Valley gloop of my childhood, probably because it called for herbs and not dill. It was more reminiscent of green goddess, thanks to parsley and a whole lot of acidity from the wine vinegar and lemon juice. (Its name comes from the fact that you dump everything into a blender, then blitz it.) For thickness and fat, it starts with an egg and some olive oil and some full-fat coconut milk, which makes for a creamy but still a little bit watery result: It slipped off of the romaine and cucumbers we tossed it with and pooled at the bottom of the bowl. The coconut milk didn't add much coconuttiness, which was honestly a little sad, and I kept thinking about the people who would try using light coconut milk and got even sadder. Regardless, I'm very happy to have a container of it—with a little extra salt and garlic powder and onion powder shaken in—in our fridge, for mixing with grains (forgive me, Melissa Hartwig!) or dipping vegetables in when I'm feeling like a healthy mindless snack.
MAKE IT AGAIN? Sure, but I'd probably use dill, up the garlic and onion, and use more of the coconut cream that collects at the top of the can for a thicker (and richer) consistency.
HERB-CRUSTED ROASTED SALMON WITH ROASTED BROCCOLI STEAKS
This salmon with a long name was quite wonderful: It starts with a blitzed mixture of herbs and lemon (both juice and zest) and olive oil, into which you stir some almond flour. Slather this on your fish, slice some broccoli "steaks," brush those with oil and salt and pepper, and roast at 400° F. After the prescribed 25 minutes, our broccoli was lightly charred and the salmon lush and soft, having been protected under the canopy of flavorful green gloop. That gloop never crisped up, which I think maybe it was supposed to thanks to the almond flour, but it still felt more substantial than a simple smear of herby oil would have.
MAKE IT AGAIN? Yes, and I'd make it just like this, quickly and happily, and then go to bed feeling virtuous and have a pastry for breakfast.
SHRIMP GREMOLATA
We mostly made the shrimp gremolata because it called for very few ingredients and we had a large bag of frozen shrimp from Costco in our freezer. Essentially you broil the shrimp—the book's instructions to almost cut them in half "horizontally" are confusing, but we made a slit in their bellies rather than all the way down their backs—and then toss it with a mixture of minced garlic, chopped pine nuts, and lemon zest, broil for another minute, and dress it with "snipped" parsley leaves. We only had to broil ours for half the prescribed time, and we thought the parsley should have been tripled and chopped into the garlic mixture, but otherwise this was a zippy 20-minute shrimp recipe I'd be happy to have in my arsenal if I were tired and strapped for time and working on my Whole30 lifestyle. Next time I'll toss it with pasta (forgive me, Melissa Hartwig!).
MAKE IT AGAIN? When we buy another large bag of Costco shrimp, this is what I'll want to do with it. More parsley, though.
For a book so focused on healthy attitudes, the introduction is quite militant.
These three recipes did what you want diet-focused recipes to do: They pulled flavor from appropriate places (plenty of herbs, plenty of lemon, garlic, and vinegar) to avoid the drudgery of boneless, skinless chicken breasts and steamed vegetables. I won't be writing emphatic emails to my friends urging them to try "dump ranch" and shrimp gremolata, but that doesn't mean I won't be making them again, if I have the ingredients around or I'm looking for a light meal.
But I didn't stop at the first three. For breakfast the next day, I tried the sweet potato breakfast stacks, a very paleo-sounding tower of pan-fried sweet potato slices, garlicky sautéed baby spinach, bacon, and poached eggs. Two eggs and two potato slices and four bacon slices are meant to serve two, but I housed them both myself; half of this wouldn't have held me over for more than two hours, but all of it felt overwhelmingly heavy so early in the day.
I got all riled up about the fact that the ingredient list calls for already cooked bacon, but I couldn't really complain when the whole thing took 25 minutes, just as promised. The eggs made the bacon a little soggy; next time I'd lay the slices on top of everything like a weird '90s garnish. I don't think I'd make it again—I like to be bad in the mornings and enjoy a bowl of 2 percent Greek yogurt—but I will admit this is the most successful egg-poaching technique I've ever tried: You just slip your eggs into vinegar-infused boiling water, turn the heat off, and let them sit for three to five minutes. There were some errant wispies floating around in there, but my eggs were mostly intact and my yolks generously runny.
My favorite cookbooks get me excited about cooking, and that didn't exactly happen here. This cookbook was successful because it didn't depress me the way, say, Lean Cuisines and cans of tuna do. But the "totally compliant" recipes I tested were tasty and quick, and easy to source and prep. They made the people I fed them to happy. If I were going all in on my own #Whole30 challenge (which, you'll be shocked to hear, I'm not), I'd be happy to have this book as a resource. And as all good cookbooks do, The Whole30 Cookbook provides snippets that you can take with you past the confines of their recipes. You don't have to swirl the hell out of your egg-poaching water; broiling is a perfectly fine way to cook shrimp in two minutes. And for the foreseeable future, I'll be blanketing my roast salmon in a bright, verdant, oily gloop. But honestly? I think it should be okay to eat rice!