Who Is Modernist Bread Actually For?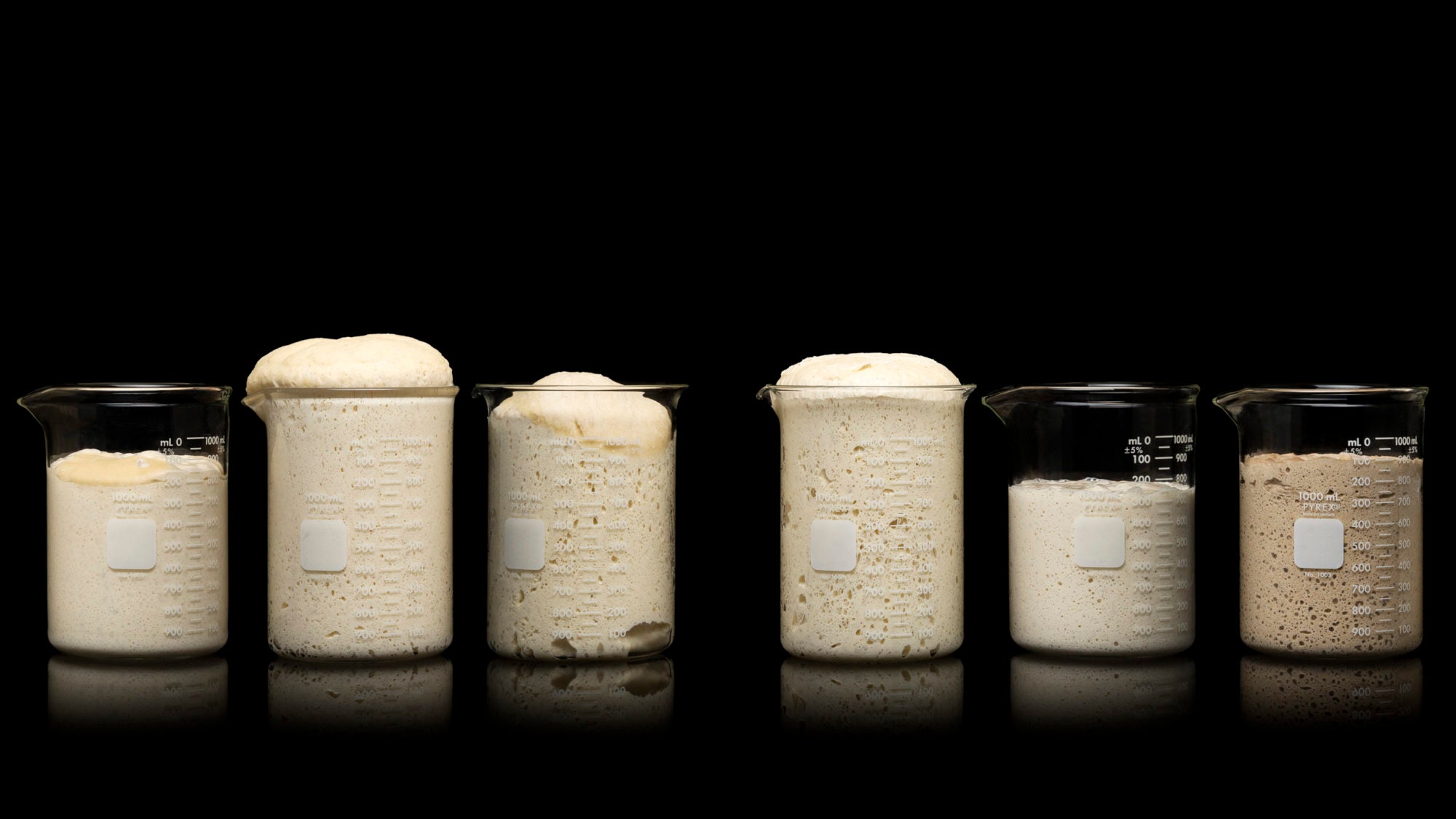 A new cookbook splits the difference between food science and artisanal bread baking.
An old friend's dad has an expression that for years I have recognized as gospel: "The whiter the bread, the quicker you're dead." This poetic maxim was running through my mind earlier this month as I began—with one eyebrow raised—mixing dough for an easy three-and-a-half-hour recipe for just that: white sandwich bread. The recipe was one of several I'd been testing out from Modernist Bread, the newly released five-volume cookbook on bread of all kinds, and I was all but certain the resulting loaf would kill me. That is, if paging through a five-volume, 2,600-page cookbook dedicated solely to bread didn't kill me first.
Modernist Bread weighs 53 pounds, holds 1,200 recipes, and is a spinoff of 2011's Modernist Cuisine, an opus that exhaustively chronicles, debunks, and improves upon the craft of cooking as we know it. Unlike other baking manuals, like Flour, Water, Salt, Yeast and Tartine, Modernist Bread's intent is to present the widest spectrum of bread-baking possible. This means not just indulging in the current trend of artisanal sourdough, but allowing room for recipes for bao, vegan brioche, injera, bagels, gluten-free bread, and yes, even plain old white sandwich loaves.
Modernist Cuisine covers everything from chef's clothes to the reason cabbage changes color when boiled. Modernist Bread, on the other hand, is about bread—and bread alone—and is almost 200 pages longer than its predecessor. It will cost you $554.18 on Amazon. "No bread baker who is surviving on a bread baker's salary would ever be able to afford to buy it, unless he has a really nice boss like me, who buys it for them because he loves them so much," Jim Lahey of Sullivan Street Bakery tells me.
So if not for professional bread bakers, or amateur home bread bakers, who is Modernist Bread for? And in what universe is it worth the investment?
The book's primary architect and author, Nathan Myhrvold, is one of those guys you might see parodied on Silicon Valley—a megawhiz, he started college at age 14 and did his PhD work under Stephen Hawking. He worked at Microsoft for 13 years, until 2003, when he launched the Modernist Cuisine project. His mission? To develop the seminal text on the scientific approach to cooking, complete with intense high-resolution photographs of food and tools in ways you've never seen them before: eggs in different stages of doneness, crockpots sliced directly in half, and satisfying cartoon-like stacks of various sandwich fixings.
In the introduction to Modernist Bread, Myhrvold writes that he baked his first loaf of bread at age nine and has been in love ever since. After seeing the success of Modernist Cuisine (it sold 220,000 copies in nine languages, he notes), Myhrvold wanted to apply the same exploratory scientific approach to bread, an "endlessly fascinating" genre of food and "a combination of art and alchemy, history and creativity, discovery and invention." He enlisted Francisco Migoya, the former executive pastry chef at the French Laundry and Bouchon Bakery and professor at the Culinary Institute of America, as his copilot, and off they went to try to reinvent the wheel.
"One of the lessons we learned from Modernist Cuisine was that the information in it, while great, it wasn't easily digestible for a lot of people," Migoya tells me over the phone. "That included professional chefs." That realization resulted in the release of Modernist Cuisine at Home in 2012, a more approachable 456-page compendium of Modernist Cuisine's greatest hits; it cost only $114. Migoya says Modernist Bread, which they worked on for four years and is also the inspiration for a podcast series, was the team's attempt at falling somewhere in the middle: "In the different recipe categories, we have broken it down by what recipes are for beginners, what recipes are good if you have time, what recipes to use if you need bread tonight. It's a guide for what you can do and what you might want to do."
You stare at your loaf of bread as adoringly as a father would stare at his daughter who just sung at her recital. It's a fucking loaf of bread, and you're going to eat it.
If you had told me a year ago that a book like Modernist Bread was going to be released into the world, I would have scoffed. Who on earth needs 2,600 pages of bread recipes? But since I began baking my own bread a few months ago, I've started to understand why bread has become the object of many home cooks' obsessions, and why so many of us crave more information, more insights, more Instagram accounts to follow. As Lahey explained to me, "When you're baking a loaf of bread, you're following this process. You're asking yourself, 'Am I doing this wrong?' But then you're like, Wow, I did that. I made that. That is pleasure. You stare at your loaf of bread as adoringly as a father would stare at his daughter who just sung at her recital. It's a fucking loaf of bread, and you're going to eat it."
Lahey's analysis fits well within the model of cookbooks that are decidedly not Modernist Bread. It's the poetic approach—the style Zachary Golper and Peter Kaminsky use in their Bien Cuit cookbook, the same one Rose Levy Beranbaum centers on in The Bread Bible and the one Chad Robertson employs in Tartine, in a book he released in 2010. Robertson's recipes are written in paragraph-long chunks of prose, as opposed to Modernist Bread's punchy lists divided by kinds of ovens, hand mixing versus stand mixing, and carefully calculated timing (sometimes even down to five to seven seconds a task). "Traditionally, intuitive bread making does not lend itself naturally to a written recipe," Robertson writes in the introduction to Tartine. "Before the study of microbiology, bakers understood the subtleties of the process. The nature of fermentation was second nature to their own."
Robertson is speaking exclusively about sourdough, which is—ahem—his bread and butter, but the essence of his thinking is that baking bread, although scientific, comes with a certain autonomy for the baker. The process of making bread is hands-on and highly variable depending on the environment. "Some people like to plunge their hands into wet, gooey, sticky things. As a matter of social conditioning, others are somewhat repulsed by gooey, sticky things," Lahey explains. And Modernist Bread doesn't leave much room for that kind of freedom, the freedom to be intuitive or creative or loose, or flailing, if that suits you. Especially for a new baker unaware of the flexibility of their guardrails, Modernist Bread's layout and style is more like a high school chemistry textbook than a beautiful musing on one of the most beloved foods in the world. The foreword of the book, which is written by Robertson, asks what we're all thinking: "What do we want from another bread book?"
But knowing the rules only helps you break them in the future, so after a month exploring its recipes and recommendations, I found that Modernist Bread is, impossibly, the perfect gift for someone who has never even thought about baking a loaf of bread before. To my surprise, after following Myhrvold and Migoya's abbreviated and straightforward (read: no poetry) recipe for white sandwich bread, I baked the best loaf of bread I've ever baked. As promised in the introduction to the recipe, the mild flavor and tender crumb made for a perfectly upstanding piece of sandwich bread, the kind of bread that sandwiches were invented for. And it was done—from yeast to bake—in barely three-ish hours, with little pain or confusion and by following a recipe so simple that it felt too easy. I ate two slices the next morning as the foundation for an egg in the hole. I guess I'm dying faster.
If there is anything you want to know about bread, no matter how facile it seems, it's in the book. It's been tested and tested again to an obsessive degree and is passed down to the reader like a bank statement—here are the facts, take it or leave it. Chances are, if you're a bread-baking newbie, the initial guardrails that Modernist Bread provides will only lead you to that Robertson- or Golper-esque wistfulness about bread later on down the road. "Part of the reason it took us four years to write this book is to make sure it would be usable by all different people," Migoya tells me.
Besides my white sandwich loaf, I played around with Myhrvold and Migoya's recipes for challah, focaccia, baguettes, country loaves, and a famed chocolate cherry sourdough that tasted like a yeasty brownie. The challah was buoyant and lovely; the focaccia came with a fanatically specific chart about which fixings to throw in and at what point in the baking; the dough for country sourdough could be made in a food processor; there were several different options for baguettes, depending on how seriously I wanted to take things and how much time I had. One of the primary difficulties in using Modernist Bread was having to toggle between volumes—a baguette recipe might be in the fourth volume, but how to shape it is in the third. But after almost a year of employing the poetic approach and feeling things out, there was some relief in being told explicitly what to do, like getting scolded by a severe math teacher.
Which is not to say direct instruction is always easy. My final experiment with Modernist Bread was, not necessarily on purpose, the hardest: the ever-elusive panettone. In the book, for each category of bread, there is always a master recipe and a modernist update, which often features hard-to-find science-y ingredients that allegedly make the task of baking simpler. The master recipe is six pages long, with a litany of additional tips and suggestions on how to not screw it up. Myhrvold and Migoya's modernist adaptation, in contrast, is two short pages with hardly more than six or seven steps—but it requires over 30 ingredients. More than ten of those ingredients I couldn't find in my local grocery store, half of which weren't even available at, gasp, Whole Foods. (Modernist Pantry, a website unaffiliated with the Modernist Cuisine, luckily had both propylene glycol alginate and liquid lecithin in stock.)
Whether by fault of my own intuitive hands-on baking or the cutthroat, deliberately simplified recipe style found in Modernist Bread, my panettone did not taste nor look like panettone. The dough was a thin batter consistency, neither loaf rose in the oven, and when I excitedly performed the ritual of skewering the bottom of each loaf, hanging them upside down to dry, one of the loaves crumbled out onto the floor as if it were too ashamed to even be affiliated with the name panettone. The one that hadn't touched the floor tasted like a very nice fruitcake.
Lahey had said something to me on the phone that I couldn't stop thinking about as I dug into the fruitcake with my hands, lamenting the magnitude of my failure after a long and rewarding list of successes. "There are two forms of bread: tubes and balls," he had said. "And that's all there is."
Modernist Bread might provide the unambiguous and rigorously specific instructions, while other, more romantic bread cookbooks give the baker a chance to beef up their innate senses and skills, but the sweet spot in learning to bake bread at home is inevitably somewhere in between.
Photos by Nathan Myhrvold/The Cooking Lab, LLC