Who Is Lady Baltimore, Anyways?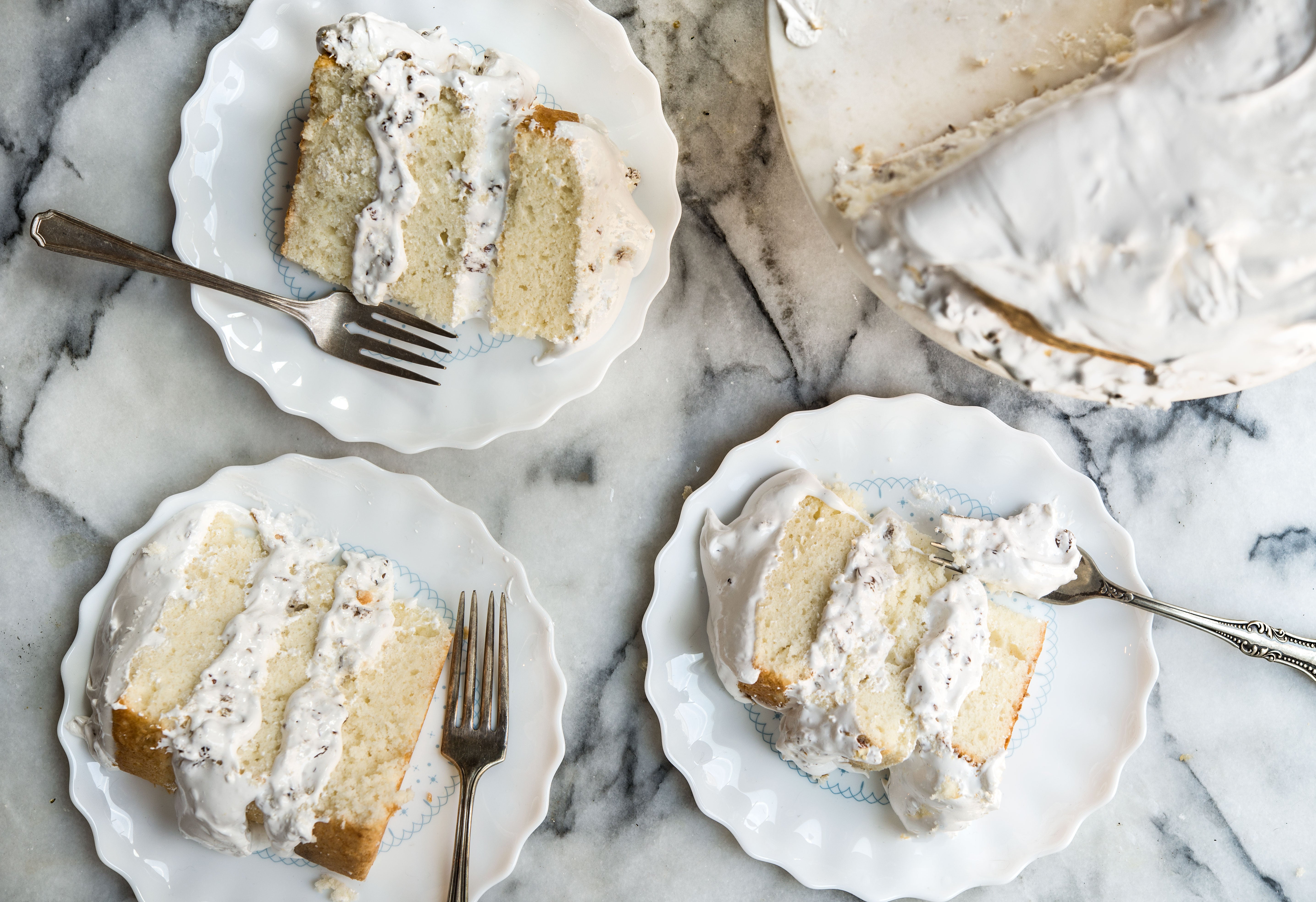 Ladies and gentlemen, we regret to inform you that the woman we all knew as Lady Baltimore never actually existed.
I always figured Lady Baltimore—the woman for whom the grandiose marshmallow-frosted nut-filled layer cake was named—was some old society dame from way back when. Perhaps the wife of a railroad tycoon who hosted lavish Gilded Age soirees in her mansion in Baltimore's tony Mount Vernon neighborhood. Maybe she was called Lady Baltimore the same way a highly important class act like Wayne Newton is called Mr. Las Vegas. An afternoon of high tea at her palatial urban estate involved bone china, slices of her namesake cake, and a riotous hour of mocking poor people. That was the real American dream the Statue of Liberty promised.
Alas, just like Betty Crocker and Mrs. Butterworth, the woman whose name appears alongside cake recipes in many of our cookbooks is fictional. History's only actual Lady Baltimore (whose husband gave the city its name) never even set foot in the New World, died in 1649, and was in no way the inspiration for the confection. There weren't a lot of proper cakes made in England around that time, unless you count the ones that involve beef fat and bone marrow, which I don't.
There are several stories that surround the origin of Lady Baltimore cake, but two facts can be concretely agreed upon: It first appeared sometime around the turn of the 20th century, and it has absolutely nothing to do with the city of Baltimore. It is a house of cards, a con job, a cake of deception.
Why the lies? Lady Baltimore is a simple cake from the deep South made from relatively cheap ingredients: eggy chiffon layers covered in boiled icing, filled with raisins and "nut meats"—the lack of specification meant the baker could use whatever is plentiful in the area. Its butterless icing and dry filling meant it could hold up on the most humid of days, making it ideal for a hot summer wedding. But the name lends the cake an air of romance. Fancy balls and elegant dresses may seem routine for a fictional figure like Lady Baltimore, but for most women, their wedding day is the only shot they've got to feel like American royalty. Certainly, a cake befitting a made-up society lady in one of America's poshest Gilded Age cities would also befit a rural bride imagining that, just for one day, she was the most glamorous woman in the world.
So who cares if Lady Baltimore was real or not? Maybe the point was for us to use our imaginations all along—to be able to take a bite of something so luxurious and breathtaking that we were instantly transported to an age of elegance. When we eat Lady Baltimore cake, we are not peasants: We are kings and queens who revel in the exquisite. The magic of this recipe is not the story of where it came from, but the story it's been writing for over 100 years.