Whisk Your Way to Better Roast Potatoes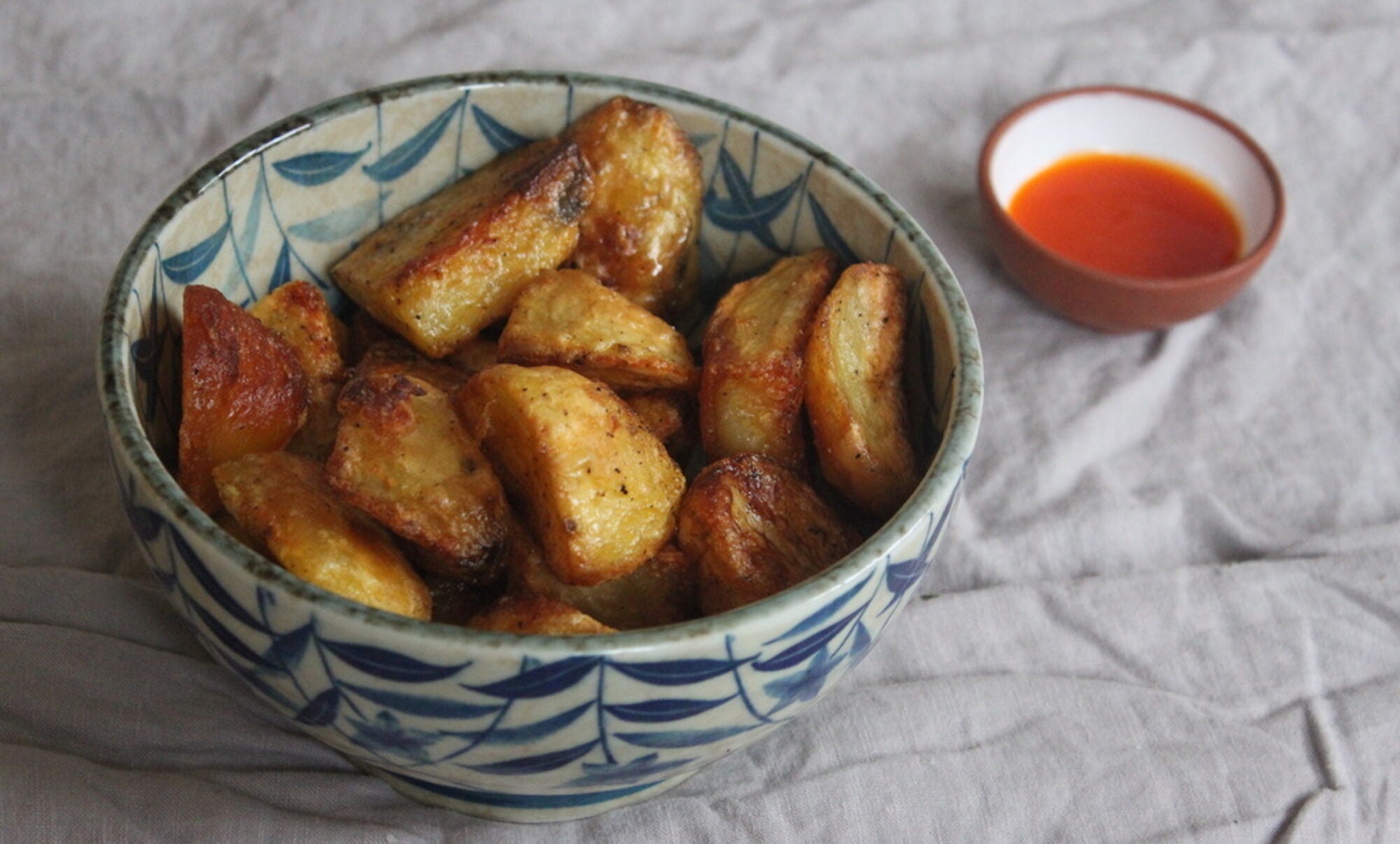 For potatoes that are creamy on the inside and perfectly crisp on the outside, this handy baking tool is all you need.
When the UK went into its surprise lockdown last year—the one where Christmas was canceled after weeks of Boris Johnson insisting Christmas wouldn't be canceled—I found myself obsessed with making roast potatoes. I'd done sourdough, turned milk into ricotta, and ruminated on fresh pasta. But the tone of this lockdown was different. There was less "we're all in this together" and more "let's just make the most of what we have."
What I had was a lot of potatoes. And a lot of ways to eat them—baked, mashed, smashed, jacketed, aloo tikki, gnocchi. And a lot of time to cook them. It was reassuring that something so—let's admit it—boring could throw itself so fully into many different roles. (The character actors of the vegetable kingdom!) Potatoes are both predictable and full of possibilities, not unlike early 2021. One possibility is this recipe for whisked—yes, whisked—roast potatoes.
It was reassuring that something so—let's admit it—boring could throw itself so fully into many different roles. (The character actors of the vegetable kingdom!)
This "recipe" is more like a technique, and you can apply it to any roast potato recipe you have, as long as you're using a starchy potato like Russet or Yukon Gold. The result: crispy, golden-brown, almost curly fry–like spuds on the outside, in stark contrast to the fluffy, just-shy-of-creamy inner texture. It involves two key steps: agitating peeled, blanched potatoes with a whisk, then roasting them in preheated oil.
As a baseline, I follow the "roasted roots" formula Anna Jones maps out in her cookbook A Modern Way to Eat, where potatoes or parsnips are peeled, halved or quartered (depending on size), and blanched before going in the oven for upward of an hour. I also employ a Dorie Greenspan tip to "landscape" a roasting pan by pouring just enough oil to cover its bottom and then sprinkling salt and pepper directly onto the oil. Then I place the pan, with its salted and peppered oil, into the oven as it preheats. Roasting potatoes in hot oil makes sure any moisture on their surface dissolves immediately (that's why they make a hissing sound), resulting in crispy, seared exteriors rather than soggy or leathery ones.
Many cookbooks I read during lockdown (or, as I like to call it, "Adventures in Potato Roasting") mention shaking partially cooked potatoes in a colander to get them really scruffy, increasing their crisp-able surface area. But no matter how vigorously I shook the colander, I didn't get the scruffy texture I was promised. That's when I noticed the whisk sitting in my utensils crock.
As it turns out, taking a metal balloon whisk to partially cooked potatoes and actively agitating them is a foolproof way to ensure the potatoes soak up all that seasoned oil. A whisk is particularly well suited for this because of its many thin wires, which leave deeper and more numerous imprints than a fork or a potato masher, without totally crushing each piece. The longer you whack the potatoes with the whisk, the better. Think of it as a one-handed drum solo.
I used to react to any recipe that asked me to peel potatoes by . . . finding another recipe. But for the whisking technique to work, the potatoes need to be peeled so that their interiors are exposed. One way to save time is to peel the potatoes in advance: submerged in water, they'll keep in the fridge for up to 24 hours.
The recipe is deliberately simple, to keep it suitable for most diets and allow for infinite riffs. Add spices to the potatoes when they go into the roasting pan, from paprika to chaat masala, or roast garlic alongside them so you can toss everything together before serving. It scales up or down easily. While you can and should eat the potatoes as a side dish, my favorite way to serve them is as an at-home bar snack, with ice-cold beer or dry red wine and a buffet of sauces.