Where There's Summer Fruit, There Are Galettes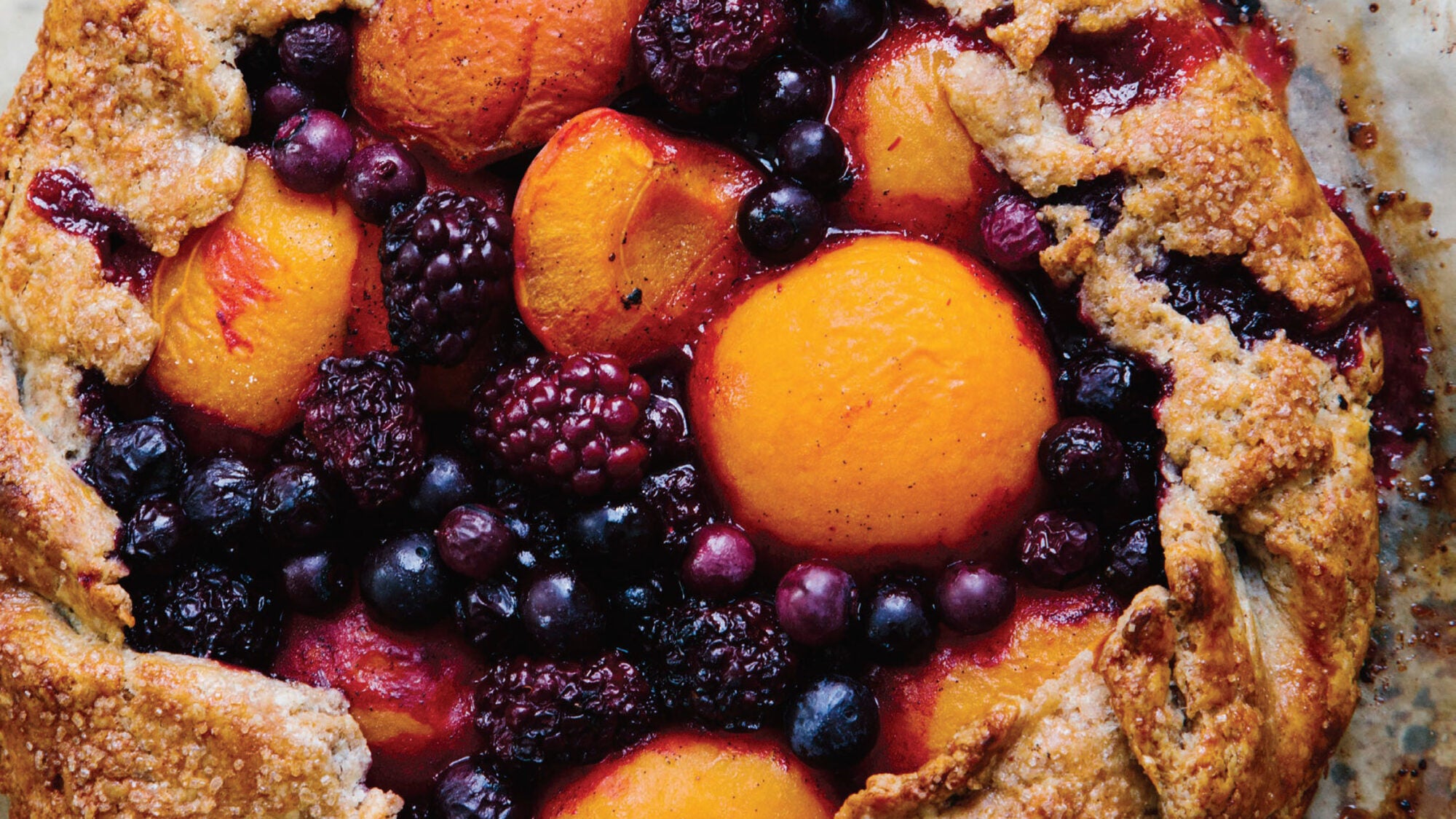 Yossy Arefi has some ideas for that pile of ripe peaches on your countertop.
"Despite the heat, I think summer is the best time of year to bake," writes Yossy Arefi in Sweeter Off the Vine. From bubbling peach galettes with demerara sugar–sparkled crusts to slab pies stuffed with juicy apricots, a quick scroll through the Brooklyn-based photographer and writer's Instagram says it all. She makes a compelling case for a sauna-like stint in the kitchen with the oven cranked to 350ºF, especially right now, when the markets are packed with peaches, blueberries, and apricots in New York City and much of the Northeast.
The height of this blazing summer harvest has us reaching for Sweeter Off the Vine, a book that was originally published in 2016. Luckily, there's no shortage of fresh ideas about how to put your farmers' market haul to work. The pages of Sweeter Off the Vine are filled with bursts of berry-clad spelt shortcakes, fluffy ice granules of melon granita, and bowls of whipped ricotta crowned with piles of figs—plus all-purpose templates for crusts, creams, and tart shells suited for any seasonal ingredient. Throughout her recipes, there's a tendency to enhance fruit with spices in subtle ways: Sugar meets threads of vibrant saffron and vanilla bean to lightly sweeten blackberries, and roasted cherries get a warm, heady infusion of cardamom, bay leaf, and black pepper.
With her second cookbook, Snacking Cakes, coming out this fall (which you can preorder here), Arefi's baking style hones in on straightforward, everyday cakes—but it doesn't skimp on the options. (There are 50 base recipes and seemingly endless variations.) I recently caught up with Arefi to hear more about her cookbooks—old and new—plus a few of her best tricks for getting out of a baking rut.
We're in prime fruit-baking season right now, but with fewer gatherings this summer, has the way you've been baking lately changed at all?
Just about any fruit dessert can also make a great breakfast, so a little extra is no big deal. Fruit crisps are the ultimate scale-up or scale-down sort of recipe, so I've been making a lot of them.
You can use just a handful or two of fruit for one or two people, or fill up a 9×13 baking pan if you have a big family. They're also so easily adaptable—use whatever fruit looks best at the market, sweeten and spice to taste, and make a buttery, crumbly topping with whatever combination of flour, oats, and nuts you like. I made a vegan and gluten-free rhubarb and raspberry crisp that was so good. I just learned about Miyoko's Creamery (their cultured vegan butter is so good!).
What ingredients are you most excited about from the farmers' market right now, and what do you plan on doing with them?
We are just starting to get really good stone fruit, and I absolutely love baking with plums and nectarines. They are great just about any way, but one of my favorites is making Italian plum pie with a cardamom-rye crust. Nectarines make excellent pies and galettes, too, and you don't have to peel them.
I think anyone who follows you on Instagram knows how you feel about galettes. But out of buckles, cobblers, crisps, and slab pies—what's a close second, and why?
Crisp! It's so easy and adaptable. I have to admit, I am a lazy cook and baker in the summer, and crisp is the perfect way to celebrate summer fruit.
For the people who try to avoid their oven at all costs during the summer, what's your no-bake dessert solution?
I think a galette or crisp is always a good idea (use whatever fruit you like!), but if you don't want to turn on the oven—wine-soaked peaches with lemon verbena or watermelon granita with chile and lime. Both are so refreshing!
Your next cookbook, Snacking Cakes, is coming out in October. What was it like writing your second book?
I had so much fun writing Snacking Cakes! It was such a fun experience to really zero in on one topic and just go for it. The goal was to make a book full of cakes that were appealing and interesting, but also totally not intimidating for any level of baker.
The cakes are so fast to put together, and the sort of thing that you can keep on the counter for a few days to cut a little sliver off when you are feeling snacky. I tried to hit every possible flavor craving—there are 50 base recipes but lots of variation suggestions, so there is hopefully something for everyone. I hope people love it as much as I loved writing it.
Do you ever find yourself in a cooking/baking rut? What helps you get out of it?
Yes! I flip through cookbooks and scroll through Instagram. This time of year especially, I love vegetable-forward cookbooks, and I've really been enjoying Vegetable Kingdom by Bryant Terry. The panko-crusted cauliflower and coconut curry is so, so good. Then, for dessert, The Joys of Baking by Samantha Seneviratne—which is full of beautiful stories and recipes. I also just got New World Sourdough by Bryan Ford, and I am excited to dive in.
On Instagram, I always want to eat whatever Hetty McKinnon is making for dinner, or Natasha Pickowicz's delicious fruit-forward desserts. Adrianna Adarme is always cooking up something good, and Angela Davis inspires me to get out and grill. Plus, Millie Peartree, Heart of Dinner, Food Bank for NYC, and God's Love We Deliver—who are working hard to feed people during our current crisis.
I used to stroll through the farmers' market a few times a week, but I'm doing less of that these days. I follow the Union Square Greenmarket and a few other farms and farmers' markets around the country to see what is popping up and in season.
This interview has been condensed and edited for clarity.
FOUR EXCITING DESSERTS FROM SWEETER OFF THE VINE
APRICOT AND BERRY GALETTE
Baking seasonal berries into a galette is smart. Adding some saffron-vanilla sugar to that is smarter. 
BLUEBERRY SKILLET COBBLER
This cobbler has it all: juicy blueberries, subtle nutmeg spice, and fluffy whole wheat biscuits.
WATERMELON GRANITA
Eat your summer watermelon in icy granita form—and spike it with chile powder and lime.
WINE-SOAKED PEACHES
If you're inevitably stuck with a few subpar peaches, a two-day soak in wine and lemon verbena will turn them into something truly divine. (Pro tip: use up that extra liquid in a spritz.)
OTHER BOOKS TO READ, BUY, AND COOK FROM
Sipping wine on the streets of Paris with a few small grazing plates may be a far-flung idea right now, but with some antique kitchenware and recipes from La Buvette, by Parisian restaurant owner Camille Fourmont and Kate Leahy, you might just be able to transport yourself.
Add Fany Gerson's Mexican Ice Cream to your summer rotation for horchata-, queso-, and avocado-flavored frozen desserts.
Random House has put together a free summer sampler of recipes from Ina Garten, Danny Trejo, Toni Tipton-Martin, Bryant Terry, Aaron Franklin, and more.
Last week, we caught up with author Meredith Erickson to talk all things Friuli Venezia Giulia—meaning plenty of frico, prosciutto, and Montasio cheese—as seen in her newest book, written with Bobby Stuckey and Lachlan Mackinnon-Patterson, Friuli Food and Wine.