When Life Gives You Blood Oranges, Make Almond Cake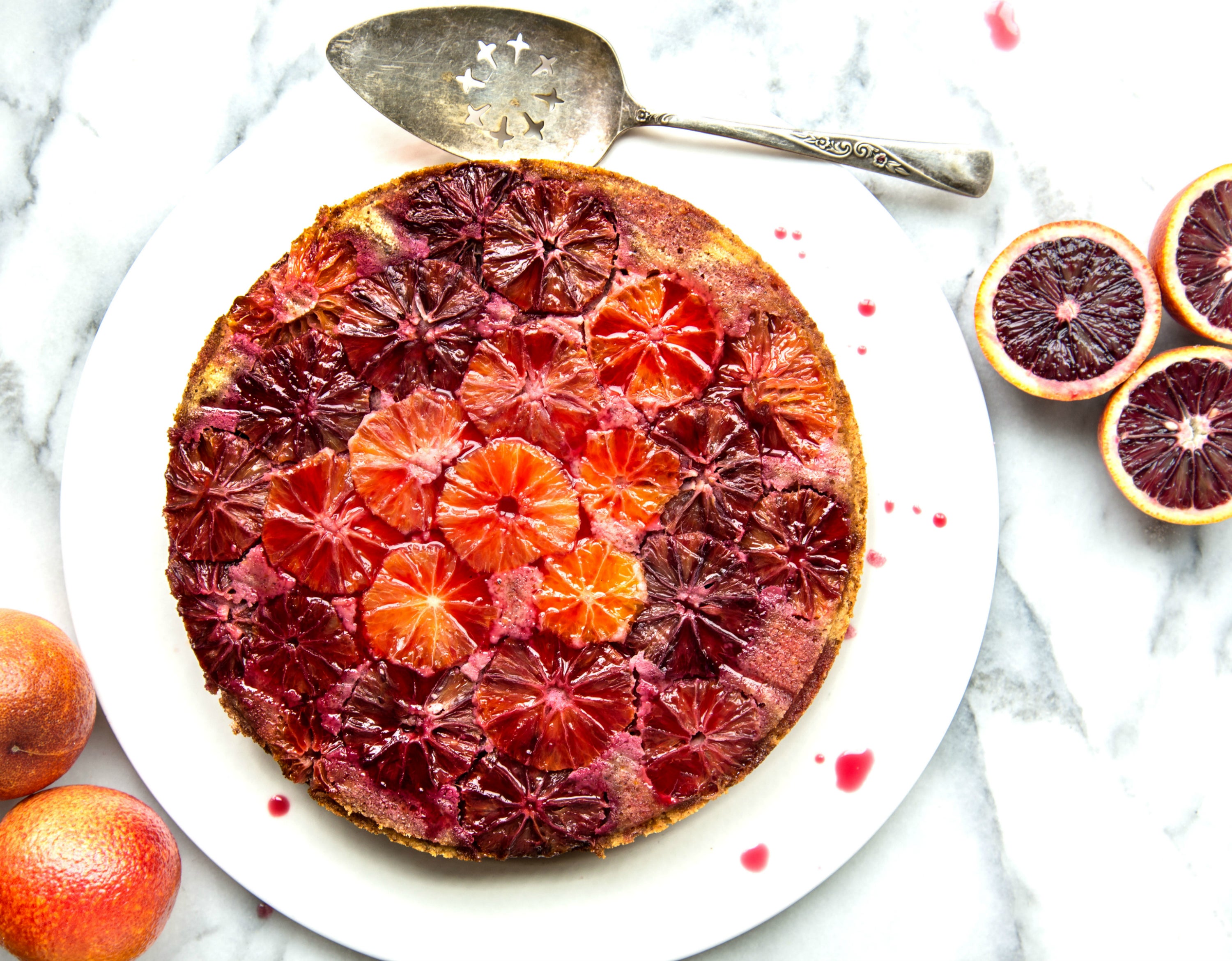 Orange and almond is a classic pairing. In parts of the world where the climate is conducive to growing such crops (Spain, Italy, and the Middle East), you'll often find the two working in concert, particularly in desserts—from cakes and other sweet pastries to candies.
When I want something sweet, I much prefer something that has complexity, rather than just being, well, cloyingly sweet. This blood orange almond cake is exactly what I had in mind.
The base of this cake is predominantly almond meal, which provides nice texture and a nutty flavor. There's also a good amount of butter and eggs, which keeps the cake moist. I also added a hint of almond extract to the batter for an even more intense almond flavor, along with ground fennel seed. Fennel and orange is also a classic pairing (think Sicilian fennel and orange salad). That being said, this cake lends itself well to other spices. Perhaps warming cardamom or tangy, lemony sumac.
After the cake arrives out of the oven and is still warm, it's blanketed with a blood orange simple syrup, which infuses into and perfumes the cake. While you can make this cake with just about any combination of citrus, I love the burst of color that blood oranges contribute with their striking deep purplish-crimson flesh—thanks to pigments from anthocyanin (a type of antioxidant). Rounds of blood orange are arranged on the bottom of the pan so that when you, very carefully, flip the cake over, it makes for a lovely presentation. Given that the zest of the blood orange goes into the batter, you've utilized all parts of the blood orange (zest, flesh, juice).
Blood oranges are in season from December through May. There are three main varieties, Sanguinello (native to Spain) and Tarocco and Moro (both native to Sicily). The Moro variety, which I used for this recipe and whose flesh can range in color from ruby red to crimson to vermilion, is typically in season from December to March. So be sure to take advantage of them while they're still around. But then again, any oranges will work magically here.
Blood Orange Almond Cake
This blood orange almond cake is complex in flavor and texture – sweet, citrusy, nutty, and moist. Blood oranges are the star of this cake, lending a burst of color and serving as the perfect antidote for midwinter blues.
INGREDIENTS
7 ounces (1¾ sticks) unsalted butter, cut into cubes, at room temperature
9 ounces (1 cup plus 2 tablespoons) granulated sugar
Grated zest of 2 large or 3 small blood oranges
Grated zest of 1 lemon
10 ounces (2¾ cup) almond meal
5 large eggs, at room temperature
3½ ounces (¾ cup) all-purpose flour
1 teaspoon almond extract (optional)
2 teaspoons ground fennel seed
Pinch of salt
3 to 4 blood oranges, thinly sliced into rounds, rind removed, for the top of the cake
Blood Orange Syrup
Juice of 2 large or 3 small blood oranges
Juice of 1 lemon
1/3 cup sugar
1. Preheat the oven to 350°F. Line the bottom of a 9-inch round springform baking pan with parchment paper. Grease the sides of the pan.
2. Place the butter, sugar, blood orange, and lemon zest in the bowl of a stand mixer with the beater attachment. Beat on low speed until the butter and sugar are just combined. Add half of the almond meal.
3. With the mixer running, add the eggs one at a time. Add the remaining almond meal, flour, almond extract (if using), fennel, and salt. Beat until smooth.
4. Line the blood orange rounds in a single layer on top of the parchment.
5. Pour the batter into the baking pan. Level the batter with a palette knife.
6. Bake 40 to 45 minutes or until a toothpick inserted into the cake comes out clean. When the cake is almost done, prepare the blood orange syrup. Combine the blood orange and lemon juice (you should have about ½ cup) and sugar in a small saucepan. Bring to a boil and then simmer for 2 to 3 minutes. As soon as the cake comes out of the oven, poke the cake all over with a wooden skewer (about ¾ of the way through the cake). Pour the hot syrup over the cake.
7. Let cool completely before removing it from the springform pan. Place a large plate over the cake and with one swift motion carefully invert the pan so that the orange slices are on top. Peel off the parchment. Slice and serve.