What's on the Menu for a Thanksgiving in Revolt?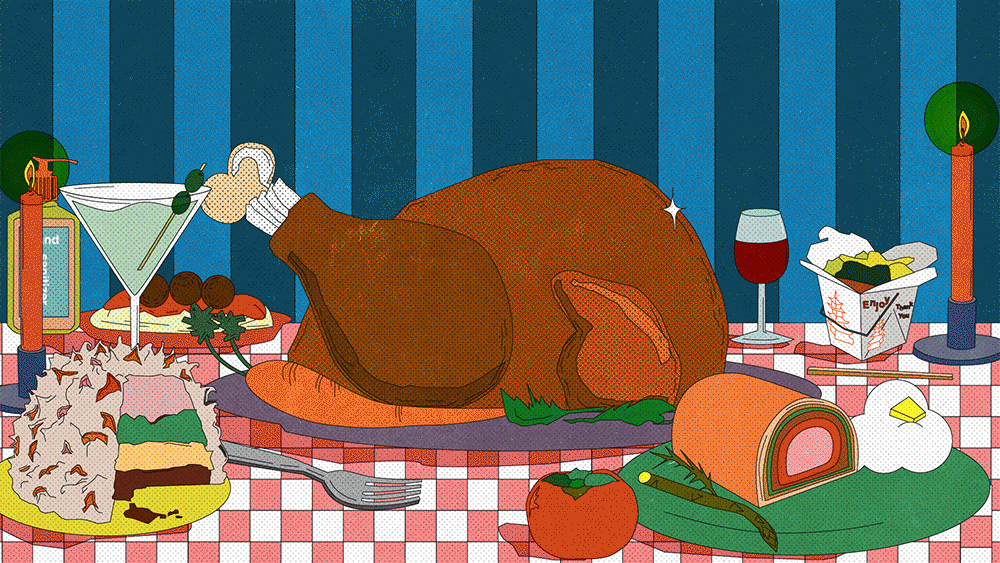 Beef Wellington, baked Alaska, and a whole lot of winging it.
There's never been a better time to come clean about our grievances with Thanksgiving. Most of us will be spending the day alone or in the company of our immediate household members, free from all of the usual annual expectations and casseroles. It's a chance to snap out of the muscle memory of the Google doc grocery lists and five-day cooking plans and arduous Tupperware finagling of leftovers. This also gives us an opportunity to think about what we want our future Thanksgivings to look like, perhaps dispatching some of these knee-jerk rituals that we can live without . . . forever.
Now is a great time to admit that you're lukewarm on the turkey idea, as my colleague Matt Rodbard did last week (although you should be forewarned that this opinion resulted in a very strongly worded response from his dad). In Food & Wine, Jamie Feldmar recently wrote about the sense of relief that will come with simply skipping the holiday this time around, after years of dutifully covering it as a food writer. For Eater, Rebecca Flint Marx writes of "the catharsis of looking around, seeing everything I could do, and rejecting all of it." And, as San Francisco Chronicle restaurant critic Soleil Ho tweeted recently, this year is a great time to "turn this freaky colonizer holiday into a chance to support restaurants."
Maybe there are elements of this tradition that you do think are worth holding onto, and that's okay, too. Kaitlin Bray, TASTE's audience development director, is designating a place on the table for her husband's aunt's strawberry Jell-O pretzel salad. TASTE editor in chief Talia Baiocchi's meal will involve not one but two types of stuffing to go with some grilled squab and quail and handmade tortelli di zucca. My boyfriend and I decided that all-day snack grazing is one of the holiday's strong points, so we're planning on a smoked trout dip, crudités, and a pile of sturdy Cape Cod Chips. Seeking to know how others were reshaping (or rejecting) this day of eating, I asked a few TASTE friends and contributors about what they have up their sleeves.
Tanay Warerkar, reporter for Eater NY:
My husband, John, and I have been celebrating and hosting Thanksgiving together for more than a decade—save for a few years in between—a tradition that started when we were in college. However, he and I have always despised one of the holiday's central components: turkey. Each year over the past decade, we've vowed not to make it the following year, yet as we get close to the day, John gets nostalgic about the classics, and at least one of the friends or family we're hosting insists we have it on the menu.
Unfailingly, at least half the bird remains the following day, and typically, I add the leftover meat to a butter chicken sauce, making it significantly more palatable for me—and, dare I say, everyone that stayed over. (If anyone out there has a beloved turkey recipe, please send it my way!) This year, the pressure's off. There's no one to entertain, and it finally means we're free of the turkey! One tradition is carrying forward, though, and that is the butter chicken. This year, I'm using my favorite Butter Chicken recipe from food writer and chef Maunika Gowardhan, but I'm adding it to a galette—I always use Deb Perelman's galette recipe—for a Thanksgiving centerpiece that combines both the East and the West.
Christian Reynoso, writer and recipe developer:
I'm throwing Thanksgiving traditions to the desert wind this year. I'll be at a friend's in the Mojave, where we're planning a sort of retro dinner with Beef Wellington, non-baked Alaska, and martinis. I will probably be in shorts and sandals, because all my nice clothes are in storage. Maybe this is a new tradition? It doesn't really make sense, but I'm looking forward to it!
Rebecca Firkser, writer and recipe developer:
Though I cook all the time for work, I am one of those nerds who absolutely lives for making a big holiday meal—I get up super early, put on a real apron, the whole nine yards. I don't eat much meat, but I firmly believe chicken is better than turkey—I've tried, unsuccessfully, to convince my mother to let me roast the smaller bird on Thanksgiving for the past many years. Since there will only be four of us at the table this year, I'm looking forward to finally winning that argument. Though to really speak my truth, I'd be even happier to make a big tray of stuffed shells and call it a day. I'll get back to you if I win that one.
I got really anxious about COVID-19 and the holidays this year, so I panic-bought this single, giant turkey drumstick at the grocery store for $1.98 a week before Thanksgiving, in case I had to be alone.
Nik Sharma, author of Season and The Flavor Equation:
This year, Thanksgiving will be a much smaller gathering—my husband and me, along with our three pets—so I won't be cooking a lot. We've decided to skip turkey altogether this year, because my husband put in a special request for a Beef Wellington. I will also make the green beans with preserved lemons and the sweet potato honey beer pie from my book The Flavor Equation. I'm looking forward to taking a short break and enjoying the long holiday weekend.
Katie Okamoto, writer and editor:
Like a lot of kids of immigrants, my partner and I both grew up with somewhat "untraditional" Thanksgivings with Japanese, Hawaiian, and Spanish influences, and since it will be just us this year, in a way, this is a chance for us to return to that, uh, tradition. I always plan dessert first and make it ahead, and this year, I'm dreaming about pumpkin miso ice cream and—since it feels like good luck to eat seasonal fruit on Thanksgiving—a free-form tart with whatever apples or pears look best at the farmers' market. After that, I'm cooking the way I like best, which is improvising—roast chicken, gyoza (we'll freeze what we don't eat), and a hot-and-cold salad thing, something with some char and bitterness in it. I'm going for ease and time to call friends and family—and we have to save room for dessert!
Hannah Kirshner, author of Water, Wood, and Wild Things:
This will be my third Thanksgiving in Japan, and the first time in three years that I've celebrated—the last two years I was so busy researching and writing my book that I didn't care about the holiday! Coronavirus is relatively under control in Japan—not as good as in Taiwan or New Zealand, but much better than in the United States—so small gatherings are low risk (probably akin to getting in a taxi or going skiing). I'll gather with three other expats on Noto Peninsula for roast chicken and local vegetables. I don't have an oven, so I'll bake a pie at our host's place—or a galette, since I have no pie pan—probably persimmon. Everyone is picking and giving away their persimmons as quickly as possible so that they don't attract bears. This year, there's been a problem with bears coming into town because of an acorn shortage.
Sophie Chou, data reporter at ProPublica and author of the Five Things I Ate newsletter:
I got really anxious about COVID-19 and the holidays this year, so I panic-bought this single, giant turkey drumstick at the grocery store for $1.98 a week before Thanksgiving, in case I had to be alone. I thought it would be festive at the time, but it was, in fact, one of the single most depressing things I've ever done. I roasted it and ate it Ren-fair-style with my hands while my cat silently judged me. Then I decided I would make these cranberry lemon bars and drive them to my parents' house instead.
Lukas Volger, author of Start Simple:
For Thanksgiving this year, I am . . . still trying to figure it out! All plans feel written in pencil, and I'm trying not to have expectations or get too committed to any one thing. I may be cooking with a few Australian friends, for whom the holiday holds more novelty than long-standing special significance, or maybe it'll be just my husband and me, eating Thanksgiving "bowls" of seasonally appropriate odds and ends arranged over some grains fresh out of the rice cooker. Generally, I love to challenge traditions, but in recent years, I've learned to acquiesce to them by letting my family and hosts and guests do what makes the holiday feel familiar and mark the occasion, be it canned cream of mushroom soup or scorched marshmallows or whatever—because I cook seriously all year long, and for lots of people who don't cook regularly, this is when they put in the effort. Maybe this year I'll find myself stepping up in defense of cream of mushroom soup, as a resident Thanksgiving expert! But who knows what'll happen between now and then—I'm going to do my best to just roll with it.
Genevieve Ko, senior editor at NYT Cooking:
My break from tradition this year is giving myself permission to break from tradition. I created these lemon bars for a pandemic holiday story, and deviating from a classic dessert felt so freeing. Riding that high, I've told myself that I'm going to cook whatever I feel like cooking that day—or not cook at all. I'll probably still do apple pie, though, just because the pastry process gives me real joy.