What's Up, Michael Bao Huynh?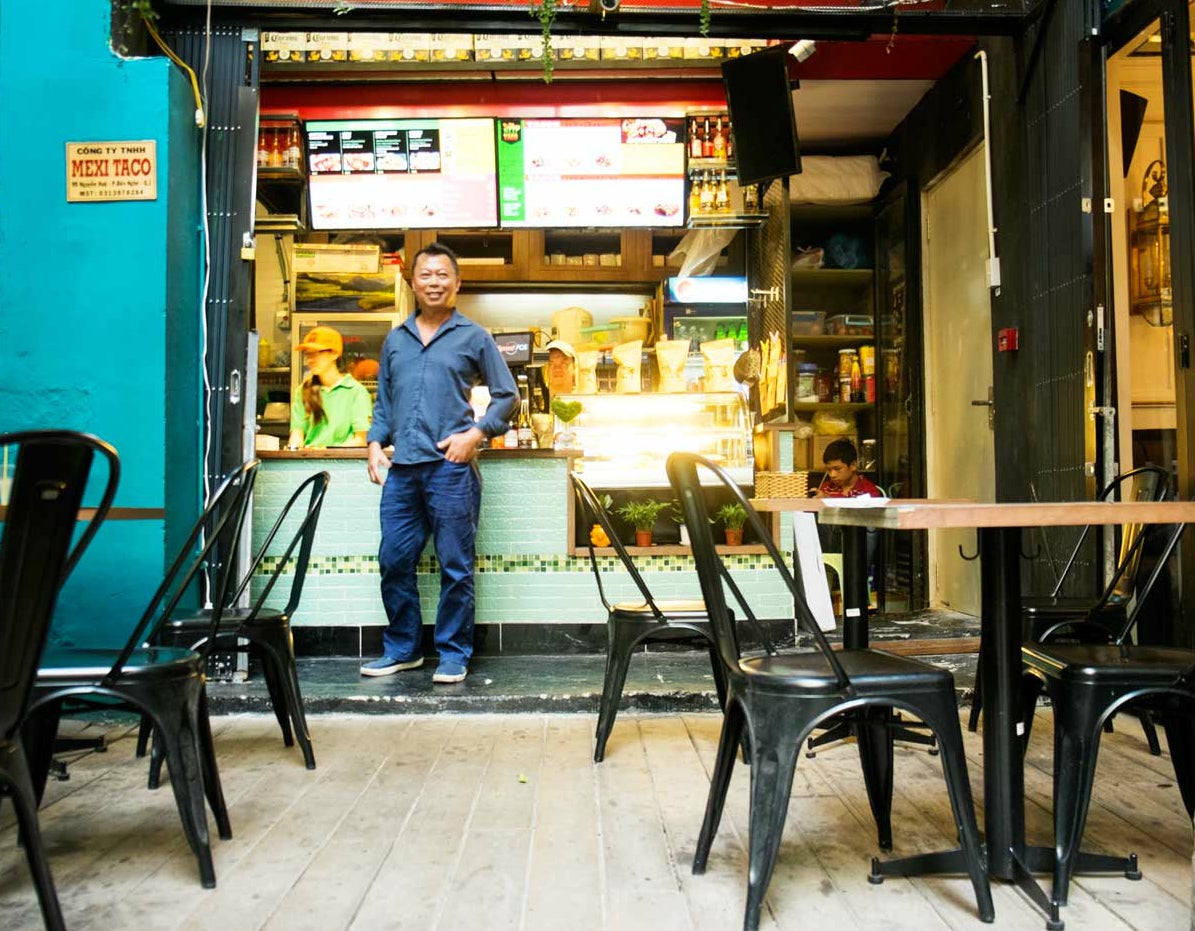 The legend of Michael Bao grows with the shaking beef taco.
As the Vietnam War was just building steam, a cook walked into a pagoda in Saigon with her sick little boy. In keeping with tradition, the monks there gave him a new name, Bao, so he wouldn't respond when death called. It worked!
Bao got better and learned to cook at his mother's street-side restaurant in District 1 as the postwar economy buckled under various embargoes and fresh wars with China and Cambodia. On his father's advice, Bao climbed into a packed boat at 16 that nearly capsized on the open sea before being rescued. Bao arrived in New York as a refugee, alone and without a penny to his name. The state's foster system placed him with a family in Sullivan County, where he took the name Michael (after Jackson) and worked at a Greek diner after school. After graduating, he reunited with his sisters in Brooklyn, who arrived on separate boats. In the city, he earned a degree in architecture while cleaning and cooking at night. At one point, he caught a bullet in Queens. The bullet "made me stronger," Bao told The New York Times in a piece titled "Chef Do-it-All, the Master Builder."
After September 11, Bao opened his own building company, while simultaneously ferreting out cheap rents. The self-described "one-man band" designed interiors and wrote menus for everything from an authentic al fresco quán nhậu (basically an outdoor Vietnamese izakaya) in Tribeca to a fusion burrito bar called Baorrito. (Six years ago, Eater New York published a list of 31 planned and extant eateries, most of whose names were Bao-centric puns.)
Legendary New York magazine critic Gael Greene chronicled the dizzying arc of his empire in a series of blog posts that dramatically concluded in 2013 with his return to Vietnam. "Serial restaurant dabbler and assassinator Michael 'Bao' Huynh has given up on trying to make money after countless diehard efforts and is leaving tonight for Vietnam, the land of opportunity," Greene wrote, shortly after Hurricane Sandy flooded his final New York project. "Nothing really worked for Hunyh, at least not for long, except his wife Thao Nguyen's Baoguette sandwich shops." Toward the end of an otherwise glowing post about one of Bao's final ventures, Greene took the unusual step of informing the chef that Thao was leaving him.
Bao told reporters he left New York City because he was 48 and "tired." At the same time, he claimed he had five restaurants waiting for him in Ho Chi Minh City and Hanoi—as well as a cooking school in Danang. Nguyen got the restaurants he had left in New York. The year he arrived in Vietnam, he appeared on an episode of MasterChef Vietnam and lost to a Danish challenger. (The ingredient was potatoes.)
Somehow, in six years of vigorously eating and drinking my way through Ho Chi Minh City, I had never heard of Michael Bao or his restaurants. But then he opened a stand he called MexiTacos, a fantastic place set in the bowels of the Saigon Garden, a weird mall that juts out of a food wasteland that hugs the city's bougie new promenade. Using tortillas, hot sauce, and beans sourced from Saigon Taco baron Robert Nussbaum, Bao built a pretty terrific menu that includes a cribbed roast duck recipe, a Kogi-style Korean barbecue taco (topped with a fried quail egg), and Vietnamese "shaking beef."
When I talked to Bao, MexiTacos had been open for three months. At noon it was empty save for a few Russian tourists who ambled up to the menu and wandered off without ordering so much as nachos. Bao sat alone with a tape measure, a cup of coffee, and a stack of bills. He began to speak in ribbons, sweating optimism and enthusiasm, like a gambler on a hot streak.
Do you still think Vietnam is the land of opportunity?
Yeah! Opening a restaurant here costs about seven times less than it does in New York. When you know everything, it's good here. But if you don't know nothing, it's bad here. I opened a steak house in two days.
What would you tell a chef who wanted to leave New York for Saigon?
I dunno. I'd tell him to take his time, spend a year just hanging out and making mistakes. You can't come over here and be Superman, you know? Unless you've got tons of money.
Do you miss New York?
I miss New York. I would love to take my son back. New York feels far now, and it would be difficult for me to go back, unless I had a million dollars. I've got my wife here; I'm happy here. I'd only go back for my son. I was hot back in New York—everybody wanted me. But when you're gone, you're gone. I took my dog here—so, done. Now I'm the most wanted chef here. Everybody wants a piece of me.
How did you do what you did in New York City?
Nobody else could be the designer, the builder, the cook, and the real estate broker. I'd find a restaurant that had everything in place. My friend would come in as the broker and demand three months' commission that all went to me. So I'd open the place for one dollar. I opened nine restaurants in one year. I said I'd do ten but could only do nine.
I always made money in everything I did. Take Mikey Burger. It did very well! We made $4,000 a day there, and I sold it for a huge profit. I'm the only Asian guy allowed to open a burger shop in America because I grew up in a diner! We did burgers with Chinese bacon and Japanese mayo. Satay lamb burgers. We knew the American palate. I'm starting to build things up again, because I'm ready. I'm ready. Now I've got a group behind me. We've got eight, nine, ten concepts we're going to build up this year!
You compare the restaurant business to gambling a lot. Do you gamble?
No! But the restaurant business is a gamble. We'll open ten restaurants. If five hit, we'll make it. In this business, it's all about how many wives you've got, how many girlfriends you've got. Well, having two restaurants is like having two girlfriends, you know? You've got three girlfriends, you've got a problem.
Why did you decide to do a taco stand in Vietnam?
Someone wanted me to open a Mexican place in Hanoi, but I said no. Mexican restaurants in Vietnam have all been sit-down places. There's no quick takeaway with an average item price of one or two dollars. It was a gamble, but as a chef, you've got to know what's good, what's bad. I opened Baorrito in New York, so I know. I threw a Korean burrito on the menu—you know, bibimbap wrapped up in a burrito. Vietnamese people have been eating bibimbap for a while, so why not?
You talked about opening a Brooklyn diner here, too. Is that still in the cards?
Oh, man, give the Vietnamese a Reuben sandwich and it will knock them out. Take beef and barley soup—people here love it! Thirty years ago they gave barley to poor people, so nobody wanted it. But now I tell them: "Try it; it's delicious!" Oh, and New England clam chowder! Replace the potatoes with taro and the cream with coconut milk. It's a knockout! I love Brooklyn. I wanna name my daughter Brooklyn.
If someone handed you a million dollars, what would you open?
Fast food. Well, very fine, good-quality fast food. But affordable. A fast-casual concept. Like Pok Pok.
Wait, you mean Andy Ricker's restaurant?
No, I mean the restaurant I'm going to open with Andy Yang. I like the name, and there are no trademark laws in Vietnam. Andy Ricker's my friend, but I'm not doing the same thing as him. Pok Pok's a common name.
But what single restaurant would you open here with a million dollars?
Well, you could do a lot here in Vietnam with a million dollars. But I'd do a few things. I'd open one chef's-table restaurant where I could go at night and meet with people. I couldn't control two high-end restaurants, so the rest would be simple concepts. I'd probably open three simple concepts. One wife, three sons. Wife: difficult. Kids: easy. Two wives are a big problem because they'll call and ask, "Where are you? Where are you?" Restaurants are the same.
How many wives have you had?
Um, two. But I'm settled down.
Why keep doing this?
I love cooking. I grew up cooking at my mother's restaurant on the corner of Hai Ba Trung and Tran Quang Khai. Broken rice in the morning. And drinking food at night. I started cooking, shit, at ten years old. Things were hard at that time. My toy when I was young was an old-fashioned oven with wood on the bottom. I made banh mi.
If you could do a banh mi spot in Saigon, what would you do?
Sloppy Bao. Take a sloppy joe and change the recipe. Add lemongrass, garlic, red curry, chile, and put it in a baguette with green mango, cilantro, jalapeño. Explosive. You can't go wrong. It's just like a banh mi xiu mai: When it goes into the sandwich, the meatballs break up. Same thing! But it's a knockout! Especially on Baoguette bread. But banh mi is a bit of a gamble…. After we get big with Spot, Pok Pok, MexiTaco, then we'll come back and do that. We need to have something standout—booming—you know?