What Your Hangover Food Says About You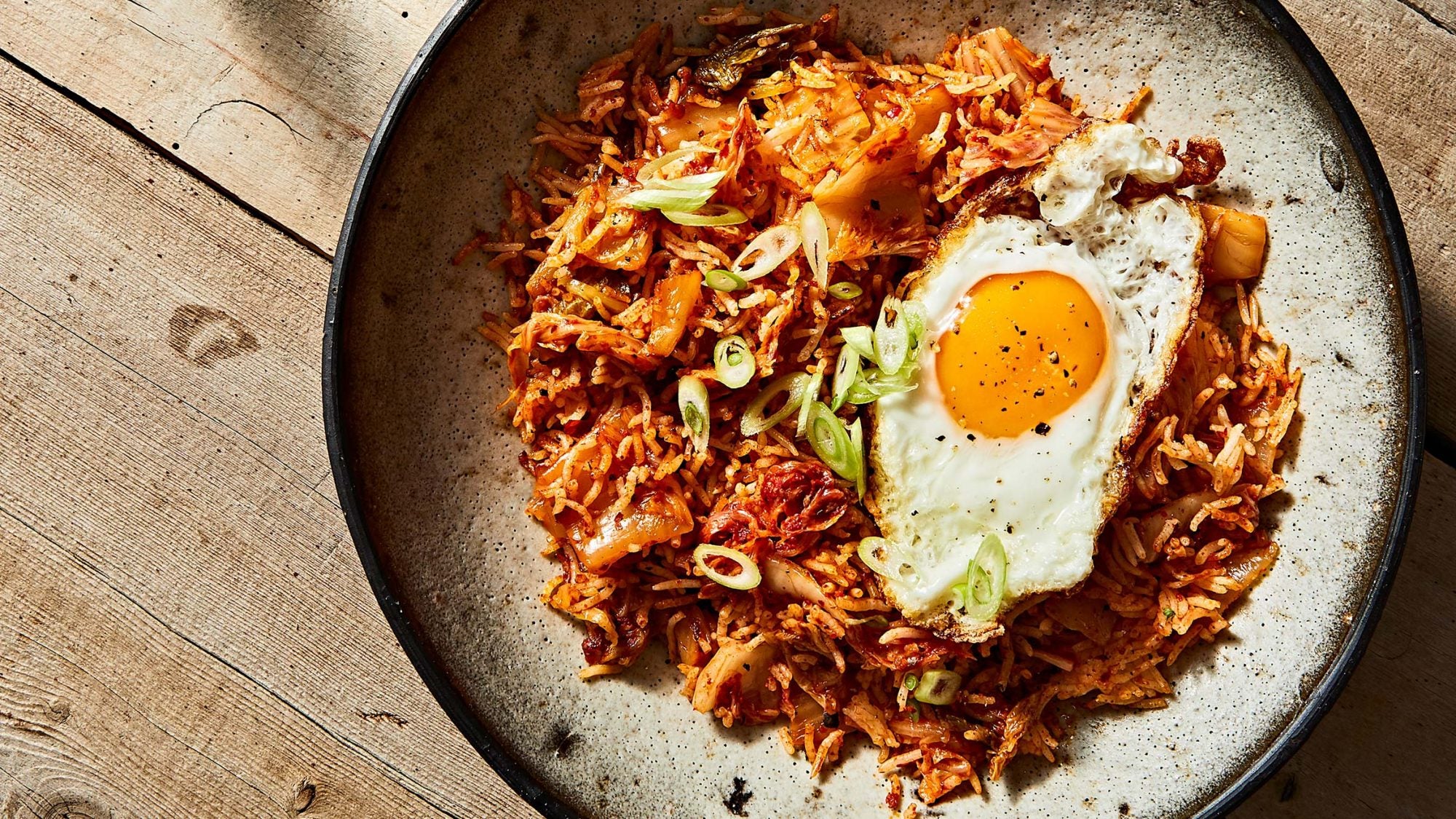 Everyone's got a cure. Sometimes it's a greasy breakfast sandwich, and sometimes it's soybean sprout soup chock full of vitamin C.
With cautious optimism and vaccines flowing, America has begun its slow return to whatever normal looks like now in the summer of 2021. And while we aren't out of the woods yet—and the international situation remains sobering—it is perhaps alright to carefully celebrate the moment by once again enjoying the company of friends, returning to our favorite bars and restaurants, tipping gratefully (over 30 percent, of course) in every service interaction, and enjoying a nice social drink—or three—or more.
We're about to embark on a drinking season like no other. After a year spent pent up and worried, our very souls are thirsty. Thirsty for a cool schooner of grisette, a perfect pre-dinner martini, a scotch and a cigar in the backyard with friends, or an achingly gorgeous glass of Champagne, its bubbles suspended like some lustrous magic in the evening light. And with such inspired consumption comes the time-honored consequences.
Allow me to celebrate the grand return of the summer hangover, that most supremely human of problems, for which nearly every culture on the planet has developed its own set of morning-after solutions to combat the scourge. From menudo to matzo ball soup to pickle juice, borscht to biscuits to burritos, hangover foods express themselves culturally, but they are also deeply personal. If you're ever looking for an unexpectedly fun icebreaker, try asking someone what their favorite hangover food is. First, they'll laugh; then their eyes will light up, and you'll be let in on a secret that's equal parts earnest recommendation and culinary conspiracy.
NYT Cooking editor Nikita Richardson name-checks the scallion pancakes at Win Son Bakery, a Taiwanese restaurant on Montrose and Graham in Brooklyn. "They're oily but light, and just filling enough without making you feel sick all over again," says Richardson. "And they have vegetables!" Cookbook author and chef Seung Hee Lee is a fount of knowledge on Korean hangover food traditions, revolving around 24-hour soup restaurants serving haejang-guk, which literally translates to "soup to chase a hangover" and is made with beef broth, cabbage, and add-ons like congealed blood cake, as well as kongnamul guk, a soybean sprout soup chock full of life-affirming vitamin C. "You have to put some gochugaru in there to help you sweat it out," she tells me of the Korean chile flakes, "along with an egg for protein." But at her home in Atlanta, her go-to is Vietnamese bun bo hue, a vermicelli and beef broth soup studded with blood cake and pigs' feet.
Hangover foods express themselves culturally, but they are also deeply personal.
Chef-butcher Kevin Smith, of Seattle's all-world butcher shop Beast & Cleaver, spent his formative drinking years in South London. There, he and his teenage mates learned to lean on the day-after comforts of the full English breakfast. "We called it a fry-up," Smith tells me, and I can hear the rhapsody in his voice. "It's got sausages, bacon, eggs, beans, black and white pudding, bubble and squeak, toast, and either really crappy coffee or tea." I asked him if there's any other hangover habit he's picked up since moving to the States seven years ago, and his answer was quick. "No," he says laughing. "There's not an American thing that comes close to it. You eat a fry-up, and then you're set to go back to the pub—I miss those days."
Everyone you ask has their own unique answer to the hangover food question. My older brother swears by the smothered, covered incantation at Waffle House. My wife's go-to is pho ga, the poached chicken variation of the iconic Vietnamese beef broth soup: scalding, herbal, and nourishing. My trainer wants a French-fry-stuffed burrito (I think this counts as irony). One of my work buddies recommends ramen ("and then a nap").
And me? Well, hangovers are personal, and for me, work travel is a recipe for committing the sin of enthusiasm. I recall a hazy Los Angeles morning not long ago when I sought the comfort of one of Koreatown's many excellent jjimjilbang, a co-ed baths complex that is equal parts schvitz and day spa. Here, you can sleep, steam, lay about in various phases of recovery, and, yes, eat some of the most glorious food known to man. Korean spa food is my perfect hangover cure, in particular gyeranjjim—sauna eggs, slowly boiled and browned to a bubbling custard—and sikhye, a partially fermented sweet and refreshing rice drink that's easy on the tummy. When paired with a long, detoxifying steam bath, some magical combination was unlocked: I felt better. And isn't that what hangover food is all about? At least until another evening calls.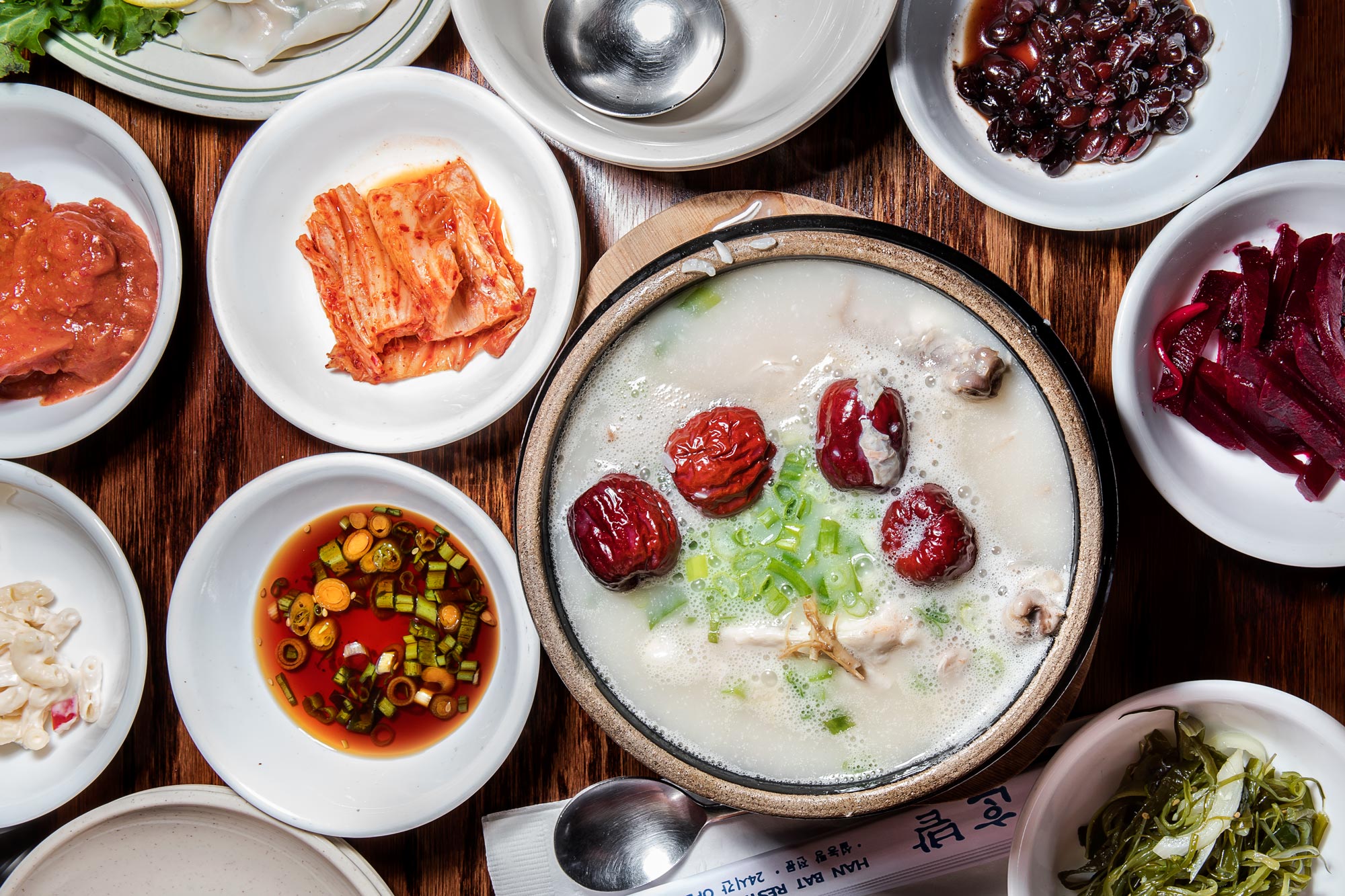 Here are six go-to recipes from the TASTE archives to make at home for beating back the crushing, soul-squeezing morning (or afternoon) fog:
Samgyetang: Korean Ginseng Chicken Soup
For many non-Koreans, samgyetang poses a bit of a riddle. Why is a steaming hot chicken-and-rice soup eaten primarily in the hot and humid summer months? The answer lies not in the chicken but in the medicinal herbs the dish is famous for.
Sausage-Fennel Lasagna Rolls
These cheesy rolls have all the makings of a classic lasagna, but rather than layering them all horizontally, we're rolling these curly noodles around caramelized fennel and Italian sausage to create pleasing spirals that sit snugly together like a beautiful bouquet.
Pineapple Hibiscus Punch
This recipe is great for celebrations and dinner parties, or just as a refreshing everyday drink to soothe the morning after. Hibiscus has a variety of uses in different cultures, but this particular recipe uses pineapple peels and fresh pineapple to infuse the hibiscus tea.
Kimchi and Ketchup Fried Rice
Drape a traditional fluffy omelet over a heap of ketchup-flavored fried rice, and you have omurice, a simple yet surprising meal derived from yōshoku—the Japanese style of cooking that interprets Western recipes.
King Arthur's Crispy Cheesy Pan Pizza
The pan pizza that started the pan-pizza-at-home craze. With its crispy, golden edges, gooey layer of cheese (right to the edge!), and thick yet delicate crust, this pan pizza has a texture and flavor that makes you want more.
Chile Crisp Spaghetti al Limone
Recipe developer Jenn de la Vega wondered if chile crisp would stay crisp if she cooked it in a sauce—and the answer is yes!