What to Cook, How to Give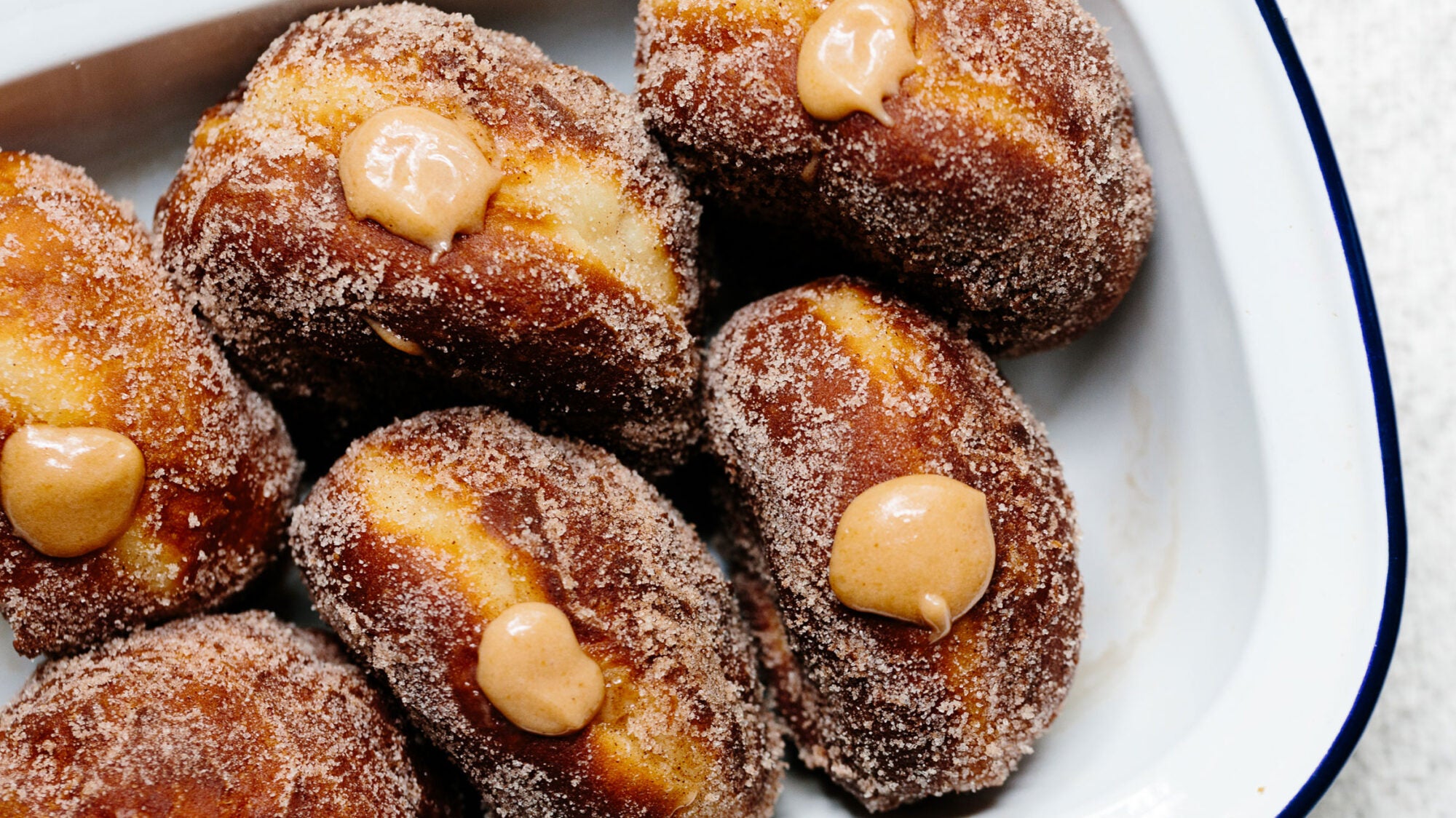 TASTE friends and contributors offer some home cooking suggestions, and ways to give back, in the wake of COVID-19.
Staying in has become the new normal—and the same goes for cooking nearly every meal at home, with the occasional delivery or takeout. Lately, we've been sharing what's coming out of our kitchens, like a big batch of simmered beans to get through the week and, because birthdays must go on, a chocolate-frosted cake.
We checked in with our contributors and friends of TASTE to see what recipes (and no-recipe recipes) they're leaning on at the moment, plus the charitable organizations that are on their radars. Cooking is not only a means of survival; in our current climate, it also acts as a distraction and a temporary relief.
We hope that in sharing these ideas, you can approach your pantry shelf with a fresh set of eyes—or, at the very least, bookmark a recipe you can riff on with the ingredients you have on hand. Perhaps you'll undertake a new fermentation project, or maybe you'll feel emboldened enough to kick your morning coffee up a notch with ice cream. And if you're able to, donate to a cause, sign a petition, or call your representative.
We'll be back soon with another round from our friends and TASTE contributors.
Allison Robicelli, staff writer at The Takeout 
What to cook: Guys, I'm struggling to muster the energy to cook. There were two days when we ate nothing but bologna, cheese, and potato chips. We didn't even use bread or a plate—we just left the bologna and cheese in their packaging, then spent the day lying on the couch watching CNN and stuffing our faces with bologna rolls. I want to drown myself in pudding and cry big fat tears containing 40 percent milk fat. I want to scoop peanut butter out of the jar with bars of milk chocolate and eat them in the shower. I want to eat pie directly from the pan and drink half-and-half straight from the carton.
When I am getting up to cook, I'm going full Robicelli. Been sketching out a lot of batshit comfort foods that I want to eat to keep me occupied and kill me with cream. I'm not worried about my weight, my cholesterol, or anything, because what's the fucking point? I'll think about all that shit again once this nightmare is over. I'm working on some banana cream pie eclairs for The Takeout right now. I'm cooking with a lot of schmaltz. I wrote this recipe last week, which is crazy good and very useful, because hot doughnuts really are one of nature's greatest painkillers.
Right now, my cooking is partially driven by my horrible, self-destructive impulses and by whatever groceries I can actually get. I'm not planning anything because who knows what the fuck is going to happen? I'm just hoping to get to tomorrow and hoping I snap out of this shit soon, because there are so many people who need help, and I need to do something about it.
How to give: Weekend Backpacks for Homeless Kids provides backpacks full of food for vulnerable kids in Baltimore to bring home to eat on the weekends.
Ruby Tandoh, writer and author of Eat Up: Food, Appetite and Eating What You Want
What to cook: I made a birthday cake for a friend (pictured above), which was just a simple vanilla sheet cake decorated as kitsch and fun as I possibly could. It was the first time I've actually successfully made a Swiss meringue buttercream, so that was a massive triumph. I was gently guided through the process with the help of this recipe. I know it's not the most inventive cooking, but innovation seems to go out the window for me when stress hits. Making this cake felt challenging but also familiar and comforting somehow—it felt right, considering the weirdness in the world right now.
How to give: Life Kitchen is a project that runs cooking classes to help people living with cancer to revive their love of food. They are raising money to move their operations online. They've made such a huge difference already to help inspire people and reconnect them with the food they eat, and now they need our help.
Cathy Erway, TASTE columnist
What to cook: Every day is a little different, but I made sticky rice (from the upcoming Sheet Pan Chicken cookbook) and have been going through that, sometimes sautéing vegetables and tofu to eat with it. It's sort of like this recipe, but without stuffing it into cabbage. And I thawed some spicy cumin lamb dumplings in my freezer the other night. I'm starting to worry about my frozen dumpling stash—I don't think it will last very long.
How to give: There's a program by Rethink Food NYC to award grants to 30 restaurants so they can keep their employees working, and Little Tong is the first restaurant to join it (Winston Chiu is part owner of Little Tong and also the chief strategy officer at Rethink Food NYC). I'm curious to see how many restaurants will join this effort.
Daniela Galarza, writer, editor, and recipe developer
What to cook: Beans—see here and here. Rice pudding. Having affogatos for breakfast (pictured above). I have been feeding my sourdough starter but mostly not using it for bread, and I don't know why. I am not finding comfort in baking right now, but I am visiting local bakeries to offer them some support.
How to give: In the face of slow-moving local, state, and federal government action, partisan deadlocks, and a panicked president, here are some causes I am calling out:
Colonia Verde & Cosmico Workers' Relief Fund and the Heirloom Bakery Family. Sign the petition to save America's restaurants. Sign the petition for aid and assistance for all service industry employees.
Rezel Kealoha, writer and recipe developer
What to cook: Because vegetables are in abundance, I have been cooking lots of vegetables so that I don't use up the pantry staples that we have. One of the recipes I just made was this pasta, and I roasted a hell of a lot of vegetables to eat with it, so that we could get at least two lunches and one dinner out of that one meal.
We have a thing for noodles, and this pancit recipe I wrote for our local Edible East Bay is a great veggie-forward meal that we will be having lots of during these coming weeks and, probably, months. Basically, I am stuffing pantry staples with veggies to tide us over. I posted alternatives on my Instagram recently so that you can use what you have available.
How to give: A directory of Filipino-American restaurants that are currently accepting gift cards for future use.
Aaron Hutcherson, writer and creator of The Hungry Hutch
What to cook: It's been all over the place, from fried chicken gizzards to a version of an old recipe I posted for spicy peanut noodles. I am still working on some recipe-development stuff, such as pork chops with a Port cherry sauce and a Black Forest cake.
How to give: God's Love We Deliver. My birthday is tomorrow, so I set up a Facebook fundraiser with them as the beneficiary. I've also given to the Win Son relief fund (via Venmo, @win-son) for undocumented workers.
Jamie Feldmar, writer, editor, and cookbook collaborator
What to cook: Arroz caldo. Not something I grew up with, but one of the most comforting dishes I know, picked up from a Filipino friend many moons ago. It's fast, economical, customizable, and deeply delicious. Shout-out to my housemate for sharing her rotisserie chicken with me in order to make this happen. We need to take care of each other right now.
How to give: On a national level, I encourage everyone to call their representatives to push for a restaurant-industry bailout. Eater has a great sample script for what to say.
That said, I repeat part of my answer from above: Wwe need to take care of each other right now.
Raise NYC is starting a grassroots microloan effort in NYC specifically in support of undocumented restaurant workers who won't be able to apply for unemployment, which I think is a huge issue we're going to need to cover more in the coming days.
Maker's Mark donated most of their marketing budget for the next several months to the Lee Initiative to help provide immediate relief for laid-off restaurant workers in cities across the country; I hope more corporations follow suit.
Priya Krishna, TASTE columnist
What to cook: I've been at home with my parents in Dallas, so we are cooking a ton of Indian food and essentially going down memory lane in terms of my favorite dishes from childhood. Lots of dal, rice, kadhi, and old standards like dahi toast.
How to give: I would say to think about the three or four restaurants that you visit most frequently and buy a gift card from them to use later. And then call your representatives in Congress to urge that restaurants be included in any stimulus package. Government support is the only way we are going to have a restaurant industry to return to.
Tammie Teclamariam, writer and wine/spirits professional
What to cook: I planned to make tacos for my birthday party, but I canceled it the day before to maintain social distancing. Since I'd already ordered a tortilla press for the occasion, I ended up making a batch on my birthday alongside rajas con crema that I shared with TASTE editor Anna Hezel and her boyfriend, who live within walking distance.
Maseca comes together instantly with water, but the process of making dough, dividing it evenly, and producing a stack of useful bread while drinking sparkling wine with a couple of close friends was way less stressful than the rager I'd planned, and just as nice. I turned the leftover tortillas into enchiladas suizas the next day, following a recipe from one of my favorite food bloggers, La Piña en la Cocina.
My neighborhood has lots of Mexican delis and bakeries where I can still shop for stuff like cilantro, poblanos, cheese, and chorizo as necessary, so making fresh tortillas and salsas to go with that has become a bigger part of my cooking rotation now that I'm mostly staying local.
How to give: Street vendors already endure some of the harshest conditions among food professionals, and they were some of the first to lose business during this crisis.

Scott Hocker, TASTE columnist
What to cook: Fermented mustard greens. Zuni Café's fried eggs. Stir-fried shrimp from At Home with Madhur Jaffrey. Shrimp stock with the shells from Floyd Cardoz's One Spice, Two Spice. Whipped ricotta from Six Seasons by Joshua McFadden. Turmeric pickle from Niloufer King's My Bombay Kitchen. Yes, loaaaaaads of Indian food in my house these days.
How to give: Getting people to call their representatives and/or sign these petitions would be stellar: Save America's Restaurants; Tell Congress to Support Restaurants and Our Employees!
Emily Wilson, writer and creator of Some Meals Considered
What to cook: Both my and my partner's birthday fell within the first week of quarantine, so for anyone who is celebrating something in the midst of isolation, I found Melissa Clark's duck fat potatoes and Pierre Franey's light take on creamed spinach to be lovely accompaniments to a steakhouse-style dinner at home (if you happen to have duck fat on hand…).
Also: ice cream sundaes! Freeform, of course, but I was able to acquire some Hershey's Special Dark syrup, Enjoy Life chocolate chunks (which are miraculously vegan), COOP's salted caramel sauce, and Fabbri Amarena cherries; then I toasted some hazelnuts and whipped up some heavy cream with vanilla for toppings. Is there any dessert that gives more childlike joy?
Another deliciously rich and celebratory recipe I loved is Dorie Greenspan's Lisbon chocolate cake (which is remarkably better the next day, so make it ahead!)
Finally, my partner and I are big fans of making larb at home. We've sort of figured out our own style after consulting a few recipes, but every larb turns out a little different, and it's a fun thing to keep iterating on. I highly recommend swapping out ground meat with the stuff from Impossible Foods or Beyond Meat for a non-meat meal (although I can't quit fish sauce) and serving it with sticky rice and butter lettuce as wraps.
How to give: Hot Bread Kitchen has set up an emergency relief fund to support their community of low-income, immigrant women who they train for jobs in the culinary industry (a program that is currently on hold) and small food businesses that they incubate. They've also opened their Brooklyn kitchen (within the Pfizer Building) to relief organizations deemed essential by New York State.
Photos: Yossy Arefi, Denny Culbert, Ruby Tandoh, Lizzie Munro.